In a battle of two powerhouse teams Sunday night in Indianapolis, Louisville ended up on top, defeating Duke 85-63 to claim the final bid to the Final Four.
The first half was a back-and-forth battle with both teams trading punches throughout. Neither squad went up by more than four points at any point before intermission, and the Cardinals went into halftime with a slim 35-32 lead.
Unfortunately, the biggest moment in the first half was a tragic one. With just over six minutes remaining in the half, Louisville guard Kevin Ware landed awkwardly and severely injured his leg attempting to defend a Tyler Thornton three-pointer.
According to Pete Thamel of Sports Illustrated, he officially broke his leg and was immediately taken to the hospital:
Louisville says that Kevin Ware offcially a broken leg, CBS reports. He's off to the hospital. Ware is an ATL kid, so close to a homecoming.

— Pete Thamel(@SIPeteThamel) March 31, 2013
The injury was
so gruesome
that the teammates struggled to keep their composure. The Cardinals were visibly shaken and struggled to bring the same energy for the rest of the period.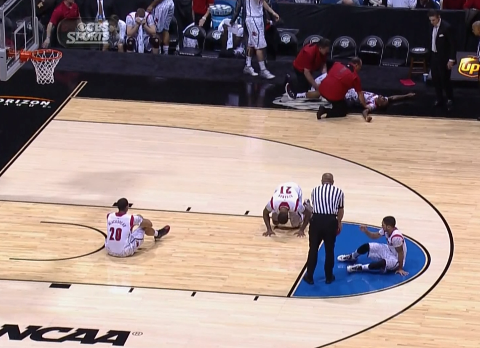 Fortunately, the squad was able to regain its focus while taking a lead into intermission.
Who was the MVP of the game for Louisville?
In the second half, the squads were tied at 42, but guards Russ Smith and Peyton Siva keyed a 17-2 run to pull away.
Like it has all season, Louisville had its great defense to thank. Duke was held to 36.5 percent from the floor for the contest and could not get an open look all game.
Smith continued his impressive offensive run in the game. Coming into the contest averaging 27 points a game in the tournament, Smith put up 23 points on 7-of-14 shooting against the Blue Devils. Siva, meanwhile, had his best game of the postseason with 16 points and four assists to go with great on-ball defense.
Gorgui Dieng's interior play with 14 points, 11 rebounds and four blocks also went a long way toward securing the victory.
" frameborder="0" width="620" height="430">
Meanwhile, Duke could not get much going on the offensive side of the ball. Mason Plumlee led the way with 17 points and 12 rebounds, but the rest of the squad struggled to put points on the board.
Louisville will go to the Final Four for the second season in a row after losing to Kentucky in the national semifinal last season. As the No. 1 overall seed in the tourney, the squad is undoubtedly hoping for a better result this time around in Atlanta.
Of course, the Cardinals should know better by now not to overlook Wichita State in the next round.
For Duke, this is the best result since the 2010 national championship, but Mike Krzyzewski was likely hoping for better after spending a good part of the season ranked No. 1 overall in the country.
However, Louisville was the best team on the Lucas Oil Stadium court on Sunday and will try to keep this momentum into the Final Four next week.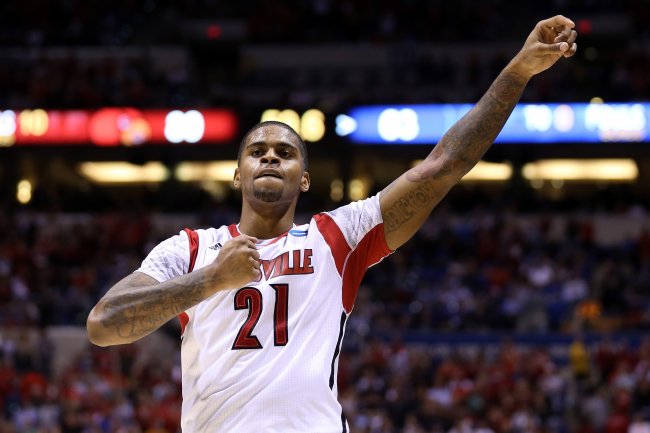 Streeter Lecka/Getty Images
" frameborder="0" width="620" height="430">
Full highlights from Louisville vs. Duke
Twitter Reaction
Most of the discussion in the first half was in response to Kevin Ware's injury and the players' reactions to it.
Pat Forde of Yahoo! Sports explained how the players were initially reacting on the court:
Horrible, horrible scene. Chane Behanan sobbing. Russ crying. This is awful.

— Pat Forde (@YahooForde) March 31, 2013
Zach Schonbrun of the New York Times reported
that things were even worse on the bench:
Several Louisville players appeared to vomit on the bench

— Zach Schonbrun (@zschonbrun) March 31, 2013
However, the players were able to take away some motivating words from the injured guard, according to CBS' Tracy Wolfson (via
Bleacher Report
):
.@tracywolfson reports Kevin Ware told his teammates: "Don't worry about me. I'll be OK. You guys go win this thing."

— Bleacher Report (@BleacherReport) March 31, 2013
This "win one for the Gipper"-type speech seemed to have a positive effect, as the Cardinals dominated the second half.
Dan Wolken of USA Today talked about the great play of the Louisville backcourt:
Russ and Peyton acting like they won't let Louisville lose.

— Dan Wolken (@DanWolken) March 31, 2013
According to
David Aldridge of NBA.com
, it was more than just talent that helped the squad win this game:
Great hustle by Louisville! They're leaving it out on the floor today...

— David Aldridge (@daldridgetnt) March 31, 2013
Grantland's Brian Phillips
also tweeted about an important stat that helped explain this finish:
Oh, well, if Louisville is 28-0 with a halftime lead this season obviously that's predictively relevant to this particular game.

— Brian Phillips (@runofplay) March 31, 2013
Of course, Duke seemed to know this game was over, even with plenty of time remaining.
Will Brinson of CBS Sports
talked about the not-so-smart strategy:
Duke's been shooting for the past six minutes like they're trying to score 20 points on a single shot.

— Will Brinson (@WillBrinson) March 31, 2013
The problem for college basketball fans is that Louisville looked too good in this game.
ESPN's J.A. Adande
pointed out that this could lead to more blowouts in the Final Four:
If Louisville-Duke couldn't provide a great game I have low expectations for the Final 4.

— J.A. Adande (@jadande) March 31, 2013
Then again, this is one problem that Louisville fans are perfectly fine with having.
For continued college basketball analysis, follow me on Twitter.