5 Things Chelsea Must Get Right to Beat Manchester United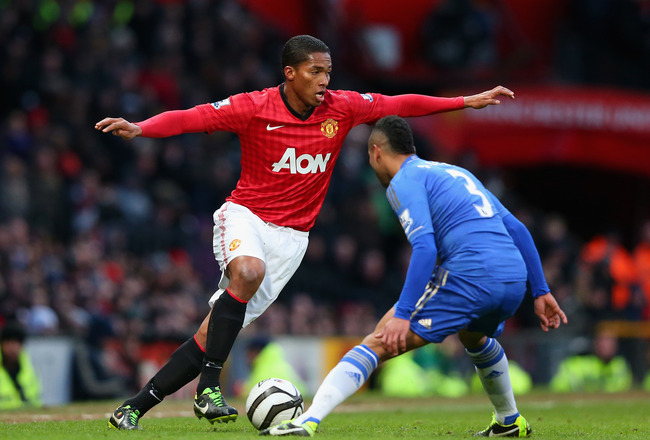 Alex Livesey/Getty Images
Three weeks ago, Chelsea found themselves 2-0 down at halftime at Old Trafford, with every sign from their woeful display suggesting that their already faltering season was about to disintegrate into chaos.
Yet, a combination of an inspirational team-talk from their under-pressure coach Rafa Benitez and the introduction of their star winger Eden Hazard helped spring the side into life. The Blues eventually clawed back from two goals down and probably should have won the game after an impressive comeback.
It was most unexpected, given the Blues' recent form, and it might just have given Chelsea momentum going into the FA Cup Quarterfinal replay.
However, if history tells us anything, it would be that Sir Alex Ferguson does not allow his Manchester United side to get complacent very often, and certainly not twice against the same opposition.
The Red Devils were guilty of taking their foot off the gas in the second half and paid the ultimate price while facing the West London side on their own turf.
The Premier League leaders will be buoyed by their hard-fought 1-0 victory against Sunderland on Saturday, and even more so by Chelsea's 2-1 defeat at the hands of Southampton.
Whether that will give Benitez's men the motivation to bounce back is unknown. But here are five things they can do to avoid falling against Manchester United.
Selection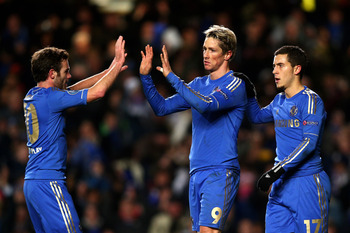 Clive Rose/Getty Images
This is obviously something that Rafa Benitez needs to get spot-on if he is going to beat Manchester United, who are currently 18 matches unbeaten in the Premier League.
And the key to being successful in this crucial FA Cup tie is having the creative trio of Eden Hazard, Juan Mata and Oscar at his disposal.
Pundits can say what they like about balance and having enough players tracking back as well as going forward, but when these three play for Chelsea, they just ooze quality and confidence.
Any doubters will look to Chelsea's first six games under Roberto Di Matteo, where they notched up an impressive 16 points with the trio combining well together. Not as well as they do now, perhaps, but it proves they simply must play together.
Mata has 18 goals and 16 assists in all competitions, Hazard is also into double figures for both and Oscar has six goals in Europe this season, including five in the Champions League. Their influence must not be underestimated.
It is also essential to see John Terry in the starting lineup. The 32-year-old may not be the defender he once was, but his presence is felt on and off the field by his teammates. Additionally, his goal at Southampton proved he can still score crucial goals every now and then.
If Chelsea get the selection right to match up against Manchester United, they may be able to score victory.
Taking Chances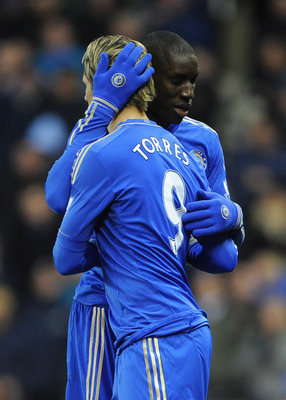 Michael Regan/Getty Images
As Fernando Torres showed in Chelsea's 3-1 victory over Steaua Bucharest, he can display the form of a £50 million striker.
His strike from 12 yards out was a timely reminder of how the 28-year-old can quickly revert to his former self, the player that was renowned as one of the world's best strikers.
That goal put Chelsea in the Europa League quarterfinal to face Rubin Kazan, who they play on Thursday. And while it does nothing to dispel the rumors surrounding Chelsea replacing Torres with another striker, it highlighted that he has some value at the club.
The Spanish international will be competing for a starting spot with Demba Ba, with the Senegalese man starting the original game at Old Trafford without making much of an impression.
What they did well was take chances in the game, with Hazard's goal an absolute joy to behold—he curled a wonderful effort past David De Gea.
And if they are at a similar of class during the replay, you can assume the Blues will be heading to Wembley.
Attitude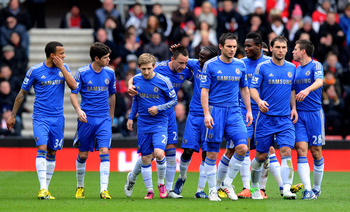 Mike Hewitt/Getty Images
When Chelsea are on song, is there a better team to watch in the country?
Their 8-0 victory over Aston Villa epitomized just what they can do when they are their best, destroying any team in their path. Even in the second half of the clash against Manchester United, they showed the relentless form which helped them to two cup victories last season.
It is fair to say that this has not been apparent frequently this season, but surely an FA Cup quarterfinal replay against Manchester United will provide enough motivation to push for a semifinal birth?
Rafa Benitez is thought to be setting his sights on winning the FA Cup, with the Europa League and a fourth-place finish in the Premier League viewed with less importance.
We have talked about their key trio, but winning the battle in the center of the park is even more crucial. And for that, the likes of Ramires, John Obi and of course, Frank Lampard, will need to be focused on performing well.
Adopting a never-say-die spirit against the team that invented it could be the way for Chelsea to progress, because without that winning mentality, they could be ending the season without a trophy.
Fans Backing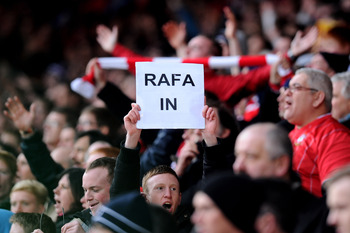 Mike Hewitt/Getty Images
Any person in football who underestimates the influence of fans at a football game must be delusional. Why else would FIFA or UEFA make a point of making clubs whose fans misbehave play a game behind closed doors?
Imagine the effect it has when you step out on to the pitch at Stamford Bridge, a stadium which has an average home attendance of over 41,000 fans, and hear around half booing Rafa Benitez, the club's interim manager.
The effect this has on the manager? Supposedly it does not bother him whether the fans like him or not. But the players? Well, that is a different matter altogether.
To the players, knowing that the fans are happy and raring to go is a key motivator in striving towards victory. Players like Didier Drogba love the atmosphere and tend to rally them by waving their arms.
The fans can provide confidence and passion to the players and become the "12th man," but in Chelsea's case, they can also be the architects of their own club's downfall.
It is important for the supporters to know that if they cheer the team on at home, they can help their side beat Manchester United.
But chants openly criticizing Benitez are not helping the situation. The point has been made and heard quite clearly by the Spaniard and the board.
It's time to support your team now.
Ball Retention: On and off the Ball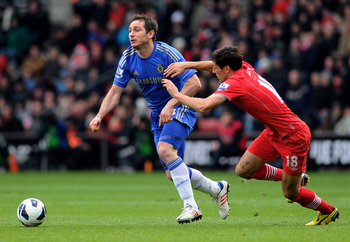 Mike Hewitt/Getty Images
Take a step back from Chelsea for a moment and view this subject with reference to football as a whole. The main aim of the game is to score goals, and how can you score goals? By keeping the ball. Without the ball at your feet, you will not score.
It sounds simple and obvious, but it begs the question as to why some teams are content to let sides such as Barcelona or Real Madrid have the best part of 70 percent possession. Having so much of the ball boosts confidence, and this is why these teams are the best in the world.
It's also their work off the ball which is key to their success. Under Pep Guardiola, Barcelona operated under a six-second rule, whereby they would be punished in training if they could not get the ball back. It creates fear and panic amongst the opposition, and this tactic is effective almost anywhere in football.
Closing down means the opponent has less time to think about their next move, and the initial reaction is to get rid of the ball in order to avoid being robbed of possession.
Of course, the better players can play around pressure, but it makes a difference without question.
Limiting Manchester United to a small amount of space and time on the ball is crucial to Chelsea's chances; the likes of Michael Carrick and Wayne Rooney are devastating when they have the opportunity to think about their next pass.
With energetic midfielders and wingers, Chelsea are able to do this. Ramires has the pace and to be fair, Fernando Torres is one of few players who attempts to close down the other team. It is a working method, and if Chelsea operate with this on Monday, they could see themselves dominating possession for sure.
Keep Reading

Chelsea: Like this team?