The Biggest Questions for the Buccaneers Heading into the 2013 NFL Draft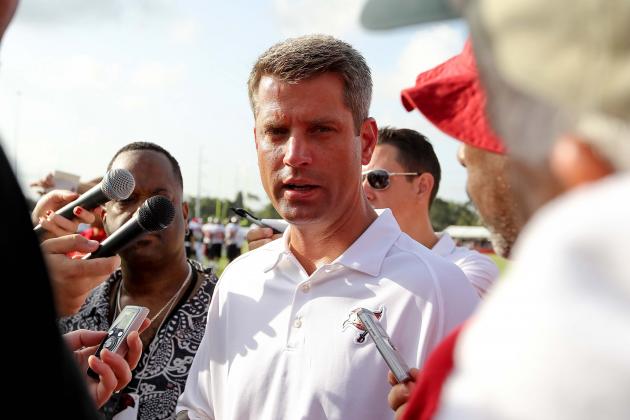 Kim Klement-USA TODAY Sports

When you have a franchise such as the Tampa Bay Buccaneers that has missed the postseason for five consecutive seasons, it's no surprise that they have as many question marks and unknowns as they do.
There are questions about their quarterback and his future with the franchise. There are holes to fill at key positions, and there is lingering uncertainty about the backup running back and troubled cornerback, both of whom appear to have fallen out of favor with the head coach.
Speaking of which, there are even some concerns about the man in charge himself, Greg Schiano, and the tactics and schemes he deploys come Sundays. For all the good he did in changing the culture last offseason was all but forgotten post-Kneelgate.
But that is the beauty of the offseason—it's an opportunity for coaching staffs to address their needs, refine their message and focus their attention towards the season ahead.
All of which brings us to the 2013 NFL draft, where the Bucs currently hold eight picks, including two in both the fourth and sixth rounds.
To that point, here are the Buccaneers' biggest questions heading into April's draft.
Begin Slideshow

»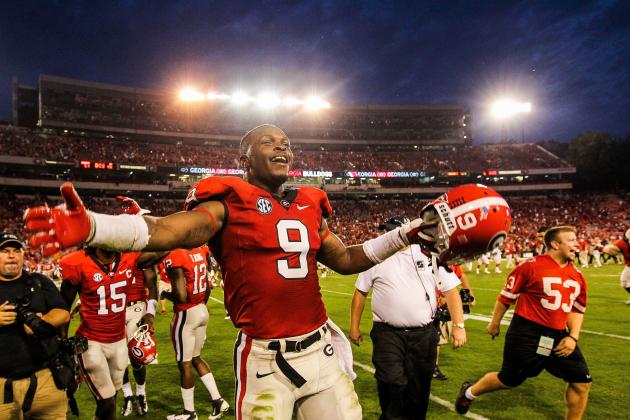 Daniel Shirey-USA TODAY Sports
Could LB Alec Ogletree wind up with the Bucs at No. 13?
Naturally, first-round picks garner most of the attention from both fans and analysts, as oftentimes, they are expected to contribute immediately.
That is certainly the case for the Bucs this season, as whomever they decide to pick at No. 13 will step in from day one and take over as starter for their respective position.
While several analysts (per a report by NFL.com) have predicted the Bucs will address their 32nd-ranked secondary by choosing a defensive back, there is a growing belief that, perhaps, they would be better suited addressing the defensive backfield in the middle rounds.
Doing so would allow them to address needs in positions with less draft depth this year, notably at tight end or linebacker, where names such as Zach Ertz or Tyler Eifert and Jarvis Jones or Alec Ogletree come to mind.
Oh, and don't forget there is still the off chance the Bucs send the pick to the Jets as part of a megadeal for cornerback Darrelle Revis.
In short, there is almost more uncertainty at No. 13 than there is with their second-round choice 30 picks later.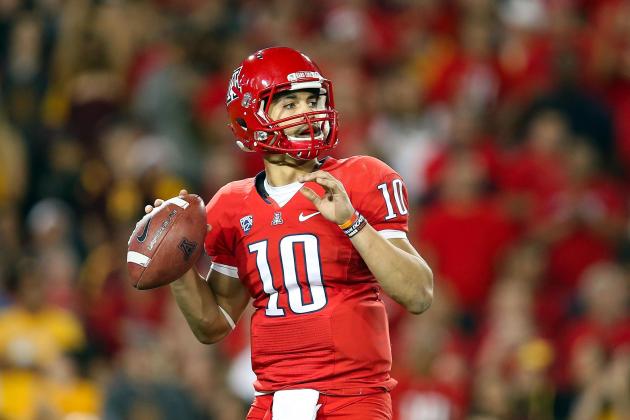 Christian Petersen/Getty Images

Despite record-setting numbers behind a patchwork offensive line in 2012, quarterback Josh Freeman came under fire more between Monday and Saturday than he ever did on Sundays.
There are those who question his leadership, others who question his decision-making and some who question everything about the 24-year-old passer.
Apparently, 4,000-plus passing yards and 27 touchdown passes doesn't buy you much in the "good graces" department anymore.
Yes, I know, the Bucs didn't make the playoffs, again, and yes, I know, Freeman endured his usual midseason meltdown, but calling for the guy's head—while his defense nearly allowed more passing yards than anyone else in history—sounds a little misguided.
Nevertheless, Coach Schiano has said Freeman will face competition this summer in an effort to further motivate their inconsistent signal-caller.
But with the Bucs having yet to sign a veteran this offseason, all signs point to the draft as where his competition is likely to come from.
Although, who that competition will be is anyone's guess at this point.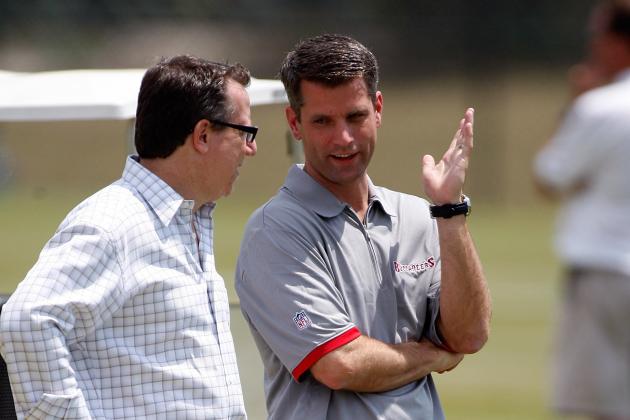 J. Meric/Getty Images

GM Mark Dominik was able to land three starters within the first two rounds of last year's draft, showing not only a willingness to get things done but the prowess to do so with limited ammunition.
Fast forward to this spring and the Bucs find themselves with a bevy of mid-round picks and nearly as many needs to fill. So, will he try to make another move or two to land better talent earlier in the draft?
With two picks in both the fourth and sixth rounds, the Bucs could use a combination of picks to trade back into the second round to grab someone who falls farther than they expect (much like Lavonte David last year).
Or they could use some of the picks in combination with a player, Blount or Wright, for example, to move back into the third or fourth round.
Regardless, Dominik finds himself in a position to pull the trigger if he so chooses to. Whether or not he does, on the other hand, is truly the question.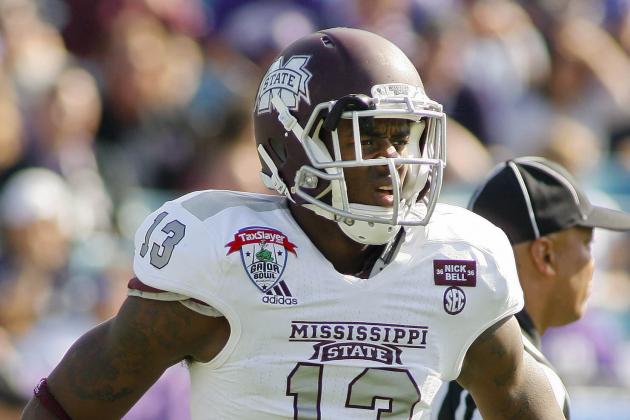 Phil Sears-USA TODAY Sports

It's not really a question of who the Bucs will draft to address their porous defense, as much as it is how many they'll draft.
After all, they're likely to need as many as three just to field a defense come training camp in August, especially if CB Eric Wright is released or traded (per a report by Mike Florio of Pro Football Talk.
Even if they decide against drafting a CB in the first round, with eight total picks and plenty of depth in the draft, the Bucs could still land several quality defensive backs to fill their roster.
If they go elsewhere in the first round, they are all but certain to go the CB route with their second-round choice, where players such as Johnthan Banks, Blidi Wreh-Wilson and David Amerson will likely still be available when the Bucs choose at No. 43.
Given the thoughts on the previous slide about Mark Dominik and his past instances of trading up to grab falling talent, don't look past the prospect of them trading back into the second or third round to draft multiple defensive backs.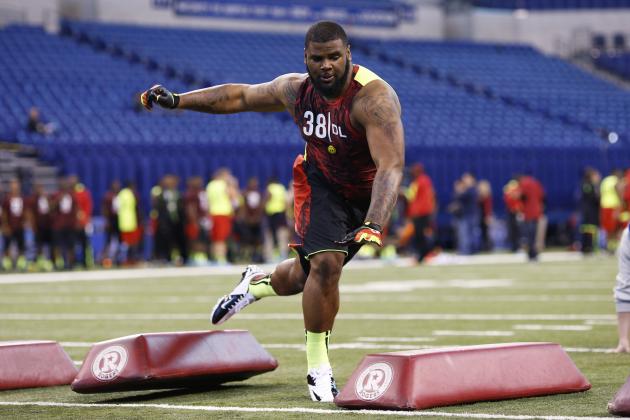 Joe Robbins/Getty Images
Is DT Sheldon Richardson a target of the Bucs?
Tampa Bay's defensive line lost two integral pieces in free agency, as DT Roy Miller and DE Michael Bennett signed elsewhere, leaving the Bucs in desperate need of depth up front.
Though they have young pass-rushers in Adrian Clayborn, Da'Quan Bowers and Gerald McCoy, the level of talent greatly diminishes in the depth chart afterward.
Considering McCoy is coming off the first Pro Bowl season of his young career, the Bucs would be wise to find someone capable of elevating McCoy's play much like Miller did last season.
Not only that but the Bucs have struggled rushing the passer over the last few seasons, which has undoubtedly led to some of their struggles against the pass.
Whether they do that by choosing a DT in the first or a combination of DT and DE later on in the draft, the fact remains the Bucs will need to add someone, at some point, because quite frankly, they have to.
Necessity dictates it.