Can Tyson Chandler Save NY Knicks' Defense in Time?
Use your ← → (arrow) keys to browse more stories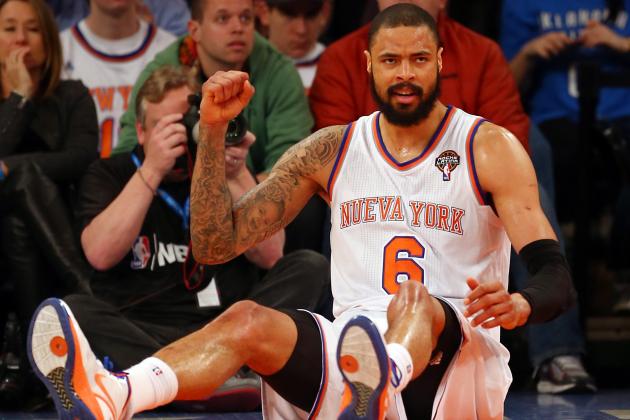 Elsa/Getty Images
Tyson Chandler needs to get healthy for the Knicks to compete in the playoffs.
In order for the New York Knicks to have any chance of making an impact in the playoffs, they need to improve their defense—and the key to that is Tyson Chandler.
While it may seem slightly presumptuous to worry about the Knicks defense following the team's eighth victory in a row, it's worth noting that New York is still only 16th in defensive efficiency with 103.1.
With the exception of the Brooklyn Nets in 19th place, every single team that is currently playoff bound is ahead of the Knicks in that category. The Knicks have been bailed out by their offense, which is third in offensive efficiency behind the Miami Heat and the Oklahoma City Thunder.
"We have to be cautious with him but no setbacks" Woodson on @tysonchandler's neck injury #Knicks

— NBA New York Knicks (@nyknicks) March 31, 2013
Tyson Chandler has missed the past 10 games with an injury, but the team has not been missing him. In his absence, the Knicks have gone 8-2, including their longest winning streak of the season, and have kept opponents under 100 points in all but three games.
It's a positive sign that Woodson has decided not to risk anything when it comes to Chandler's health. The Knicks have already clinched a playoff spot, and now it's all a question of which team New York will play in the first round.
In a recent edition of TrueHoop TV, John Hollinger, vice president of basketball operations for the Memphis Grizzlies, argued that teams should rest players who are hurt toward the end of the regular season even though it might hurt them in the standings. The topic comes up at two minutes, 50 seconds after a few minutes of chatting about NCAA refs and coffee.
John Hollinger argues that teams should prioritize resting players before the playoffs rather than scramble for a higher seed.
As you can see, the Grizzlies and the Knicks are in similar situations. They both have centers who are struggling with injuries, and their playoff opponents are still a big question mark. Currently, the Knicks are fighting with Indiana over the No. 2 seed in the East, while the Grizzlies can end up at No. 3, No. 4 or No. 5 in the West.
Hollinger's best point is that home-court advantage means you'll end up with a Game 7 that you might not even need and that risking entering the playoffs with injuries to your key players makes little sense.
This should ring true for all Knicks fans out there who still remember last year's playoff series between the Miami Heat and the injury-stricken Knicks.
But the most important reason for resting Chandler is that the Knicks are winning. New York might end up with both the No. 2 seed and a healthy Chandler the way the team is playing.
Kenyon Martin has been a better replacement than Knicks fans could have hoped for. Just look at the highlight reel of his 19-point, 11-rebound performance against the Toronto Raptors on March 22, which also included a beautiful steal at the end of the second quarter.
Kenyon Martin filled Chandler's shoes in his absence and contributed greatly to the Knicks' current winning streak.
So does this mean that the Knicks defense has been improving and might even be better off without Chandler? Not so fast.
During this otherwise impressive stretch, the Knicks have a defensive efficiency of 103.4, which is actually lower than their season average.
New York was already playing at one of the slowest paces in the league, averaging 92.3 possessions per game. Lately, that number has dipped to 89.3, which explains why the team's defensive efficiency has not improved.
Although the Knicks have won eight straight games, the streak is in large part due to a favorable schedule. Only the Boston Celtics, Utah Jazz and Grizzlies are over .500, and the Celtics have a horrible record on the road, going 13-24. The Charlotte Bobcats and the Orlando Magic, on the other hand, have the two worst records in the league.
If you want to see the worst-case scenario, you can look back at New York's 93-80 loss to the Los Angeles Clippers on March 17.
The Knicks sorely missed their star players and looked rusty against a young and vibrant Clippers team.
This game, which didn't include Carmelo Anthony, Amar'e Stoudemire or Chandler, showed why every Knicks fan fears what might happen if all the key players can't be on the court together at the same time in the postseason.
The Knicks were dominated in the paint by the Clippers' two big men, DeAndre Jordan and Blake Griffin, as New York had no response to them whatsoever.
Just look at the way Griffin blows past Kurt Thomas at the 1:20 mark, as he suddenly remembers that he's 24 years old and that Thomas has no way of keeping up with him.
Does this mean that everything is automatically going to fall into place once Chandler returns? Well, not necessarily. Remember that the Knicks' 16th-ranked defensive efficiency is with Chandler on the court.
Chandler needs to get back to his 2011-12 numbers when he was the Defensive Player of the Year. This season, he has seen his own defensive rating go from 99 to 104, and his defensive win shares have dropped from 3.6 to 2.1.
I am cautiously optimistic that we will see a resurgence from Chandler once he returns. The addition of Martin means that Chandler will no longer have to play close to 35 minutes per game, which he has done for long stretches during this season.
Chandler simply swatted away Dwyane Wade's attempt at a layup during Game 4 of the 2012 NBA playoffs' first round.
I'll leave you with my favorite Tyson Chandler highlight from last season's playoff series against Miami. This is the kind of intensity that was lacking during the Clippers game, and it shows once and for all why Chandler is so integral to this Knicks defense.