MLB Opening Night 2013: Astros vs. Rangers Live Score, Analysis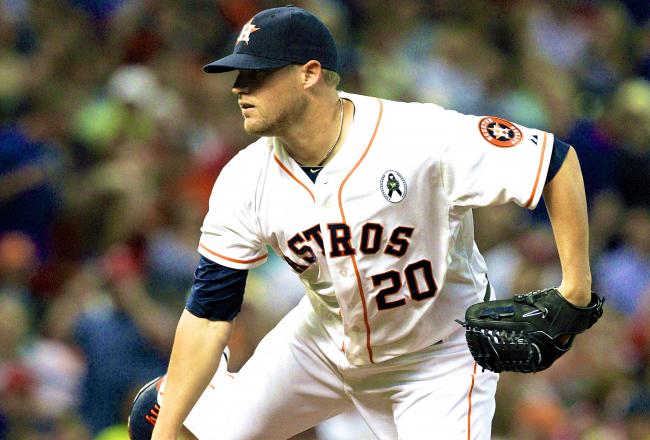 FINAL:
Texas 2 6 1
Houston 8 9 0
W: Norris (1-0)
L: Harrison (0-1)
S: Bedard (1)
HR: Ankiel (1)
Moreland grounds out to second to end the game.
An old fashioned three inning save for Erik Bedard, the first save of his career.
Tonight, the Astros won their 4,000th game in franchise history.
More importantly, at least for tonight, the Houston Astros are in first place.
Cruz hits a dying quail into right for a single.
That is the first runner to reach on Bedard in 2.2 innings.
Pierzynski flies out to left and there are two out.
Maxwell just robbed Murphy of a hit against the chain link fence in left-center.
ESPN names him the player of the game and that is absolutely correct.
David Murphy, Nelson Cruz and A.J. Pierzynski due up here in the ninth.
Whatever happens with the Astros this year, their American League debut will be one to remember.
Dominguez hits one off the mound that Kinsler cannot corral and Maxwell scores.
8-2.
They are giving Maxwell credit for two triples on ESPN, but Cruz boxed around that first one so bad, that had to have been an error.
Ankiel is retired to end the inning and Bedard is coming in to get a three-inning save.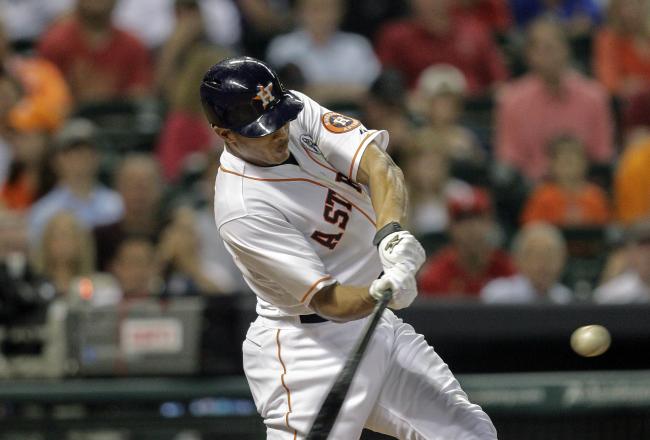 Justin Maxwell has had a great night as he triples down the right field line. He goes into third standing up.
What great speed around the bases and extension with his swing.
Infield in and Maxwell cannot move as Castro grounds out to second.
Joe Ortiz makes his major league debut for Texas as he pitches the eighth.
He gets a good start to his career as he strikes out Carlos Pena.
For #Rangers fans who are freaking out, the 1998 #Yankees started the season 1-4, but finished it with a 113-44 record & as WS champs. #MLB

— Andrew H. Martin (@historianandrew) April 1, 2013
Bedard gets Berkman on a check-swing curve. Bedard and Norris have both pitched exceptionally well.
It is another perfect inning as Beltre pops out to short.
Matt Dominguez does a fantastic job of robbing Elvis Andrus of a base hit. He goes to the line at third and fires a perfect strike to first to retire Elvis.
Bedard stays on to at least start the eighth. He has thrown under 20 pitches as he faces Lance Berkman.
Astros are six Rangers outs away from being the "first place Houston Astros." Sure, only one game. Still fun.

— Eye on Baseball (@EyeOnBaseball) April 1, 2013
After Brett Wallace strikes out, Carter grounds out to third.
A solid inning for Frasor, but Houston has a five-run lead going into the eighth.
A short night for Derek Lowe as newcomer Jason Frasor gets the call here in the seventh.
Altuve grounds out to short to start the inning.
Frasor was with Toronto before.
Tonight's attendance ... 41,307. Great, lively, sellout crowd on a great night for baseball thus far.

— Houston Astros (@astros) April 1, 2013
Kinsler grounds out to short and it's a 1-2-3 seventh for Houston.
Lyle Lovett will sing God Bless America here at the stretch.
Ankiel stays in the game in right.
Bedard remains on the hill and Moreland hits a grounder to Cedeno at short that he scoops up for the ground out.
Martin strikes out and there are two out.
Say what you want about Houston this year, but they have played a whale of a game tonight. Hard not to root for them.
Covered the sad Ankiel meltdown in the 2000 playoffs. It's so cool to think he's still around, 13 yrs later, with a big moment like that.

— Tyler Kepner (@TylerKepner) April 1, 2013
Lowe strikes out Cedeno, but Ankiel looks to have broken this one open with his fifth career pinch-hit home run.
Derek Lowe comes on to make his Texas debut with two-out in the sixth.
Rick Ankiel will pinch hit for Barnes.
Ankiel greets him with a huge three-run homer to right. A towering shot!
Houston jumps out to a 7-2 lead!
porter went a batter or 3 too long w/ bud norris. easy 2nd guess, but writer next to me called it before inning #sheknew

— Jon Heyman (@JonHeymanCBS) April 1, 2013
After Castro flies out to center, Dominguez draws a walk and that will be the end of Harrison's night.
100 pitches and on the wrong end of a 4-2 game in the sixth.
He walked three and struck out nine.
Matt Harrison gets Carlos Pena on strikes to start the sixth. Harrison has fanned nine tonight and is about to hit 90 pitches thrown.
Maxwell then adds to his eventful night by drawing a walk.
Mike Maddux comes out to chat with Harrison.
After giving up 2R in the top 6th, the @astros go to the bullpen. Bud Norris (HOU): 5.2 IP, 2 ER, 5 K, 3 BB. #TEXvsHOU on ESPN

— Baseball Tonight (@BBTN) April 1, 2013
Bedard—who will be Houston's fifth starter—gets Pierzynski to fly out to center to end the inning.
Norris stands to be the winner if his bullpen can hold the lead.
Cruz singles under the glove of Cedeno at short and Berkman scores.
That is it for Norris. Bedard comes in in a 4-2 game in the sixth.
This article is
What is the duplicate article?
Why is this article offensive?
Where is this article plagiarized from?
Why is this article poorly edited?