The Biggest Questions for Arizona Cardinals Heading into the 2013 NFL Draft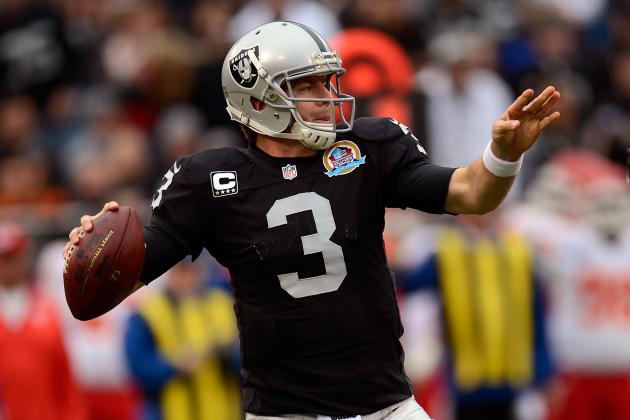 Thearon W. Henderson/Getty Images
Is Carson Palmer the Arizona Cardinals next starting quarterback?
With a new head coach and general manager running the show for the Arizona Cardinals, there are more questions than normal for the franchise to answer.
Some are not as important as others, so we will cover the major questions for now (we're not playing 20 Questions, here).
GM Steve Keim has worked hard already to make changes to the roster left by his predecessor, Rod Graves, by cutting the fat of bloated contracts and underachievers. Some popular names have left the building, and left in their place are holes that must be filled.
Those all will be covered, as well as other pressing issues the team faces. Here are the biggest questions the Cardinals must answer heading into the 2013 NFL draft.
Begin Slideshow

»
Chris Graythen/Getty Images
Could Eric Reid be in the Cardinals' future?
Releasing Adrian Wilson is one thing. He is up there in age and hadn't seen much playing time over the back half of last season.
But following that up by releasing Kerry Rhodes is confusing.
The move saved the Cardinals a pretty penny, and perhaps Rhodes didn't want to take a pay cut this season to help Arizona ease its salary-cap woes.
Whatever the reasons, it smells funny and leaves a bad aftertaste in the mouths of Cardinals fans. Rhodes was one of the best defenders among one of the best units in the league last year, and his departure leaves as big a hole as the one left by Wilson—if not bigger.
Arizona re-signed Rashad Johnson to a three-year deal, and he is an able short-term fill-in. Yeremiah Bell also was signed, and he's older than Wilson is (though, significantly cheaper).
Unless the Cardinals strike gold in the draft with one of the top safeties like Kenny Vacarro, Jonathan Cyprien or Eric Reid, this question may take more time to answer.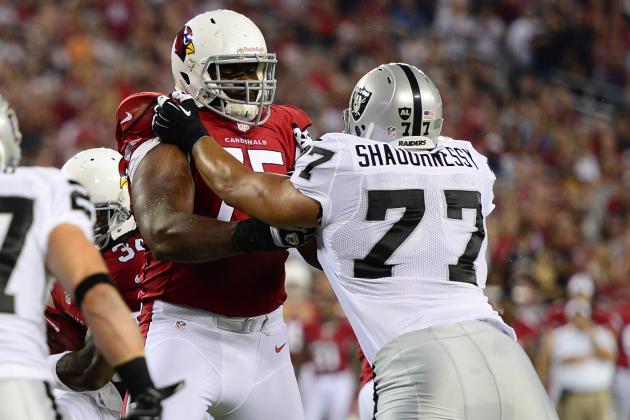 Mark J. Rebilas-USA TODAY Sports
These two are now teammates in Arizona.
When left tackle Levi Brown went down with a torn triceps muscle in the preseason, it left a hole D'Anthony Batiste could not fill.
Rookie Nate Potter stepped up to the plate to start the second quarter of the Week 9 game at Green Bay, and though he struggled some at first, he improved quickly and helped settle the left side of the line.
Brown will be ready to go for offseason work, so it is safe to assume he is the front-runner for the blindside spot once there is an official depth chart before the first preseason game.
Center Lyle Sendlein also suffered a season-ending injury last year.
His came at home against the St. Louis Rams. It was early in the game when he tore the MCL in his left knee. He played the rest of the game with the torn ligament.
Sendlein had started 80 consecutive games for the Cardinals before shutting it down the final five weeks, and if he's healthy, the position is his.
That's the question, though. If he is healthy enough to start the season.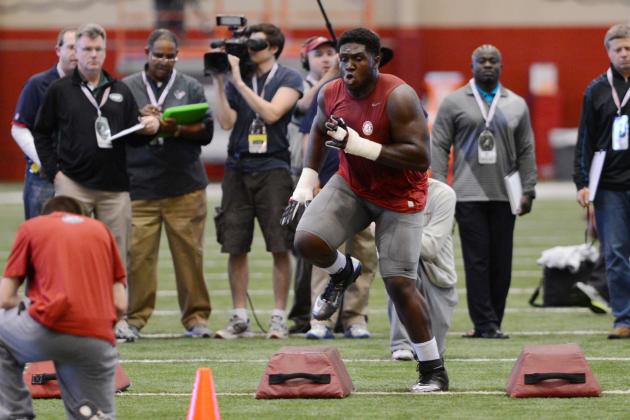 Kelly Lambert-USA TODAY Sports
Chance Warmack should be in play at No. 7 on April 25.
Keeping with the offensive line theme, Keim and head coach Bruce Arians must answer the question of whether they should keep Adam Snyder or draft his immediate replacement at No. 7 overall in Chance Warmack.
Early in 2013, I got the sense that many of you fans were completely against the taking of a guard that high.
But in recent weeks, I have noticed many more of you shifting your opinion on the matter.
The hope is that it's not just you guys who get it. Snyder must be replaced, and Warmack with the seventh-overall pick is a small price to pay to do so.
Larry Warford is also a viable instant upgrade, but there is no guarantee he will be available when the Cardinals are on the clock to start Day 2 of the draft. Warmack is a better bet at No. 7 because of his near-guaranteed availability.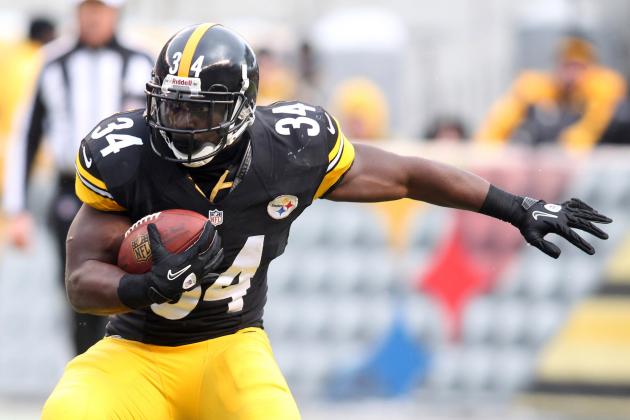 Charles LeClaire-USA TODAY Sports

With Beanie Wells cut from the roster and Rashard Mendenhall in his place, the team has effectively moved from one knee-injury issue to another.
Wells dealt with the injury—the severity of which was never fully disclosed—over his final two seasons in the Valley.
It wasn't much of a problem for him in 2011, as he rushed for a career-high 1,048 yards and 10 touchdowns as the primary back for Arizona.
Last season was a vastly different story.
He couldn't stay on the field, and even when he did, he had trouble finding holes and playing consistently enough to make an impact.
He carried 88 times for only 234 yards (2.66 yards per carry) and scored five touchdowns—all scores coming in just two games.
Mendenhall tore the ACL in his right knee during 2011's regular-season finale against the Cleveland Browns.
Arians is thrilled to get back his former workhorse back from his days in Pittsburgh: "He's a legitimate big-time threat every time he touches the ball. He's a big back who never has to come out of the game. He has a 230-pound body with 180-pound feet."
Mendenhall rushed for 182 yards on 51 carries (3.6 YPC) last season with no rushing touchdowns while sharing time with a multitude of running backs in Pittsburgh last year.
His three seasons as Arians' primary back saw him average 1,103 rushing yards, 4.2 YPC, 9.33 rushing touchdowns and 264.67 carries per season. At just 25 years old, many believe he can return to those numbers as a full-time back.
If that's the case, great. But adding a back like former Rutgers Scarlet Knight Jawan Jamison or former UCLA Bruin Jonathan Franklin in the mid to late rounds is a good idea regardless.
Carson Palmer likely is on his way out of Oakland, as the Raiders are finalizing a deal for Seattle Seahawks backup quarterback Matt Flynn.
It has come up in the past that Arizona could be a potential destination for Palmer should Oakland cut him and his astronomical contract.
I have been on board with the idea of Palmer in Arizona since before the Kevin Kolb trade—I preferred him to Kolb then and still believe he would have been the better choice.
Adding him now would ease the minds of many Cardinals fans who don't see Drew Stanton as an upgrade over the quarterback situation of 2012.
Palmer just completed one of the better statistical seasons of his career, throwing for 4,018 yards, 22 touchdowns and 14 interceptions. He completed 61.1 percent of his passes and was sacked only 26 times despite Oakland's offensive line allowing the 11th-most total pressures last year (via ProFootballFocus).
Kent Somers of AZCentral.com said the Cardinals have interest in Palmer but won't overpay for the nine-year veteran.
Why they would trade for him in the first place is curious, as he should be released upon completion of the Flynn deal. But getting him is important, and if it costs the team a late-round conditional pick, that is acceptable.
Just as long as it is not a second-rounder and a cornerback.