NHL Week 10: Who's Hot, Who's Not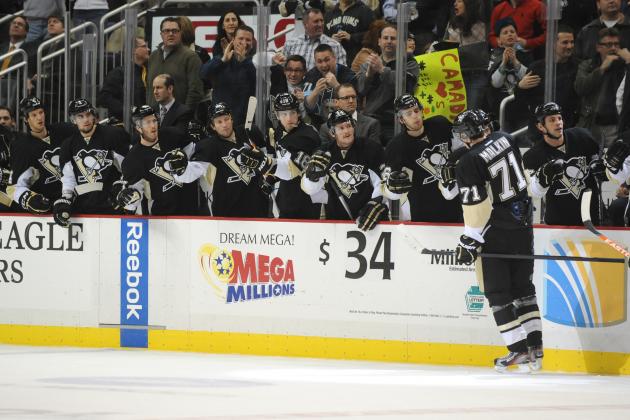 Vincent Pugliese/Getty Images
Pittsburgh is all smiles this week. Sidney Crosby's smile just might be missing some teeth.
As we enter the final month of the NHL regular season, we could bear witness to another record streak. The Pittsburgh Penguins completed a perfect month of March and head into April just two games shy of the NHL record for consecutive wins.
With just four weeks left, the shortened season hasn't been short on streaks, history or drama. Here's a look at who's hot and who's not for Week 10.
Begin Slideshow

»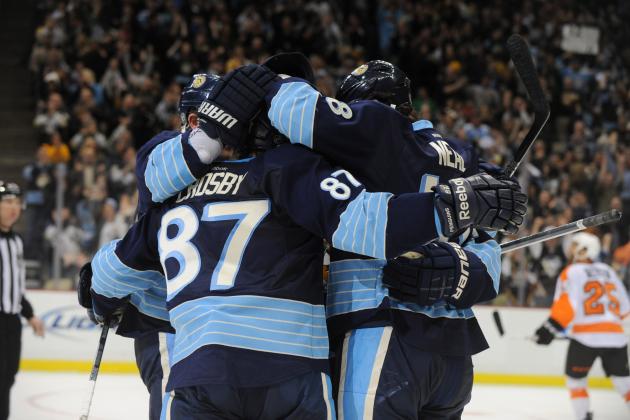 Vincent Pugliese/Getty Images
Can anyone stop the Penguins? They are creeping up on the NHL record for consecutive wins.
The Pittsburgh Penguins have won 15 straight games—two shy of the NHL record set by the 1992-93 Penguins.
Up next:
vs. Buffalo, April 2
(Possible tie) at New York Rangers, April 3
(Possible record-breaking game) vs. Rangers, April 5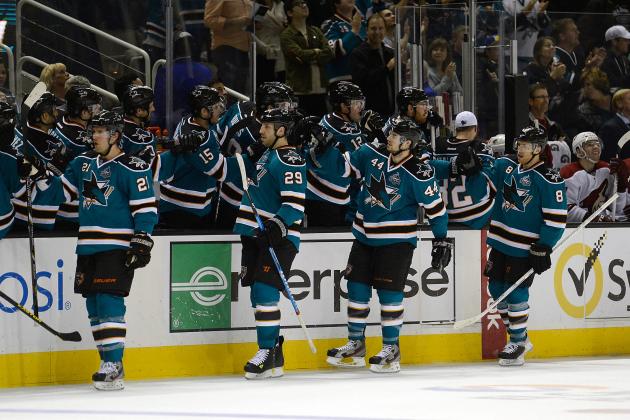 Thearon W. Henderson/Getty Images
The Sharks are back after an undefeated week.
The Penguins have taken "hot" to a new level, but they aren't the only team that is playing well. The San Jose Sharks shut out both Anaheim and Detroit this week, recording a 4-0 record on the week—they have a four-point cushion in the Western Conference standings.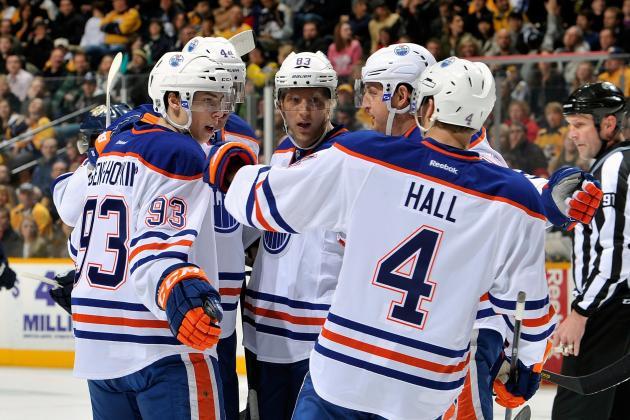 Frederick Breedon/Getty Images
Could the Oilers sneak into a playoff spot? If they keep playing this way, they probably will.
It's hard to consider any other teams in the NHL hot when compared to the Penguins, but make sure to keep an eye on these teams as we head into a crucial week in April:
Toronto Maple Leafs (won three straight)
Edmonton Oilers (won three straight)
Montreal Canadiens (won two of three, lost to Pittsburgh 1-0)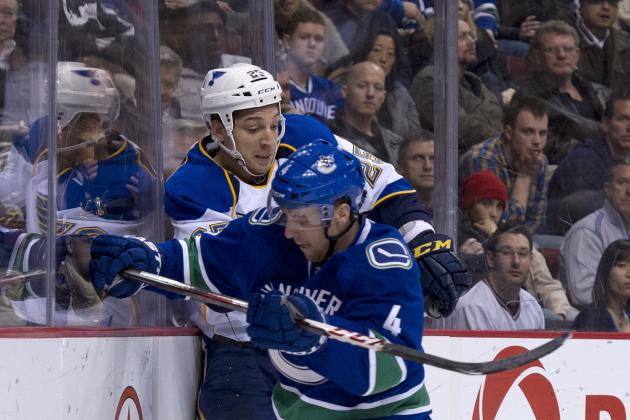 Rich Lam/Getty Images
The Blues struggled this week but still hold onto the final spot in the West.
The St. Louis Blues are the coldest team in the league after dropping all three games this week. The Blues were outscored 10-4 this week and were shut out by the Edmonton Oilers.
The goaltending carousel seems to have come to an end as Brian Elliott and Jaroslav Halak appear to be the tandem in St. Louis. The Blues need consistency in net as they are currently eighth in the Western Conference, with four teams just one point behind.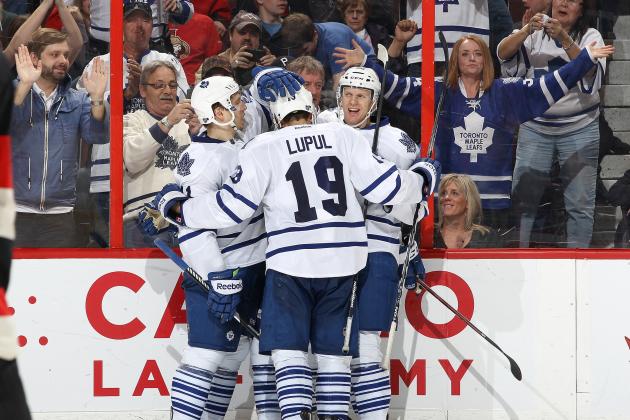 Jana Chytilova/Freestyle Photo/Getty Images
Joffrey Lupul came back to the Leafs in exciting fashion this week with nine points.
Individual performances dominated this week. There was even a nine-point week from one forward. There were more forwards than one slide could handle, so here's a few slides for the best forwards of the week.
Joffrey Lupul of the Toronto Maple Leafs had the biggest week of any forward, recording nine points on five goals and four assists. Mark Zwolinski of the Toronto Star said the Leafs would have a dilemma when Lupul returned from injury. Lupul cleared things up real quick.
Taylor Hall of the Edmonton Oilers put himself in elite company this week. Not only did he have an eight-point week, but his hat trick against the Canucks broke a team record held by Wayne Gretzky.
Shawn Matthias of the Florida Panthers didn't get the memo about the Panthers having one of the league's worst offenses (27th, 2.39 goals per game). He found the back of the net five times this week, including multi-goal games against New Jersey and Buffalo.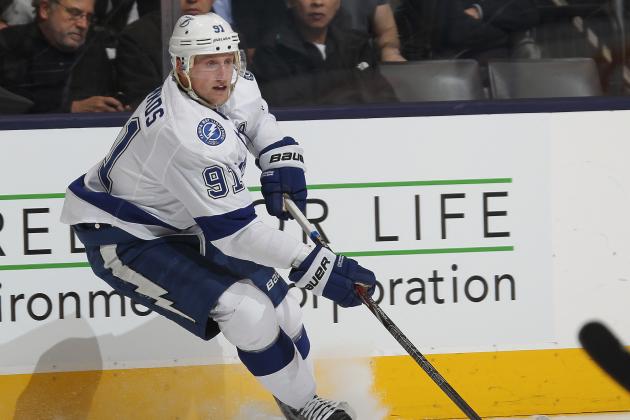 Claus Andersen/Getty Images
No one was more important to his team's success this week than Steven Stamkos.
Joe Pavelski of the San Jose Sharks is finding his groove again. Probably not coincidentally, the Sharks are finding their groove again, too. Pavelski had four goals and two assists this week and has scored in four straight games. He snapped an eight-game pointless streak with his current hot streak.
Steven Stamkos of the Tampa Bay Lightning had a typical performance this week. His four goals and two assists helped the Lightning win two of three. He had a goal and an assist in a 2-1 win over Buffalo and a three-point effort against New Jersey in that shootout win.
Ryan Nugent-Hopkins of the Edmonton Oilers closes out the hot forwards for the week. While he didn't score himself, Nugent-Hopkins had seven—that's right, seven—helpers this week. He has two assists in each of his last three games.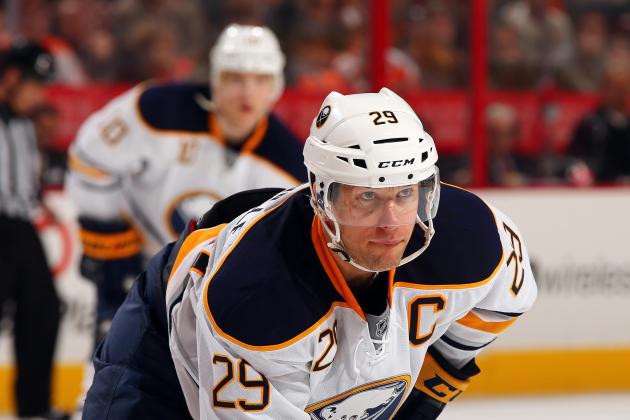 Elsa/Getty Images
What has happened to the Sabres' captain? Jason Pominville was held scoreless again this week.
Jeff Skinner of the Carolina Hurricanes was held off the scoresheet this week and notched a minus-two rating. He has just four points in March. The Hurricanes are 1-6-1 in their last eight games and Skinner has just one point in that span.
Jason Pominville of the Buffalo Sabres finally cooled off. He didn't put up a point last week and hasn't scored in the last four games. He has just four shots on goal in the last week and the Sabres have dropped three straight—two in overtime.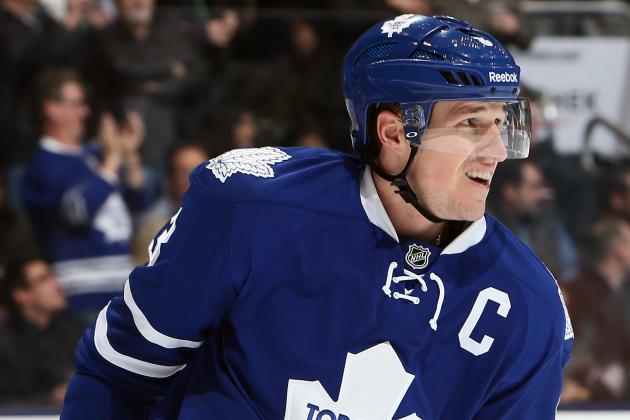 Abelimages/Getty Images
Dion Phaneuf has his Maple Leafs eyeing a playoff spot. His performance this week solidified that idea.
Dion Phaneuf of the Toronto Maple Leafs needs some considerable praise for his performance this week. Not only did he provide some offense, Phaneuf played solid defense and logged over 24 minutes of ice time per game this week.
Phaneuf had four points (two goals, two assists), but his plus-six rating is more important. His Leafs have picked up a point in each of the last eight games and won three straight, including a shut out of the Ottawa Senators. His sturdy defense anchored that effort.
Jonathan Daniel/Getty Images
This pair of Chicago defensemen have seen better weeks, but their team is still on top of the conference.
Niklas Hjalmarsson and Johnny Oduya of the Chicago Blackhawks had a difficult week. They were a combined minus-10 (minus-five each) this week. These two were on the ice for both of Anaheim's goals in the 2-1 loss. They were both minus-three against Los Angeles—a 5-4 loss.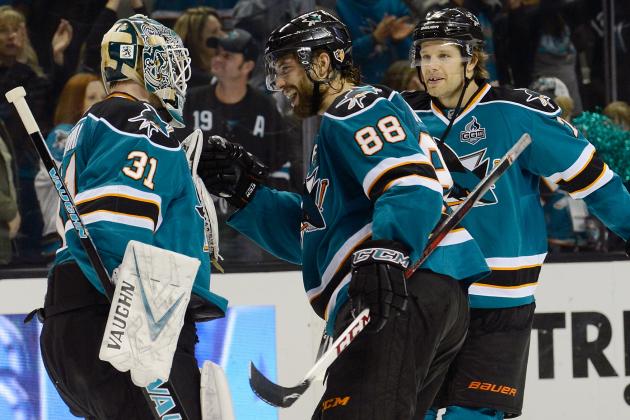 Thearon W. Henderson/Getty Images
Two shutouts, four wins and some breathing room in the Western Conference playoff race? The Sharks can thank Antti Niemi for a great week.
Antti Niemi of the San Jose Sharks is welcomed back to the hot goaltender segment thanks to a four-win week.
Niemi gave up five goals this week in four games and pitched two shutouts. His 1.22 goals-against average is superb considering he faced the Detroit Red Wings, Phoenix Coyotes and Anaheim Ducks (twice) this week.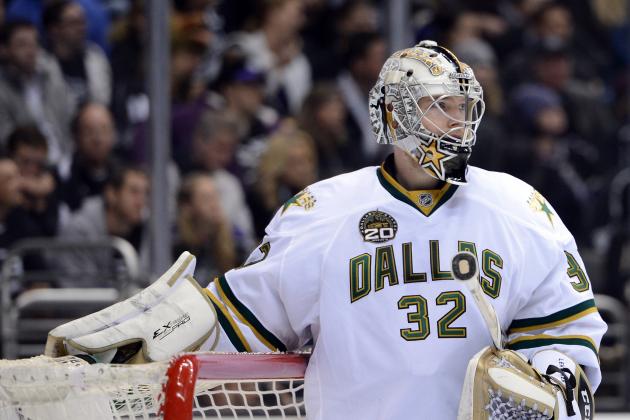 Harry How/Getty Images
Kari Lehtonen struggled this week against the Minnesota Wild. He gave up nine goals in two appearances against the Wild.
Kari Lehtonen of the Dallas Stars gets the coldest goaltender mark for this week. He went 0-1 this week in two appearances—both against Minnesota. He gave up six goals to the Wild on 41 shots on March 25 and followed that up by giving up another three goals on March 29. The Stars won 5-3, but Lehtonen didn't record a decision.