Michigan vs. Florida: Live Score, Highlights and Elite Eight Game Reaction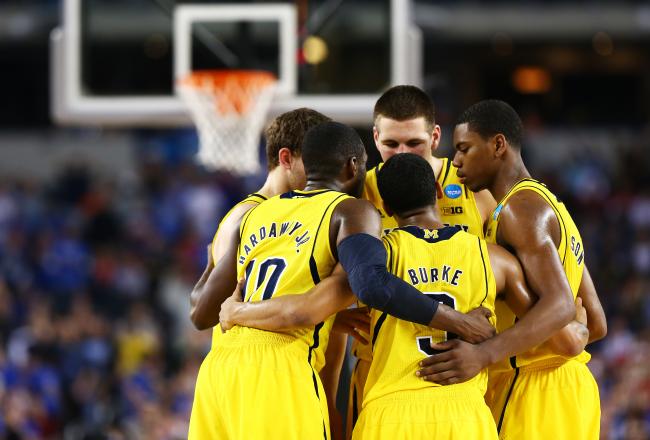 Will the Michigan Wolverines advance to their first Elite Eight since 1993, or will the Florida Gators end Billy Donovan's Final Four drought?
Tom Pennington/Getty Images
In what seemed like an even matchup on paper, the fourth-seeded Michigan Wolverines dominated the third-seeded Florida Gators from start to finish to emerge from Cowboys Stadium with a 79-59 victory. The win has Michigan back in the Final Four for the first time in 20 years.
Florida's defense, which only allows opponents to shoot 37 percent from the floor, had no answer for Wooden Award candidate Trey Burke and sharp-shooting guard Nik Stauskas.
Burke started 5-of-10 from the floor, while Stauskas went 7-of-8 overall and 6-of-6 from three-point range. The two combined for 37 points.
Freshman big man Mitch McGary continued his outstanding play in the low-post as well. McGary went 5-of-8 to score 11 points, grabbed nine rebounds and came away with five steals.
The Gators shot 41 percent, but were just 2-of-10 from distance. Michigan countered Florida's cold shooting with 10 threes of its own, which helped the Wolverines build a 25-point lead.
Michigan built all of its momentum off of a 13-0 run to open the game. Stauskas' efficient shooting helped the Wolverines keep the Gators at a distance for the remainder of the contest.
The newly crowned South region champions will now head to Atlanta, where Michigan will face the fourth-seeded Syracuse Orange, who won the East region.
Follow me on Twitter: @Zach_Dirlam.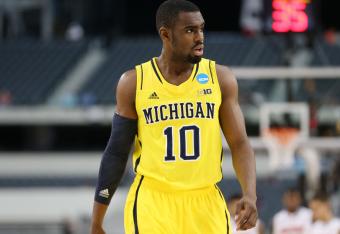 Mich. 79, UF 59 - End of Game
How can you be anything but excited for Matt Vogrich there? The senior guard has been benched by Nik Stauskas' great play this season, but he got a chance to knock down a three in Michigan's Elite Eight win.
Those are the stories that help make college basketball great.
This one is in the books. Michigan is heading back to the Final Four, where it will face the Syracuse Orange. What a performance by Michigan today.
Mich. 76, UF 54 - 1:20 2nd Half
Michigan starting to drain the clock. The Wolverines can taste the Final Four now. What an impressive run by the Wolverines, who beat the two teams that were supposed to give them the toughest time.
Beilein empties the bench to get all of his seniors and reserves on the floor. Great move by the head coach.
Mark Snyder of the Detroit Free Press brings up an impressive statistic for Michigan fans to chat about:
Michigan only second team to put 70 on Gators this year (non-exhibition)

— Mark Snyder (@Mark__Snyder) March 31, 2013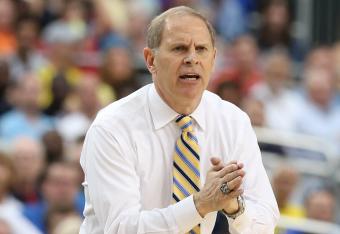 Mich. 74, UF 54 - 4:12 2nd Half
Michigan continues to get production from Albrecht with Burke on the bench. Albrecht came away with another steal for a layup and drilled a three, after Burke came back into the game.
These Wolverines are fired up and are closing in on their first Final Four appearance in 20 years.
Surprised to see Michael Rothstein of ESPN's Wolverine Nation is the only person reporting this:
According to CBS, Trey Burke has been playing with some sort of illness/virus.

— Michael Rothstein (@mikerothstein) March 31, 2013
Mich. 67, UF 48 - 6:16 2nd Half
Burke and the Wolverines continue to pour it on. Burke penetrates the lane and throws one over the rim to Glenn Robinson III for a one-handed alley-oop dunk.
Robinson is just 3-of-7, and Hardaway is only 3-of-13 from the field, but both are still producing in other ways. Hardaway has four assists and Robinson has two rebounds and a pair of blocks.
Two of the Gators' top performers have not been able to do anything offensively this afternoon, which is something OnlyGators.com pointed out via Twitter:
Murphy/Wilbekin now 0-for-12 combined. Rest of team? 18-for-32. Michigan now leads 62-44.

— OnlyGators.com (@onlygators) March 31, 2013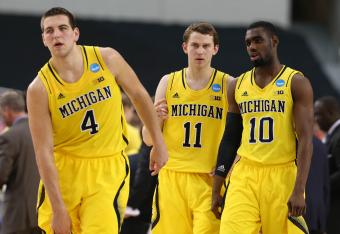 Mich. 64, UF 44 - 9:20 2nd Half
Michigan is getting out in transition nearly every possession now. Florida has not been able to score inside, which has allowed the Wolverines to run the floor off of missed shots.
Florida is 4-7 this year when giving up 60 points or more. The Gators need to make a run in the next couple of minutes to even have a shot at notching a fifth win with their defensive struggles.
Mich. 58, UF 44 - 12:10 2nd Half
McGary continues to show some shades of Kevin Love in his game. McGary threw a great outlet pass to start a fast-break that led to two points and has done a great job improving his mid-range jump shot.
Will Yeguette makes a nice shot on the block. Florida has to do more of that to cut into this lead. Some threes would be nice, but Michigan is doing an excellent job defending the perimeter. Young adds another bucket inside to validate this argument.
Mich. 54, UF 38 - 14:50 2nd Half
What a game-changing sequence for the Wolverines. Mitch McGary drove through two defenders to finish a tough lay-up, and Florida makes a mistake inbounding the ball, which allowed Spike Albrecht to come up with a steal and a finish.
The Wolverines have seized momentum again.
Mich. 50, UF 38 - 15:42 2nd Half
Stauskas burns Florida from the corner again. The Gators have to make him shoot the ball from somewhere else, because he will hit that shot for days. That three makes five from the corner today for Stauskas.
The Canadian sharp-shooter is now 7-of-7 (6-of-6 from three) with 22 points in the first half of play.
Florida is doing a much better job of getting to the rim in the second half, though. The Gators will hang around.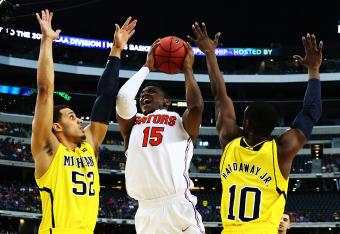 Mich. 47, UF 36 - 17:30 2nd Half
Michigan is starting to get sloppy with the basketball. The Wolverines cannot afford to start making mental mistakes. McGary mishandled a pass from Stauskas and Burke threw one away.
A few buckets from Patric Young and Mike Rosario has Florida back in this game.
The second half is underway. Let's hope John Beilein looks a lot more excited than this if Michigan continues to dominate:
Beilein's level of excitement in this photo is staggering. ow.ly/i/1NiiM

— Nick Baumgardner (@nickbaumgardner) March 31, 2013
Chris Balas of TheWolverine.com points out how this game is far from over:
Not CLOSE to over. Duke led Seton Hall by 17 in the first half of 1989 national semifinal. Lost by 18.

— Chris Balas (@Balas_Wolverine) March 31, 2013
Five of those seven-three pointers were made by Stauskas:
HALF - Team - FG: 19-37 (51.4%) 3PT: 7-11 (63.6%) FT: 2-3 (66.7%) | 21 pts, 11 ast, 4 steals, 4 blocks.

— Michigan Basketball (@umichbball) March 31, 2013
Fran Fraschilla of ESPN broke down Michigan's final play of the first half:
Coaches: Beilein ran Brad Stevens' play from Maui Classic at end of half. It's GREAT misdirection for a three with low clock. Check TIVO!

— Fran Fraschilla (@franfraschilla) March 31, 2013
Rod Beard of The Detroit News overheard Michigan assistant coach Bacari Alexander raising an important point:
Michigan assistant @bacari34 on halftime radio: We have to make sure we don't get lulled by our success in the second half.

— Rod Beard (@detnewsRodBeard) March 31, 2013
Even Paul Finebaum is shocked by the abysmal defense Florida played in the first half:
This is the worst first half Florida has played since Ron Zook was the coach.

— Paul Finebaum (@finebaum) March 31, 2013
Mich. 47, Florida 30 - Halftime
Beilein drew up a great play in the timeout to get Stauskas another open look from distance. The long inbounds pass went to Robinson, who handed it off to Stauskas. The shot was off-target, but freshman guard Michael Frazier II bailed out the Wolverines by running into Stauskas after he let it go.
Stauskas hit two of the three freebies.
Michigan is on top because its best players are operating at a much higher level than Florida's. Erik Murphy, Mike Rosario and Patric Young are a combined 4-of-13 (eight points).
Meanwhile, Trey Burke, Mitch McGary and Nik Stauskas are 15-of-22 (38 points)
Mich. 45, UF 30 - 2.2 seconds remaining
Trey Burke comes up with a steal to steal some confidence away from the Gators just as they began to find their footing.
Bleacher Report's Adam Jacobi has the best tweet of the day when it comes to Nik Stauskas' hot start:
Stauskas is Canadian for Stojakovic.

— Adam Jacobi (@Adam_Jacobi) March 31, 2013
Mich. 43, UF 28 - 53 seconds remaining 1st Half
Horford commits a traveling violation and McGary immediately re-enters the game. Michigan cannot afford to start making mistakes here. Florida can make a run.
Kenny Boynton drives on the fast-break to cut the deficit, but Burke answers with a deep two.
The Gators are starting to get in the paint, though, Michigan needs to continue to take good shots and make good decisions to maintain this lead.
Mich. 41, UF 17 - 3:57 1st Half
Stuaskas' swagger is fun to watch. The freshman shooting guard has hit FOUR three-pointers from the left corner.
Florida's defense has got to keep him out of that corner. Donovan can probably live with getting burned by Stauskas hitting threes from everywhere on the floor, but not from the same spot over and over again.
Stauskas is now 6-of-6 (5-of-5 from beyond the arch) with 17 points and one assist.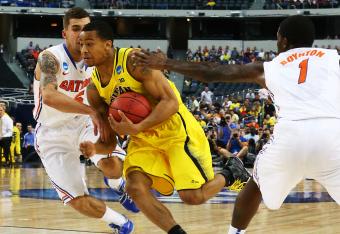 Mich. 35, UF 15 - 5:17 1st Half
Burke is getting a little three-happy. He did a great job to follow up his own miss and put it back in, though. Stauskas drains another three from the same corner. Michigan is tough to beat when Stauskas is knocking those down.
Billy Donovan takes a risk and brings Patric Young back in the game. Young immediately rewards his gamble with a two over McGary.
Glenn Robinson III catches an alley-oop to swing momentum back in Michigan's favor. The Gators were making a run, but Tim Hardaway Jr.'s three and the dunk from Robinson may have just ended it.
Do not get too excited Michigan fans, because this one is far from over. ESPN Stats & Info brings up a scary statistic:
In John Beilein's other trip to the Elite 8 (2005), his West Virginia team lead by 20 in 1st half, but lost to Louisville in OT

— ESPN Stats & Info (@ESPNStatsInfo) March 31, 2013
This article is
What is the duplicate article?
Why is this article offensive?
Where is this article plagiarized from?
Why is this article poorly edited?

Michigan Wolverines Basketball: Like this team?