With the April 3 trade deadline in the NHL quickly approaching, the rumor mill is absolutely buzzing as teams around the league look to improve before the playoffs or sell pending free agents to the highest bidder.
Sure, there likely aren't any stars like Jarome Iginla likely to be moved at this point, but there are still a number of very talented players that could be moved before Wednesday.
Here, I've identified three players that would definitely aid any team looking to make a run in the postseason. Let's break down some of the NHL's hottest buzz.
Ryane Clowe, San Jose Sharks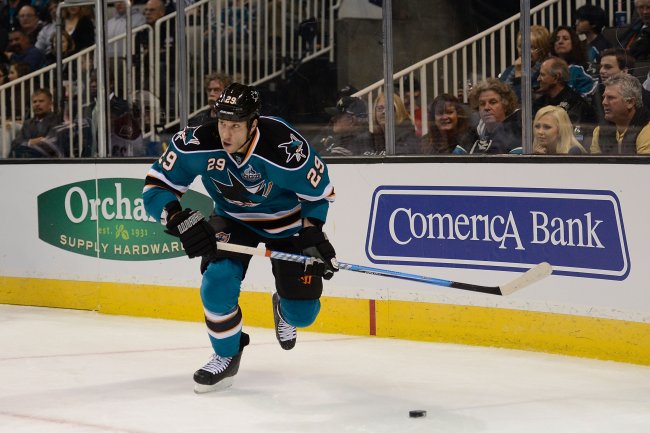 Thearon W. Henderson/Getty Images
Might power forward Ryane Clowe be the next big name to be moved?
It's a possibility, notes Bruce Garrioch of the Ottawa Sun:
Ryane Clowe has moved to the top of the NHL's hit list with the trade deadline fast approaching.

After Brenden Morrow (Dallas) and Jarome Iginla (Calgary) both ended up with the Pittsburgh Penguins, teams have circled the San Jose Sharks winger as the latest target as teams try to load up for the post-season.

But, at this point, there are no guarantees Clowe, 30 and an unrestricted free agent on July 1, will be dealt by Wednesday at 3 p.m. He has a no-move clause and there are indications he has given the team a list of acceptable destinations.
Clowe has not had his finest season for the Sharks, failing to score a goal this season while adding 11 assists. Still, Clowe brings far more than just scoring, as his physical, high-effort play makes him the type of grinder that any team making a long postseason run needs.
Expect him to be moved this week.
Dan Boyle, San Jose Sharks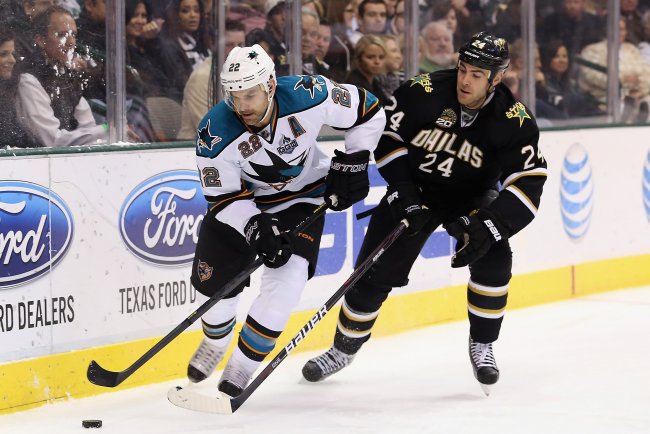 Ronald Martinez/Getty Images
The Sharks could end up being very busy this week as sellers. As Garrioch writes, there is plenty of interest around the league in Dan Boyle:
The Rangers and Flyers have shown interest in defenceman Dan Boyle. If Boyle goes anywhere, it'll likely be the Rangers because they're in a position to make the playoffs and might be willing to pay the asking price. There has been lots of interest.
I would be surprised if the Flyers—currently in last place in the Atlantic Division—make any major moves as buyers. The team's better bet is to build for next year.
But the Rangers will likely be active, currently entrenched in a dog fight for the last playoff spot in the Eastern Conference. The veteran blueliner would make a lot of sense for the Rangers, or any other team's looking to solidify defensively.
Jay Bouwmeester, Calgary Flames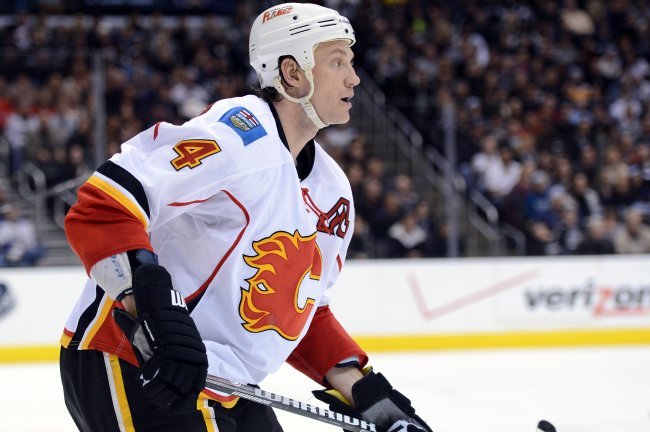 Harry How/Getty Images
Clowe might be the best forward still floating around on the market—and a surprisingly deep crop of goalies rumored to be available have yet to be moved—but Jay Bouwmeester is likely the top player being discussed around the NHL.
From Pierre LeBrun of ESPN:
The Calgary Flames don't have to necessarily move him—he's got one more year left on his deal (at $6.6 million), so he's not a pending unrestricted free agent forcing the NHL club to seek immediate asset return.

But since the face of the franchise, Jarome Iginla, has been dealt, anything is possible now in Calgary.

"I think they move Bouwmeester," one NHL team executive told ESPN.com Friday. "But they want a lot for him."
The Flames clearly are comfortable stocking the system with young players, as goalie Miikka Kiprusoff is also thought to be available. Flames fans may not like the prospect of losing Iginla, Bouwmeester and Kiprusoff in the span of a week, but the team could really rebuild for the future before the deadline.
Seeing as only the Florida Panthers and Colorado Avalanche have fewer points this season, it's a strategy that makes sense.
Obviously, the Flames shouldn't just give away either of their major trade chips. But don't be surprised if both Bouwmeester and Kiprusoff are moved this week.