The 2013 NHL trade deadline is approaching fast (Wednesday, April 3), and the anticipation over which of the biggest names on the block will be moved has the excitement level off the charts.
Huge stars like goaltender Roberto Luongo and defenseman Jay Bouwmeester are rumored to be getting consideration at the trade deadline, and a deal involving any of the top stars on the market would change the landscape of the sport.
All of the following players are rumored to be available in a trade, but whether or not they are moved is a matter of how much teams think these NHL standouts are worth.
Roberto Luongo, G, Vancouver Canucks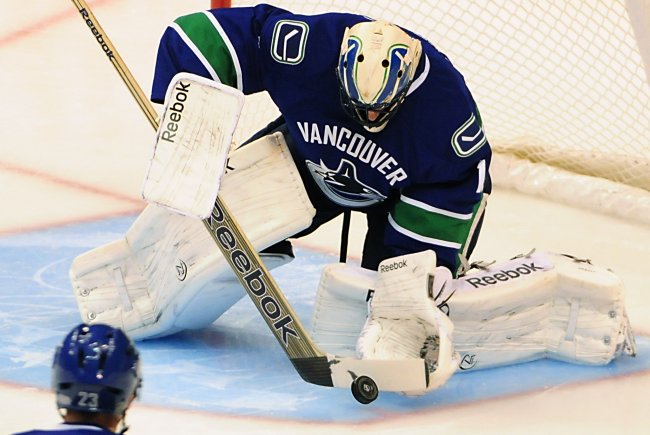 Anne-Marie Sorvin-USA TODAY Sports
The Vancouver Canucks have openly admitted to trying to trade goaltender Roberto Luongo in the early stages of this season (h/t Yahoo! Sports), but the lack of a deal has resulted in many experts believing the team would hold on to the talented netminder until the end of the season.
According to Damien Cox of the Toronto Star, though, the reported talks between the Canucks and the Toronto Maple Leafs have once again heated up:
Simple facts are these. Leafs have talked to VAN this week about Luongo. Leafs have some interest. Price has dropped. That's all for now.

— Damien Cox (@DamoSpin) March 29, 2013
As great as the Maple Leafs have been offensively this season (fourth in the NHL with 3.1 goals per game), the lack of consistent play from the goaltenders—16th in the NHL, allowing 2.7 goals per game—has exposed the team's most glaring weakness.
The price must come down considerably to get this deal done, but as Vancouver continues to realize that it needs more talent at forward, the franchise will realize it must make a move involving Luongo.
Jay Bouwmeester, D, Calgary Flames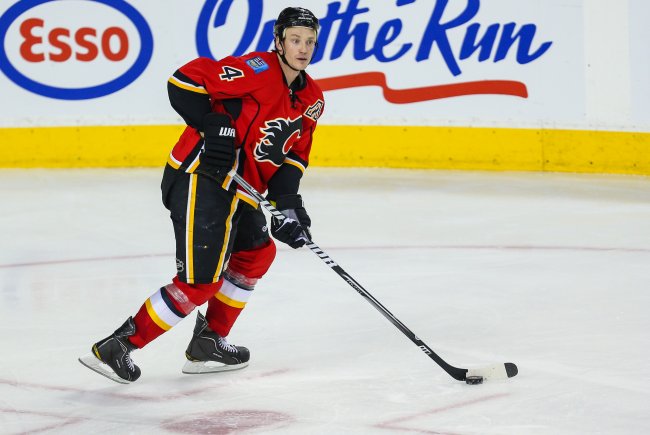 Sergei Belski-USA TODAY Sports
After trading away captain Jarome Iginla (h/t ESPN), it was abundantly clear that the Calgary Flames would begin to sell off any high-priced assets that didn't fit the future of the franchise.
That list of possible trade pieces now includes Jay Bouwmeester.
Not only did the veteran defender admit to Rogers Sportsnet NHL insider Roger Millions that he had talked about a trade with the Flames, but Millions is also reporting that a plethora of teams are interested in his services:
#Flames Jay Bouwmeester admits he and team have talked about possibility of a trade. Hearing as many as 6 teams interested in him.

— Roger Millions (@RogMillions) March 28, 2013
While there is no questioning the impact his contract will have on any potential deal—$6.68 million a year through next season (h/t CapGeek)—the 29-year-old defender still has enough talent in the offense and defensive zones to make a playoff contender into a Stanley Cup favorite.
With Calgary going into full-on rebuilding mode, trading away the high-priced defender before the deadline should be a no-brainer for the franchise.
Ryan Whitney, D, Edmonton Oilers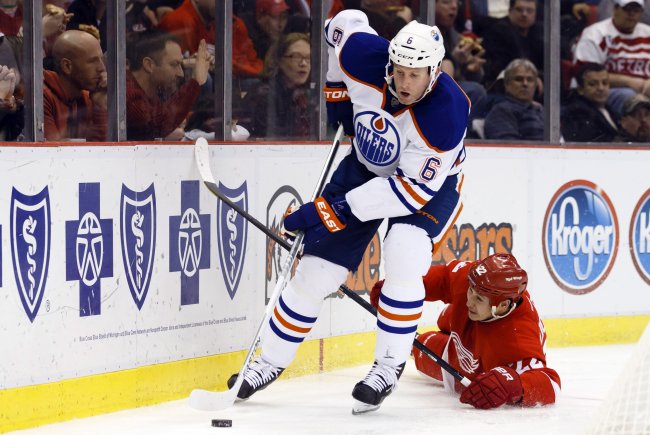 Rick Osentoski-USA TODAY Sports
Jay Bouwmeester may be the biggest defensive name on the trade block, but a more affordable alternative is Ryan Whitney of the Edmonton Oilers.
Whitney's salary-cap hit is $4 million for this year, and he is an impending free agent this offseason, which will force the asking price from Edmonton down with every passing day.
According to Bob McKenzie of TSN, the Boston Bruins have reportedly considered making a deal for Whitney, and the Oilers appear dead-set on moving the defender:
There has been considerable talk of Ryan Whitney being traded to BOS and Bruins have certainly done due diligence on his health etc., but...

— Bob McKenzie (@TSNBobMcKenzie) March 27, 2013
...the Edmonton Oilers say they haven't traded Whitney to BOS or anywhere else. That's as of now. No doubt they're trying to move him.

— Bob McKenzie (@TSNBobMcKenzie) March 27, 2013
If a team on the cusp of being a real Stanley Cup contender feels it needs to bolster its defensive depth, acquiring Whitney and his two-way prowess would be a dream addition.
Whitney doesn't have the long-term impact, but as a rental player, the value is exactly what a contending team needs.