Takeaways from Saturday Night's Gritty NBA Action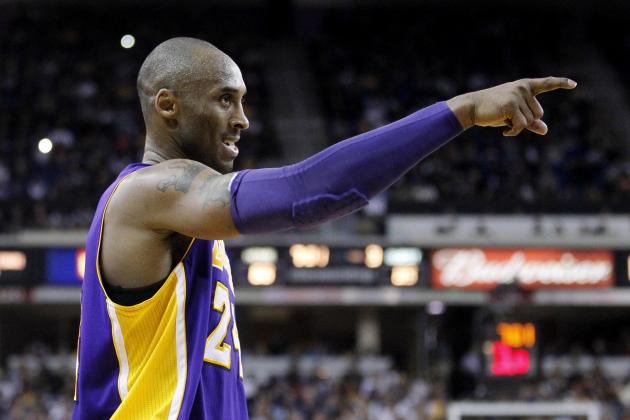 Cary Edmondson-USA TODAY Sports

Saturday's NBA action was full of gritty individual performances and hard-fought team wins.
Kobe Bryant moved past Wilt Chamberlain on the all-time scoring list, flirted with a triple-double and fought through nearly 48 painful minutes despite suffering from bone spurs in his ankle. Plus, Dwight Howard looked the best he has all season, and Steve Nash may have finally fallen apart. And that was just one of the games from Saturday's loaded slate.
Around the league, Dirk Nowitzki found his vintage form by drilling a clutch game-winner against the Chicago Bulls, the Clippers slipped up out West and Marc Gasol flexed his muscles against the feisty Minnesota Timberwolves.
In addition, playoff fates shifted up and down the standings. The Atlanta Hawks swooped ahead of the Chicago Bulls, and the Utah Jazz maintained their precarious grip on the eighth spot out West.
Here's a rundown of Saturday's games.
Begin Slideshow

»
For a while there, it seemed like the Dallas Mavericks' self-styled ".500 beards" were here to stay.
But thanks to a game-winning three-pointer that punctuated a torrid March run, Dirk Nowitzki and his Mavs may be getting out their razors any day now.
Averaging 20 points per game over the past month, Nowitzki knocked down the deciding shot of the Mavericks' 100-98 win over the Chicago Bulls on Saturday. The bucket gave the German import 35 points on the night and helped pull the Mavs to 36-37 on the year.
Dallas has gone 11-5 over the past 30 days, and much of that success has been attributable to Nowitzki rounding into his Hall of Fame form. If he keeps it up, not only will there be some clean-shaven faces in the Mavs' locker room, but there'll also be some very real playoff hopes to nurture over the season's final few weeks.
The Mavericks currently sit just one-and-a-half games out of the eighth and final playoff spot in the West. With the L.A. Lakers battling injuries and the Utah Jazz continuing to appear vulnerable, Dallas could very well be headed toward the postseason.
That ought to look pretty familiar to Dallas fans. The Mavericks have been there in each of the past dozen seasons.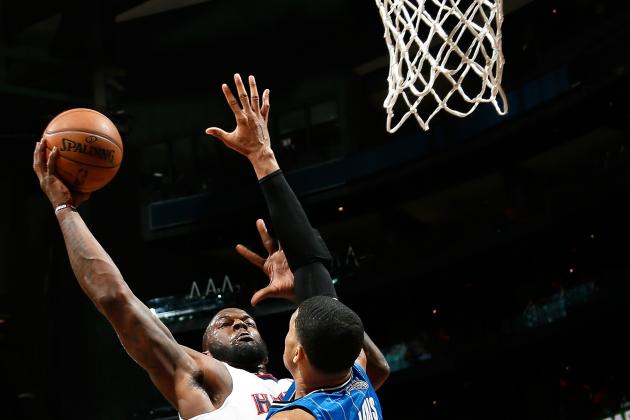 Kevin C. Cox/Getty Images

The fact that the Atlanta Hawks moved ahead of the Chicago Bulls in the Eastern Conference playoff race with their 97-88 win over the Orlando Magic on Saturday isn't surprising. Boring old math usually isn't.
But the way in which Atlanta gained its slight (.05 percent) advantage in the standings was actually pretty unexpected.
Ivan Johnson logged 34 minutes off the bench in relief of Johan Petro (yes, he's still in the league), who started for an ill Al Horford. Johnson pumped in a career-high 21 points and pulled down 10 rebounds, both of which led the Hawks.
Johnson's a bruiser and typically serves little purpose for Atlanta beyond being a raw, intimidating force who sees only sporadic playing time. His career night came at an opportune juncture for his team, though.
With the Bulls dropping a nail-biter against the Mavs earlier in the day, the Hawks seized on a critical opportunity to push past their Eastern Conference foes.
In addition to Johnson's big night, Devin Harris chipped in with 13 fourth-quarter points that helped the Hawks hold off the Magic down the stretch.
Atlanta still has another couple of games to make up on the Brooklyn Nets, who hold the No. 4 spot in the East. If Horford returns in good health, Josh Smith keeps up his steady production and the Atlanta reserves continue to have an impact, the Hawks could definitely continue their upward move.
With a 23-13 home record this season, Atlanta would be more than happy to secure the home-court advantage that would come with that fourth seed.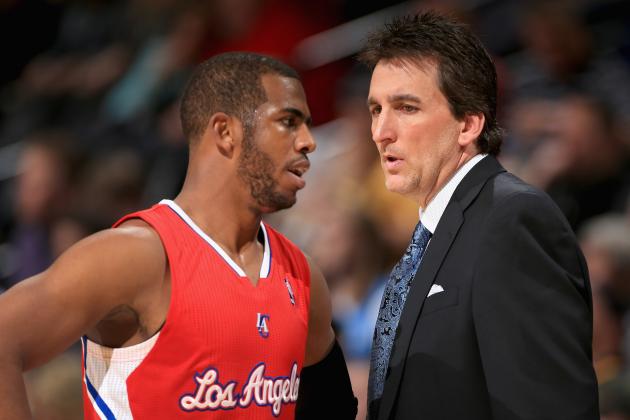 Doug Pensinger/Getty Images
I'm out of ideas. Whaddya got?
It'd be hard to imagine a better scenario for the L.A. Clippers than the one they faced heading into their game with the Houston Rockets on Saturday.
Houston was less than 24 hours removed from a thorough beating at the hands of the punishing Memphis Grizzlies, and James Harden was out of the lineup with a bum ankle. Exhausted and lacking their biggest star, the Rockets seemed like a team ripe for the picking.
But as it turned out, the Clips were the club that got picked off, turning the ball over 18 times and shooting just under 40 percent from the floor in a stunning 98-81 loss.
L.A. has now lost three of its last four games and will finish the month of March with its worst defensive numbers of the year. After starting the season as one of the league's stingiest defensive outfits, the Clippers have allowed a whopping 106.2 points per 100 possessions over the past 30 days.
That figure puts L.A.'s past month of defense roughly on par with the horrendous numbers the Detroit Pistons have posted on the year.
Yeah, that's not good company.
As for the bigger consequences, the Clippers gave up home-court advantage in the West. It's confusing, but L.A. can't finish lower than fourth if it wins the division. But if the fifth-seeded Memphis Grizzlies have a better record than the Clips, they'll get home-court advantage in the first round.
There are still eight games left in the Clips' season, but with the way their defense has looked during a recent 5-5 stretch, there's little reason to believe things will turn around.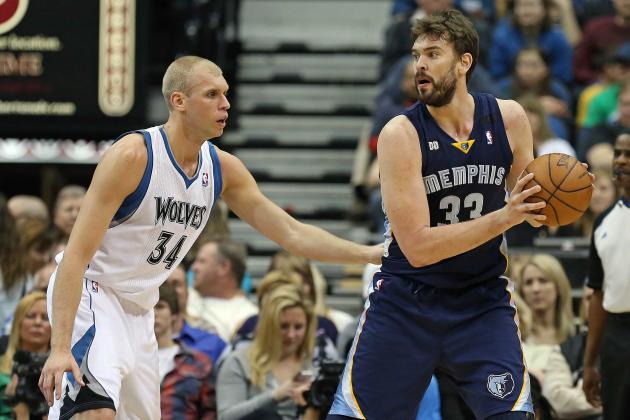 USA TODAY Sports

Ricky Rubio deserves an initial mention for his near triple-double and career-high 23 points in the Grizzlies' 99-86 win over the Minnesota Timberwolves. So there, he's been acknowledged.
But the real story from one of Saturday's more entertaining games was the two-way brilliance of Marc Gasol. The hefty center dominated the game on both ends, scoring 21 points, pulling down eight boards, handing out six assists and swatting three shots.
On defense, Gasol did more than pile up cosmetic stats.
He moved around with unparalleled efficiency, helping and recovering with a perfectly calibrated economy of motion. Gasol is huge and not particularly quick, but with the way he understands positioning and rotations, he seems to always show up in the right place at the right time.
Few players control really good teams as completely as Gasol does. The ones that do—like LeBron James, Kevin Durant and Chris Paul—tend to be involved in MVP conversations.
It's time Gasol joined that group.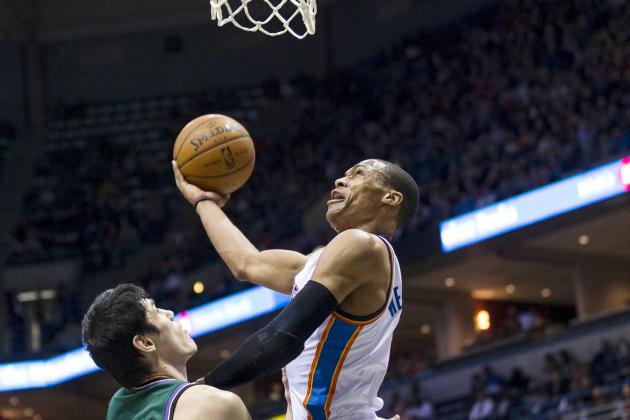 Jeff Hanisch-USA TODAY Sports

Heading into the fourth quarter, the Oklahoma City Thunder and Milwaukee Bucks were all square. But after a 26-16 final period, the Thunder walked away with a tidy 10-point road win.
Kevin Durant scored 30 points, and Russell Westbrook notched a triple-double. The game really swung on OKC's ability to shift into another gear when it counted.
All season, the Miami Heat have been showing the rest of the league what it looks like when a hot rod shifts into another gear, and now it looks like the Thunder are capable of doing the same.
OKC notched five steals in the fourth quarter and drew a handful of offensive fouls as the Bucks lost their composure.
With little left to prove in the regular season, it's an encouraging sign to see the Thunder developing the kind of killer instinct they'll need to make another deep playoff run.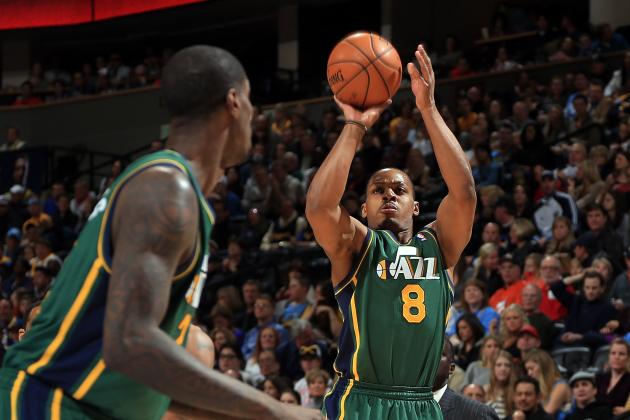 Doug Pensinger/Getty Images

The Utah Jazz won their fourth consecutive contest and retained their hold on the No. 8 spot in the Western Conference by knocking off the visiting Brooklyn Nets, 116-107.
And Randy Foye had a lot to do with it.
Foye, who takes well over half of his shots from beyond the arc, tossed in a career-high eight three-pointers, setting a bevy of franchise records in the process:
And now Randy Foye has equaled the franchise mark for threes in a game with 8. Ties his coach Jeff Hornacek (vs. SEA, 11/23/94) #BKNatUTA

— Jonathan Rinehart (@jonrinehart) March 31, 2013
Randy Foye sets a @utahjazz record w/ 7 3PM in the 2nd half, finishing 8/9 total from deep for 26pts as UTA beats BK 116-107. Deron: 21, 11a

— NBA (@NBA) March 31, 2013
With a late surge, the Jazz are doing their best to reclaim a playoff spot that was once almost assuredly theirs. If Foye can continue to provide a perimeter complement to the interior scoring game of Al Jefferson and Derrick Favors, Utah may just salvage its season.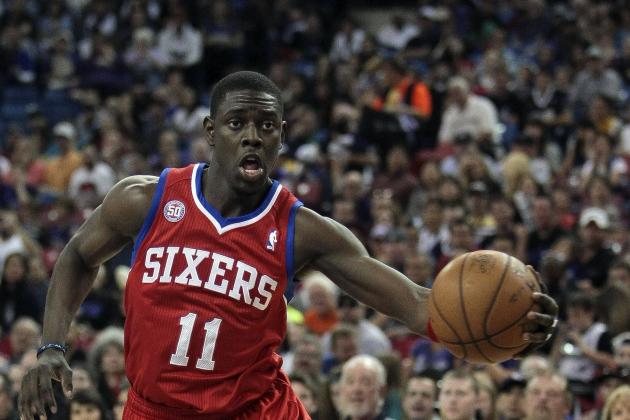 Kelley L Cox-USA TODAY Sports

After starting the game by making just one of his first nine shots, it would have been easy to understand if Jrue Holiday had decided to holster his jumper for the night.
But the Philadelphia 76ers' breakout star didn't get discouraged, and his persistence helped the Sixers notch a 100-92 win over the Charlotte Bobcats on Saturday.
Holiday scored nine straight points in the fourth quarter as he led his team down the stretch.
The point guard is averaging 18.4 points and 8.5 assists per game on the year. Perhaps in a nod to his consistent excellence, the Sixers are about to add a familiar face with whom he'll enjoy sharing the stretch run:
Sixers to call up guard Justin Holiday, brother of Sixers guard Jrue Holiday, from the NBDL Idaho Stampede, source tells Y! Sports.

— Marc J. Spears (@SpearsNBAYahoo) March 31, 2013
With little left to play for, it's an encouraging sign that Holiday continues to give maximum effort.
The Sixers will probably undergo a handful of changes to their roster before they're ready to compete for a playoff spot on a consistent basis in the upcoming years, but Holiday will certainly remain the cornerstone.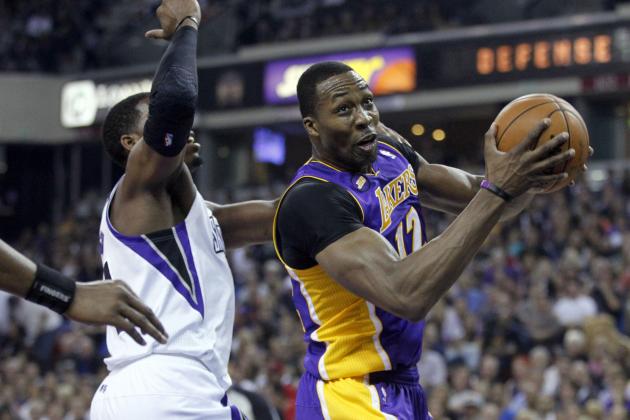 Cary Edmondson-USA TODAY Sports

The Lakers pulled out a surprisingly tough 103-98 win over the host Sacramento Kings on Saturday, and the contest was so full of notable moments that there's no thorough way to chronicle all of them. So until someone finds a way to program a slideshow within a slideshow, we'll have to improvise.
Here, in no particular order, are the key Lakers takeaways from a busy night:
Dwight Howard Looked Fantastic
Piling up 24 points, 15 rebounds and five blocks, the Lakers big man looked as good as he has all season. His effort was terrific, and he got off the floor multiple times in his pursuit of rebounds. If this is how he's going to play down the stretch, L.A. is going to be in fine shape.
Kobe Bryant Overtook Wilt Chamberlain
Though he's probably got a ways to go before eclipsing the Dipper's infamous "20,000 women" claim, Bryant did move past Chamberlain on the NBA's all-time scoring list. With a foul-line jumper in the second quarter, No. 24 increased his career total to 31,421 points.
Oh, and he flirted with a triple-double, finishing with 19 points, a career-high-tying 14 assists and nine boards in a 48-minute effort—despite struggling with bone spurs in his ankle. Nice little night for Kobe.
Steve Nash Played Two Minutes
Nash is out for the game with a right hamstring strain, per the Lakers.

— Dave McMenamin (@mcten) March 31, 2013
This is not a good sign for the Lakers, as Nash looked visibly uncomfortable and even a little disgusted as he left the floor in the first quarter. If he can't get right in a hurry, Steve Blake is going to see plenty of minutes.
The Lakers Still Can't Defend
Even though Howard played some of his most active basketball of the season, L.A.'s help defense was still frightfully porous. The Kings—and Tyreke Evans in particular—had an easy time getting to the rim in the half court and in transition.
Until the Lakers show some consistent stopping power, they'll continue to be vulnerable against even the league's weakest teams.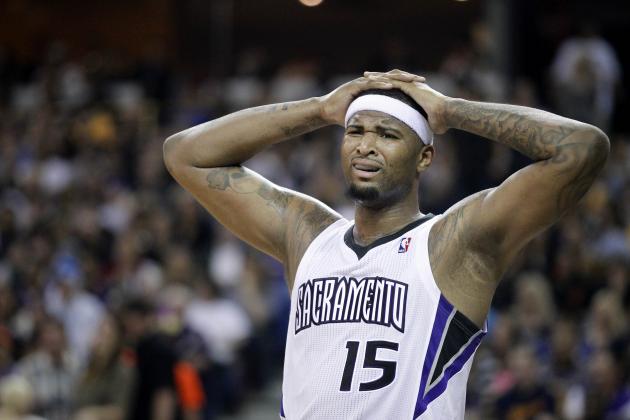 Cary Edmondson-USA TODAY Sports

If you're interested in figuring out where DeMarcus Cousins is in his maturation process, please ignore the 19 points and 11 rebounds he posted against the Lakers.
Instead, focus on the incredibly boneheaded play he made in the final minute of the game.
With less than 20 seconds left and his team trailing by three points, Cousins got the ball beyond the three-point arc. (As an aside, the fact that he was in a position to touch the ball that far from the basket in the waning seconds is 100 percent Keith Smart's fault. That should never happen.)
Anyway, Cousins seemed to sense an advantage as Howard stood poised in a defensive stance. So the Kings center, owner of a career 17 percent three-point shooting mark, leaned into Howard and hoisted up a three.
Howard blocked the shot and no foul was called, but the ball somehow came back to Cousins' hands. He then compounded his inexplicably poor decision by firing off another three. Naturally, it was nowhere close to going in.
As usual, Cousins immediately turned to the officials and started to complain because, well, that's what he does. His protests fell on deaf ears, probably because they'd been rendered that way by his constant high-volume whining.
Cousins' horrible basketball decision, compounded by his childish reaction, cost the Kings a chance to tie the game. And in the bigger picture, the episode was yet another indication that Cousins is nowhere near ready to hold any sort of significant role on a winning team.
DeMarcus Cousins just made two of the dumbest decisions of the year in the NBA. And this is a league where DeMarcus Cousins plays nightly.

— Eye on Basketball (@EyeOnBasketball) March 31, 2013
Yeah, it was that bad.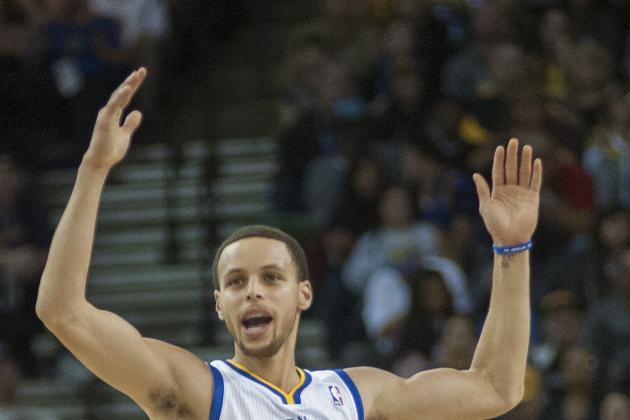 Ed Szczepanski-USA TODAY Sports

Golden State Warriors point guard Stephen Curry has already notched a 54-point game in Madison Square Garden this season, so just about anything else he does is going to pale in comparison.
But his 39 points on 14-of-22 shooting in the Dubs' laugher of a 125-98 win over the visiting Portland Trail Blazers on Saturday is certainly in the running for the second-most impressive thing he's done this year.
Thanks to Curry's seven long-range bombs, the Warriors' magic number to clinch their second playoff berth in two decades now sits at five. In addition, Golden State assured itself of a winning record with its 42nd victory of the season.
The Warriors will go as far as Curry takes them, and based on the way he's been playing since the All-Star break, that could turn out to be pretty darn far.