NFL Free Agency 2013: Best Remaining Unrestricted Free Agents at Each Position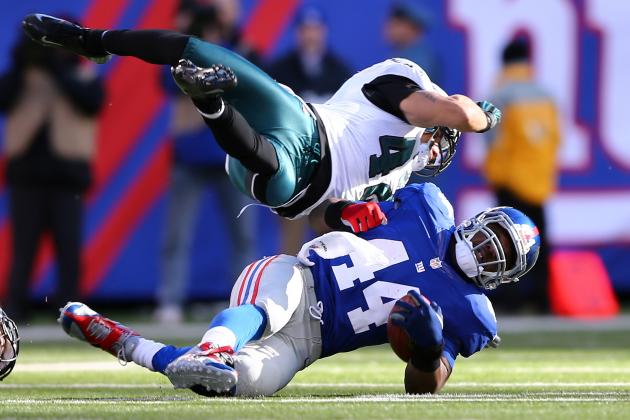 Elsa/Getty Images
Ahmad Bradshaw is one of many quality players still on the free agency market.
The 2013 NFL free-agency season is entering its twilight with fewer and fewer players available on the market. Many of the players left are veterans who have lost a step or younger or middle-aged players who are recovering from injuries.
Sometimes it's difficult to comb through the piles of has-beens and will-bes to find that great final piece before the NFL draft.
This is the time of the year when the best general managers make their hay. They're looking for that savvy veteran who will complete their puzzle by mentoring younger players while still competing at a high level.
This year's remaining unrestricted free agents are all part of a mixed bag. There are several players who can easily start on teams, but many who are nothing more than role players at best. Several positions, like running back and linebacker, still have some quality players, while quarterback and cornerback, for example, are well picked over.
All things considered, here is a list of the best unrestricted free agents remaining at each position.
Begin Slideshow

»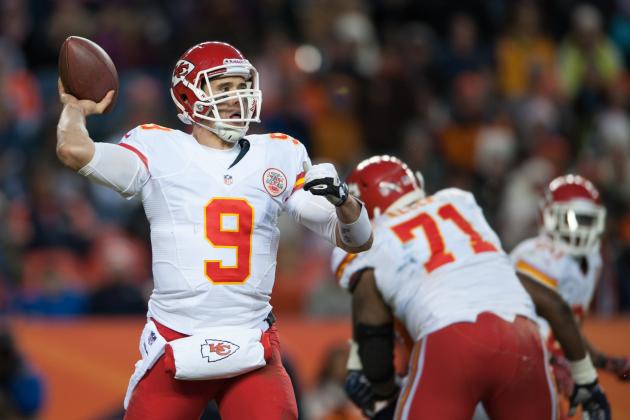 Dustin Bradford/Getty Images
Brady Quinn winds up for a pass in a game last season for the Kansas City Chiefs.
The quarterback market has gone cold this offseason. All the big names are off the board, and now teams will be looking to fill out their depth charts.
ESPN New York reported back in February that the New York Jets may be interested in Quinn, as he has a relationship with current Jets QB coach David Lee. That might be a stretch at this point, as the Jets already have four quarterbacks in their stable.
In the ESPN New York article, Lee was quoted as saying "Brady Quinn has a stronger arm than both the Manning brothers." That's some high praise for an average backup quarterback in the league.
Regardless of where Quinn goes, that's exactly the position he'll fill. At this stage in his career, Quinn is nothing more than a middle-of-the-road backup quarterback.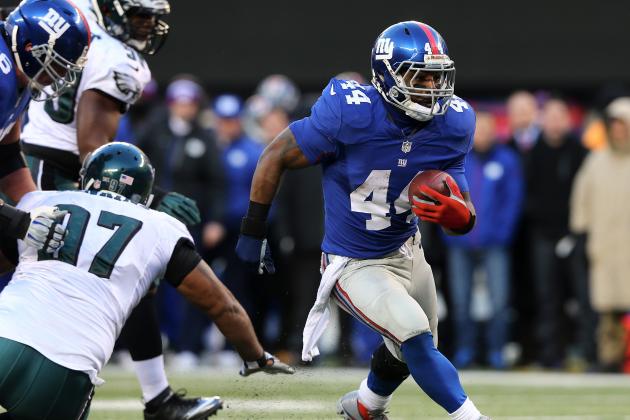 Elsa/Getty Images
Ahmad Bradshaw needs to prove his foot is healthy and hold on to the ball.
Ahmad Bradshaw is only 27, but it seems like he has been around forever. If he can recover from his fifth foot operation, he is a player who can be beneficial to some team.
He reportedly met with the Pittsburgh Steelers last week (per the Pittsburgh Post-Gazette), but the meeting was just a "get-to-know-you session." Ed Bouchette of the Post-Gazette reported Bradshaw attended the meeting a week after having the protective boot removed from his foot and that the Steelers will check back in "a few weeks."
Bradshaw, if healthy, is still a talented player with starting potential. He has cut down on his fumbles the past few seasons and is coming off a 1,000-yard season for the New York Giants.
Whether he goes to the Steelers or elsewhere, Bradshaw will find a home for the 2013-14 season.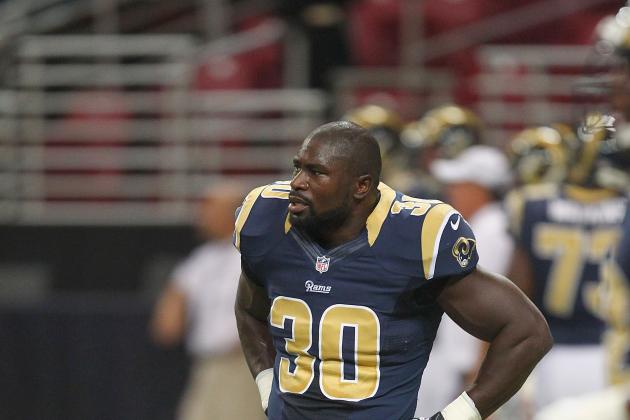 Dilip Vishwanat/Getty Images
Mughelli is still a superb blocking fullback who, for the right team, can still find a niche.
For some teams in the league, a run-blocking fullback isn't a need at all. For a team with a power run game, however, Mughelli is the perfect fit.
He is two years removed from an MCL injury and played for the St. Louis Rams last season. Mughelli suffers from his position, though, in that he isn't as valuable due to his skill sets and positional limitations.
The team that signs him, though, will receive a top-notch run-blocking fullback.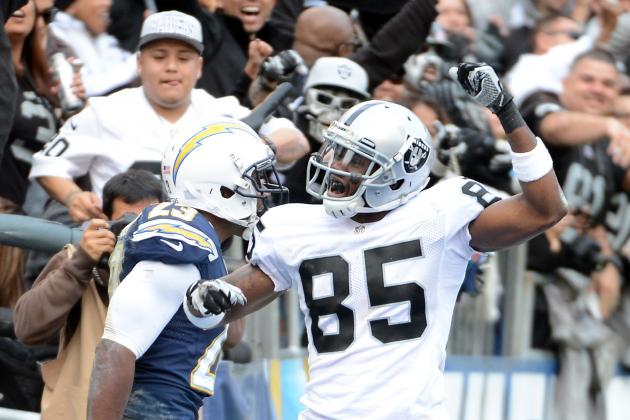 Harry How/Getty Images
The speedster is still young and, in the right situation, has the potential to become a serviceable NFL receiver.
This is a pick based on potential.
Heyward-Bey, 26, clearly has not fulfilled his duties as the seventh overall pick in the 2009 draft, nor has he backed up his 4.25 blazing speed in the 40-yard dash in the NFL combine. He has inconsistent hands and shies away from contact, but those are traits that can be developed.
In the 2013 wide receiver class there are certainly more talented receivers than Heyward-Bey, including Brandon Lloyd, Josh Cribbs and Steve Breaston, but those players are either older or injury-prone.
Heyward-Bey would be a good signing for anyone who needs a player to stretch the field that doesn't mind having to do a bit of coaching.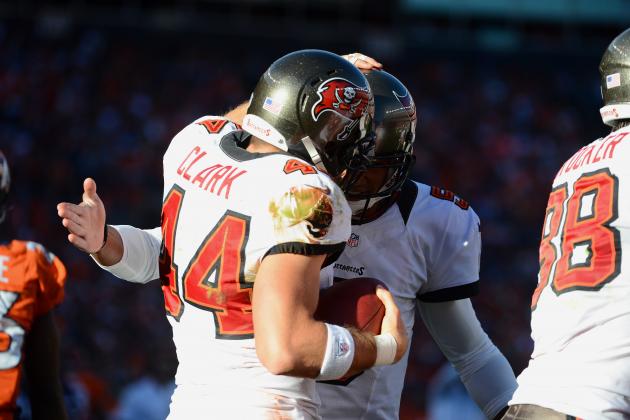 Garrett Ellwood/Getty Images
Dallas Clark can provide veteran leadership to a team this season.
There isn't a more sure-handed receiving tight end around. Dallas Clark would be an outstanding sign for the right system.
Asking Clark to block would be foolish, as he does not possess the desire, nor the talent, to do so. But as one of the many former Peyton Manning targets from the Indianapolis Colts, he knows how to snag the ball.
Clark is not as fast as he used to be and often goes down after initial contact. He averaged a career-low 9.3 yards per reception in 2013. But he still hauled in 47 receptions, and that sort of production on passing downs is something any NFL franchise can value, as long as the price is right.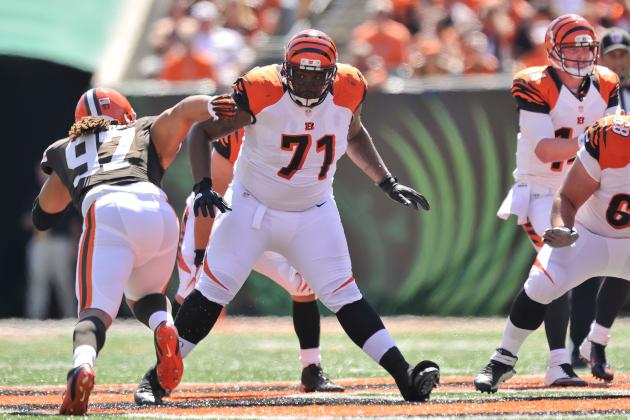 Jamie Sabau/Getty Images
Andre Smith is a massive right tackle who mauls in the run game.
Andre Smith is arguably the best player remaining in this year's free-agency class.
He fits perfectly in a power blocking scheme, and he uses his massive size to run over defenders.
Smith has had trouble maintaining his weight, so wherever he goes will need to have a strong discipline-oriented coaching staff to keep his diet under control.
The league-wide expectation is for Smith to eventually re-sign with the Cincinnati Bengals, getting a similar contract to the Indianapolis Colts' Gosder Cherilus at four years and $26 million.
However, it appears as if the Bengals and Smith are still far apart. Per the Cincinnati Enquirer, Smith and the Bengals are "not close," which is fairly surprising as the 26-year-old has not received much interest from other teams.
If the Bengals do not jump on getting him signed, that may change.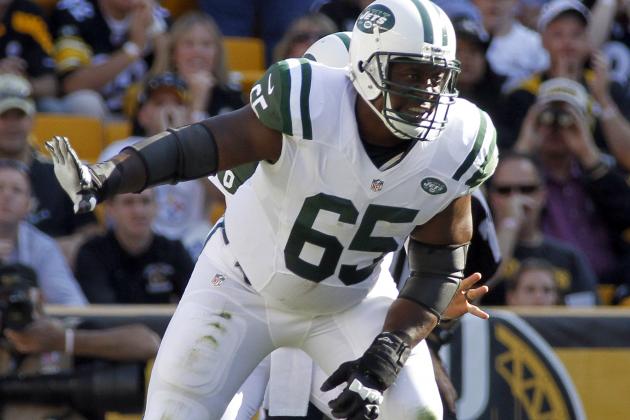 Justin K. Aller/Getty Images
Brandon Moore is a solid veteran guard who can play multiple positions on the line.
One of the more versatile lineman available, Brandon Moore is an immediate starter on whichever team signs him.
The superb run-blocker will be 33, so his age may be a concern for teams going forward. He does have an injury history, as he missed the 2007 and 2009 seasons. However, he has played in 64 straight games.
The Miami Dolphins were the main team interested in Moore, but that interest cooled off substantially following their signing of former Chicago Bears guard Lance Louis. It appears as if Moore may be on the market until at least after the draft.
However, some smart team will jump up and snag this longtime cog on the New York Jets' offensive line.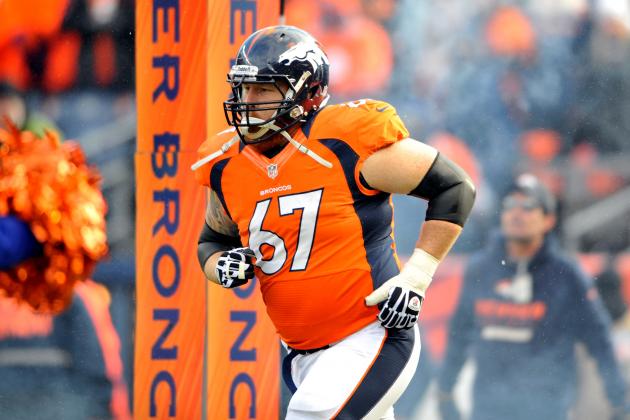 Dustin Bradford/Getty Images
The longtime Patriot is on the market after doing an admirable job protecting Peyton Manning last season.
Dan Koppen is once again in search of a new job after only one season with the Denver Broncos.
He lost his job with the New England Patriots due to a rash of injuries, but he performed well last year with protecting Peyton Manning.
Koppen has extensive experience in a shotgun-oriented offense. Despite his better years being behind him, Koppen would be a good fit for a team that runs the read-option.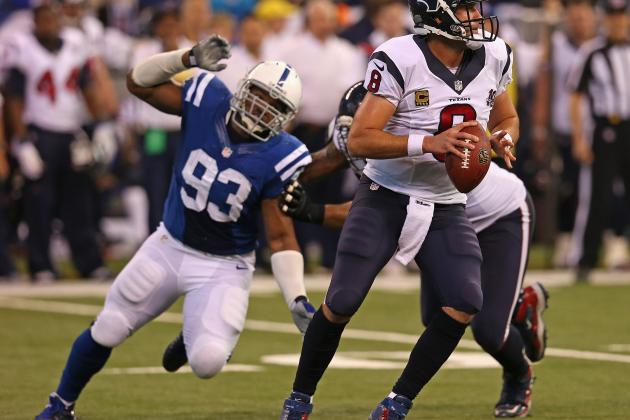 Jonathan Daniel/Getty Images
Dwight Freeney still has a couple years in the tank, given that he stays healthy.
At one time, Dwight Freeney was one of the most feared pass-rushers in the NFL. Last season he was a shell of his former self for the Indianapolis Colts, only registering five sacks and 12 total tackles despite playing 14 games.
The main reason Freeney's production declined was the Colts' transition into a 3-4 defense, which forced him to play a rush linebacker position. In his first nine career seasons, all playing a 4-3 DE position, he posted double-digit sack totals in seven of them, with one season being cut short due to an injury
Freeney should be in demand for a team looking for a 4-3 pass-rushing defensive end.
Ian Rapoport of the NFL Network has reported recently that the Lions would be a good fit and are on Freeney's radar.
Other teams that may make a run at Freeney, according to Rapoport, are the Miami Dolphins and Denver Broncos, which may be a risk considering both of them run a 3-4 defense.
As of now it appears as if the Lions may be the best home for this seven-time Pro Bowler.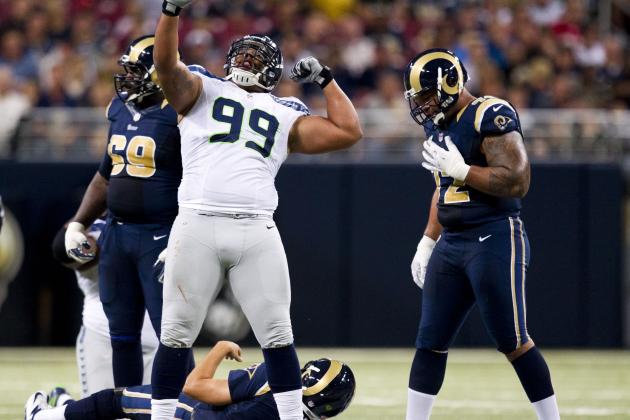 David Welker/Getty Images
The former second-round draftee out of Michigan is an all-around player with no glaring weaknesses.
Alan Branch is drawing interest from a multitude of teams. According to Branch's profile on Rotoworld.com, the Jacksonville Jaguars and the New England Patriots have already tossed around the idea of signing him. But according to ESPN's John Clayton, paraphrased on Branch's profile, his best fit may be with the Green Bay Packers.
Walterfootball.com scouted Alan Branch and called him a "jack-of-all-trades" defensive tackle, which is something the Packers could definitely use. Branch is 6'6" and pushing 330 pounds. He could be used in a rotation with B.J. Raji or even as a defensive end on obvious running situations.
Clayton also expects Branch to settle for the veteran's minimum, which for him would run about $600,000.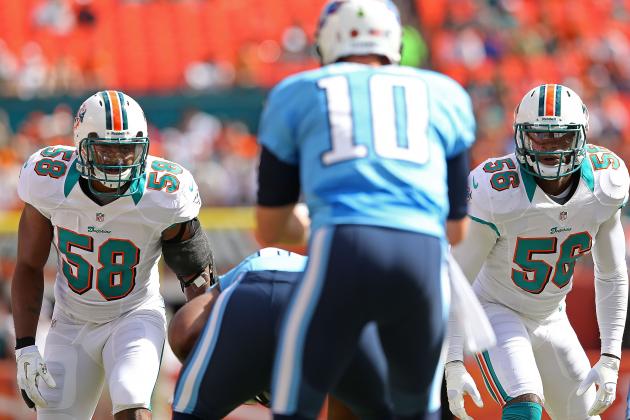 Mike Ehrmann/Getty Images
Karlos Dansby (58) has only missed two games in the last five years and is a solid three-down starter in the NFL.
The former Auburn Tiger is as reliable as they come, as he has played at least 14 games in each of his nine seasons in the NFL.
He is a tackling machine and runs the field well. His coverage abilities are a bit lacking, but he is a great defensive quarterback and would look good on any number of teams in the NFL.
When Adam Schefter reporter on Twitter that Dansby had been released from the Miami Dolphins to make room for their new inside linebacker Dannell Ellerbe, many fans were disappointed.
He will be looking for a multi-year deal. However, Schefter doesn't think he will receive much in guaranteed money, despite what he wants.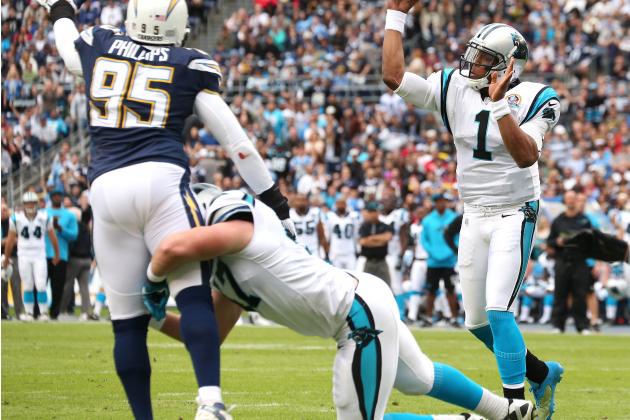 Stephen Dunn/Getty Images
Shaun Phillips is one of the best payers remaining in free agency. He should receive a muli-year deal from a team that needs help getting to the passer.
Besides Shaun Phillips' age (31), he has no glaring weaknesses. It's pretty surprising he hasn't been signed yet, unless there is something teams aren't telling us.
Phillips recorded nine sacks last season with the San Diego Chargers and was fairly solid in a limited role in defending passes. He does struggle with stopping the run, but as rushing the passer seems to be a prime need in today's NFL, Phillips will surely find a home soon.
NBC Sports' Mike Florio reported Phillips is definitely generating some buzz and will become more desirable as the big names like Dwight Freeney and John Abraham find homes.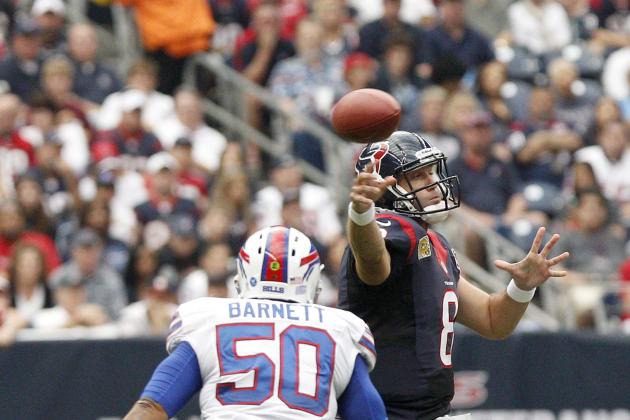 Thomas B. Shea/Getty Images
Nick Barnett is a versatile linebacker who would provide valuable leadership to whichever team signs him.
Nick Barnett played middle linebacker for the Green Bay Packers for eight years before moving to the Buffalo Bills, where he was more of an outside run-stopper.
He has 231 tackles over the past two seasons, which is what he does best. He sniffs out ball-carriers as good as anyone.
Whichever team signs Barnett will receive a veteran leader who will produce every game.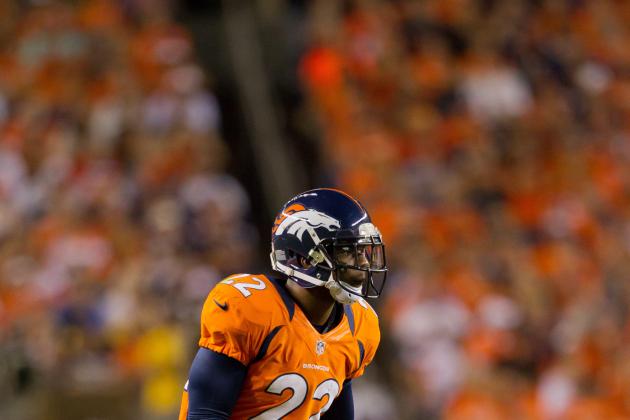 Justin Edmonds/Getty Images
Tracy Porter is one of the hot names in an otherwise cold cornerback market.
Tracy Porter is a talented player and would fit on many teams. However, the cornerback market is very slow, and because of that, he and his positional cohorts are not receiving the interest they would have in other years.
Porter, the former New Orleans Saint and Denver Bronco, is a speedy player with sure hands and is younger than the other top players remaining at the position (Antoine Winfield, Nnamdi Asomugha and Sheldon Brown).
Porter may be best known for his game-clinching interception of Peyton Manning in Super Bowl XLVI, but at just 26 years old, he has plenty of time to do more.
Christian Petersen/Getty Images
Kerry Rhodes was one of the best safeties last season in both run and pass coverage.
Kerry Rhodes was an excellent safety last season. B/R's Matt Miller ranked Rhodes as the fifth-best safety in all of football last season.
He is best in run coverage and is one of the hardest-hitting defensive backs in football. He was an unfortunate cap casualty of the Arizona Cardinals.
Rhodes will start on Week 1 for whichever team signs him.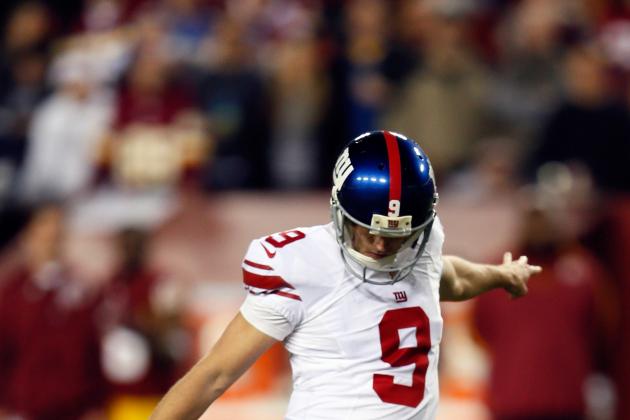 Rob Carr/Getty Images
Lawrence Tynes' foot propelled the Giants through the playoffs on multiple occasions.
Free-agent kickers are usually a dime a dozen, but Lawrence Tynes stands out above the rest for one reason: his playoff experience.
Tynes has performed well in pressure situations, something many teams value in a kicker. He is accurate and has made several game-winning kicks in his career. The New York Giants released him because he was asking for more money than they were willing to pay.
If he makes his demands more realistic—and he will once the market slows down—Lawrence Tynes will surely be on an NFL roster come training camp.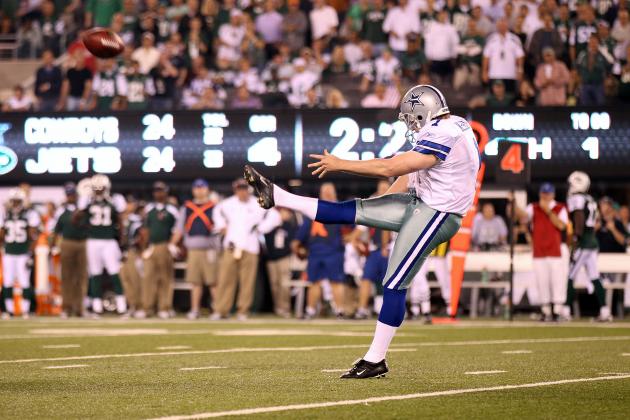 Elsa/Getty Images
Mat McBriar registered a net yards-per-punt average of 46.5.
Most NFL teams already have a punter in place for next season, but for those who want to bring in some competition, Mat McBriar is one to watch.
The man has a booming leg, as his kicks went for an average of 46.5 yards least season.
Like kickers, punters are not a big need at this point in the game. But before camp starts, McBriar will most likely be on a team to provide some competition and possibly win a job.