Chicago Bulls vs. Dallas Mavericks: Post-Game Grades and Analysis for Chicago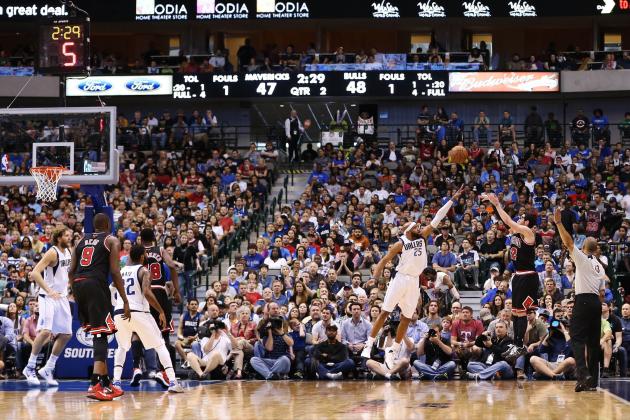 Kevin Jairaj-USA TODAY Sports

With a trip to visit the Dallas Mavericks on their plate, the Chicago Bulls met a team in similar yet different situations for a Saturday afternoon affair.
While the Bulls are doing their best to stay afloat amidst injuries and keep themselves around the middle of the pack, the Mavericks are finally clicking and fighting tooth and nail just to push themselves into a playoff spot.
Through most of the game, it looked as if the Bulls had a strangle hold on the outcome, sinking a ridiculous number of three-pointers for a team that shoots fewer than 15 per game (Chicago made 12 of 21 three-pointers) and really only lapsing in the third quarter.
Chicago led going into the fourth and stretched the lead to 12 points with four minutes left after Nate Robinson went bonkers, making deep shots. The Bulls seemed ready to coast along and grab tasty road win.
The only problem seemed to be that they forgot Dirk Nowitzki was on the other team. He was 14-17 from the field and put up 35 of Dallas' 100 points.
Dirk hit big shot after big shot, scoring 15 points in the fourth quarter, including the game-winning three-pointer with three seconds left on the clock.
Robinson couldn't knock down one more ridiculous shot, and the Bulls fell 100-98.
Chicago will continue to claw their way along after this game, waiting to see what their team will look like when the playoffs mercifully come around.
Begin Slideshow

»
Stat Line: 10 points, 3 rebounds, 6 assists, 1 steal, 3-of-9 shooting
Whenever the Bulls have Kirk Hinrich starting at point guard, they ask for two things from him: control the tempo of the game and play solid defense. Any kind of scoring they get on top of that is just icing on the cake.
Before Nate Robinson took over in the fourth quarter, Hinrich was keeping the game going at a plodding, methodical pace. The Bulls set screens and found open shots along the way.
Hinrich found himself with six assists, which is fine for the pace that the Bulls play when he's running things, and hung around as the main cover on Mike James and Darren Collison, both of whom struggled a bit from the field.
Once Robinson went into lights-out mode, Hinrich was playing off the ball and doing his best to keep up on defense, both of which he was able to do well.
It was definitely a solid game on Hinrich's part.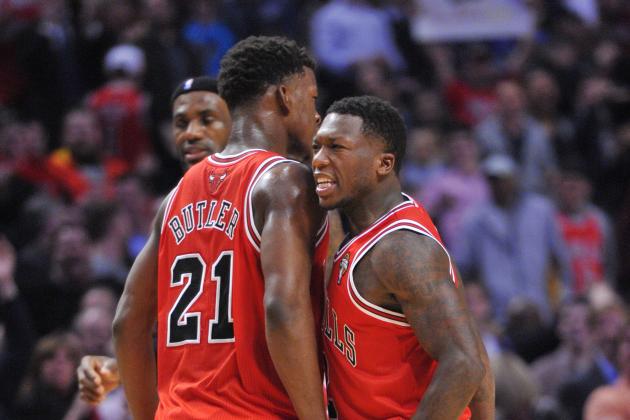 Rob Grabowski-USA TODAY Sports

Stat Line: 4 points, 6 rebounds, 5 assists, 1-of-8 shooting
Just a bit of a tweak from Kirk Hinrich, Jimmy Butler in the lineup means the Bulls are looking to get solid perimeter defense and efficient scoring from their shooting guard spot, something they're used to getting from him these days.
Butler had an uncharacteristic night from the field, making just one of his eight attempts, but he made up for it everywhere else.
Drawing the cover on O.J. Mayo for the majority of the night (he played all but four minutes in this one), Butler was an absolute monster.
Mayo took 13 shots with Butler draped all over him for most of them. He made just one. His two other points came in a sole trip to the line, ending with two free buckets.
What became a problem, however, was that Butler couldn't live up to the moment in the fourth quarter. He missed a close shot late in the fourth and then missed two free throws that would have put Chicago up by three points with 15 seconds to go.
Plus, Dallas continually switched him off of either Mayo or Vince Carter, forcing him to guard Dirk Nowitzki in key situations. Dirk got the better of him.
It's easy to forget that he's still a very young player, and moving forward he might improve in crunch time. He just didn't have it today.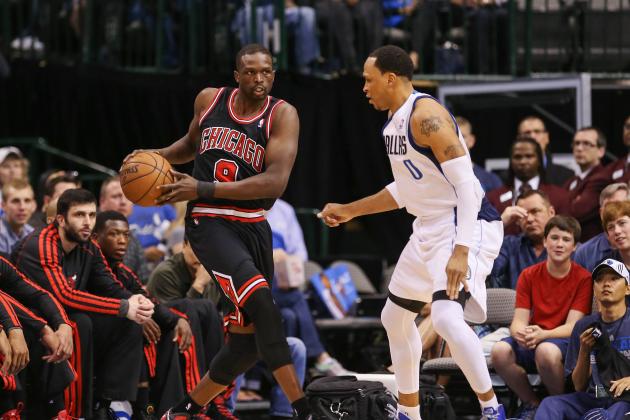 Kevin Jairaj-USA TODAY Sports

Stat Line: 25 points, 7 rebounds, 2 assists, 1 steal, 10-of-17 shooting, 4-of-7 three-pointers
Luol Deng had a solid night through the first three quarters of the game. He was helping out on defense with Dirk Nowitzki relatively well, making a few shots here and there and doing a bit of distribution.
Basically, he was doing everything Tom Thibodeau needed from him in order to put the Bulls in a position to win.
In the fourth quarter, he went above and beyond.
Deng scored 11 of his 25 points in the fourth quarter, including two huge three-pointers while Nate Robinson was covered.
There was nothing the Mavericks could to in order to completely keep him from impacting this game, and it showed on the stat sheet and in the final score.
What really hurt the Bulls, however, was that Thibodeau asked Deng to cover Nowitzki down the stretch, something he just couldn't do when Chicago was leaving shooters open and Dirk was turning back into old Dirk.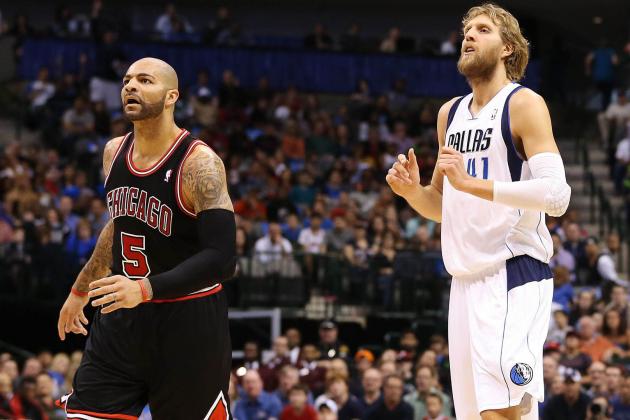 Kevin Jairaj-USA TODAY Sports

Stat Line: 25 points, 11 rebounds, 2 assists, 1 steal, 1 block, 11-of-16 shooting
The role Carlos Boozer has settled into is both extremely beneficial to the Chicago Bulls and slightly detrimental.
While he's doing a ton of the scoring for the team in the first three quarters, he often ends up fading away and disappearing late, if he's even in the game at all.
Tom Thibodeau often opts to put in a defensive combo that includes Taj Gibson when the game is on the line, leaving Boozer as the odd man out.
It seems like that should have been the route to go down today.
Boozer almost kept himself out of the hole this afternoon, grabbing a critical offensive rebound and drawing a foul with just over 40 seconds left in the game. The only problem was that he missed one of the free throws (accounting for his only fourth-quarter point) and then fell apart defensively down the stretch.
It's really hard to decry a guy who shoots nearly 70 percent from the field, but he had a horrible fourth quarter that took the glimmer off his performance.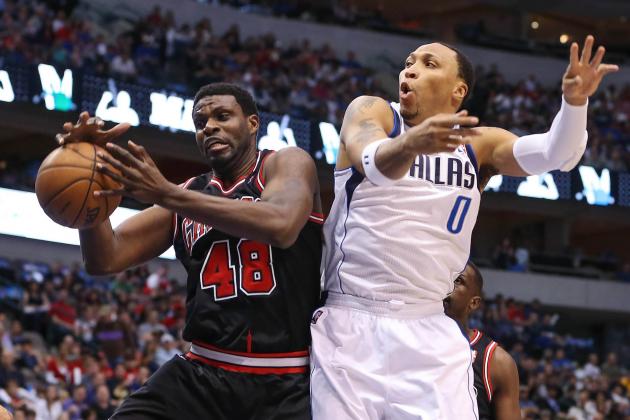 Kevin Jairaj-USA TODAY Sports

Stat Line: 2 points, 6 rebounds, 1 assist, 2 steals, 2 blocks, 1-of-3 shooting
Once again we saw Nazr Mohammed put together a legitimately respectable game with Joakim Noah watching from the sidelines.
Not only did Mohammed give the Bulls a solid 23 minutes, but he also played with active hands on defense and slowed down the equally old and slow Elton Brand. He did have troubles when the slightly quicker Brandan Wright came into the game, but he can't be expected to be perfect.
Mohammed pulled down a few rebounds and even scored once, but his presence was felt with the bone-shattering screens, the tapped-out rebounds and the good help defense.
Walking away with two steals and two blocks has to put this one into a defensive game of the year status, as least as far as Nazr is concerned.
There's no way you can put this loss on him.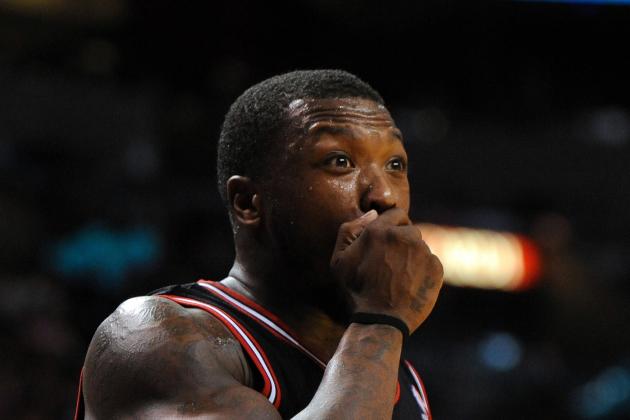 USA TODAY Sports

Stat Line: 25 points, 3 rebounds, 6 assists, 1 steal, 9-16 shooting, 7-7 three-pointers
Nate Robinson was having a very good game by his standards through the first three quarters. He was coming in off the bench, putting down a few shots here and there and not really forcing anything stupid.
Robinson had 11 points through three quarters and was making a fair share of his shots, playing well in the shooting guard spot alongside Kirk Hinrich.
Then he started forcing shots.
Usually that's the point in the conversation when we start to talk about where things went south for Robinson, but that's just the opposite tonight.
Robinson put up 14 points in the fourth quarter with four three-pointers along the way, including a spot-up, shot clock beating 34-foot trey.
By the end of the fourth quarter, Robinson was drawing double-teams. Dallas was keen to let Luol Deng beat them rather than Robinson.
Go back to re-read that sentence and realize just how ridiculous that sounds.
Sometimes you're hot, and then sometimes you're what Robinson was in this one. Now if only he could have watched one more shot fall.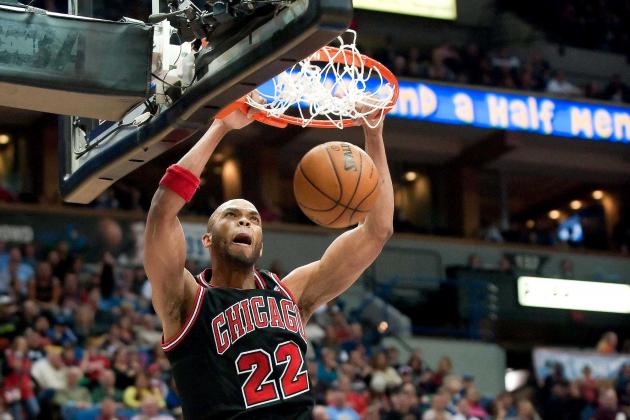 Greg Smith-USA TODAY Sports

Stat Line: 32 points, 6 rebounds, 8 assists, 1 steal, 12-of-23 shooting
Tom Thibodeau continues to use a starting lineup involving Nazr Mohammed, which means he's still got the luxury of bringing Taj Gibson in off the bench whenever he needs a defensive cover changed on a big man.
That's exactly what happened when Carlos Boozer proved incapable of taking on Dirk Nowitzki.
For the first quarter, Boozer had the job of covering Nowitzki, and things did not go well. For the rest of the game, Gibson shared defensive duties on Dirk with Luol Deng, slowing him just a bit along the way.
That, combined with the offensive explosion of Nate Robinson was really all the Bulls needed along the way.
What's really baffling to me is why the Bulls played with Boozer in the fourth quarter, meaning a smaller defender on Nowitzki, rather than throwing Gibson at him.