Inter Milan 3-4 Atalanta: 6 Things We Learned
Valerio Pennicino/Getty Images

Inter Milan hosted Atalanta at the San Siro Sunday, in a game that Inter desperately needed to win to have any hope of keeping pace with the top of the table.
Atalanta's German Denis had other plans. Inter lead by 3-1 at one point and seemed well on their way to victory. Unfortunately for nerazzurri fans, Denis scored three unanswered goals to lead his side to a shocking victory at the San SIro.
The game was incredibly entertaining in the second half, providing viewers with all sorts of crazy plays as well as extra curricular activity as the final whistle blew.
Here are six things to take away from Sunday evening's match.
Begin Slideshow

»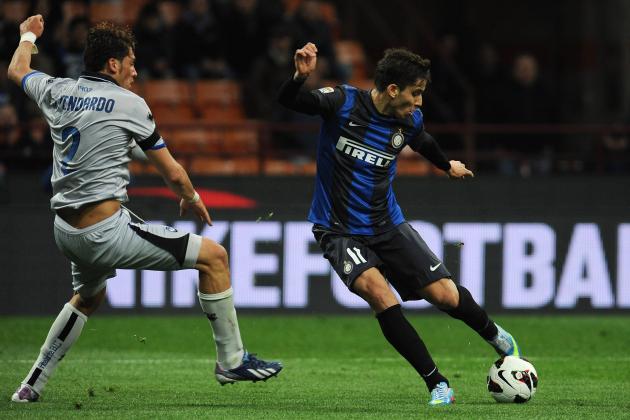 Valerio Pennicino/Getty Images

It goes against all logic in calcio. If you can score three goals, a victory is all but assured. Especially when playing a subpar team like Atalanta.
The fact is, this is the first time Inter have lost all season when scoring three goals. It was no secret that Inter's back line had issues. They've allowed the eighth-most goals this season in Serie A.
But Sunday's match certainly won't help that statistic any, and now teams can approach Inter in a different way as well.
Athletes always say the game is never over, but now after seeing what Atalanta was able to do at the San Siro, other sides can compete with more confidence should they find themselves in a late deficit against the nerazzurri.
Just another item in a long list to consider when reflecting on how this team has fallen this season.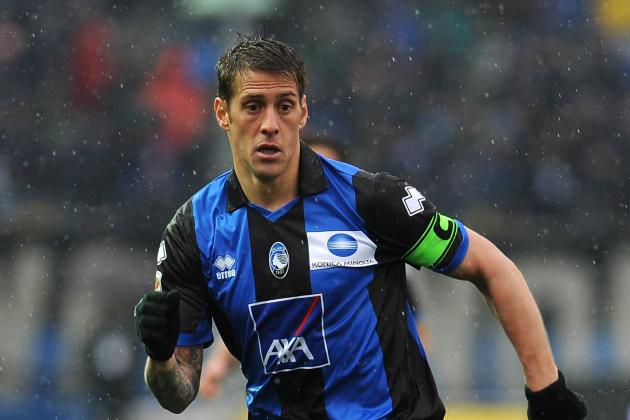 Valerio Pennicino/Getty Images

It's no secret, unless you don't follow Serie A. German Denis is a dangerous finisher, and he reminded anyone who had forgotten Sunday against Inter.
Denis had three goals against the nerazzurri, and with those three, his total now sits at 15 in Serie A competition. That mark makes him the fourth-highest scorer in the league.
Denis is talented, no doubt about that, but when you think of top scorers in Serie A, more than likely he's not one of the first names that comes to mind.
After Sunday's match, though, his might be a name you want to remember.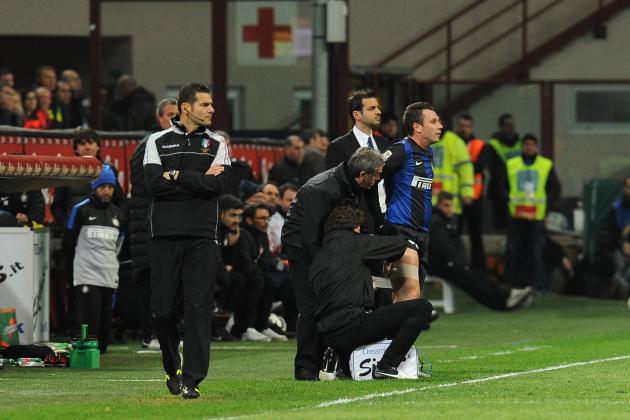 Valerio Pennicino/Getty Images

Antonio Cassano getting care on the sidelines was just another incident on a long list of horrible misfortunes for Inter Milan's forwards.
It's bad enough that Diego Milito was lost for the season in February during a Europa League match. In addition, Rodrigo Palacio had an injury in a training session that kept him out of the match Sunday, and Cassano limped off the field in the 32nd minute.
If anything, it should be considered a small miracle that Inter were able to score three with practically all of their forwards out of the match.
At any rate, it may not be such a bad idea for Inter to call up some forwards from their youth squad. Especially after what happened at the very end of the match...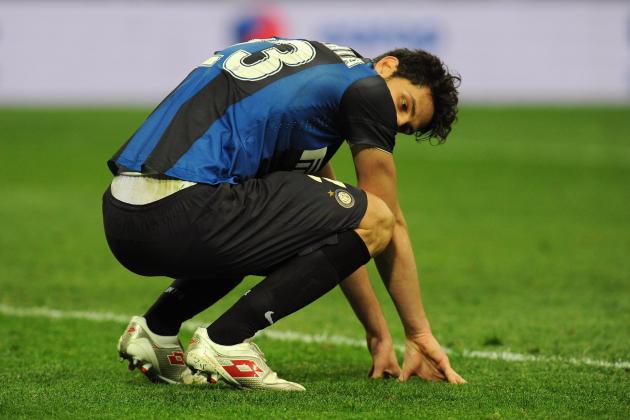 Valerio Pennicino/Getty Images

It's unfair to be too hard on Andrea Ranocchia. It was one opportunity, and he didn't get the ball cleanly. The problem is, it was Inter's last hope of salvaging a point after squandering a 3-1 lead.
That and the net was wide open.
You can drive yourself mad reflecting on missed opportunities, but Inter has missed out on a ton of great opportunities this season, and Ranocchia's is just another in a long line of them.
Maybe it's a team problem, maybe the quality of the players is to blame. Either way, Inter have had so many opportunities to make a run at the top of the table this season and haven't.
Look for big moves this summer from the nerazzurri.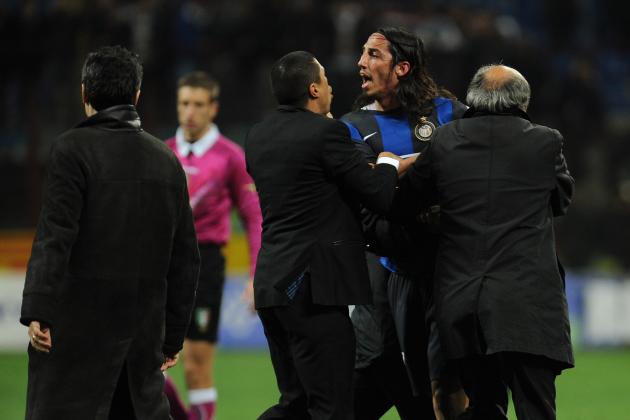 Valerio Pennicino/Getty Images

What a finish!
Ranocchia missed a wide-open net, and Ezequiel Schelotto almost started a brawl between the two sides after the final whistle.
Not necessarily saying Schelotto didn't have reason to be frustrated, but he was a man possessed and could not be deterred. Multiple members of Inter's coaching staff and even a few players tried to keep him from causing any more problems, but he just kept at it.
Regardless of his reasoning, or how valid it was, it illustrates the level of frustration and pressure Inter feel and must be something he and the coaching staff address during the week.
Inter must pull themselves together before things get any worse.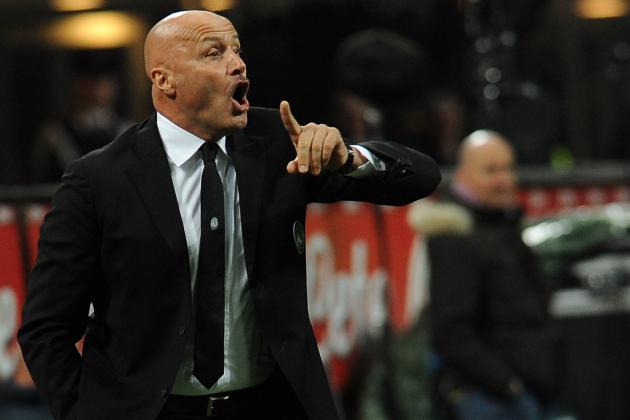 Valerio Pennicino/Getty Images

Things didn't start to calm down, and I'm using the word "calm down" very loosely, until Atalanta coach Stefano Colantuono stepped in to reason with Schelotto.
His familiarity with Schelotto may have aided in his ability to mediate, but where was Inter coach Andrea Stramaccioni?
Why would a coach from the opposing side be the one to calm an Inter player down or at least try to?
There are enough questions surrounding Stramaccioni's abilities with Inter, but Colantuono's Dr. Phil routine may have created another.
Does this young coach have any influence over this team anymore? Did he ever?
What did you learn from Sunday's match? Leave your thoughts and observations in the comments section below!