Inter Milan vs. Juventus: Rating Both Sets of Players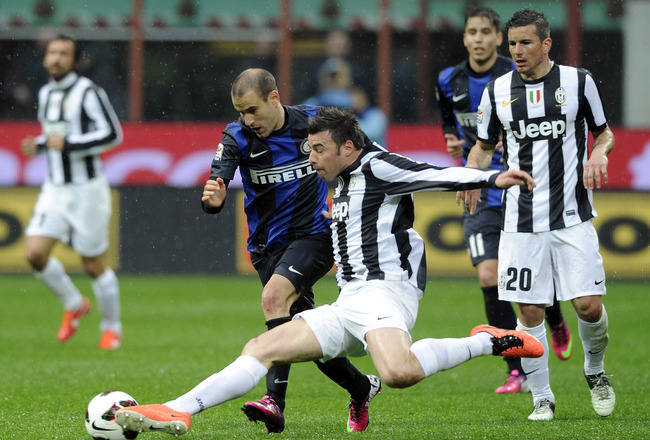 Claudio Villa/Getty Images
The Derby d'Italia was quite an affair. Juventus came in to the fixture hungry for revenge after Internazionale broke their streak back in November.
They got it.
Fabio Quagliarella, who leads the team in goals but is not a regular starter for the bianconeri, opened the game up in the third minute with a beautiful strike from outside the box. He was easily the man of the match as he set up another for his partner Alessandro Matri in the 60th minute.
For Inter, there were plenty of positives as well.
Rodrigo Palacio was robbed twice by Gianluigi Buffon in the match, first from inside the goal in the 12th minute and then again in the 44th minute on a close-range header.
Palacio was finally rewarded for his efforts in the 54th minute when he was fed beautifully by Antonio Cassano to break in on Buffon alone.
When the final whistle blew, Juventus collected their three points and can now look ahead to their next match against FC Bayern on Tuesday.
Here are the player ratings for both teams.
Juventus Player Ratings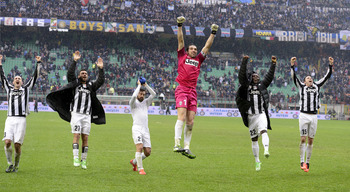 Claudio Villa/Getty Images
As I said earlier, Quagliarella was the man of the match. He had a goal and an assist, 8.2 rating.
Andrea Pirlo was outstanding as always. He created many strong chances for Juventus and was a big part of their level of clam and composure throughout the match, 7.4 rating.
Buffon made five saves, one of which was just unbelievable. He was tested early and held the lead for his side, 7.1 rating.
Alessandro Matri was by far the biggest disappointment on the day for Juventus.
Yes, he scored a goal, but that had more to do with Quagliarella's effort more than anything else. Credit Matri, though, for being in the right place to finish.
Ultimately, as is too often the case, he was wasteful with most of his opportunities and was sloppy with the ball throughout the match, but he did score after all, 6.0 rating
Arturo Vidal had quite a few strong plays for Juve. He had a chance in the 29th minute that he probably should have converted, but he was strong with the ball all afternoon, 6.7 rating.
Giorgio Chiellini gave a solid effort for his side, but he came short in a few spots that could have been very decisive. The biggest was against Javier Zanetti early in the match. Zanetti blew right by Chiellini on the left side and created quite a chance, 6.5 rating.
Leonardo Bonucci had an up and down outing.
He had a great first half of defending and put a great ball forward in the 19th minute that lead to a great attacking chance. The second half, however, was a different story.
Palacio's run that led to a goal was right through the middle of the box. No one accounted for him, and he'd been knocking on the door all afternoon.
Poor form from Bonucci and Juve on that one, 6.1 rating.
Andrea Barzagli was solid as is so often the case with him, 6.8 rating.
Here are the ratings for other key players for Juventus: Claudio Marchisio-6.9 rating. Kwadwo Asamoah-6.4 rating. Simone Padoin-6.4 rating. Federico Peluso-6.2 rating. Paul Pogba-6.3 rating. Sebastian Giovinco-6.1 rating.
Inter Milan Player Ratings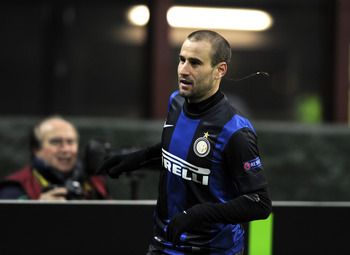 Claudio Villa/Getty Images
Inter probably feel they should have had a better result in this one, the heartbreaking part for nerazzurri fans is that it was well within reach.
Their best player was easily Rodrigo Palacio. He was on the doorstep all afternoon and finally converted on a beautiful feed from Antonio Cassano, 7.4 rating.
Speaking of Cassano, he had great vision to feed Palacio on Inter's only goal; however, he was suspect in other areas throughout the game.
His corners were often way off the mark, and some of his passes were, too. Cassano must be better for Inter if they're going to have success. A better touch or two could have made all the difference from Cassano, 6.7 rating.
Javier Zanetti showed quite a bit of speed throughout the match. He had a great run against Chiellini early as well, 6.3 rating.
Alvaro Pereira had a questionable performance today all around.
He would show some flashes of brilliance, but what stuck out was his recklessness. He surrendered a few dangerous free kicks after some unnecessary challenges. In a big game like this, you must show better composure, 5.8 rating.
Mateo Kovacic got off to a great start in this game. He made a few solid runs and was moving the ball beautiful early. However, after a tackle from an opposing player, he seemed out of sorts the rest of the match, 6.3 rating.
Cristian Chivu and the rest of Inter's back line had a respectable outing all things considered.
Quagliarella's goal was just amazing, and they did all they could to stop him from assisting Matri's. Except cover the post. Chivu-6.4 rating. Walter Samuel-6.2 rating. Andrea Ranocchia-6.1 rating.
Here are the ratings for other key players for Inter Milan: Walter Gargano-5.9 rating. Ricardo Álvarez-5.7 rating. Samir Handanovic-6.2 rating. Tommaso Rocchi-5.9 rating. Fredy Guarín-6.2 rating. Esteban Cambiasso-5.6 rating.
What's your assessment of the match? Leave your ratings and thoughts below!
Keep Reading