Boston Celtics: Game-by-Game Predictions for the Month of April
Will the Celtics close out the regular season with a bang?
Jared Wickerham/Getty Images
With only 10 regular-season games remaining, the Boston Celtics must finish with a bang in April.
As the playoffs draw closer, Boston's issues have become more evident. Injuries, rebounding disparities and sloppy, inconsistent play on both ends of the floor have contributed to an 8-7 mark for the month (as of March 29). The Celtics started off hot with a four-game winning streak, but losses to the Oklahoma City Thunder and Miami Heat completely derailed the Celtics.
After just barely sliding by the Cleveland Cavaliers on March 27, thanks to a last-second drive by Jeff Green, Boston ended its five-game skid. Then it overwhelmed the Atlanta Hawks, 118-107, led by Green's 27 points on 11-of-20 shooting.
But the Celtics have still lost seven of their last 11 contests. And they still face the New York Knicks on Sunday, March 31. Based on the current set of circumstances, and the fact that these squads are headed in different directions, this article presupposes that they lose that game.
That would leave Boston 38-35, three games above .500 with nine April games left on the docket. They still sit in the seventh seed, currently two-and-a-half games above the Milwaukee Bucks, and a comfortable nine games ahead of the Philadelphia 76ers below the cut.
But unless the Celtics truly want to face the Miami Heat in the first round of the playoffs (and who would?), they must pick up the pace and begin executing.
The following rundown comprehensively analyzes every crucial regular-season matchup in the month of April, providing scores and details, as well as Boston's cumulative record after each game.
All statistics for this article are accurate as of March 28. Stats are compiled through ESPN and NBA.com.

Apr. 1: at Minnesota Timberwolves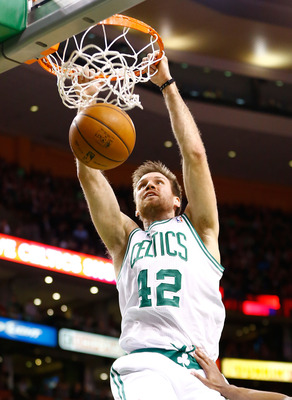 Shavlik Randolph could play a crucial role against Minnesota.
Jared Wickerham/Getty Images
W, 97-93
If Kevin Love's injured hand was healed, coach Doc Rivers might sweat this game out without Kevin Garnett. Led by Nikola Pekovic, Minnesota has absolutely harassed opponents on the interior, waging a physical brand of offense and winning the rebounding battle in four of its last five games.
The Timberwolves are abysmal on the road (9-27), but they sit a relatively decent 16-18 at the Target Center. The Celtics, meanwhile, cannot rebound the ball. They do not have a true center to combat Pekovic. And they sport a 13-23 record away from Boston.
These factors indicate that this game between a playoff team and a 25-45 lottery hopeful will be closer than most imagine. The Wolves just crushed the Phoenix Suns and Detroit Pistons and gave the tough Chicago Bulls and Los Angeles Lakers all they could handle.
Without Garnett and Love, who led their respective teams in points and rebounds in Boston's 104-94 victory over Minnesota on December 5 (KG had 18 and 10, Love had 19 and 13), this game will depend on gritty defense.
Rivers will attempt to force three-pointers, since the Wolves shoot a league-worst 29 percent from downtown. Rick Adelman will hammer the ball down low, capitalizing on the Wolves' three-boards-per-game differential over the Celtics, the second-worst rebounding team.
But Boston will prevail, with the solid full-court defense of Avery Bradley forcing the usually stellar Ricky Rubio to make mistakes. The Spaniard, who averages 2.45 assists per turnover and a whopping 11.9 assists per 48 minutes, will have trouble establishing offensive rhythm, especially with Courtney Lee (sprained ankle) returned to the C's backcourt. Jason Terry's improved D off the bench should help with Minnesota backup J.J. Barea as well.
Watch for Shavlik Randolph, first profiled by yours truly, to play some imperative minutes down low for the Green. He has gobbled up rebounds like Kobayashi gobbles hot dogs, with a 3.8-board average in only 9.8 minutes a game.
Randolph's rebound rates have been well-documented. ESPN's Chris Forsberg recently wrote that he has grabbed 34.8 percent of all available defensive rebounds and 27 percent of total rebound opportunities in the three games without KG. However, his minutes remain limited. It's time to see what Shavlik can do with legitimate playing time.
Record: 39-35
Apr. 3: Home vs. Detroit Pistons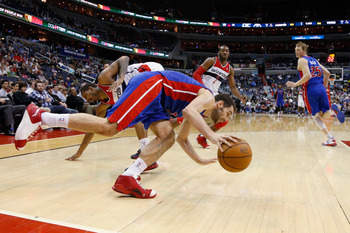 The scuffling Detroit Pistons will be a welcome sight for the Celtics.
Rob Carr/Getty Images
W, 99-84
Another sight for sore eyes, the scuffling Detroit Pistons visit the TD Garden having lost 11 of their last 12 and 14 of their last 16. Besides fairly efficient play from young big man Greg Monroe and floor veteran Jose Calderon, nothing has worked in Motown this year.
For instance, the aforementioned Timberwolves just obliterated them by 23 on their own floor, the Palace of Auburn Hills. Any type of ball movement seemed to puzzle the Pistons, who only posted 18 assists to go with their 15 turnovers (Calderon had one dime in 32 minutes).
The key to beating this squad (besides showing up to the game by tip off) may sound simple: play aggressively. Administering tight defense and forcing the Pistons to move the ball will result in turnovers and fast-break opportunities. On the other end, driving to the hoop to create offense (and get Monroe in foul trouble) will pay dividends.
As a team, Detroit only shoots about 44 percent from the field. Combine that with the fact that Boston is tied for third in the league in opposing field-goal percentage at 43 percent, and the formula already seems pretty clear. Good defense should send the Celtics off and running on this particular night.
In what should be a morale booster, the C's will treat their fans to a classic whooping. An early lead will allow Rivers to play bench reinforcements like Randolph, Chris Wilcox, Terrence Williams and Jordan Crawford. Some huge threes and subsequent airplane moves from "Jet" Terry and alley-oops from Wilcox will have Boston loud and proud.
Record: 40-35
Apr. 5: Home vs. Cleveland Cavaliers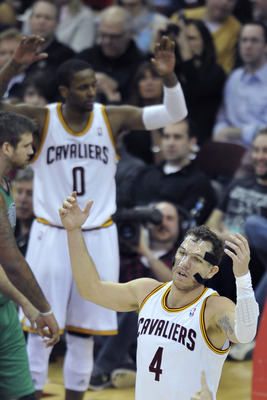 The Cavs hope to avenge their one-point loss on March 27.
David Richard-USA TODAY Sports
W, 95-87
A little over a week after giving the Celtics the biggest scare a 22-48 team can, Cleveland visits the Garden in hopes of avenging their 93-92 loss.
Competing with the Green will prove more difficult on a Friday night in Boston, especially with a healthy Courtney Lee and a two-game winning streak.
The biggest difference between the debacle on March 27 and this game will be turnovers. Boston had 16 last game, which led to 16 Cleveland points. Similarly, when the Cavs beat the C's 95-90 on January 22, they forced 18 and scored 20 points off of them.
It seems surprising, but Cleveland actually ranks fourth in the league in both opponent turnovers per game (15.1) and points off turnovers (17.5). Compounding their strong defense, they value the ball. Their 13.5 average miscues per contest ranks sixth best in the NBA.
Luckily for the Celtics, the Cavs' 43 percent team field goal rate sits 29th in the league compared to Boston's eighth-best .461. The Green can mark off that five-point loss and one-point squeaker of a win as flukey symptoms of rough losing streaks. This time, it won't be as close.
Expect Rivers to expose the Cavaliers' interior deficiencies, beckoning Jeff Green and Paul Pierce to slash to the hoop and create from the post. With Lee back in the starting five, Boston's bench should also play a greater role than last time, taking it to the visiting squad that struggles without its star, Kyrie Irving.
Record: 41-35
Apr. 7: Home vs. Washington Wizards
John Wall is a dynamic scorer, but can he handle Boston by himself?
Rob Carr/Getty Images
W, 92-75
In the third of four straight home games, the Celts will fully rejuvenate their fanbase by crushing the lowly Washington Wizards. Sitting at 26-45, the Wiz join Cleveland in the NBA's field-goal percentage basement (43 percent).
Besides young point guard John Wall (16.8 points, 7.7 assists, 3.6 rebounds per game), Washington doesn't exactly possess an influx of scoring. In fact, the average NBA fan can probably only name three or four players on their active roster. Maybe that's why they sit 28th in scoring and 18th in assists.
But their team defense can be troublesome. Opponents shoot only .437 against them (a hair lower than Boston's .439 opposing percentage), and they allow only 95.6 points per contest. They actually rebound fairly consistently as well, with a .494 rebound percentage and over 43 boards per game.
Injuries have hit this D.C. squad recently, though, seemingly forcing Wall and veteran power forward Emeka Okafor to do it all. Two players in a mediocre offense cannot stay with the fundamentally sound defense of this Celtics team.
Brandon Bass, Wilcox and Randolph will battle down low for boards and position while Bradley and Pierce run the offense. Boston will blow the cover off, running circles around the young, inexperienced Wizards.
Record: 42-35
Apr. 10: Home vs. Brooklyn Nets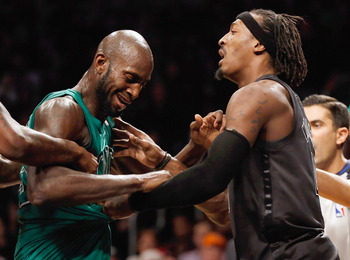 A mini-rivalry has formed between the Celtics and Nets.
Mike Stobe/Getty Images
L, 94-87
In the Celtics' last contest of a five-game home stretch, and second-to-last home game of the regular season, they welcome the team formerly known as the New Jersey Nets. Finally, Boston gets their first dose of playoff competition since facing Brooklyn's metropolitan counterpart, the Knicks.
The Nets tend to play the Celtics hard, at times even appearing like a rivalry could exist between the two franchises. In fact, their second meeting of the year, on November 28, became violent.
After Nets forward Kris Humphries issued a hard foul on Garnett, Celtics point guard Rajon Rondo retaliated by pushing the ex-Kardashian into the courtside seats. A fight ensued, leading to the ejection of Rondo, Humphries and Nets small forward Gerald Wallace.
Brooklyn won that game 95-83, due in large part to star guard Joe Johnson's 18 points. But the bench trio of point guard C.J. Watson, 2-guard Jerry Stackhouse and center Andray Blatche combined for a staggering 47 points.
Although Boston won the last matchup with Brooklyn, Rondo and rookie Jared Sullinger were the ones leading the way. They can't do anything more than watch this time, as Rondo's ACL injury is healing and Sullinger is recovering from late-January back surgery.
Boston will have to keep the ball moving, pressing hard in transition and finding openings in the half-court offense. The Celtics have combined for 31 assists and 31 turnovers in the two losses to Brooklyn this season. The Nets allow only 94.5 points a game, good for fifth best in the league. Boston won't beat this team unless it protects the ball and gets good looks.
The Celtics also have to rebound efficiently. Humphries and star center Brook Lopez led the charge on boards in the two victories, as the Nets gathered 97 rebounds to Boston's 84. In the one Celtics victory of the three-game series, the Green out-rebounded Brooklyn by five.
Coming off a plethora of contests against sub-.500 squads, Boston could be a bit shaky. Expect the Nets to play very aggressively by driving the ball to the lane and either getting to the free-throw line or kicking it out for a three ball (they attempt a lot of both—top eight in the league, actually).
Without Garnett, the C's will get passed by in the fourth quarter, unable to handle the scoring or rebounding depth of their adversaries.
Record: 42-36
Apr. 12: at Miami Heat
The King will defend his court against the rival Celtics once more.
Jim Rogash/Getty Images
L, 98-91
Two days after a tough loss to a formidable playoff opponent, the Celts will have to travel to American Airlines Arena to face the defending champion Miami Heat.
Possibly the best NBA team of the 21st century, LeBron James' squad seems poised to mow over the Eastern Conference playoff landscape.
At least Chicago ended Miami's 27-game winning streak, a near-record that Boston came within one shot of bursting themselves. When King James' men came to TD Garden on March 18, they found themselves down by as many as 17 and trailed by seven points with five minutes left.
But James erupted, scoring six points and dropping three assists to mount a 13-4 run and epic comeback, stifling Celtics Nation. He has a tendency to do that.
This Friday night affair in South Beach will be no different. Without KG, Boston will have lots of trouble defending penetration on the perimeter and wing. The Heat have also rebounded the ball effectively as of late, another glaring issue of the Celtics' interior.
The Green will compete for most of the contest, like they always do against the Heat, but Miami will pull away toward the last half of the fourth quarter. Expect the game to get a little chippy, especially considering Terry's ongoing feud with James and the continually heated relationship between GMs Danny Ainge and Pat Riley.
Miami will have the last laugh, at least for the regular season. But it almost feels like a certainty that these two teams will meet again in the playoffs.
Record: 42-37
Apr. 13: at Orlando Magic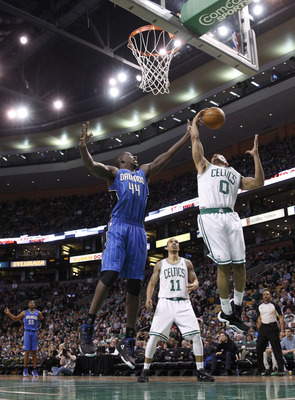 The lowly Magic will have trouble with this Boston Celtics team.
USA TODAY Sports
W, 103-89
Still reeling a bit from a tough loss to the rival Heat, Boston will travel 235 miles northwest to meet the Orlando Magic. And almost magically, the sting of losing will wear off fast.
Orlando is not an impressive team. In fact, its54 losses places it in the basement of the entire league with the Charlotte Bobcats. Plain and simple, the Magic don't do many things well.
They score only 94.4 points a game while allowing 101.2 (both 22nd in the NBA). And their leading scorer, Arron Afflalo, has missed games due to a strained right hamstring.
Their only true center, Nikola Vucevic, is currently suffering from a concussion. The hits keep on coming for Dwight Howard and Shaq's former team.
This team has a lot of young talent but no real identity or leadership. Boston will pick these guys apart like Uncle Drew in a street game. They'll cruise while giving Pierce and the freshly returned Garnett some valuable time on the pine down the stretch.
Record: 43-37
Apr. 16: Home vs. Indiana Pacers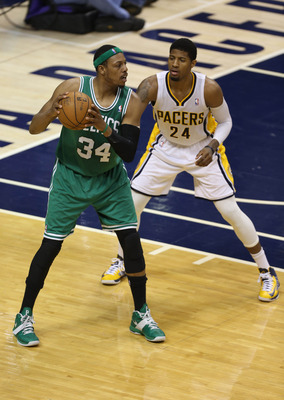 Celts-Pacers could be a lot different without KG and Pierce.
Brian Spurlock-USA TODAY Sports
L, 102-89
In the last difficult test of the season, the Celtics fly home for a rematch with the best defense in the NBA, the Indiana Pacers. When they last met in Indianapolis, Boston came back from a 14-point deficit to win on a Jeff Green layup with 0.5 seconds left.
The Pacers had gone completely cold, shooting a dreadful 4-of-20 from the field in the fourth quarter and failing to register one point in the last 4:35 of the game. It was something you had to see to even believe.
Don't believe the Celtics will pull off another comeback like that, especially with Frank Vogel's squad undoubtedly still fuming and KG probably still a little sore from his inflamed ankle.
Boston will keep it close with strong ball movement and outside shooting, but it just doesn't seem like it will force the issue down low with the seventh or eighth seed already locked up. In reality, Paul Pierce and Kevin Garnett probably won't even play this game. The playoffs are more important to Ainge, Rivers and the Celts.
Enjoy watching the majority of Boston's second unit get dominated by Indiana's strong perimeter and low-post defense. These squads could meet again in the playoffs, but you won't see much of a show until then.
Record: 43-38
Apr. 17: at Toronto Raptors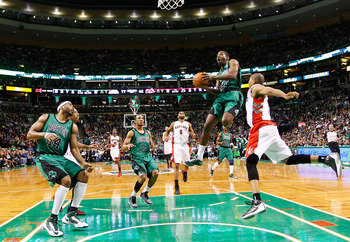 The last regular-season game could be sloppy but exciting.
Jared Wickerham/Getty Images
W, 90-86
To finish off the 2012-13 regular season, the Celtics travel to Air Canada Centre in Toronto to face the 27-45 Raptors.
What a blessing for Boston to face so many pitiful squads in the last juncture before the playoffs.
As expected, Pierce and Garnett sit. That means Bradley, Green and Lee are given free reign to go off, hoisting up shots all over the floor and running the fast break in a sloppy but exciting game.
Toronto allows a generous .461 opposing field-goal percentage and gives up nearly 100 points per contest. The Raptors do take care of the ball relatively well, but they shoot a mere 44 percent and maintain a less-than-average 21.5 team assists per game.
Don't expect a barnburner from either side here. It's the last game of the regular season and chances are both teams just want to preserve the health of their players. The aforementioned Shavlik Randolph could once again get some valuable PT against the likes of Aaron Gray or an equally obscure big man.
The Celts finish off the regular season with a solid 44-39 record, locking up the seventh seed in the Eastern Conference to avoid a first-round matchup with the Heat. In the end, they get yet another rematch with the now-familiar Indiana Pacers. Time to dance.
Record: 44-38
Keep Reading

Boston Celtics: Like this team?