Seattle Seahawks Mock Draft: Post-Free Agency Predictions for Every Round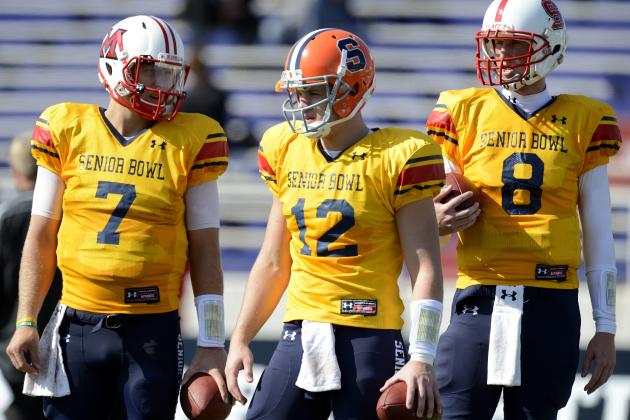 USA TODAY Sports

Before this past weekend, I thought I knew the definition of the word "imminent," yet days later I'm still confused as it took until Monday afternoon for the Seattle Seahawks to finalize a deal trading Matt Flynn to the Oakland Raiders (Associated Press via Seattlepi.com).
While waiting, I began to wonder if my Perfect Mock Draft for the Seahawks from last week had properly weighed the potential of Flynn being traded along with the signing of defensive tackle Tony McDaniel to a one-year deal.
As time slowly passed, I came to realize my previous mock was a little too perfect in assuming Flynn would be staying.
On the surface, another mock might seem like overkill, but it's more of a reaction to the two recent moves coupled with the likelihood that general manager John Schneider probably won't be coloring by the numbers during this year's draft.
So with free agency winding down and Flynn on his way to Oakland and Colt McCoy to San Francisco (ESPN.com), I decided to take what I put together last week and revise accordingly.
Nevertheless, since we never know what head coach Pete Carroll and GM John Schneider will do next, I will once again offer my patented disclaimer...
Disclaimer: All picks guaranteed wrong come April...or your money back!
Begin Slideshow

»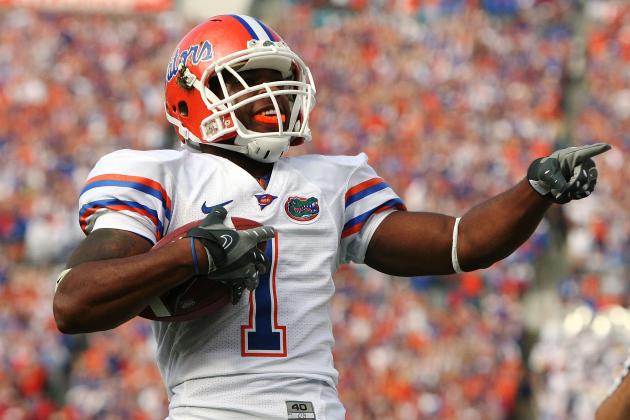 Doug Benc/Getty Images

Does anyone else feel a little disappointed in seeing first-round mock drafts recently, knowing the 'Hawks aren't included?
You want to click with the hopes of seeing the Seahawks making a pick, but deep down know that you're just going to scroll to the bottom and see Minnesota at No. 25 instead.
As much as I'd love to have the 'Hawks find a way to sneak back into the first round for entertainment purposes, right now I'm sticking with our "original pick" of Percy Harvin.
Besides it's a bit out of character for John Schneider to move up in round one given the required payout likely needed to make such a move while most of the 'Hawks major needs have already been addressed through free agency.
If you're still not sure, ask yourself this question, "What player or position would the Seahawks need to desperately trade up for?"
For today I can't think of any, but they may want to move on either an offensive lineman or linebacker if somebody slides down the board.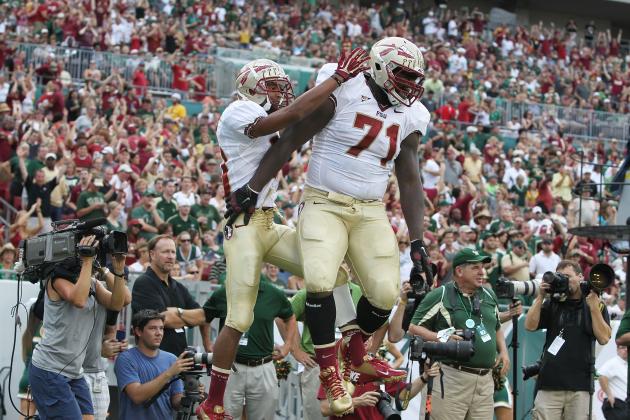 Kim Klement-USA TODAY Sports

While it might be tempting to trade up to get Oklahoma offensive tackle Lane Johnson in Round 1, right now I'm hoping offensive tackle Menelik Watson is still available at the end of Round 2.
Last week I originally had Watson in Round 2, but decided to flip him to Round 3 at the last minute. In hindsight I came to realize that my first instinct was probably best and this week have made the necessary correction.
Personally I like the idea of the 'Hawks taking the big Brit with the hopes that offensive line coach Tom Cable can mold him alongside last year's raw talent J.R. Sweezy into something special on the right side of the line.
Ideally the two can challenge current starters Breno Giacomini and Paul McQuistan to either step up their game in training camp or simply surpass them either at some point this season or next.
Okay, so here we go with a change from last week, as I don't think the 'Hawks can fool around with the likes of Collin Klein anymore as a project.
While it's entirely possible that Ryan Nassib could be drafted well before the Seahawks ever make a single pick in this draft, the point is that I'm not entirely sold on entrusting the backup spot to the likes of Tyler Thigpen, Matt Leinart, Vince Young or whoever else is being mentioned in the rumor mill these days ("Is Josh Portis really coming back? via Seattlepi.com).
Is this pick, this early, a bit of an overreaction?
Perhaps, but in a weak crop of quarterbacks, I believe the 'Hawks have to start looking at the likes of the smart yet gritty Nassib or hope that University of Arizona's Matt Scott is still around late in Round 4 or early in Round 5.
Following the combine I had Scott penciled in with the Aaron Curry pick from Oakland in round five, but if quarterbacks start flying off the board earlier than anticipated, the pressure might be there to take Scott or whoever is left even earlier.
To me, this is a troubling development that I'd like to think the 'Hawks front office will have well in hand when the time comes, but for today it just begs the question, "Why did the 'Hawks trade Matt Flynn in the first place?"
Sports Illustrated's Peter King answers the question with a few of his own:
Put yourself in Seattle GM John Schneider's shoes. Do you want your confirmed backup quarterback taking up $7.25 million on your cap this year? Or do you trust your offensive coordinator and quarterback guru, Darrell Bevell, to train another guy to back up Russell Wilson? I'll take the latter choice any day of the week.
Fair enough, but let's not forget that Russell Wilson is only entering his second season in the NFL.
While he has done everything asked of him and then some, there is still a very small part of me that lives with the irrational fear WIlson will either be called back to his home planet, turn into a pumpkin, or something far worse at some point next season.
Flynn may have been an expensive and unproven security blanket, but I certainly slept a lot easier knowing he was around just in case.
Fortunately for us GM John Schneider appears to be in control of the situation while explaining the next steps to 710ESPN after finalizing the deal (Associated Press via Seattlepi.com):
"There's different avenues we can go," general manager John Schneider told 710ESPN Seattle. "We have a plan in place and it's contingent on who that player is. There are veterans who are available now, some very talented guys. Guys who are all football. ...

"There are also some guys in the draft we think are pretty interesting. We have a plan and we're going to take it as it comes."
Let's hope so, especially with Colt McCoy going to San Francisco.
Like it or not, I believe the 'Hawks will need to start giving serious consideration towards using a pick around this point to get a decent backup for Darrell Bevell to tutor.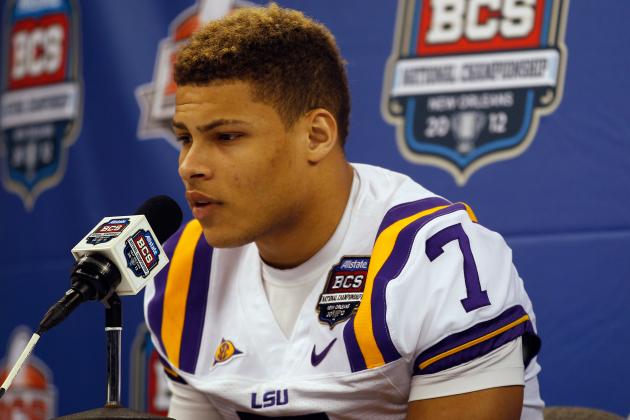 Chris Graythen/Getty Images

This pick is a tricky one simply because you can go in so many different directions, with the need for a linebacker being the most glaring.
At the same time you could also argue the 'Hawks need help in the secondary in drafting a nickel corner or a safety to back up Earl Thomas or perhaps on the other side of the ball go for a wide receiver or tight end.
I will confess that I struggled here before opting to go (coping out) with Tyrann Mathieu of LSU, who is arguably one of the more intriguing options on the board, as described by John Harris for Yahoo! Sports:
Considering how confident this secondary is, the addition of Mathieu is intriguing. He's at his playmaking best when he's lined up in the slot, covering an interior receiver or blitzing the edge. Carroll targets taller corners, but in Mathieu's case, playing inside, it's about the havoc he can create than his dimensions.
All true, but this pick is a little too obvious, as everyone seems keen on sending Mathieu to Seattle in a means of finding redemption while playing for Pete Carroll with the "Legion of Boom" keeping close watch over him.
It's a nice story, yet sadly for the moment, since I can't pencil in the best athlete still on the proverbial big board, I'm going to go with "The Honey Badger" instead.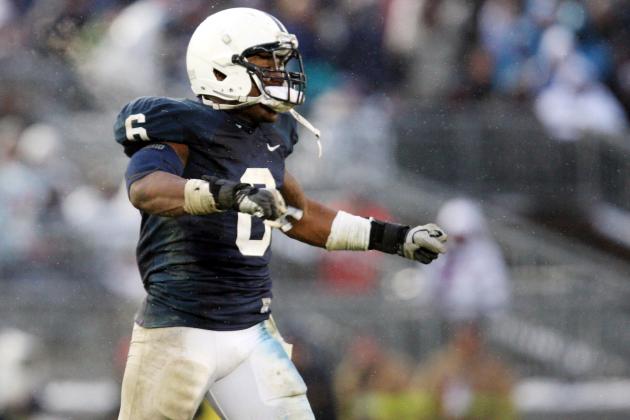 Rob Christy-USA TODAY Sports

This year the Raiders will be giving the Seahawks a fifth-round pick for having taken Aaron Curry off of Pete Carroll's hands back in 2011.
So what should the 'Hawks do with this pick?
I believe they should select a player that can fill the position that Curry never could.
Last week I had Jamie Collins of Southern Miss to help join Bobby Wagner and K.J. Wright at outside linebacker, but this week I'd like to toss Gerald Hodges of Penn State into the discussion.
What's so special about Hodges?
Right now he seems to be under the radar, and what I like about Hodges, along with most of the other linebackers I've considered for the 'Hawks in this draft, is his ability to cover, as NFL.com explains:
Hodges is a converted safety who is growing into a NFL starting Sam linebacker's frame -– but he still has the movement skills to bring down ballcarriers in space. Hodges most impressive trait is his ability to cover, however. He needs to improve at disengaging from blocks, but his coverage skills will likely see him selected on the second day.
The athleticism to play safety in the body of a linebacker is something that might get Hodges along with Rutgers Khaseem Greene a look from the 'Hawks, but can Hodges really play the Sam position or would he be better suited in the Will spot?
That's where this pick gets a bit tricky, but if he's still available early in round five, I can see the 'Hawks being tempted to pull the trigger and letting defensive coordinator Dan Quinn and linebacker coach Ken Norton Jr. figure out what to do with him.
Depending on how the back up quarterback situation plays out between now and the Draft, this pick could go up or down in priority. The good news is that there should be plenty of options to choose to choose from day two onwards.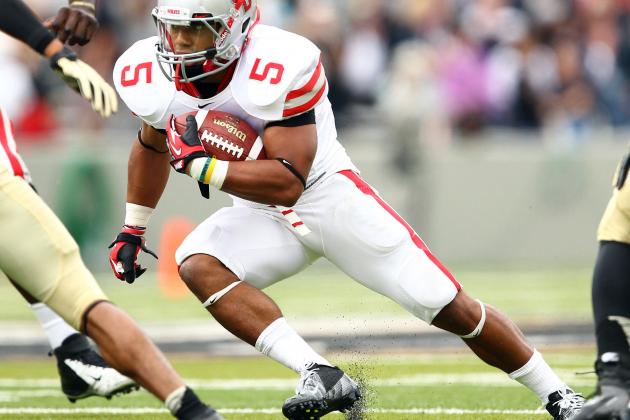 Danny Wild-USA TODAY Sports

By the end of Round 5 I think the 'Hawks will need to take a running back.
But why not wait another round or two?
While all along I've been a firm believer in the Seahawks needing to bolster their running game behind Marshawn Lynch and Robert Turbin, the trade of Matt Flynn only pushes this issue up the board.
If the team looks to add a backup quarterback with a similar skill set to Russell Wilson, the 'Hawks might be tempted to draft "Alfred Morris 2.0" as Sports Illustrated's Chris Burke explains:
Could the unheralded Maysonet be the star of Day 3 at the draft? After sitting out combine drills with a hamstring injury, Maysonet ran a 4.45 40 and a 4.01 short shuttle at Stony Brook's Pro Day (the latter would have been the best RB time at the combine). Get ready to hear plenty of speculation that Maysonet is this draft's Alfred Morris.
By pairing Maysonet or perhaps Nevada's Stefphon Johnson at this point with Russell Wilson, the 'Hawks give themselves one more weapon coming out of the backfield now with Leon Washington gone.
And if the 'Hawks were ever forced to rely on a backup like Tyler Thigpen next season, why not give him the extra help?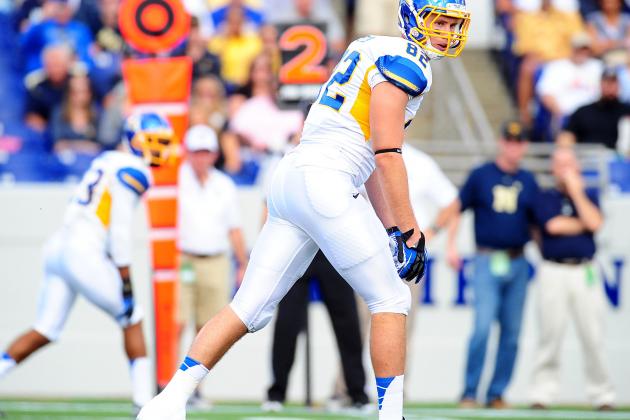 Evan Habeeb-USA TODAY Sports

Last week I really liked the idea of the 'Hawks grabbing Vance McDonald on day two of the draft, so much so that I probably had him at least one round too high.
Deep down, I still believe the team goes out and gets a tight end, but we may need to wait another day. However, by that point who will be left?
While I could see UCLA's Joseph Fauria dropping to this spot, I could also see San Jose State's Ryan Otten still here, given that NFLDraftscout.com projects him going in Round 6, as well after his recent pro day performance:
Tight end Ryan Otten, who was unable to participate at the combine due to an illness, was the main attraction as he was able to work out for the 23 NFL teams in attendance. Otten ran his 40-yard dashes in the mid-4.6 range with a 33-inch vertical and 4.45 short shuttle time. He is expected to be a mid-round draft pick in April.

Otten battled a painful illness over the last six weeks after a staph infection developed from a cut he suffered at the Senior Bowl. His weight plummeted to the 220-pound range and he feared death at one point, but Otten worked his way back and looked at near 100 percent health on Friday. He was able to do 17 reps on the bench press at San Jose State's Pro Day, weighing in at 242 pounds.
If he's healthy again and still available this late, the 'Hawks might want to take him.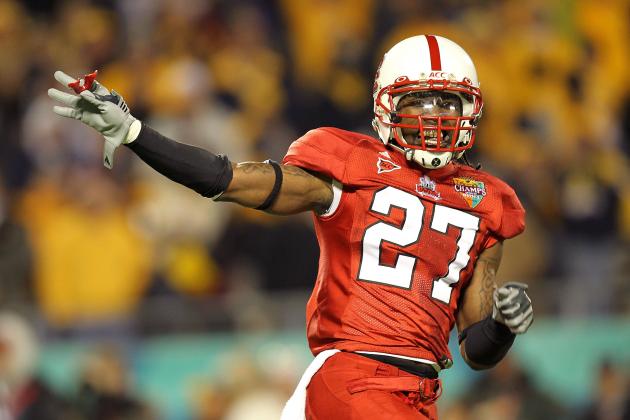 Mike Ehrmann/Getty Images

This week I like North Carolina State safety Earl Wolff just as much as I did in this spot last week.
Whether he's still here, or even if the Seahawks are at this point, is a whole other question, as I can see this pick being packaged at some point to help jockey for position earlier in the draft.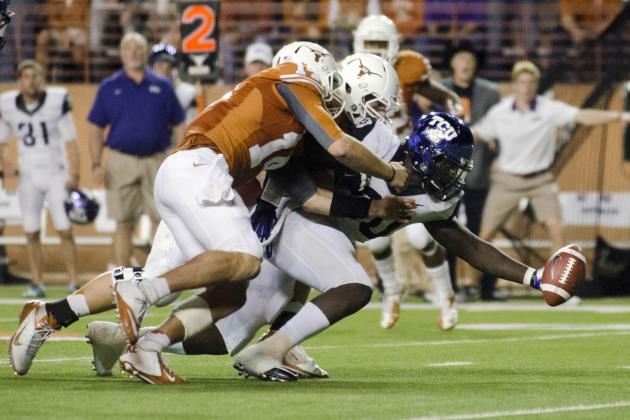 Brendan Maloney-USA TODAY Sports

I've said it before and I will say it again: At this point in the draft you look for athletes.
Last week I had Missouri Western's David Bass as the seventh-round pass-rusher the 'Hawks should consider. This week, I'm adding TCU's Stansly Maponga to that list.
The TCU product is a man without a position, given some sites list him as a defensive end, while others have him at outside linebacker. But most would agree that he has the kind of talent that could either get lost in the mix or shine with the right team.
NFL.com summarizes Maponga in such fashion by stating:
Maponga showcases power, hand usage, and a nice spin move. However, his game is highly inconsistent at this point, and revolves mostly round flash plays. Where is he is selected will be based upon a coaching staff's confidence that he can develop into a consistent player.
Could defensive coordinator Dan Quinn figure out what to do with Maponga?
Right now it would seem that he has quite a mix of veterans and youngsters to sort out, with the newest addition being Tony McDaniel now joining Michael Bennett and Cliff Avril via free agency.
While it might be tempting to add another defensive lineman earlier in this draft, I think the 'Hawks will go with what they have already and maybe add someone like Maponga towards the end of day three instead.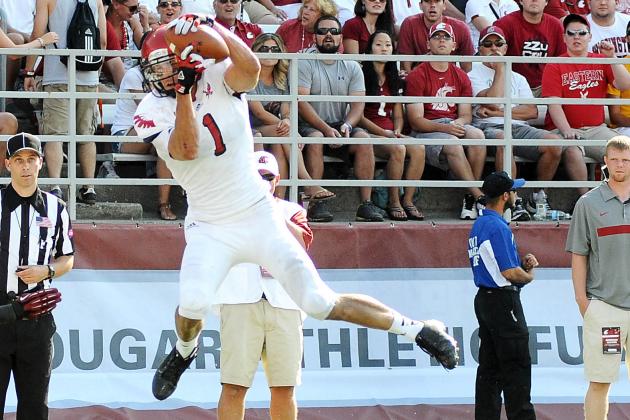 James Snook-USA TODAY Sports

As we near the end of Round 7, part of me was tempted to add former Washington State wide receiver Marquess Wilson with this pick, but I'm not sure that would play well on a local level.
When you consider how Wilson left the Cougars program, I honestly can't picture Pete Carroll and John Schneider wanting to get mixed up in the politics of how things are being run out in Pullman by Mike Leach and his staff.
With that said, would the 'Hawks consider another local product instead?
At 6'4" and 214 pounds, Eastern Washington's Brandon Kaufman could be the kind of developmental project worth taking at the end of the draft, given the team's need for a red-zone receiver.
If he pays off he could be a steal; otherwise, no harm, no foul at this point.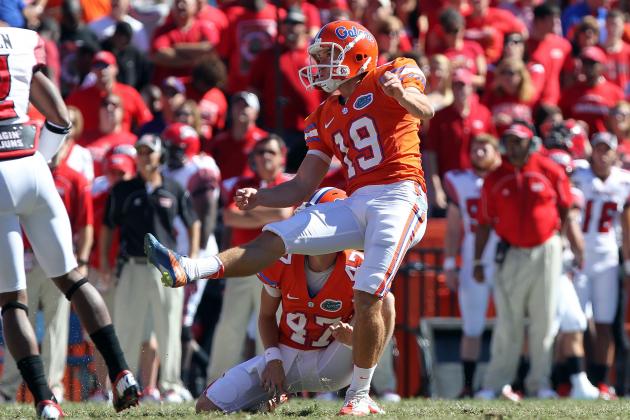 Kim Klement-USA TODAY Sports

Could the Seahawks with their final pick actually draft a kicker?
With Steven Hauschka's status still up in the air, I'm not inclined to rule it out.
As Walterfootball.com explains, Sturgis looks worthy of a draft pick:
Sturgis was tremendous at the East-West Shrine. He was nailing kicks in the mid-50s with ease - straight down the middle. Sturgis had plenty of leg while showing a consistent motion to maintain accuracy. He had an impressive collegiate career and looks worthy of a draft pick on the third day of the 2013 NFL Draft.
As you may have gathered at this point, the Matt Flynn trade has, for the moment, turned me on my head.
What seemed so easy to map out a week ago now suddenly feels a bit strange.
Yes, the shopping list hasn't changed too much, as the team still needs a linebacker, some help on the offensive line, a play maker or two for Russell Wilson, and some depth at the front and back on defense.
But with Flynn gone, how do the 'Hawks compensate?
Right now I may have gone a little overboard in drafting Ryan Nassib in Round 3 here, but that may be more of a knee-jerk reaction to the arms race the 'Hawks are waging with the San Francisco 49ers. In this day and age, during a season with so much potentially on the line, I feel the 'Hawks are walking the tightrope without a net today.
Of course, this is where John Schneider probably smiles while laughing to himself as he continues to play his chess game while the rest of us fumble with our checkers.
I certainly hope so, as I'd imagine that Schneider is already three moves ahead of the rest of us and probably has someone lined up to take Flynn's spot. Until Monday night, though, I had hoped that someone was Colt McCoy rather than Matt Leinart.
It's not that McCoy is anything special. It's more the fact that beyond Russell Wilson, the 'Hawks brain trust hasn't had a ton of luck finding quarterbacks the past few years, and I feel like we've been kicking around Leinart's name ever since Pete Carroll arrived in Seattle.
In time I imagine all of this will work itself out, but for now we simply need to remain patient and see how things unfold.