It's been two weeks since Georges St-Pierre defeated Nick Diaz in the main event of UFC 158 and we're still talking about the fight.
Maybe not so much the fight because honestly, there's not too much to say about that, is there? St-Pierre dominated the bout from start to finish and retained his UFC welterweight title in the process, but the stuff surrounding the fight is what we're still talking about and trying to make sense of.
The furor over St-Pierre's questionable hand wraps has died down, as have the claims that St-Pierre is on "plenty of steroids." That stuff was all pre-fight shenanigans and bluster to get the champ off his game.
It didn't work, and now the Diaz camp has moved on to bigger and better things.
The issue these days is a video that was shot prior to the weigh-in of the March 16 fight. In the video, the Diaz camp is informed by Michael Mersch, UFC's Senior VP of Business and Legal Affairs, "They're going to allow you and Georges to have an extra hour, just in case somebody doesn't make it, but the good news is, they don't count the decimal. If you're 170.2 it's 170. If it's 170.9. it's 170."
Considering they are being informed of this the day of the weigh-in, someone in the Diaz camp inquires, "Why didn't we know that before?"
Mersch continues, "Well, no. It's just something to keep in mind. That's kind of an off the record type of thing, but keep that in mind. As long as he's under 171, we should be good, but there is a time period afterwards, for you and Georges only. All the other fighters have to make it the first time. Just letting you guys be in the loop, okay?"
The Diaz camp can then be heard to call the goings-on, "a loophole."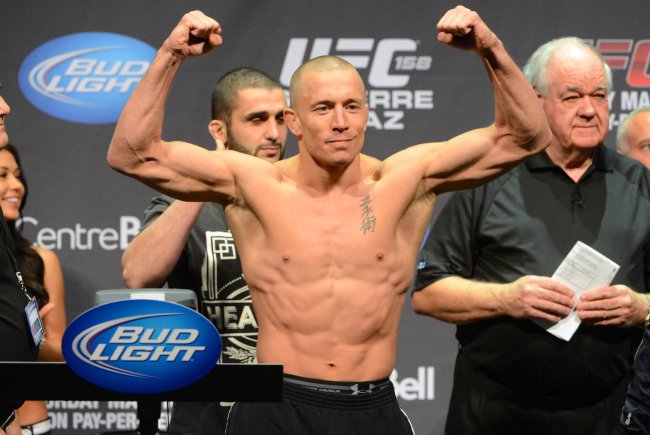 Eric Bolte-USA TODAY Sports
When asked about the no-decimal statement, the Quebec Boxing Commission responded to Bleacher Report's Jonathan Snowden by saying, "Currently, the Régie does take into consideration the maximum weight determined by contract when it carries out the weight-ins before a bout. However, our regulation on combat sports does not take decimals into account. Their consideration is a question of interpretation likely to be debated between the two parties under contract."
Ah, if only that statement held any water. A quick check by MMAFighting.com's Mike Chiappetta found that statement to have some holes, and some fairly recent ones at that. Chiappetta sited a March 2012 Ringside MMA event where the main event combatants had recorded and announced weights of 252.8 and 237.6.
So, which is it? Does the Quebec Commission round down or use decimals?
Or as the Diaz camp said, is this "a loophole"?
When Diaz's lawyer Jonathan Tweedale tried to get answers he wasn't exactly stonewalled, but he wasn't answered directly either. We know this because Tweedale forwarded his exchanges with Mersch and the Quebec Commission to BloodyElbow.com's Brent Brookhouse.
The replies from both parties come across as evasive at best.
In the end, the Diaz camp (via MMAFighting.com) requested that St-Pierre either give Diaz a rematch or relinquish the welterweight title.
That request will almost certainly be denied due to the fact that there is no proof that St-Pierre tipped the scale at anything but his announced weight of 170 pounds. Short of irrefutable proof of that, the Diaz camp really has no grounds to justify the request for a rematch or St-Pierre giving up the title.
The argument from Diaz's camp for a rematch?
The Diaz camp may not get the desired outcome of all this, which is more or less obtaining another huge payday for their fighter in the form of a rematch with St-Pierre. However, they will (should?) succeed in moving the sport forward in a small way by shedding light on some questionable dealings from the commissions that are in charge of overseeing UFC events.
Let's not forget that whenever UFC president Dana White shouts that the government oversees the sport, these are the people that he is talking about—the people that may or may not always follow the same set of rules when it comes to weigh-ins.
I would expect to see some changes applied during the weigh-in process across the board from the UFC due to this hullabaloo, and that's nothing but a good thing. But do I expect to see a rematch for Diaz? There's not a chance of that happening unless real proof exists that St-Pierre didn't hit 170 when he stepped on the scale at the Bell Centre.
That lack of a rematch may actually be a plus for Diaz, perhaps lighting a fire under him and keeping him in the fight game instead of contemplating retirement. After all, nothing seems to motivate Diaz more than the idea that he is being held down by forces beyond his control.
The refusal to accommodate the request of the Diaz camp for an immediate rematch with St-Pierre will be just another slight in a long line of slights, real or imagined, against the Stockton, Calif. based fighter.