2013 NFL Mock Draft: 3 Serious Rounds After April Fool's Day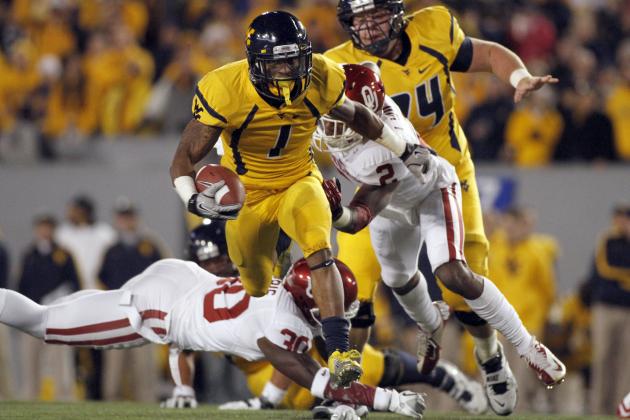 Justin K. Aller/Getty Images
How far does Tavon Austin slip in this mock?
April Fool's Day has come and gone. But the NFL draft is just a few weeks away. There's no reason to fool around with this year's draft as some teams have some serious decisions to make.
The top of the draft this year is where teams will have to get their long-term impact needs met; otherwise, they risk being perennial top 10 draft teams again. Unfortunately for some, they won't be able to fill their biggest need at quarterback with this year's class.
There is still a ton of talent outside of that, though, and the draft this year is one of the deepest in recent memory. There are quality starting-caliber players through at least three and a half rounds. Follow along as we explore the first three rounds of this year's NFL draft.
Begin Slideshow

»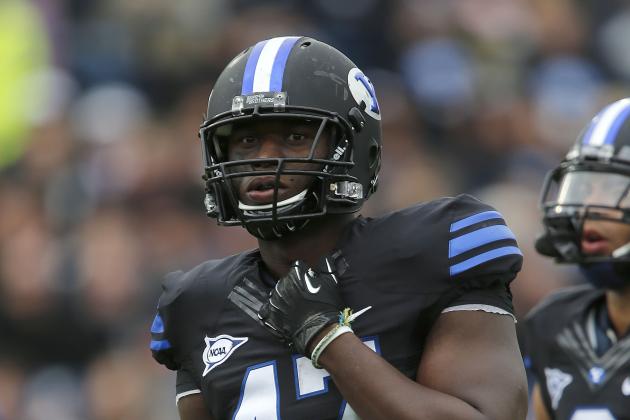 George Frey/Getty Images

The Chiefs are the toughest team to figure out because they are definitely one of the best talent collections to ever hold the No. 1 overall pick. However, they have the perfect situation to add an ideal talent for their scheme here.
Ezekiel Ansah has the potential to be the next J.J. Watt. He's athletically one of the best players in the past few years at defensive end. Add 10-15 pounds of muscle and strength, and he could easily have the same kind of physical tools as Watt.
He should be able to lock down the 3-4 DE role for years in Kansas City.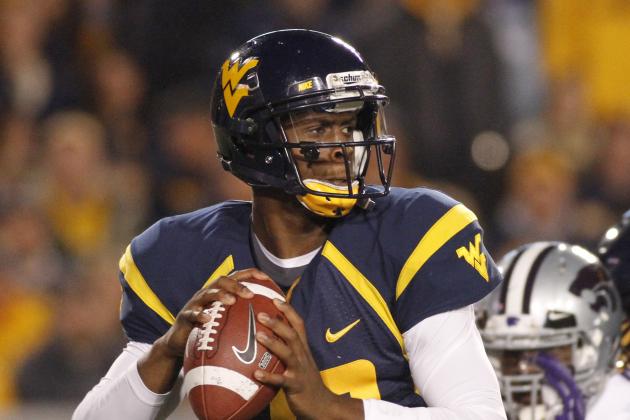 Justin K. Aller/Getty Images

If you don't have a good quarterback, you need to get one. The rest of the NFL has been making sure they have someone who can start at quarterback... everyone but the Jaguars. That says something. With Kansas City looking likely to stick with who they have at quarterback, Geno Smith will be there for the taking.
Geno is the only franchise-caliber quarterback in this entire draft. He is easily worth the No. 2 overall pick and should be the pick here come draft day. He reminds me a ton of Matt Ryan if Ryan could run a 4.50 in the 40. He makes good reads, has excellent leadership and has an excellent arm.
Otto Greule Jr/Getty Images

With the Raiders picking so high and trading for a potential starting quarterback in Matt Flynn, it makes sense for them to pass on the secondary quarterback options like Tyler Wilson, Ryan Nassib, Matt Barkley and E.J. Manuel.
So instead, they take the best front-seven player in the draft here in Dion Jordan. He's an excellent all-around talent who can get after the quarterback, cover a wide receiver and still hold his own in the running game.
He could play SLB or DE in the 4-3 or OLB in the 3-4 very easily. His all-around talent makes him the best player in the draft.
With the Eagles moving to the 3-4 defense, they need some better defensive linemen. Isaac Sopoaga was a good move for a starting-caliber nose tackle and Fletcher Cox can easily slide to the 5-tech defensive end role in the 3-4.
Star Lotulelei is a unique player in that he can play any of the three line positions in the 3-4 and will be excellent as a 3-technique for the 2-4-5 nickel sets. He fits best as the strong-side defensive end and will be able to start right away as an impact player.
If there ever was a team that stuck to their board, it's the Detroit Lions. They will definitely be doing that again in 2013. The hardest part to figure out is who the top player on their board will be. At this point, it would almost have to be Eric Fisher.
He's not just a local talent who is a great player on the field at their biggest need. He's an ideal fit for their offense and a top talent for what they need with their large amount of passing attempts. He's the best pure pass blocker at left tackle in the draft and should easily allow Riley Reiff move to a more natural right tackle position.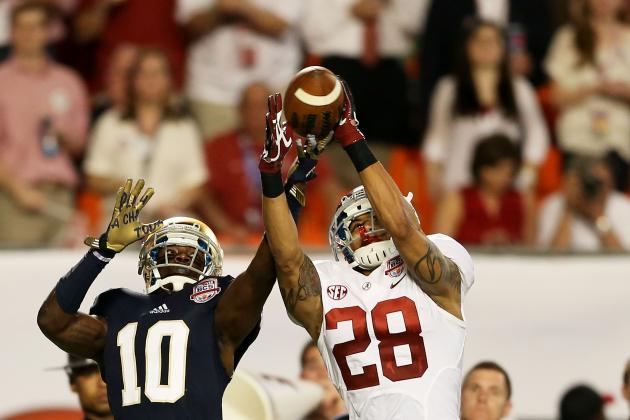 Streeter Lecka/Getty Images

The Browns need someone across from Joe Haden in their defense. Ideally they can get someone who can play both the nickel and the right corner, as Buster Skrine and Chris Owens do well in an outside role on third downs. This is where Dee Milliner comes in.
He is ideal for that kind of role and is easily the best corner in this year's draft. The combination of Haden, Skrine, Owens and Milliner would give the Browns an excellent combination of talent at corner for at least the 2013 season.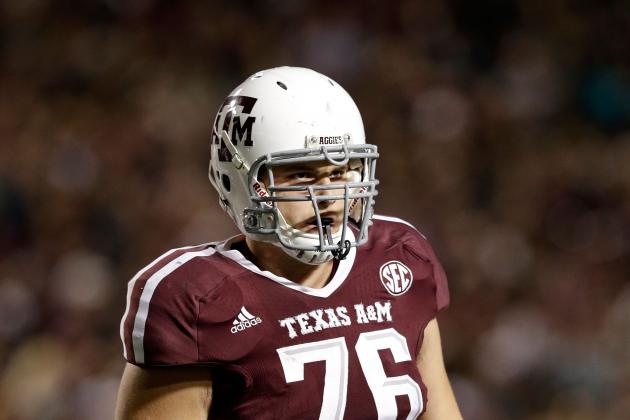 Scott Halleran/Getty Images

If the board goes this way, the Cardinals would trip all over themselves trying to run up and get their pick in. Luke Joeckel is an ideal fit for their offense and will automatically take over as the long-term starter at left tackle for years.
Levi Brown could then move to a more natural right guard position next to the solid Bobby Massie. That would leave just two spots on the offensive line that need to be competed for and the Cardinals would actually have protection for the newly acquired Carson Palmer.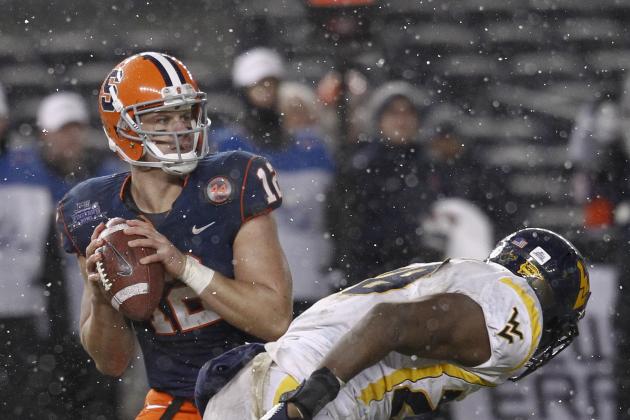 Jeff Zelevansky/Getty Images

It feels like every year the Buffalo Bills do something stupid at the beginning of the draft. Why should this year be any different?
On the bright side, they do need a quarterback and taking one at No. 8 isn't a bad idea. It's just that Ryan Nassib isn't the guy they should be taking. He just likely is the guy they will be taking.
New head coach Doug Marrone loves the player on and off the field and would be wise to bring in someone who already has experience in his offense.
The only real issue with Nassib is his funky footwork in the pocket and low level of pocket awareness. That could be helped by an excellent offensive line in Buffalo, though.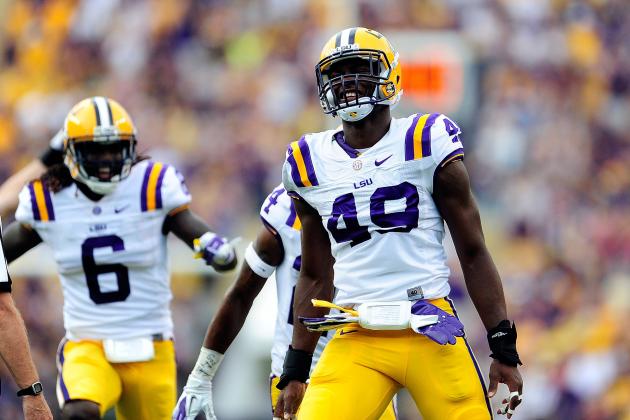 Stacy Revere/Getty Images

With Calvin Pace and Bryan Thomas both being released as cap casualties, the Jets need someone who can truly get after the quarterback from their 3-4 fronts. Barkevious Mingo is a great athlete who is still raw as a football player.
His best fit would be with a coach who could use him quickly like Rex Ryan, and still be able to hide his early flaws. Mingo has the talent to be one of the top pass rushers in the NFL and could be an Aldon Smith-type sack artist in the Ryan 3-4 scheme.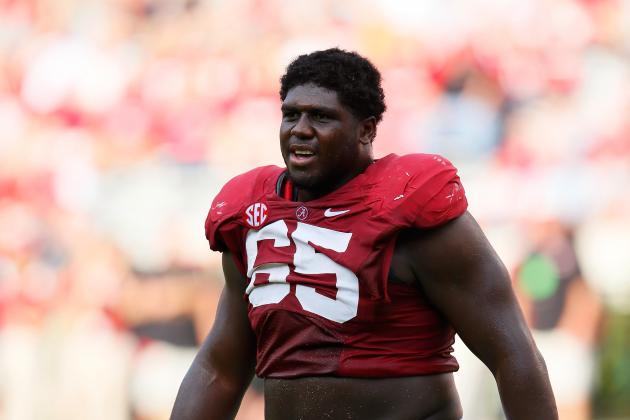 Kevin C. Cox/Getty Images

The interior line in Tennessee was one of the weakest in the NFL in 2012. The only solid player on it was Steve Hutchinson and he retired. They did go out and sign Andy Levitre, but if they want to make it a great offensive line to give Jake Locker some protection, they should draft a guard.
In this case, Chance Warmack just makes a ton of sense. He's a beastly 317-pound monster who can instantly start at right guard for the Titans. This would give them a starting line of Michael Roos, Levitre, Fernando Velasco, Warmack and David Stewart.
It would be very talented in run blocking and just as good as a pass-protection wall. Maybe Tennessee's offense would score more than 20.6 points a game (bottom 10 in the NFL).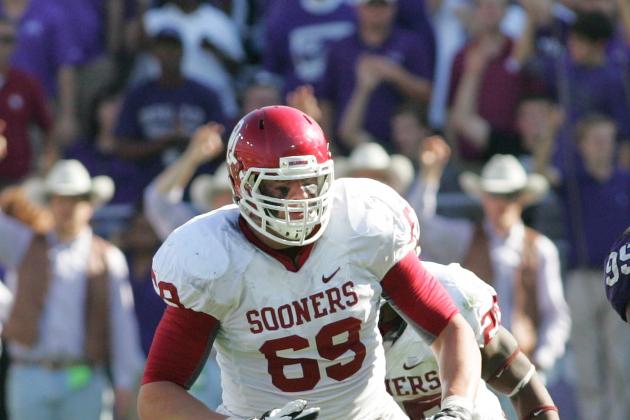 R. Yeatts/Getty Images

The Chargers don't have any left tackle talent for their offensive line. King Dunlap, Chad Rinehart and Rich Ohrnberger will be good fits for the guard and right tackle spots surrounding Nick Hardwick. But they still need someone who can anchor the line at left tackle.
This is where the potential of Lane Johnson comes into play. He's tremendously quick off the line as a former tight end, and his frame could even add another 10-15 pounds of muscle so that he could get stronger.
He has the potential to be the best left tackle in this class and should be a 10-year starter.
Bjoern Werner is one of the most unique prospects in the draft this year. He compares favorably to Paul Kruger, but could easily play in the 4-3 defense as well. He will be an excellent fit for a right defensive end in the 4-3 defense that Miami is running.
Cameron Wake has and will always be more effective as a left defensive end, so using Werner as a right end with Wake on the left side will be the best move for Miami. It would also allow Jared Odrick to slide inside to a more natural 3-technique and give the Dolphins a very good defensive tackle rotation.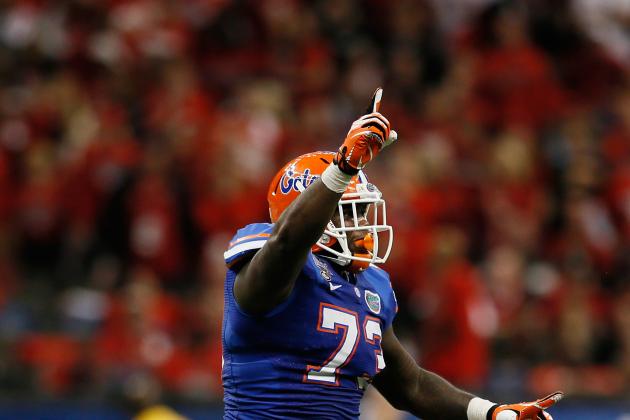 Kevin C. Cox/Getty Images

The Buccaneers have a ton of needs on their defense. The biggest is at corner. However, they have to go best player available for their defense here and take the defensive tackle who will give them an ideal 1-gap defensive tackle pairing.
Sharrif Floyd was an excellent 1-technique nose tackle at Florida and even played some 3-technique and 5-technique defensive end. Floyd would be an excellent starter for the Buccaneers defense and would complement Gerald McCoy perfectly.
McCoy in the 3-technique with Floyd in the 1-technique would make that defense scary for anyone to play.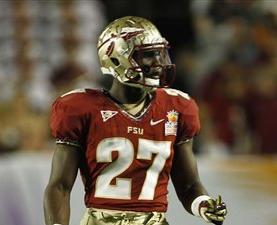 Courtesy BrownsvilleHerald.com
Chris Gamble's retirement left the Panthers high and dry at cornerback. While they could also use a defensive tackle, that class is much deeper in this year's draft. So they take the franchise-caliber No. 1 corner here in Xavier Rhodes.
Rhodes has excellent size at 6'1-1/2 and 210 pounds while still maintaining ridiculous 4.43 level speed in the 40. He can run with and cover almost any receiver out there, and his size helps him a ton when trying to jam receivers at the line.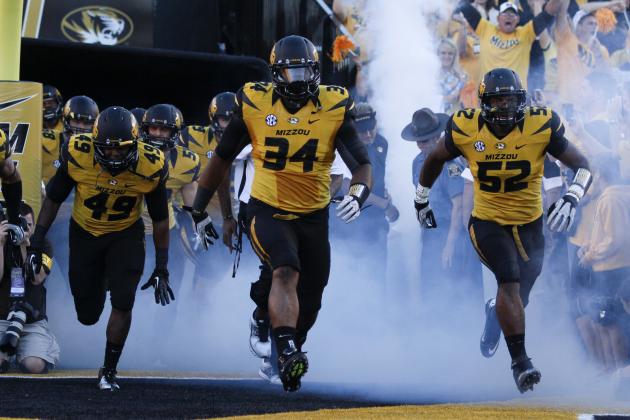 Ed Zurga/Getty Images

The New Orleans Saints are misguidedly moving to a 3-4 without having all the proper personnel pieces in place. Then again, when you have the worst defense in the NFL, there's only one way to go. And with some solid potential out of the 1-gap front under Rob Ryan, the Saints just need the right personnel.
Sheldon Richardson would be a huge step in the right direction. He's got the size and speed to play defensive end and could be an instant starter at nose tackle in the Ryan 3-4. Combining him with Cameron Jordan, Akiem Hicks and Brodrick Bunkley could give the Saints a solid defensive line.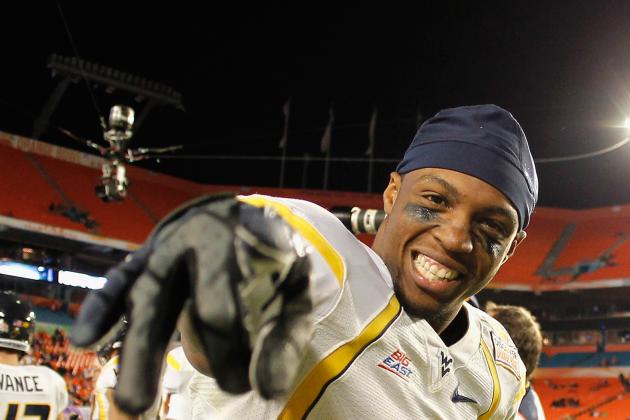 Mike Ehrmann/Getty Images

With Danny Amendola heading to the New England Patriots, the Rams need someone who can be a slot and No. 1 option in the offense. Tavon Austin is easily the best weapon for the Rams in this year's draft. He can play the slot, run out of the backfield or even line up on the outside.
There are other, larger options available, but the Rams don't seem to care too much about the size of their receivers—just the talent. Other options considered were guard or even safety, but the talent level of Tavon Austin would be too much to pass up for a struggling offensive unit in need of a real home-run threat.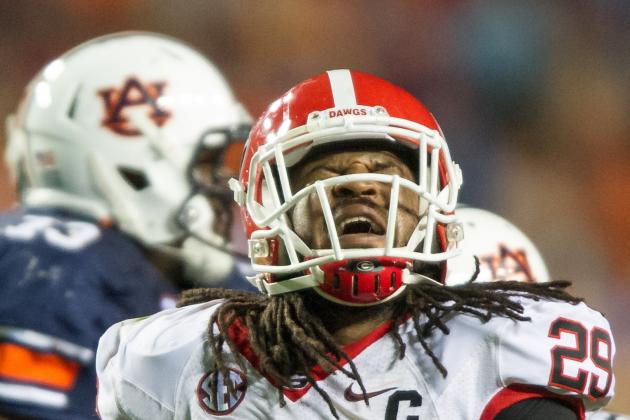 Michael Chang/Getty Images

The Steelers let long time leader on defense James Harrison go and now they need someone who can replace him in the defense. Jarvis Jones is a steal here as someone who can slide right in and play the exact same role that Harrison played.
He's a leader on and off the field, and Jones has the attitude and willingness to succeed that fits into the Dick LeBeau defense. He slips due to the spinal stenosis that he has and the poor pro day numbers that he put up.
It's still three weeks away from the draft, but Dallas seems to be locking into Kenny Vaccaro to boost their new secondary for it's Tampa 2 conversion this year. He would be the ideal fit for a free safety next to the winner of a Barry Church and Will Allen competition.
Vaccaro is ridiculously good in coverage and could also even play cornerback in the Tampa 2 alignments. His versatility will allow him to line up at outside corner, nickel corner or even free safety depending on what the alignment is for the defensive backs.
It will only help the defense long term to bring in a chess piece like Vaccaro.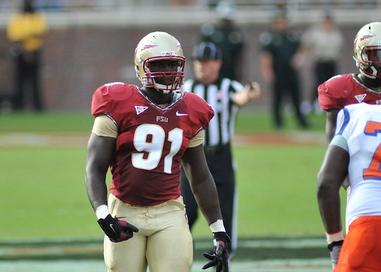 Courtesy Warchant.com
The Giants love to take players based on future contract situations. Looking into it, defensive end makes too much sense with Justin Tuck in the final year of his contract. This strategy also allows them to take chances on raw talent or injured players that can heal up in a rotational role as a rookie.
Because of that, Tank Carradine makes too much sense. He could have been a top 10 pick in this year's draft without his ACL injury. He slips due to it, but he could easily be an early contributor vs. both the pass and the run.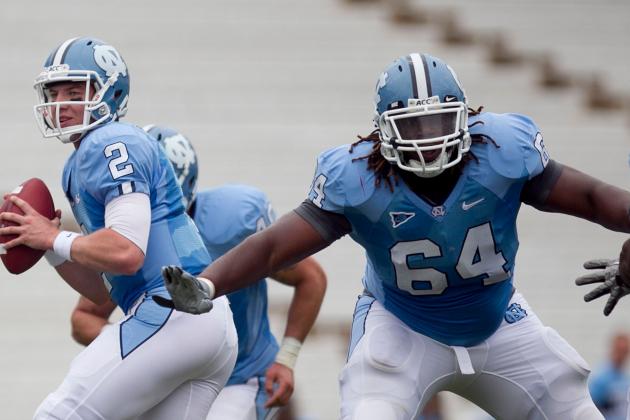 Courtesy StarNewsOnline.com
The Bears have a lot of needs this year, but none have been bigger than their full-on need to rebuild the offensive line and give Jay Cutler some protection. Jermon Bushrod coming in at left tackle was the right move to start off the line's rebuild, but adding a top-level talent at left guard is the next move.
Jonathan Cooper is a great blocker and leader for the Tar Heels. He can play center, but his best role has been left guard. He has earned his way into the middle of the first round and can dominate from any of the three interior line spots.
By teaming him with Bushrod on the left side and Gabe Carimi with J'Marcus Webb on the right side, the Bears will have an offensive line that isn't embarrassing any more.
Joe Robbins/Getty Images

The Cincinnati Bengals have a huge need for a safety to pair with Reggie Nelson in the backfield. They need someone who can duplicate what Rodney Harrison used to do for the Patriots. In Jonathan Cyprien, they will get not just that, but someone who can also play deep umbrella coverages as well.
Cyprien may have played at a small school, but he proved his worth at the Senior Bowl and combine as a top-level prospect at the position. He's also got the kind of football IQ that a defensive coordinator like Mike Zimmer will fall in love with in interviews.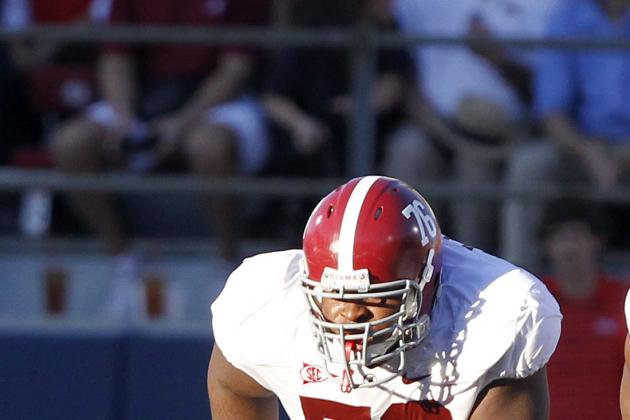 Butch Dill/Getty Images

With the top two safeties and the best guards off the board, the Rams still need some help on the offensive line. So they make the slight reach here for D.J. Fluker, who could be a dominant player at left guard for the Rams offense.
With the addition of Jake Long and Fluker to a unit that already had solid pros in Scott Wells, Harvey Dahl and Roger Saffold, the Rams offensive line turns into one of the best in the NFL almost overnight.
Fluker has the nastiness and power with phone-booth athleticism that will make him a very good fit at guard in the pros.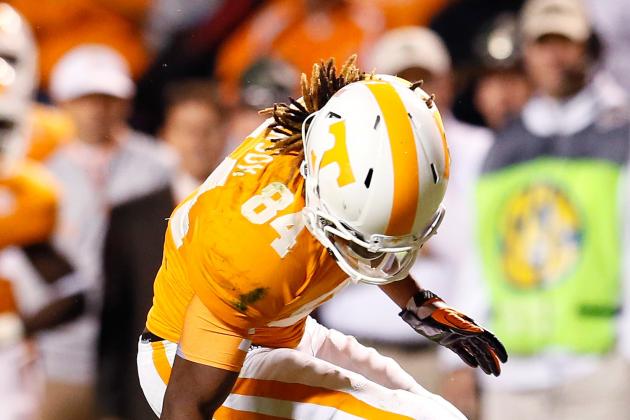 Kevin C. Cox/Getty Images

After losing Percy Harvin, the Vikings need a dynamic receiving option to team with Greg Jennings and Kyle Rudolph. Christian Ponder will love Cordarrelle Patterson because he can do a lot of the same things that Harvin did, but he has much better size.
He also has the same kind of speed as Harvin. Patterson can be used all over the formation and his best role will be stretching a defense. He can be a Julio Jones-type threat if his potential is fully achieved.
He has to learn how to catch away from his body and develop some better football IQ before that happens.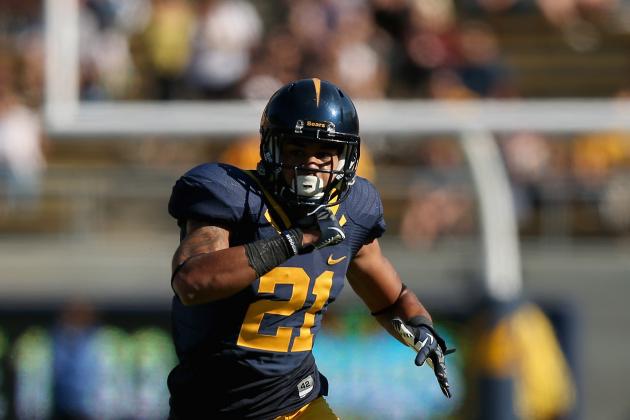 Ezra Shaw/Getty Images

They just brought in Darrius Heyward-Bey and have Reggie Wayne and T.Y. Hilton. But receiver is still a need for the Colts and a top 15 prospect like Keenan Allen doesn't fall into your laps every year.
With Wayne—who Allen compares favorably to—aging and nearing the end of his career, Allen falls into a great situation.
The versatile Allen can run excellent routes and has great hands. But his athleticism and size make him one of the best prospects at the position in the draft.
When looking for the future No. 1 receiver for Andrew Luck, taking his college rival in Allen will be an ideal fit.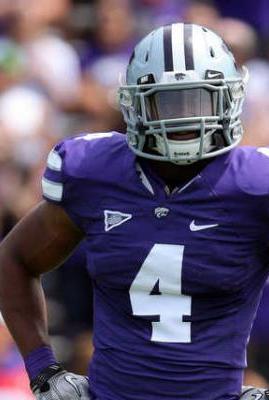 Courtesy Footballsfuture.com
Another huge hole on the Minnesota defense is the linebacking corps. They luck out here and get the second best player in the draft and the absolute best pure 4-3 linebacker they can get. Arthur Brown is a ridiculously good player who is very similar to what Brian Urlacher was when he came out of college.
He engages blocks well despite not being the biggest guy in the world, and he also can cover almost any tight end or running back in coverage. He can get after the quarterback if need be but ideally, he is the man you want leading your defense for the next 10 years.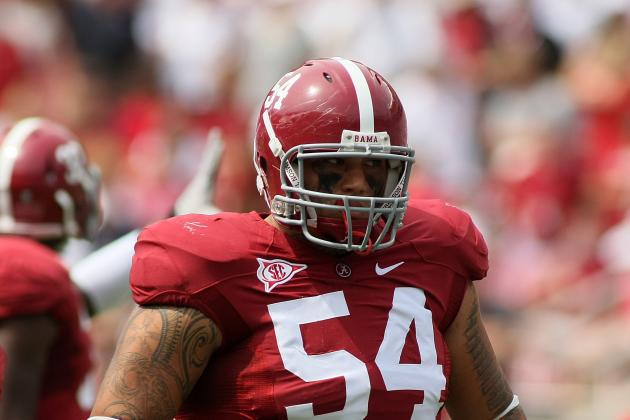 Greg McWilliams/Getty Images

The Packers need some defensive-line talent to team with B.J. Raji, who is excellent but could easily slide over to end or even an unbalanced 3-4's 3-technique role. So the Packers should take someone who could also do the same thing—someone like Alabama nose tackle Jesse Williams.
Williams was a beast in the middle of a championship Alabama defense. He can penetrate through the line or plug the holes. He also has the ability to run well in a two-gap scheme.
However, he does have issues when taking on double teams, but that can be rectified with better coaching and strength training.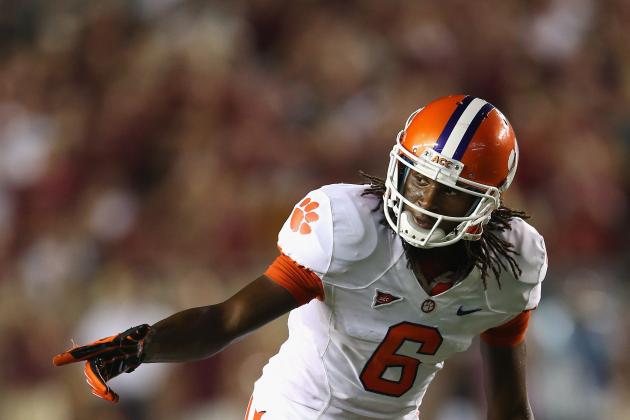 Streeter Lecka/Getty Images

The Texans could use a long-term No. 1 wide receiver who could be the No. 2 to Andre Johnson and learn from him for a couple years. DeAndre Hopkins from Clemson is an ideal fit for the Houston offense and could easily be a Roddy White clone.
Hopkins—who goes by "Nuke"—can go deep and destroy a defense that way. However, his best abilities are over the middle on either intermediate or short depths. He has an uncanny knack to get an extra couple of yards even if he looks like he's about to be stopped.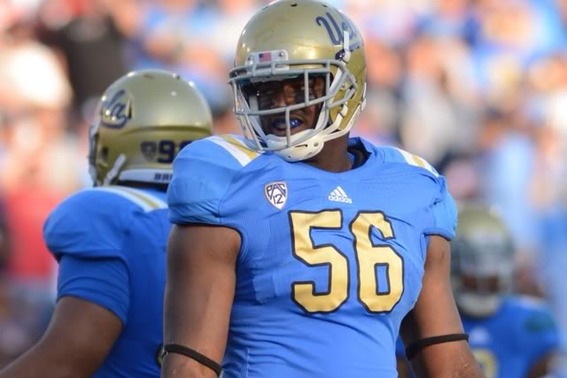 Courtesy DraftBrowns.com
The Broncos need some truly good pass rushers on their defense with the loss of Elvis Dumervil to the Ravens. Datone Jones has a ton of potential as a strong-side rusher and could be the same kind of athletic talent Patrick Kerney was for years.
Jones has an excellent frame and strength and a motor that doesn't quit. However, he is a bit slower than the other defensive ends in this class and will have to rely on his technique improving to create pressure.
He also will have to slide into the 3-technique and even the 5-technique on passing downs so that the Broncos can get some inside pressure.
The Patriots need a long-term No. 1 wide receiver after releasing Brandon Lloyd and losing Wes Welker in free agency. Enter Stedman Bailey. He would instantly upgrade the passing attack for the Patriots and reminds me a ton of Steve Smith for Carolina.
Bailey will be able to give Tom Brady the type of receiver he hasn't had since Randy Moss went on his decline. Bailey can stretch a defense deep, work it over the middle and even out of the slot.
He and Danny Amendola will be able to give the Patriots the kind of moving parts they had at receiver in the early 2000s.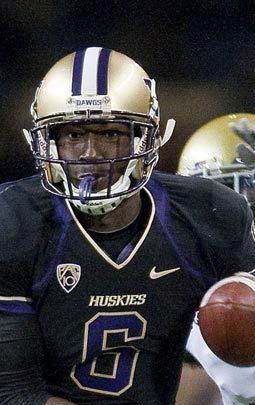 Courtesy Seattle Times Online
After losing two former starters in Dunta Robinson and Brent Grimes this year in cap-saving moves, the Falcons need a starting No. 1 cornerback. Desmond Trufant is someone who could fill that role long term with his excellent athleticism and experience at the position.
Trufant is also ideal for the Falcons' character guidelines, as he was team captain for the Huskies in 2012 and is one of the harder workers on and off the field. His demeanor is very similar to Sean Weatherspoon and Asante Samuel's on the field, and that will only blend in well with the Falcons defensive backs unit.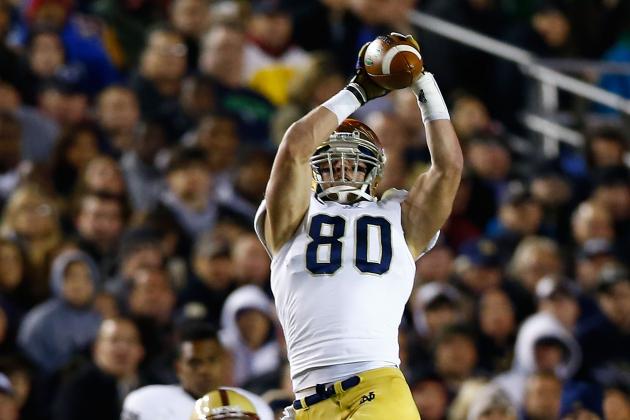 Jared Wickerham/Getty Images

The San Francisco 49ers have a ton of picks in this year's draft. Because of that, they can afford to make a luxury pick that gives them versatility on offense and is the best player available at their pick. Tyler Eifert is definitely the guy in this year's draft that will let them do both.
He's got the positional versatility to either play in the slot or in line at tight end. He will be able to give Colin Kaepernick a huge target over the middle on seam plays, and defenses will have trouble trying to cover both him and Vernon Davis in the passing game.
Courtesy OnlineAthens.com
After losing Ray Lewis and Dannell Ellerbe to retirement and free agency, the Ravens need someone who can lead their defense and start at inside linebacker. They kill two birds with one massive, ridiculously fast stone here in Alec Ogletree.
Ogletree is a former safety from Georgia who gained some weight and played extremely well at inside linebacker in the 3-4 for the Bulldogs. He has issues with instincts in the run game, but the Ravens run a simplified 1-gap scheme.
With Elvis Dumervil, Terrell Suggs and Courtney Upshaw also in the linebacker corps, the Ravens will have a very talented four-man group.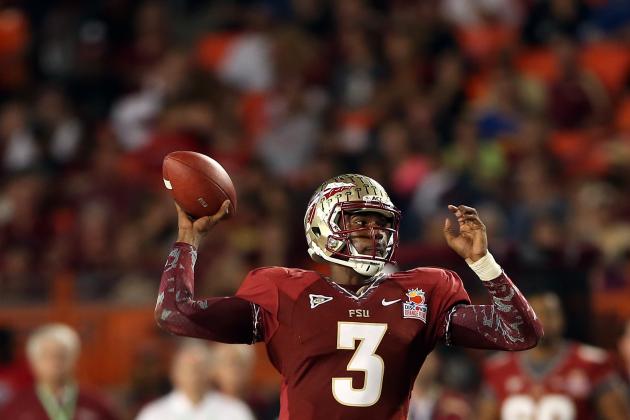 Streeter Lecka/Getty Images

1. Jacksonville Jaguars: OT Menelik Watson (Florida State) JR, 6'5-1/8", 310 pounds
Jacksonville needs a long-term starting right tackle for their zone-blocking scheme. Menelik Watson has great quickness and athleticism for his size. He also has strong punch from his former boxing days. Unfortunately, he still needs a ton of work technically.
2. San Francisco 49ers: NT John Jenkins (Georgia) SR, 6'4", 346 pounds
With the pick they received for Alex Smith, the 49ers should address one of the biggest needs they have on defense—nose tackle. John Jenkins is like a dancing bear on the defensive line. He plays like Vince Wilfork of the Patriots and has spells where he is just dominant.
3. Philadelphia Eagles: QB E.J. Manuel (Florida State) SR, 6'4-5/8", 237 pounds
When they re-signed Michael Vick to the one-year deal, the writing was on the wall that they wanted a franchise guy. E.J. Manuel is perfect for the Eagles' new scheme and with actual quarterback coaching, he should be excellent for the Eagles.
4. Detroit Lions: DE Damontre Moore (Texas A&M) JR, 6'4-1/2", 250 pounds
Detroit needs a defensive end who can start for them after losing Cliff Avril. Damontre Moore could truly benefit from the 9-technique defensive end role he would play for Detroit. He can convert speed to power very quickly and gets after the quarterback well.
5. Cincinnati Bengals: RB Eddie Lacy (Alabama) JR, 5'11", 231 pounds
The Bengals need a running back who can actually perform behind a talented offensive line. Eddie Lacy has experience behind the best offensive line in college football. He should be able to come right in and start for the Bengals as a three-down running back.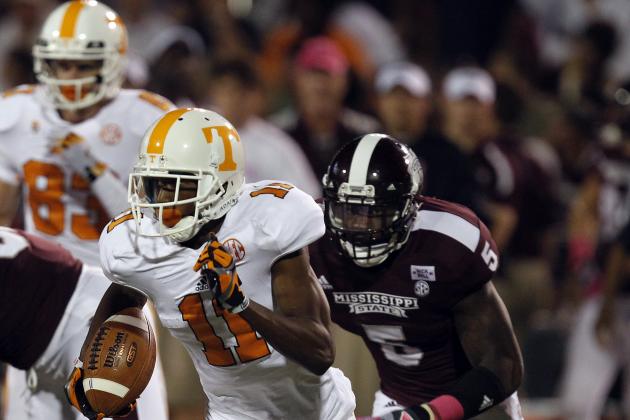 Butch Dill/Getty Images

6. Arizona Cardinals: QB Matt Barkley (Southern Cal) SR, 6'2-1/2", 227 pounds
Despite trading for Carson Palmer, the Cardinals need a long-term solution at quarterback. Matt Barkley is a good fit for the offense that Bruce Arians runs and with Palmer in the fold, he won't have to worry about starting right away.
7. New York Jets: S Matt Elam (Florida) JR, 5'9-7/8", 208 pounds
What's a Ryan 3-4 without a playmaking roamer at the strong safety position? Not very good. So Matt Elam will have to be that guy for the Jets in 2013 and beyond. And it's the right move. With Josh Bush able to play the center field role at free safety, Elam will be able to impact early and often in the defense.
8. Tennessee Titans: CB David Amerson (North Carolina State) JR, 6'1", 205 pounds
Tennessee would be wise to bring in someone for depth at both corner and safety for their nickel packages. David Amerson is one of the best playmaking corners in the draft. He's long, athletic and physical and could end up winning a starting role earlier in his career rather than later.
9. Buffalo Bills: WR Justin Hunter (Tennessee) JR, 6'3-5/8", 196 pounds
The Bills need a tall, strong receiver who can stretch a defense and help make their new quarterback look good. Justin Hunter is definitely that guy as he has his long frame that he uses to high-point balls in the air. He also has the speed to burn any and every defense deep. Stevie Johnson will thank Hunter for getting him open with coverages rolled away from him.
10. Miami Dolphins: CB Johnthan Banks (Mississippi State) SR, 6'2", 185 pounds
Johnthan Banks would be an excellent complement to Brent Grimes as a right cornerback in the Miami defense. Banks has the ability to turn into a lockdown cornerback eventually, and under the guidance of Grimes, that could be sooner rather than later.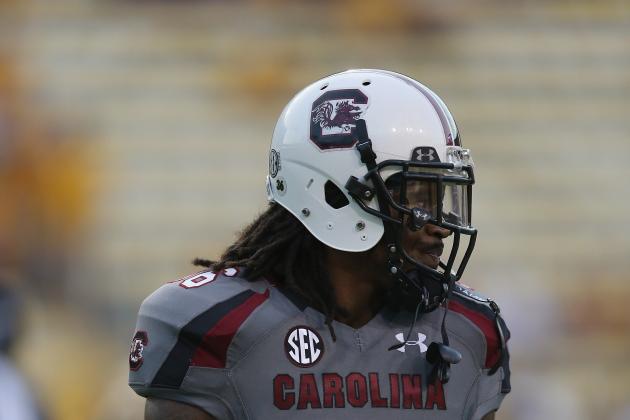 Ronald Martinez/Getty Images

11. Tampa Bay Buccaneers: CB Jamar Taylor (Boise State) SR, 5'10-5/8", 192 pounds
The Buccaneers need a starting cornerback for their defense. Jamar Taylor can be that ace lockdown corner for Greg Schiano's defense there. Taylor is excellent press coverage and man-to-man corner who would be relied on as a starter from his first game.
12. Carolina Panthers: S D.J. Swearinger (South Carolina) SR, 5'10-1/2", 208 pounds
Haruki Nakamura is the worst free safety in the NFL. D.J. Swearinger is one of the best free safeties in the NFL draft. This one is pretty much a no-brainer already. Add in that the Panthers love to draft players from the Carolinas and this pick just looks even better.
13. San Diego Chargers: CB Darius Slay (Mississippi State) SR, 5'11-7/8", 192 pounds
The Chargers need a new starting cornerback. Darius Slay is a better projected NFL starting cornerback than his teammate Johnthan Banks. Slay will be able to come in for the Chargers and compete for a starting role while being a long-term solution as a No. 1 corner.
14. St. Louis Rams: S Bacarri Rambo (Georgia) SR, 6'0", 211 pounds
The Rams need a deep safety who can truly complement Darian Stewart. Bacarri Rambo is a playmaking leader for the Bulldogs and will be an excellent fit in that secondary. Rambo has insanely good ball skills and his impact on a defense will make him go higher than people expect.
15. Dallas Cowboys: OG Larry Warford (Kentucky) SR, 6'3", 332 pounds
The Cowboys need multiple interior linemen. With Larry Warford here, they can lock down their starting left guard for the next 10 years easily. Warford has great size and push in the running game and his pass blocking is solid. He'd be an instant starter for years.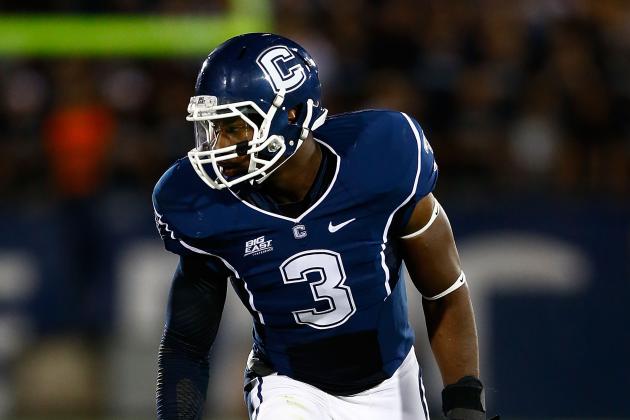 Jared Wickerham/Getty Images

16. Pittsburgh Steelers: WR Robert Woods (Southern Cal) JR, 6'0-3/8", 201 pounds
After losing Mike Wallace to the Dolphins, the Steelers need someone to replace him. Robert Woods is an excellent all-around threat at receiver who was highly productive in college. He will be able to slide right in and compete for the No. 1 role with Emmanuel Sanders and Antonio Brown.
17. New York Giants: ILB Kevin Minter (Louisiana State) JR, 5'11-3/4", 246 pounds
When it comes to the Giants, they do sometimes take immediate needs. And here, Kevin Minter's value for their immediate need at middle linebacker is too much to pass up. He could easily start right away in the middle and move the newly acquired Dan Connor over to the strong side.
18. Chicago Bears: LB Sio Moore (Connecticut) SR, 6'0-3/4", 245 pounds
After letting long-time starting middle linebacker Brian Urlacher leave through free agency, the Bears need someone who can start there. Sio Moore is great value here as the perfect long-term replacement for Urlacher. He has the coverage abilities and speed Urlacher had with the ability to blitz as well.
19. Washington Redskins: S Phillip Thomas (Fresno State) SR, 6'0-1/2", 208 pounds
Washington needs someone to start at safety for them. Phillip Thomas can play either safety spot and be effective. His ideal role for the Redskins is at free safety, starting next to Brandon Meriweather and forcing Reed Doughty to the bench and special teams.
20. Minnesota Vikings: CB Robert Alford (Southeastern Louisiana) SR, 5'10-1/8", 188 pounds
Minnesota also needs a starting cornerback on defense. What Robert Alford lacks in size and athleticism, he makes up for with excellent technique and raw ability to start. Alford reminds me a ton of the man he is replacing—Antoine Winfield.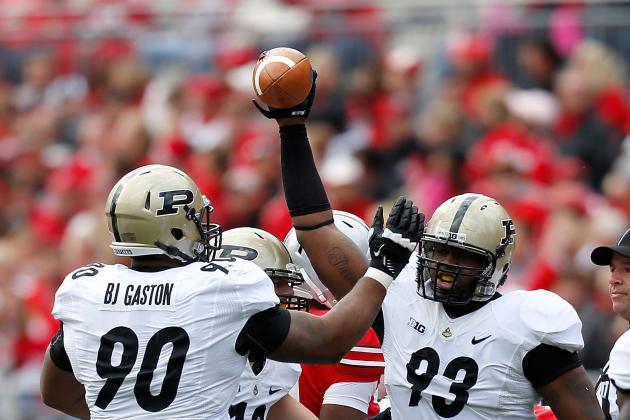 Kirk Irwin/Getty Images

21. Cincinnati Bengals: QB Tyler Wilson (Arkansas) SR, 6'2-1/8", 215 pounds
Yes, I have the Bengals taking a quarterback. They would be wise to bring in some competition for the mediocre Andy Dalton who is nothing more than a Trent Dilfer type who will be able to succeed with his excellent weapons and good defense. Tyler Wilson has franchise quarterback potential and a live arm.
22. Miami Dolphins: OL Kyle Long (Oregon) SR, 6'6-1/8", 313 pounds
Miami's current starting right tackle is Will Yeatman. That's all you need to know to see that they should draft a new one. Kyle Long played left tackle in college and is raw as a prospect, but could easily learn how to play the right side and be ridiculously effective at it.
23. Green Bay Packers: CB Dwayne Gratz (Connecticut) SR, 5'11-1/8", 201 pounds
The Packers like to draft for the long term and ideally here, they take someone who can complement Casey Hayward in the passing game. Dwayne Gratz has the ability to be a long-term starter as the No. 1 corner in Green Bay and should be able to lock down many receivers in the NFC North.
24. Seattle Seahawks: DL Kawann Short (Purdue) SR, 6'3", 299 pounds
The Seahawks need someone who can replace Alan Branch in that defense. Kawann Short is ridiculously quick off the line and one of the stronger players in the draft at defensive tackle. His "motivation" issues stem from a lack of conditioning for the amount of snaps he was playing in college—something Pete Carroll won't worry about with the rotation.
25. Houston Texans: NT Sylvester Williams (North Carolina) SR, 6'2-5/8", 313 pounds
Houston needs some depth on the defensive line. But this is more a value pick than anything else. Here they get someone who is a wider body than they have at nose tackle while still maintaining the quickness needed for Wade Phillips' defensive scheme.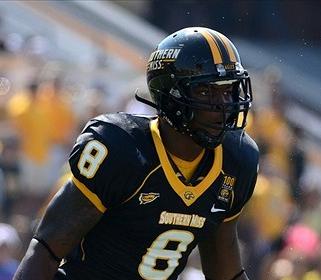 Courtesy FanSided.com
26. Denver Broncos: ILB Manti Te'o (Notre Dame) SR, 6'1-1/4", 241 pounds
Keith Brooking is old, washed up and should be retired. So Manti Te'o is the pick here as a new defensive leader for the Broncos. He can come in, be the perfect fit for the defense as a short zone and thumping middle linebacker. He also has the ability to lead the locker room if given the chance.
27. New England Patriots: DE Margus Hunt (Southern Methodist) SR, 6'8-1/8", 277 pounds
The Patriots would be better on defense if they could bring in someone who could play the base defensive end while also covering at the 3-technique on pass rushing downs. Margus Hunt has a ridiculous frame and strength and could be the ideal candidate for this role for Bill Belichick's defense.
28. Atlanta Falcons: OLB Jamie Collins (Southern Mississippi) SR, 6'3-1/2", 250 pounds
Another ideal pick for the Falcons, Jamie Collins has excellent athleticism on the same level as Sean Weatherspoon. Only he has much more size and projects to the strong side linebacker role instead of the weak side that Weatherspoon plays.
He's a team captain from Southern Miss and should be a fiery leader next to Weatherspoon in nickel packages for years to come.
29. San Francisco 49ers: OL Barrett Jones (Alabama) SR, 6'4-1/4", 306 pounds
The 49ers need some depth on their already talented offensive line. So when Barrett Jones is just sitting here for the taking, they can't pass him up. He would be able to back up all five spots as a former Outland and Rimington Trophy winner.
30. Baltimore Ravens: WR Da'Rick Rogers (Tennessee Tech) JR, 6'2-1/2", 217 pounds
Baltimore losing Anquan Boldin was a bad thing for their third-down offense and receiving corps. However, Da'Rick Rogers is great value here. He has better size than Boldin had with just as good hands. The only question is how he will fare when the money is rolling in and the pressure is on.
Kevin C. Cox/Getty Images

1. Kansas City Chiefs: ILB Khaseem Greene (Rutgers) SR, 6'0-3/4", 241 pounds
Outside of defensive line, the Chiefs also have a need in their linebacking corps. Khaseem Greene is just a playmaker. While he isn't ideal for the 3-4 ILB role, neither was Derrick Johnson early in his career. He could learn and grow from the role and eventually be a Pro Bowl player.
2. Jacksonville Jaguars: DE Cornelius Washington (Georgia) SR, 6'4", 265 pounds
The Jaguars need a new Leo for the Gus Bradley defense. Cornelius Washington is a severely underrated player for the system and could easily slide right in as a Leo. His best fit is in the 4-3 at a position similar to that and he could also compete as a 5-technique.
3. Detroit Lions: CB Jordan Poyer (Oregon State) SR, 5'11-7/8, 191 pounds
Detroit needs competition for the starting cornerback across from Chris Houston. But honestly, they don't need to waste an earlier pick on one. Jordan Poyer is a great value here and taking someone with his size and ability will only help the Lions defense.
4. Oakland Raiders: OLB Zaviar Gooden (Missouri) SR, 6'1-1/2", 234 pounds
Even after signing a trio of linebackers, the Raiders still need some insurance at outside linebacker. They get the excellent athlete here in Zaviar Gooden. He can play in either a 3-4 ILB role or a 4-3 OLB role. He's a team captain from Missouri and has the athleticism to cover anyone from his LB spot.
5. Philadelphia Eagles: CB Logan Ryan (Rutgers) JR, 5'11-1/8", 191 pounds
After letting Nnamdi Asomugha go and Dominique Rodgers-Cromartie sign with the Broncos, the Eagles need someone who can compete at corner. Logan Ryan is a solid player in this year's class who fits the defense well for the Eagles and could start at right corner long-term.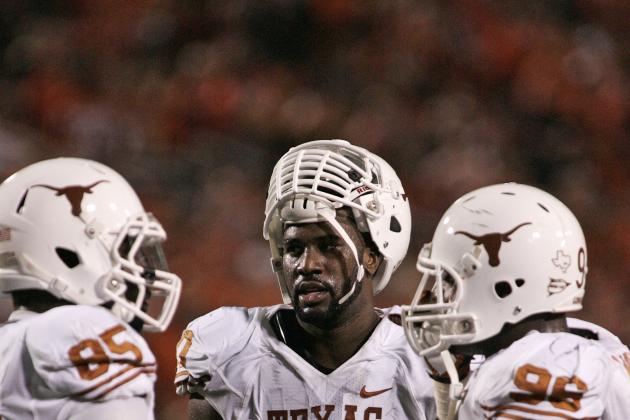 Brett Deering/Getty Images

6. Cleveland Browns: S Shamarko Thomas (Syracuse) SR, 5'8-7/8", 213 pounds
Cleveland needs a free safety to patrol the secondary with T.J. Ward. Shamarko Thomas is like a bullet out there. He's quick and rangy and honestly the only knock on him is size. Combined with the first-round pick in Dee Milliner, the Browns could finish their defensive starters off with this pick.
7. Arizona Cardinals: S T.J. McDonald (Southern Cal) SR, 6'2-1/2", 219 pounds
After losing Adrian Wilson for cap reasons, the Cardinals need someone to fill the role that he left. T.J. McDonald is an underrated athlete who will make a great box safety for the Cardinals. He's got the coverage range to excel at it and has ridiculous size for the position.
8. Tennessee Titans: DE Alex Okafor (Texas) SR, 6'4", 264 pounds
The Titans need someone at their left end spot. Alex Okafor is someone I have slipping in this mock, but he could easily go much higher. Okafor is someone that can rotate at both end spots and provide extra pass rush while he develops into a starting defensive end in the mold of John Abraham.
9. Buffalo Bills: DE/OLB Corey Lemonier (Auburn) JR, 6'3-3/8", 255 pounds
Buffalo needs someone to compete with Mark Anderson for the starting job at right defensive end. Who better than someone who fills the role perfectly in Corey Lemonier? He can come right in, potentially even start and get a good amount of pressure from the weak side of the field.
10. New York Jets: RB Giovani Bernard (North Carolina) SO, 5'8-3/8", 202 pounds
With Shonn Greene leaving, the Jets need a franchise-caliber running back. So why not take the guy who can actually impact games with long runs and catches out of the backfield?
By bringing in Gio Bernard, the Jets would actually give Mark Sanchez a versatile weapon in the backfield that he has been needing.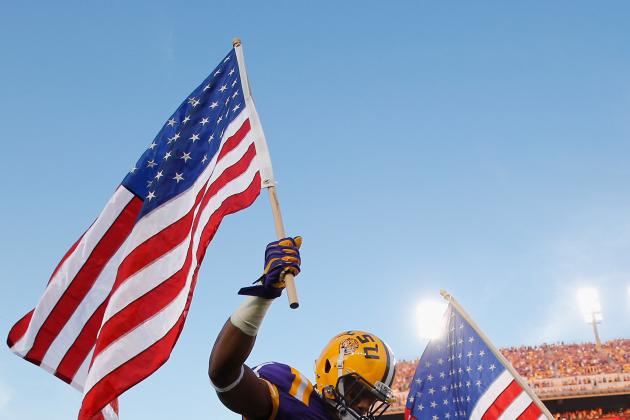 Chris Graythen/Getty Images

11. Tampa Bay Buccaneers: S Eric Reid (Louisiana State) JR, 6'1-1/4", 213 pounds
The Buccaneers need someone to play free safety next to Mark Barron in their defense. Eric Reid is a bit overrated by most draft analysts in my mind, but he will end up going higher than I have him rated as well. He will be a good fit in a defense that he can be protected by the talent around him like Tampa's.
12. San Francisco 49ers: S Shawn Williams (Georgia) SR, 5'11-7/8", 213 pounds
The 49ers had one of the worst pair of coverage safeties in the NFL in 2012. They were excellent against the run, but they got beat over the top for too many touchdowns. Shawn Williams is an excellent athlete who would help turn one of that defense's weaknesses into a strength.
13. New Orleans Saints: OT Terron Armstead (Arkansas-Pine Bluff) SR, 6'4-3/8", 306 pounds
After losing Jermon Bushrod to the Bears, the Saints need someone who can play left tackle or at least compete with 2010 second-round pick Charles Brown for the role. Terron Armstead is a raw athlete who could easily be a long-term starter at left tackle. Worst case? He's Zach Strief's long-term replacement on the right side.
14. San Diego Chargers: OLB Brandon Jenkins (Florida State) SR, 6'2-1/2", 251 pounds
The San Diego Chargers are in need of some outside linebacker depth. Brandon Jenkins is a unique fit because he's played both outside linebacker and defensive end in the 4-3. He will be in his element as a 3-4 OLB and could even surprise by eventually winning a starting role.
15. Miami Dolphins: CB Blidi Wreh-Wilson (Connecticut) SR, 6'0-3/4", 195 pounds
Yes, Miami in this scenario would already have Brent Grimes and Johnthan Banks, but Grimes is only signed for one season. So bringing in Blidi Wreh-Wilson would be a prudent move for the long-term depth at cornerback.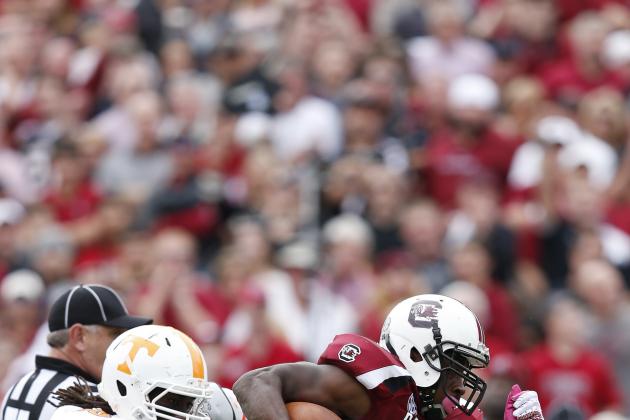 Joe Robbins/Getty Images

16. St. Louis Rams: OLB Sean Porter (Texas A&M) SR, 6'1-1/4", 229 pounds
The St. Louis Rams need someone to complement James Laurinaitis and Jo-Lonn Dunbar in their linebacker corps. Sean Porter can cover receivers, blitz the quarterback and most of all, has potential to turn into a true three-down player at the next level.
17. Pittsburgh Steelers: NT Johnathan Hankins (Ohio State) JR, 6'2-7/8", 320 pounds
The Steelers draft just keeps getting better for them. They take the slipping Johnathan Hankins here and run. He can easily slide right in to replace Casey Hampton as the starter for the defense at nose tackle. He and Steve McLendon will team up well in the multiple looks that LeBeau likes to show.
18. Dallas Cowboys: C Travis Frederick (Wisconsin) JR, 6'3-5/8", 312 pounds
The Cowboys need to quit messing around and bring in a true starting-caliber center. Travis Frederick is an excellent blocker and gets off the ball quickly. But most of all, he's a center and guard from Wisconsin who has the intelligence to play center in the NFL.
19. New York Giants: OL Justin Pugh (Syracuse) SR, 6'4-1/2", 307 pounds
Another future need is on the offensive line. They need someone who can backup any of the four non-center spots who can also eventually compete for the starting job at either guard or tackle. Justin Pugh can easily do that and he might even be able to eventually start at left tackle if the need arose.
20. Miami Dolphins: RB Marcus Lattimore (South Carolina) JR, 5'11-1/4", 221 pounds
Lamar Miller and Daniel Thomas will get a shot to show what they can do this year, but bringing in someone as a backup plan is never a bad idea. The Dolphins could easily allow Lattimore to redshirt for a season while he fully heals.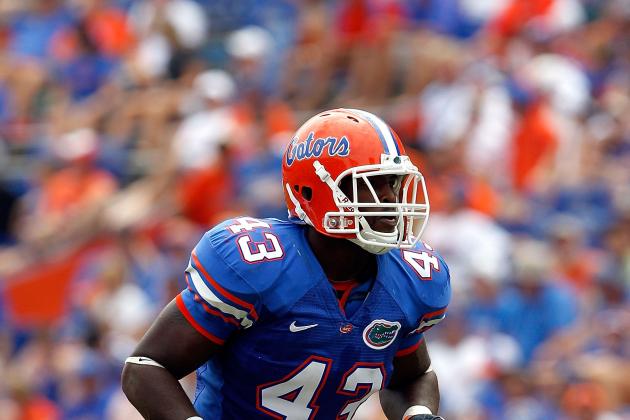 Sam Greenwood/Getty Images

21. Minnesota Vikings: OLB Jelani Jenkins (Florida) JR, 6'0", 243 pounds
Jelani Jenkins is slowly becoming one of my personal favorite players in this class. He's one of the better coverage linebackers out there this year and can dominate with his run fits. The only real issue he would have as a rookie is converting from weak-side in the college game to strong-side in the pros.
22. Cincinnati Bengals: ILB Jonathan Bostic (Florida) SR, 6'0-7/8", 245 pounds
The Bengals need someone who can challenge Rey Maualuga in the middle of their 4-3 defense. Jonathan Bostic is an excellent all-around linebacker and could easily take control of the middle of that defense from Maualuga. Bostic has good run fits and is a solid tackler.
23. Washington Redskins: OT Brennan Williams (North Carolina) SR, 6'6-1/8", 318 pounds
The Redskins need a true starting right tackle for their zone blocking scheme. Brennan Williams played left tackle at North Carolina, but he has the quickness and strength to be an amazing right tackle in the zone schemes Washington runs.
24. Indianapolis Colts: OL Dallas Thomas (Tennessee) SR, 6'5", 302 pounds
In the first, the Colts help Andrew Luck with yet another target. In the third, they should get him some more protection up front. Dallas Thomas projects favorably to both guard spots on the Colts, but ideally will start opposite Anthony Castonzo on the line at right tackle.
25. Seattle Seahawks: OT Xavier Nixon (Florida) SR, 6'5-1/2", 321 pounds
The Seahawks need someone who can start at right tackle for them because Breno Giacomini is terrible and should not be starting in the NFL.
Xavier Nixon played left tackle for the Florida Gators and regularly handled some of the top pass rushers in this and next year's classes. He will do well at right tackle for the Seahawks.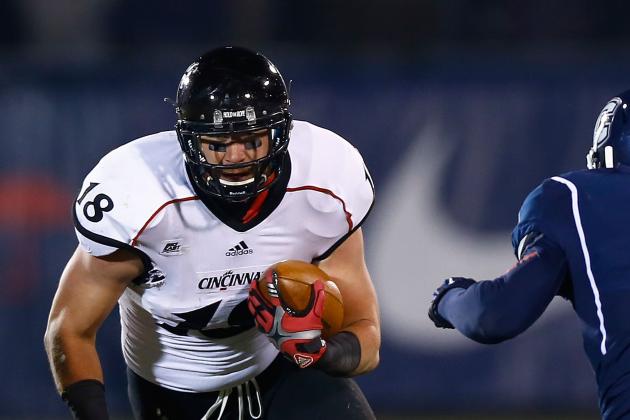 Jared Wickerham/Getty Images

26. Green Bay Packers: OL Brian Schwenke (California) SR, 6'3", 314 pounds
The Packers need a starting center for their zone-blocking schemes. Brian Schwenke could easily start his rookie year for them and despite being a bigger center, he has the quickness and strength to be an effective center in the NFL.
27. Houston Texans: ILB Nico Johnson (Alabama) SR, 6'2", 248 pounds
The Texans also have a huge need for a linebacker next to Brian Cushing. They luck out here and get a true "Ted" for their scheme who already has experience in the 3-4. Nico Johnson could easily develop into a talented starter next to Cushing.
28. Denver Broncos: DL Bennie Logan (Louisiana State) JR, 6'2", 309 pounds
Bennie Logan is someone who could jump in right away and start on the interior of the Broncos defense. He can start right away as the nose tackle for the Broncos and would provide better interior pass rush than they received in 2012.
29. New England Patriots: WR Markus Wheaton (Oregon State) SR, 5'11", 189 pounds
The Patriots add another mid-sized slot/outside receiver here in Markus Wheaton. The idea being that they will try to beat teams with speed, multiple looks and give Tom Brady a ton of naturally talented targets that he can finish his career with.
30. Atlanta Falcons: TE Travis Kelce (Cincinnati) SR, 6'4-7/8", 255 pounds
Atlanta needs someone who can learn from Tony Gonzalez for a season and then take over as the starting tight end. Travis Kelce is ideal for the role as he is a ridiculously good blocker and has speed to stretch the seam over the middle.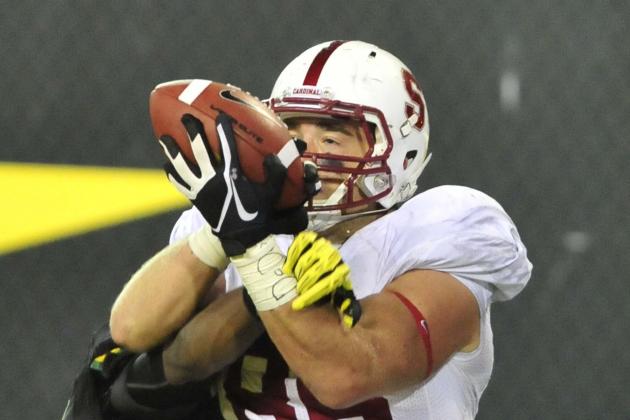 Steve Dykes/Getty Images

31. San Francisco 49ers: OLB Chase Thomas (Stanford) SR, 6'3", 244 pounds
This pick is all about value for the 49ers. Chase Thomas isn't going to be relied on to start any time soon, but he should be able to provide reliable, cost-effective depth for the outside linebackers in San Francisco. He could also even slide down to end or inside at linebacker for some unique looks on defense.
32. Baltimore Ravens: OL Ricky Wagner (Wisconsin) SR, 6'5-7/8", 308 pounds
Baltimore needs some talent on their offensive line if they are going to be losing Bryant McKinnie. Ricky Wagner may never be a starting left tackle in the NFL, but he should easily be able to compete at right tackle or even guard. They could then move Kelechi Osemele or Michael Oher to left tackle.
33. Houston Texans (compensatory): OLB Sam Montgomery (Louisiana State) JR, 6'3-1/4", 262 pounds
The Texans go value again here and add to their front seven once again. Sam Montgomery won't be flashy early on, but he will have the ability to learn how to play the game if he's in a situation like this one. He could sit behind Whitney Mercilus ad Brooks Reed while he develops into a good rotational pass rusher.
34. Kansas City Chiefs (compensatory): RB Johnathan Franklin (UCLA) SR, 5'10", 205 pounds
The Chiefs need someone who can be a reliable complement to Jamaal Charles. Johnathan Franklin is definitely that with the added bonus of being able to hit a home run himself. Franklin is an excellent all-around back who can block, run and catch out of the backfield effectively.
35. Tennessee Titans (compensatory): TE Zach Ertz (Stanford) JR, 6'5", 249 pounds
After losing their best tight end in Jared Cook to the St. Louis Rams, the Titans need to replace him. They brought in Delanie Walker to help with the replacement, but they still need a true starter. Zach Ertz has a ton of talent in the passing game but needs to get better as a blocker. He will still be valuable in the Titan offense though.
All stats used are either from Pro Football Focus's Premium Stats, ESPN, CFBStats or the NFL. All contract information is courtesy Spotrac and Rotoworld. All recruiting rankings come from 247Sports.com.
Scott Carasik is a Featured Columnist for Bleacher Report. He covers the Atlanta Falcons, NFL and NFL Draft. He also runs the NFL Draft Website ScarDraft.com and hosts Kvetching Draftniks Radio.