WWE WrestleMania 29: 3 Matches That Should Be Removed from the Card ASAP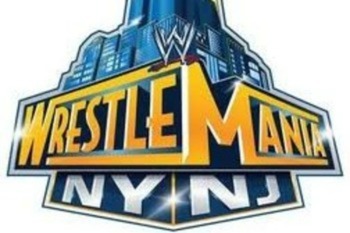 Photo courtesy of WWE.com
Aside from its predictable main events, one of the biggest problems with WrestleMania 29 is an undercard that seems to have been randomly thrown together.
For whatever reason, the creative team apparently had hardly any long-term plans in place for its undercard matches, and that's resulted in several feuds and matches with little to no buildup.
Aside from perhaps Ryback vs. Mark Henry and The Shield vs. Big Show, Randy Orton and Sheamus, most of the undercard matches came seemingly out of nowhere and don't really have a great backstory as a result.
You could even make a case that many of these matches don't deserve a spot on the WrestleMania 29 card and simply should have been replaced with something else.
While we know that the Mania card is essentially now set, that doesn't mean that we can't do some fantasy booking and rid Mania of the matches that shouldn't be taking place on the card.
Here are three matches that, in a perfect world, would be removed from WrestleMania 29...even though we know they won't be.
Begin Slideshow

»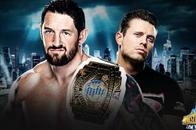 Photo courtesy of WWE.com
I'm all for the Intercontinental Championship being defended on the grand stage of WrestleMania, but good lord, this rivalry does absolutely nothing for me.
In what has truly been a poorly booked "feud," we're witnessing two of the most poorly booked performers in the WWE feud over a title that is completely worthless these days.
The Miz has had an awful run as a babyface so far, and after failing to win the United States Championship on multiple occasions, he was inexplicably thrust right into an Intercontinental title feud.
His rival is, of course, Wade Barrett, who probably loses 90 percent of his matches and will go down as one of the worst Intercontinental champions in recent memory.
It's very difficult to have any sort of genuine interest in this rivalry because of the recent bad booking of the two superstars involved and the bad booking of the feud itself.
Let's not forget that this rivalry essentially started because The Miz and Barrett were arguing over who the better actor was in one of the worst Raw segments in a very long time. That's really a great way to make us care about a feud, huh? Note the sarcasm.
Why this feud was thrown together at the last second when there were far better options for both guys is beyond me, and while I do think they deserve to be on the WrestleMania 29 card, they also deserve better than this atrociously booked rivalry.
After all, the WWE naturally gave this match away on Raw last week when Barrett and The Miz had never previously had a singles match. Now, my thought is: Why should I care about a match I just saw on TV a week ago?
If the WWE would have held off on this match until Mania, perhaps my interest level would be higher. But now, this just feels like a throwaway match between two superstars I like, but are having a meaningless feud over a meaningless title.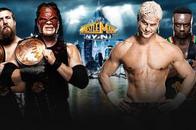 Photo courtesy of WWE.com
The WWE had so many options with both Team Hell No and Dolph Ziggler for WrestleMania 29, but it settled on this?
Many can agree that Team Hell No has lost a lot of its momentum and probably should have split up a while ago. So, why didn't they drop the WWE Tag Team Championship to Team Rhodes Scholars so we could get Kane vs. Bryan at WrestleMania 29?
That's a rivalry that would have had an actual backstory, much like a feud between Ziggler and Chris Jericho would have had.
The WWE seemed to reignite the Y2J/Ziggler rivalry upon Jericho's return at the Royal Rumble, but for whatever reason, the creative team decided to go in a different direction.
That left Ziggler, well, without much direction. In what has been another randomly-thrown-together feud, we're getting Team Hell No vs. Ziggler and Big E Langston instead.
I have to seriously question this feud and match because one of two things is going to happen here: Ziggler is either going to lose at WrestleMania 29 (he loses way too much these days), or he's going to win a title that won't do anything for him.
While Ziggler will probably cash in at WrestleMania 29 and become World Heavyweight champion, that doesn't mean that the WWE couldn't have put forth some effort into booking him in a rivalry that actually would have accomplished something for him.
Instead, though, Ziggler and Bryan—two of the WWE's best overall performers—are stuck in a lackluster feud that, no matter the result, ultimately won't do much for either of them. Not only that, but their involvement in a tag team bout robs the fans of seeing them steal the show in singles action.
Overall, this WWE Tag Team Championship match features a lot of talent, but is failing to properly utilize that talent. It may feature three great superstars, but when the story isn't very entertaining, that really doesn't matter much.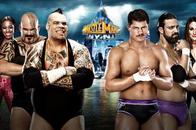 Photo courtesy of WWE.com
Just think about all the great superstars who don't currently have a spot on the WrestleMania 29 card (Antonio Cesaro, Kofi Kingston, etc.) and then take a look at this matchup.
Yes, we're getting an eight-person mixed tag team match featuring Tons of Funk and The Funkadactyls vs. Team Rhodes Scholars and the Bella Twins. At WrestleMania. Wow.
For starters, this is an absolutely criminal waste of both Damien Sandow and Cody Rhodes. Both of these guys have proven to be among the WWE's best overall performers over the course of the last year, and yet, this is what they're stuck with at WrestleMania.
They'll be facing the remarkably uninteresting team of Brodus Clay and Tensai, two guys who have been such big flops that it's completely shocking to even see them on the Mania card. Throw in Cameron and Naomi, who are totally unproven up to this point, and you have to wonder what the WWE is thinking.
After all, the Bella Twins are getting a spot on the WrestleMania card here too, even though they returned less than a month ago. What kind of message does that send to the rest of the WWE locker room?
Certainly not a good one, but neither does this match in general. It's like the WWE is saying that you don't have to be over (which Tons of Funk isn't) or proven (which the Funkdactyls aren't) to make your way onto WrestleMania's main card.
Ultimately, this match features way too many question marks and likely won't matter in the grand scheme of things. There probably aren't any real long-term plans in place for Tons of Funk, and other than perhaps Naomi (who deserves a shot at being a singles star), this bout isn't going to matter much to any of its participants.
Its major benefit is that it's getting eight superstars and Divas on the card. Beyond that, it's a throwaway match that is just going to take valuable time away from more deserving ones.
Drake Oz is a WWE Featured Columnist for Bleacher Report. Follow him on Twitter!