Would Tim Tebow Ever Come Back from the AFL or CFL?
Use your ← → (arrow) keys to browse more stories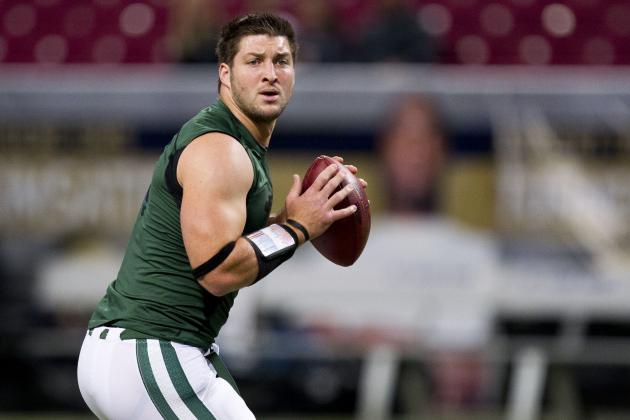 David Welker/Getty Images

Would Tim Tebow ever come back to the NFL if he left for the AFL or CFL?
It is a question that may be increasingly on the lips of football fans in the coming months.
The New York Jets seem to be doing everything in their power to get rid of Tim Tebow. Most consider the 2012 experiment with the former Denver Bronco as a Wildcat back and pseudo-quarterback to have failed.
As reported by Dan Graziano of ESPN.com:
The Jets are holding out hope they can trade [Tim Tebow] and are in no rush to do so. They could stretch the process out to the draft, but failing a trade, the Jets will release him.
According to Rich Cimini of ESPNNewYork.com, the Jets have not had the easiest time finding willing trade partners. As he reported Sunday:
It looks like the Jets will keep (Tebow) through the draft, hoping they can find a trading partner. Good luck with that. ... Meanwhile, former Dolphins bust Pat White has drawn interest from the 49ers and Giants, an indication that teams are looking for read-option quarterbacks—just not one named Tebow.
If the Jets are unable to trade Tebow, the first question is whether any team would pick him up after his release, which may depend on what position he wants to play. As Mike Florio of Pro Football Talk put it, "Though some think he'd be a viable fullback at the NFL level, Tebow may insist on playing quarterback."
I am among the many who feel that Tebow wants badly enough to be a quarterback that he would rather play in a different league than switch positions to stay in the NFL. Perhaps the strongest evidence of this was his unhappiness in serving as a Wildcat back for the Jets, something that reportedly caused him to ask out of playing (per Cimini and Jane McManus of ESPNNewYork.com).
The Canadian Football League (CFL) is an extremely passer-friendly league and has jump-started or revived quarterbacks' careers before.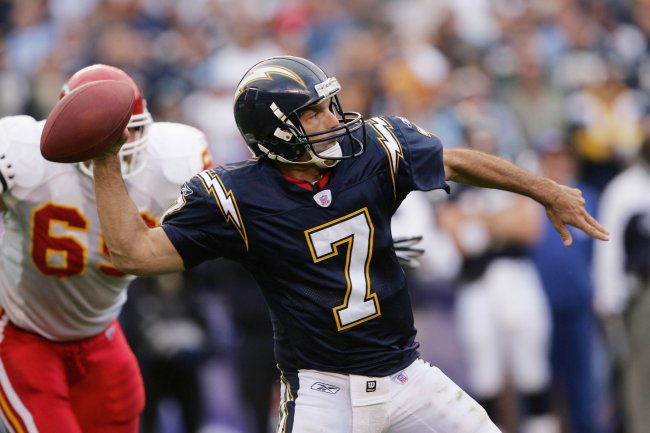 Stephen Dunn/Getty Images
CFL Quarterbacks Who've Found Success in NFL

More than a few quarterbacks have found their way back to the NFL after stints in the CFL. Perhaps most famous of all was Warren Moon, whose 23-year pro career earned him Hall of Fame status in both Canada and the United States.
Would Tebow return if he went to the CFL?
Doug Flutie played in the CFL for much of his career and also saw time in the short-lived USFL. It was not until the 14th year of his pro career that he finally reached an NFL Pro Bowl.
Jeff Garcia spent five seasons in the CFL to start off his career before having his most successful years with the San Francisco 49ers.
Clearly, making the jump from the CFL to the NFL is something that quarterbacks can accomplish. If this were to happen for Tebow, we already know where he would be most likely to go. The Montreal Alouettes hold his CFL rights.
Arguably the biggest concern for Tebow, should he choose to head to Canada, would be how pass-heavy CFL offenses tend to be. With the larger field and different offensive schemes, CFL teams tend to move the ball predominantly through passing. If the SEC's run-heavy style is on one end of the spectrum, then the CFL is on the other end.
Could Tebow thrive in a pass-happy CFL offense? Or would he be worse there than in the NFL? There is only one way to find out for sure.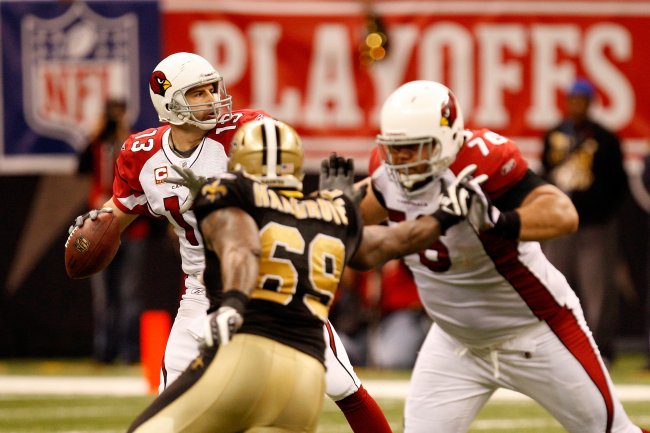 Ronald Martinez/Getty Images
AFL Quarterbacks Who've Found Success in NFL
Another legitimate option for Tebow would be the Arena Football League (AFL). The Orlando Predators of the AFL say they would take Tebow right away.
Without a doubt, the most renowned quarterback to come out of the AFL was Kurt Warner. Though most fans remember him for his Super Bowl MVP year with the St. Louis Rams, he was an Iowa Barnstormer before that.
Would Tebow return if he went to the AFL?
The chief concern one might have about Tebow going to the AFL is the fast pace of the game. The field is smaller than an NFL field, and one might question whether a read-option running attack is feasible. While some may feel that simply being an NFL player automatically makes one a dominant force in the AFL, that is not guaranteed to be true.
Could a run-heavy approach work in indoor arenas? If Tebow becomes an Orlando Predator, we might find out.
One thing is certain: If Tebow joins a CFL or AFL team, it will become the one non-NFL pro football team that is a household name in the United States.
Would he ever return to the NFL after such a departure? That is the toughest question to answer.