Charlotte Bobcats vs. New York Knicks: Live Score, Results and Game Highlights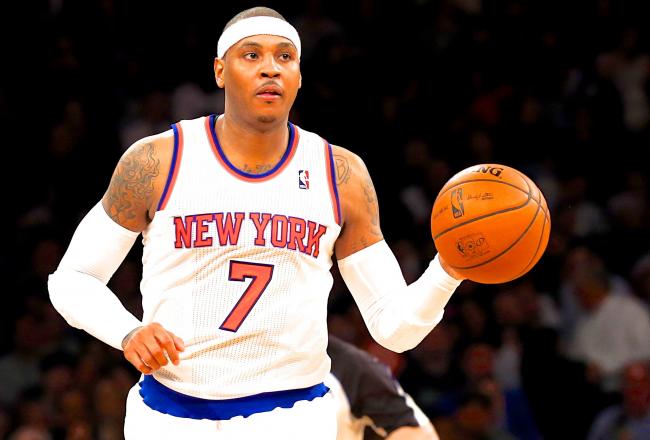 Things are underway inside Madison Square Garden. Stay tuned for all of the game's action.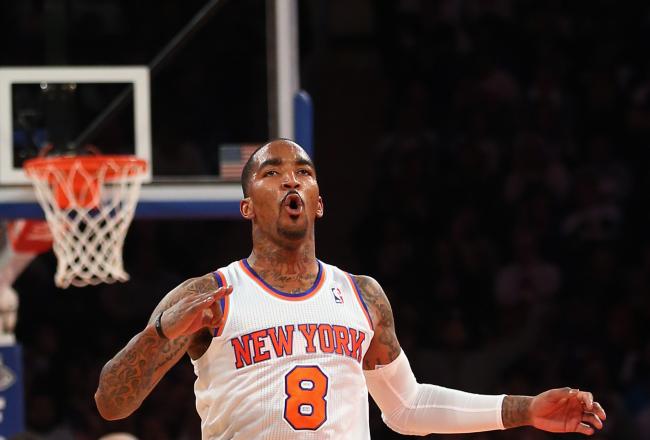 It wasn't always pretty and isn't a game they'll soon add to their highlight reel, but the New York Knicks (45-26) will take the 111-102 win over the Charlotte Bobcats (17-55) anyways.
And they have three players to thank for this victory: J.R. Smith, Carmelo Anthony and Raymond Felton. The trio combined for 87 of New York's 111 points, accounting for nearly 80 percent of the offensive production.
Smith was the story of the night, as he has been throughout the Knicks' league-best seven-game winning streak. He scored 30-plus points for the third-straight game, becoming the first bench player to achieve that feat since Ricky Pierce of the Milwaukee Bucks in 1990 (via ESPN Stats & Info). And for the sixth-straight game, he shredded his opponents with a plus-50 shooting percentage from the field.
The +/- statistic can be difficult to use in a player's evaluation given that it stems from the overall effort of that player and the nine other players he shares the floor with.
But there was nothing remotely fluky about the fact that Smith's plus-13 ranked above all of the other players that logged at least 20 minutes. Despite the fact that he buried both of his three-point tries, he made a determined effort to put the ball on the floor early and often. His 12 free-throw attempts marked the fourth time this season that's he taken at least 10; all four of those games have been in the last three weeks.
Even though he looked able at times, though, Smith wasn't able to win this game by himself.
Felton's effort will get overshadowed by the gaudy scoring numbers posted by Smith and Anthony (69 combined points). But Felton was nearly as efficient on Smith at the offensive end, getting layups (and even a rare dunk) at will whenever he decided to attack. His ability to harass Kemba Walker gave Knicks fans a reason to avoid the panic button even as their lead crumbled.
Anthony had another rough shooting night but gave the Knicks a strong presence on the glass.
'Melo has drawn praise from analysts abound this season for evolving into something more than a volume scorer. He knows he can score points in bunches, but the fact that he's now stretching his value beyond the scoring column has made him a legitimate MVP candidate—and made the Knicks a formidable postseason foe for any team.
Although it came in a losing effort, Gerald Henderson's performance is worthy of mention.
He ran a one-man show for most of the night, and his efforts were nearly rewarded when the Bobcats closed in on the Knicks late in the game. Michael Jordan's bunch doesn't have a lot of things going in its favor, but Henderson has been one of the few bright spots.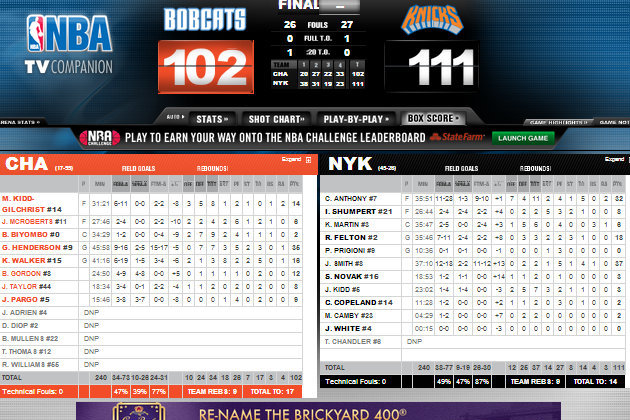 New York now has won a season-high seven-straight games.
This one's in the books. Knicks win their seventh straight, 111-102.
Carmelo Anthony with 6 offensive rebounds tonight. He's averaging 3.6 in his last five games. #Knicks

— Jared Zwerling (@JaredZwerling) March 30, 2013
Martin just staked his claim for the block of the year. Kidd-Gilchrist wound up with a point-blank layup off an in-bounds pass. But Martin chased him down and swatted it away just in front of the rim. The play was initially ruled goaltending, but was changed to a clean block and a jump ball after video review. Knicks 106, Bobcats 97 — 0:26 REMAINING IN 4TH QUARTER
Anthony has the numbers again (30 points), but continues to struggle with his shot (10-of-26, 38.5 percent). Won't cost the Knicks in this game, though. Knicks 106, Bobcats 99 — 0:26 REMAINING IN 4TH QUARTER
Bobcats have 29 points from their bench. Knicks have 24 from players not named Anthony, Smith or Felton. Knicks 104, Bobcats 97 — 0:28 REMAINING IN 4TH QUARTER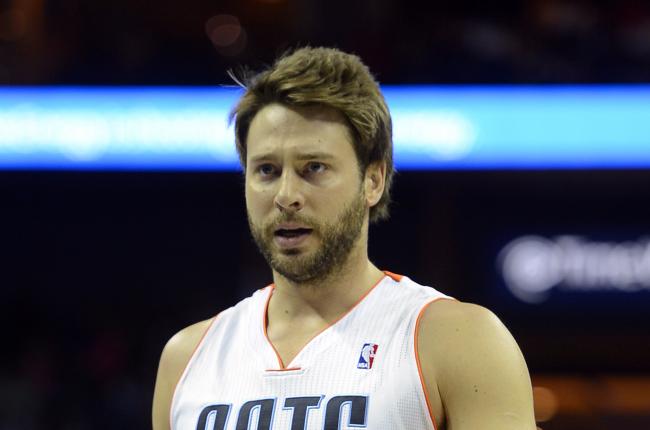 McRoberts, who's been virtually silent the entire game, denies Anthony at the rim on one end then throws down a vicious reverse slam on the other. Knicks 102, Bobcats 90 — 3:16 REMAINING IN 4TH QUARTER
Woodson senses where his team's energy is at, wisely calls for an Anthony post iso. Anthony eases his way to a layup. Knicks 102, Bobcats 87 — 4:17 REMAINING IN 4TH QUARTER
Eerily reminiscent of that Grizzlies-Knicks game on Wednesday night. New York's shots have stopped falling, the team has backed off of its penetrations. Knicks 100, Bobcats 85 — 5:21 REMAINING IN 4TH QUARTER
In their last 2 gms, the #Knicks have outscored their opponents 128-90 in the first half.

— Jonah Ballow (@jonahballow) March 30, 2013
Knicks outscored the Bobcats 38-20 in the first quarter. It's been 62-58 Charlotte since. Knicks 96, Bobcats 82 — 6:34 REMAINING IN 4TH QUARTER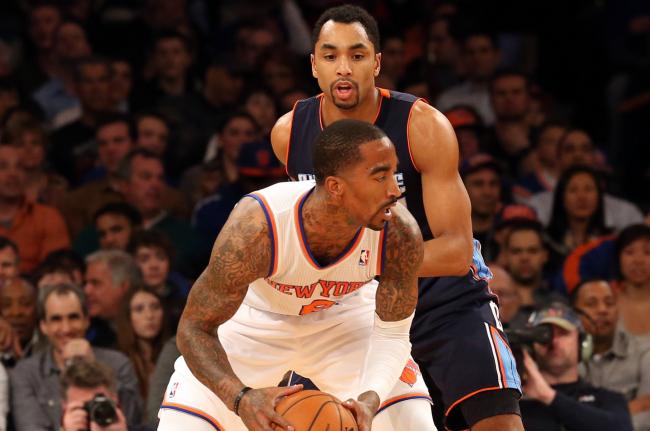 Linsanity < Smithsanity? ;)

— Jared Zwerling (@JaredZwerling) March 30, 2013
Felton needs to pay a little closer attention to Smith. He's a talented player when he decides to drive. Knicks 94, Bobcats 74 — 9:04 REMAINING IN 4TH QUARTER
Smith hits 30 points. First player since Ricky Pierce to hit 30 3 straight games coming off bench.

— Marc Berman (@NYPost_Berman) March 30, 2013
Walker having a hard time getting into the paint. That's great news for the Knicks considering his finishing ability when he gets there.
He has 15 points in the game, but has shot 6-of-18 from the field through three quarters.
Shumpert has not scored since the first quarter. 8 points total. #Knicks

— Jared Zwerling (@JaredZwerling) March 30, 2013
Bobcats coach Mike Dunlap berating an official. Not a big free-throw disparity (NY has taken 22, CHA has 17) to back up his argument. Knicks 88, Bobcats 69 — END OF 3RD QUARTER
The #Knicks have only made 4 field goals in the third quarter with a minute to play. I'm guessing they'll turn it on in the fourth.

— Jared Zwerling (@JaredZwerling) March 30, 2013
Martin heads to the bench with his fourth foul. Tough for him to be New York's only enforcer and still be cognizant of his foul trouble. Woodson just doesn't have good options behind him with Stoudemire, Chandler, Wallace and Thomas out. Knicks 83, Bobcats 69 — 0:35 REMAINING IN 3RD QUARTER
Henderson trapped in the corner. Three of his teammates (none of them consistent shooters) just stand with their hands up around the three-point line, waiting for Henderson to somehow create something without a dribble. Knicks 80, Bobcats 64 — 1:21 REMAINING IN 3RD QUARTER
Scoreboard watching for Knicks fans: The Brooklyn Nets (2.5 games behind New York in the Atlantic Division) are down 16-9 midway to the Denver Nuggets midway through the first quarter.
A microcosm of this game in the last minute. Anthony misses a drive on one end, but follows his shot with two tips getting the second one to fall. After a Knicks stop, Walker swipes an errant Anthony pass then loses the ball out of bounds while attempting to spin through the lane.
Effort helps, but wide talent gaps are just tough to overcome. Knicks 80, Bobcats 62 — 2:51 REMAINING IN 3RD QUARTER
Sometimes you wonder why J.R. Smith just shouldn't start ... Does being on the bench for the first five minutes really matter? Thoughts?

— Jared Zwerling (@JaredZwerling) March 30, 2013
This article is
What is the duplicate article?
Why is this article offensive?
Where is this article plagiarized from?
Why is this article poorly edited?

New York Knicks: Like this team?