Boston Red Sox: Spring Training Player Grades
Kim Klement-USA TODAY Sports
John Farrell's Red Sox have a lot of question marks as they conclude spring training.
The Boston Red Sox had a very successful spring training.
With the 25-man roster is just about set, it's time to grade individual performances of the players that have made the Opening Day roster.
I will also take a look at some of the players that missed the cut and were sent to the minors.
This will be an interesting season to be a Red Sox fan, but here are my grades for the 25 guys that John Farrell will manage.
Begin Slideshow

»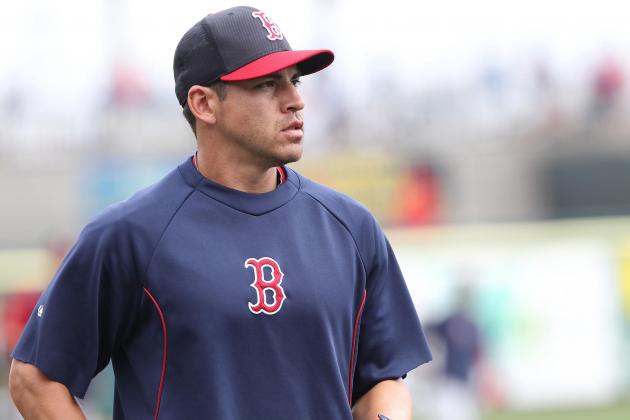 Kim Klement-USA TODAY Sports
Jacoby Ellsbury still has a lot to prove.
This is the most important season of Jacoby Ellsbury's career. The fleet-footed center fielder must prove he is closer to the MVP runner-up that he was in 2011 if he wants to get a seismic payday.
Ellsbury had a mediocre spring, hitting just .277, but what is more concerning is he has yet to hit a single home run or steal a single base.
If Ellsbury is going to get a Carl Crawford-like contract, he will need to prove he is still a dynamic player capable of hitting more than 20 home runs and stealing more than 30 bases.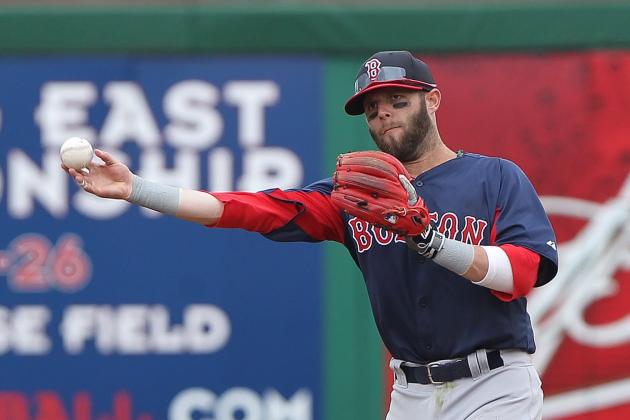 Kim Klement-USA TODAY Sports
Dustin Pedroia looks ready for the start of the season.
After a down year in 2012 where Dustin Pedroia had an OPS under .800 for the first time since his rookie season, the second baseman needs to bounce back and be a leader and a table-setter for the lineup.
The biggest concern is health, but otherwise Pedroia needs to get on base more so the middle-of-the-lineup guys have someone to drive in.
Pedroia didn't have a great spring at the plate, but you know what you get with the veteran infielder as long as he stays healthy.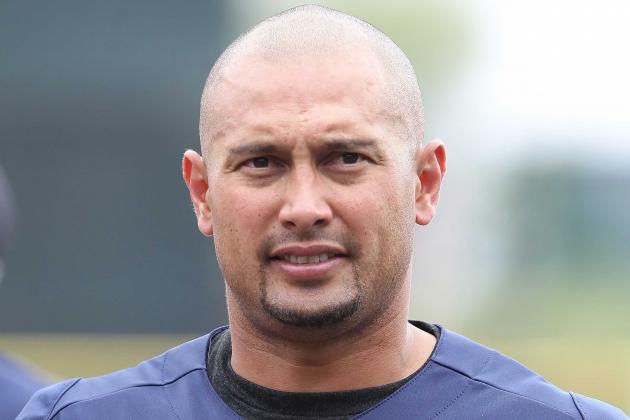 Kim Klement-USA TODAY Sports
Does Shane Victorino have anything left in the tank?
If the Red Sox are going to have a chance at making the playoffs, Shane Victorino will need to be a major part of that.
After struggling in 2011, Victorino must prove that with the reduced stress of playing in right field he can bounce back at the plate.
Victorino struggled both with Boston and during his time playing in the WBC.
The 32-year-old needs to improve on his paltry .289 OBP or he will be a burden on the lineup.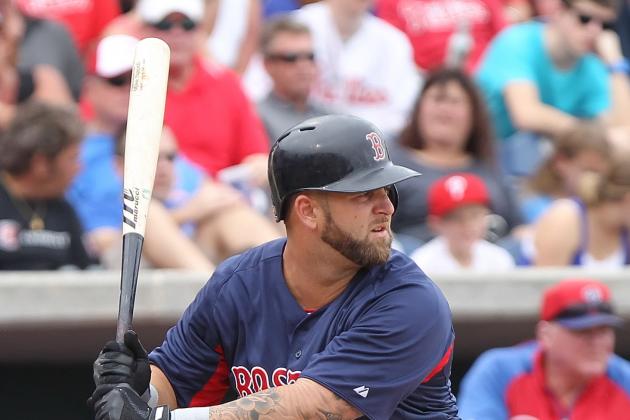 Kim Klement-USA TODAY Sports
Mike Napoli is healthy and ready to be an everyday player.
The best part of spring training for Mike Napoli was that he seems healthy.
After concerns about his hip, Napoli has hit .304 and played above-average defense at first base.
While there are still some concerns moving forward, Napoli will be playing for his next contract and motivated to get a longer-term deal.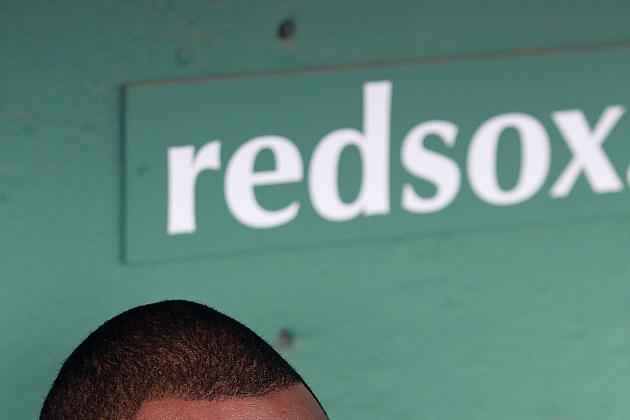 Jim Rogash/Getty Images
David Ortiz will never live up to his contract.
There's not that much to say about David Ortiz, other than he has been a complete disappointment this spring.
After signing him to an undeserved and misguided two-year contract in the offseason, the Red Sox are stuck with a player that can't play the field, and at 37 years old it will be increasingly difficult for him to stay healthy.
With a youth movement on the way, Ortiz could block the development of other players.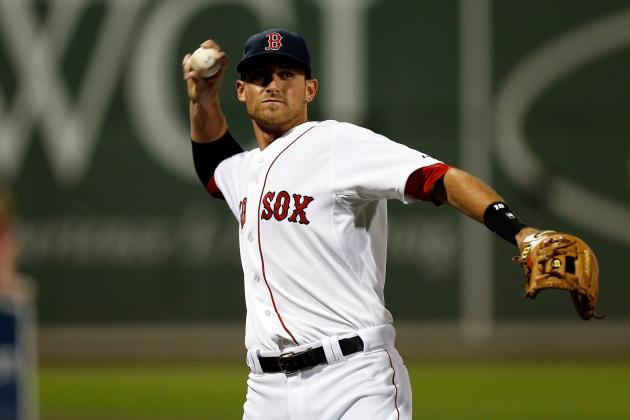 J. Meric/Getty Images
Will Middlebrooks looks ready to take the next step.
The second-year third baseman is having a great spring.
Once the team got over the concern surrounding the checked-swing incident, Will Middlebrooks picked up just where he left off.
Middlebrooks hit .327, but more importantly he had a .386 OBP. In addition to the improved plate discipline, the 24-year-old worked with Mike Lowell to improve his defense at the hot corner.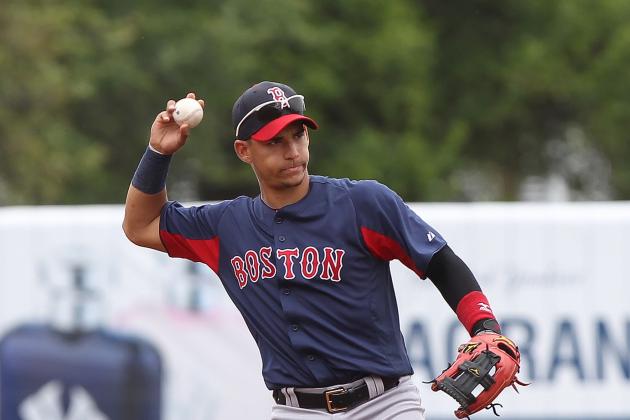 Kim Klement-USA TODAY Sports
Jose Iglesias has improved at the plate.
Jose Iglesias has been a pleasant surprise during spring training.
His defensive ability is evident, but what has been promising is his improved performance at the plate.
The 23-year-old hit .297, to go along with a .328 OBP, and more importantly the five doubles he hit show increased power and drive.
With Stephen Drew hurt, Iglesias will be the Opening Day shortstop and get a chance to prove he has what it takes to hit in the majors.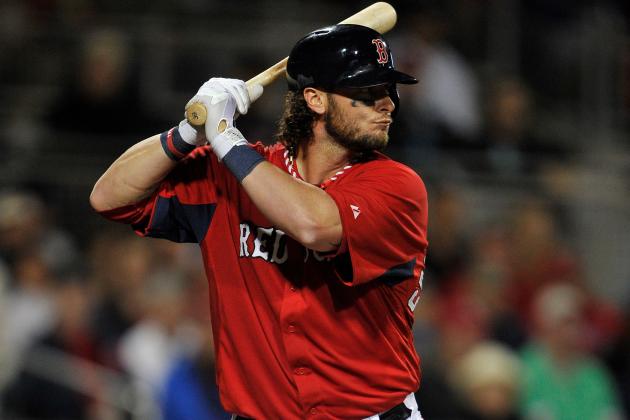 Jerome Miron-USA TODAY Sports
Jarrod Saltalamacchia needs to improve his plate discipline.
Though Jarrod Saltalamacchia hit 25 home runs last year, in reality he was a liability at the plate, striking out in 31 percent of his plate appearances.
His defense seems to have plateaued, but it's adequate.
If Salty can improve his plate discipline even slightly he would be a much better player. The addition of David Ross should allow Salty to get extra rest, which will help in the long run.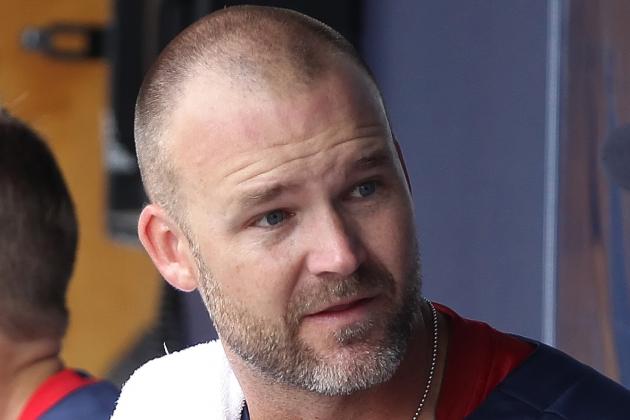 Kim Klement-USA TODAY Sports
David Ross has struggled in spring training.
David Ross has been a gigantic disappointment this spring.
The 35-year-old has hit a diminutive .111, and even though he wasn't signed for his bat it is still a major concern.
If Ross continues to struggle that will put more pressure on Saltalamacchia, and the overall lineup will suffer.
Kim Klement-USA TODAY Sports
Jonny Gomes has been a welcome addition on the field and in the clubhouse.
One of the good signs this spring has been Jonny Gomes. The newly-signed outfielder hit .308, which is a welcome surprise for a player with a .244 career batting average.
Though his defense continues to be a concern, with Ortiz hurt Gomes can be the DH.
His attitude is obvious and seems to be the perfect fit for the pressure-cooker environment that is Boston.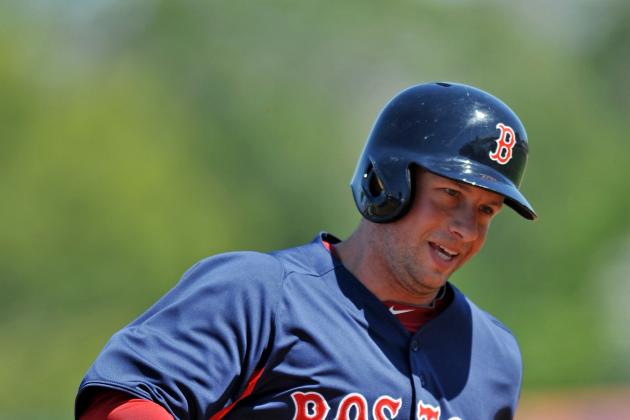 Steve Mitchell-USA TODAY Sports
Daniel Nava may be here for good.
Daniel Nava continues to show that he can be a serviceable bench player for the Red Sox.
He isn't going to "wow" anyone with power or speed, but he is a solid defensive player and has even spent time learning how to play first base in case the team needs him to step up if an injury occurs.
In addition to his great plate discipline, Nava doesn't have an inflated ego and will be a great bench player.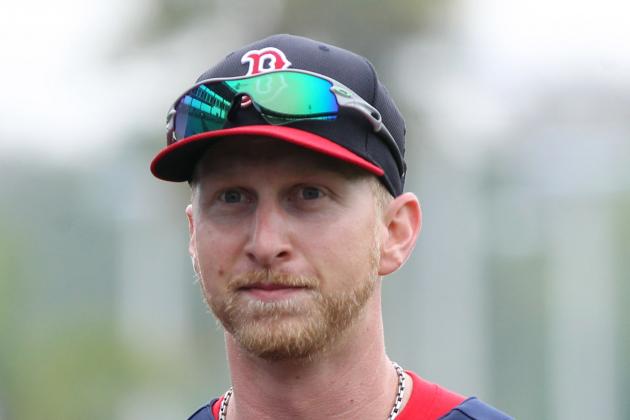 Kim Klement-USA TODAY Sports
Mike Carp hasn't done much in spring training.
While Mike Carp looks like a lock for the Opening Day roster, he may be sent down if Nava proves serviceable at first base.
Carp doesn't thrive in the field, but he provides versatility which is needed and he is a level-headed player.
Unlike Nava, he provides pop, and at 26 years old he may not have peaked, where Nava seemingly has.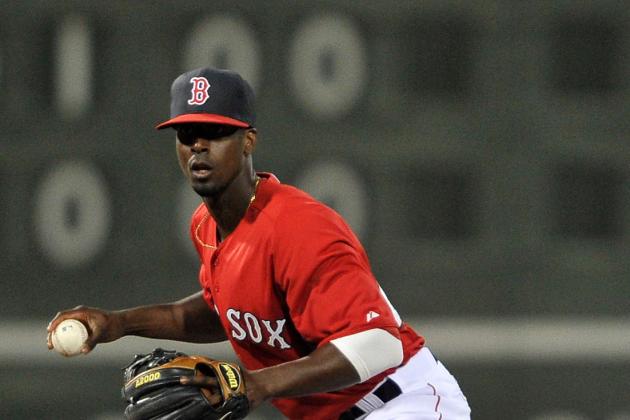 Jerome Miron-USA TODAY Sports
Pedro Ciriaco will be a valuable utility player.
With Brock Holt being optioned to Triple-A, Pedro Ciriaco looks like he won the utility infielder job at least to start the year.
The free-swinging Dominican infielder is capable of playing just about every position in the infield, which is vital for a bench player.
While he had his moments in 2012, Ciriaco gets exposed at the plate the more he plays.
He hit .375 in spring training, which is encouraging. But he also continued to show a lack of plate discipline, which is the main reason why he is a bench player to begin with.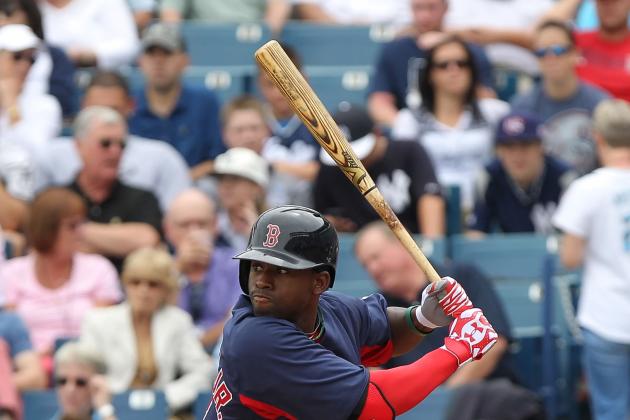 Kim Klement-USA TODAY Sports
Jackie Bradley Jr. looks like the real deal.
While other players have done well, Jackie Bradley Jr. has been the highlight of spring training.
His defense will always translate, and even though he has always been a good hitter his .441 batting average and .521 OBP have been a pleasant surprise.
Even though he has yet to play a single inning in Triple-A, expect Bradley to make the Opening Day roster.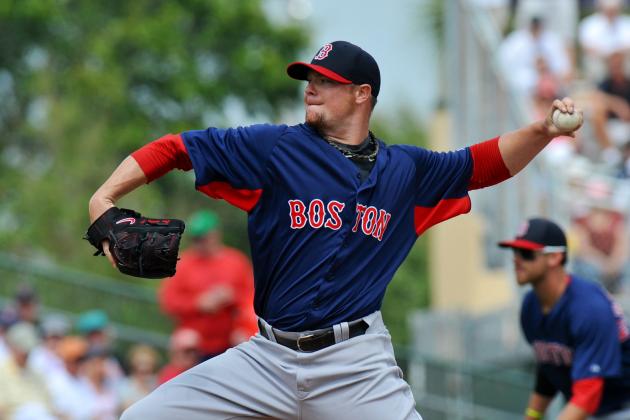 Steve Mitchell-USA TODAY Sports
Jon Lester looks like an ace again.
While Allen Webster and Rubby De La Rosa have "wowed" everyone, Jon Lester's performance has been the most important one of the spring.
Lester has looked like a true ace, compiling a 0.75 ERA, a 0.50 WHIP and a 5/1 SO/BB ratio. Aside from the great statistics, Lester's pace on the mound has improved and he looked more determined than ever.
If this performance carries over into the regular season, the Red Sox will be better than expected.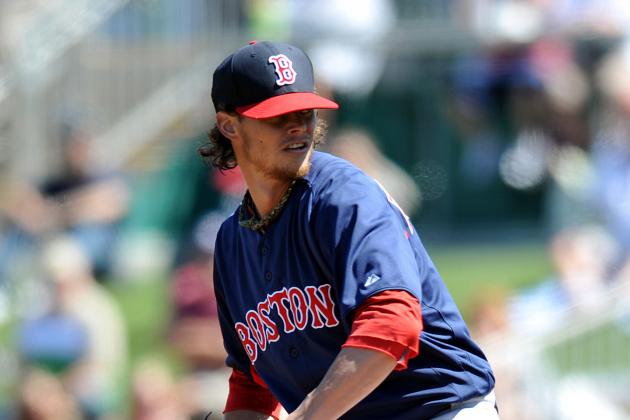 Steve Mitchell-USA TODAY Sports
Like Lester, Clay Buchholz looks like he has returned to form.
While Lester may be the best pitcher in camp, Clay Buchholz is not far behind.
Buchholz, too, looks determined to prove critics wrong and has thrived in spring training, compiling a 0.79 ERA, a 0.794 WHIP and a 3.67 SO/BB ratio.
Like Lester, Buchholz's pace on the mound has improved and he should continue to build on the success he had in the second half of the 2012 season when he was the best pitcher on the team.
2013 may be the year when both Lester and Buchholz finally live up to the hype at the same time.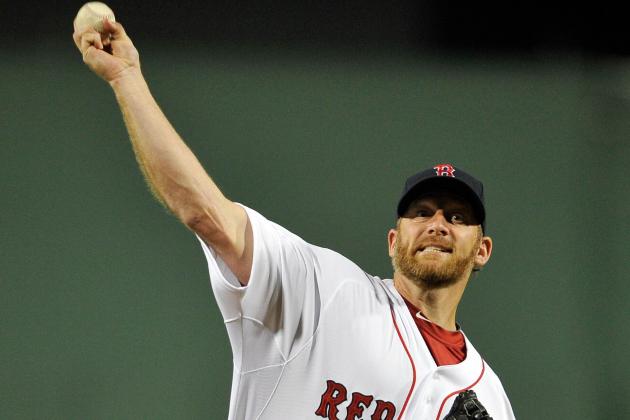 Jerome Miron-USA TODAY Sports
Ryan Dempster looks like a solid middle-of-the-rotation starter.
After a brief struggle, Ryan Dempster settled down rather quickly and looks to be a solid addition to the Red Sox' rotation.
While he hasn't been as dominant as Lester and Buchholz, Dempster's 3.06 ERA and 1.075 WHIP are evidence that he is ready to step up and be a reliable middle-of-the-rotation arm.
In addition to Dempster's on-field performance, he has also been a welcome addition to the clubhouse.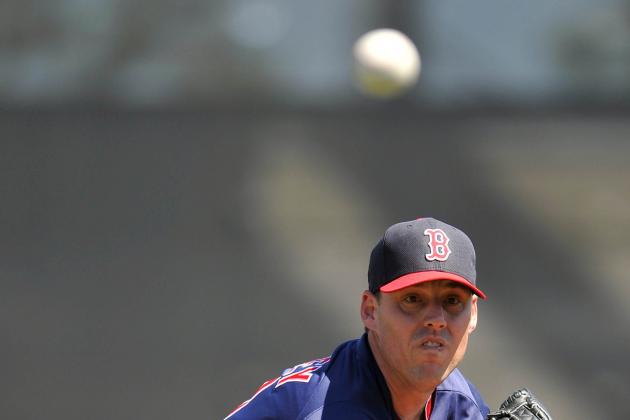 Jerome Miron-USA TODAY Sports
John Lackey looks healthy and ready to bounce back.
John Lackey's 5.40 ERA isn't going to "wow" you when you read the box score.
However, Lackey's 1.286 WHIP and 2.3 BB/9 are evidence that he has his command back and should be able to bounce back in 2013.
The 34-year-old righty won't be an ace again, but by being healthy for the first time in over three years, expect Lackey to be part of the reason why the Red Sox bounce back in 2013.
Kim Klement-USA TODAY Sports
Felix Doubront came into camp out of shape but has bounced back nicely.
After coming into camp out of shape, Felix Doubront has returned to form and looks like a player capable of repeating his rookie performance.
After pitching 161 innings in 2012, all the Red Sox need from Doubront is to perform at a similar level and stay healthy.
Doubront has strikeout stuff and if he can manage to increase his workload to 180 innings, then 2013 will be a success for the 25-year-old Venezuelan lefty.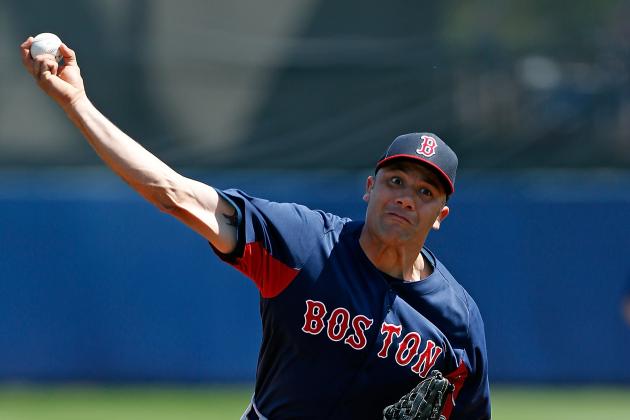 J. Meric/Getty Images
Alfredo Aceves is under less pressure now that he is not the closer.
Despite all the attention given to Alfredo Aceves' spring incidents, he has been a solid pitcher during camp.
Aceves' role is still undefined, but expect him to have more success in 2013, both because of John Farrell's influence and being in fewer pressure situations.
Aceves was forced into the closer role last year, something he was not up for. As a middle reliever and occasional spot starter, Aceves will have a better season.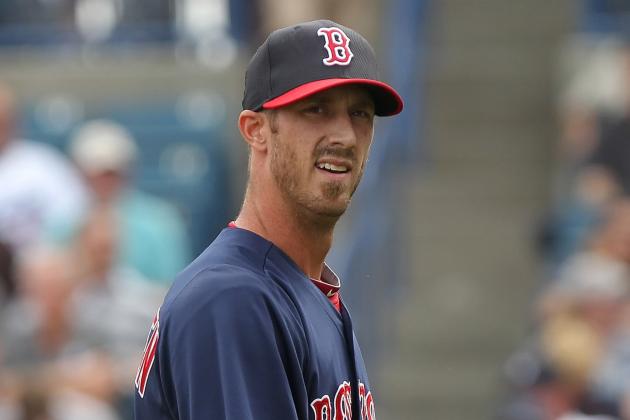 Kim Klement-USA TODAY Sports
Clayton Mortensen looks like a lock for the Opening Day roster.
While Clayton Mortensen hasn't thrived, he has been better than Daniel Bard. That is why he will be on the roster come Opening Day.
Mortensen will be a back-of-the-rotation arm with upside.
If Bard returns to form, Mortensen may be out of luck. But for now he has a chance to show fans he deserves to be a part of the big league club.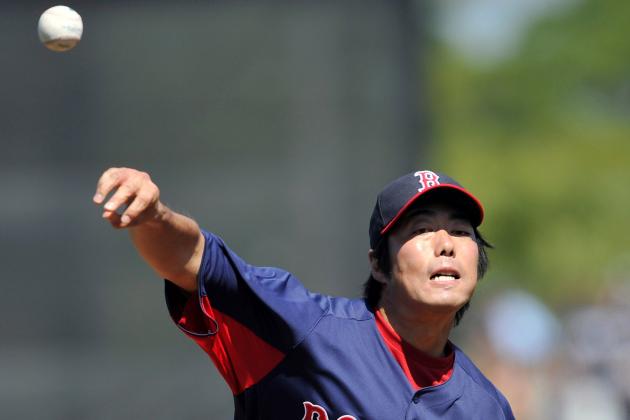 Jerome Miron-USA TODAY Sports
Koji Uehara continues to pound the strike zone.
Koji Uehara has performed as advertised in spring training.
The 37-year-old righty has a 0.00 ERA while being a strike-throwing machine for the Red Sox.
Uehara expects to be a major reason why the Red Sox bullpen will be a strength for the team in 2013.
Kim Klement-USA TODAY Sports
Andrew Bailey has a lot to prove.
In his second spring training as a member of the Red Sox, Andrew Bailey has stayed healthy and performed up to expectations.
Like Uehara, Bailey has been a strike-throwing machine. Bailey's resurgence is mostly due to being healthy, but it could also be associated with a reduced role as the team's setup man.
Bailey will struggle to live up to the hype, but he has a chance to be one of the best pitchers on the team in 2013.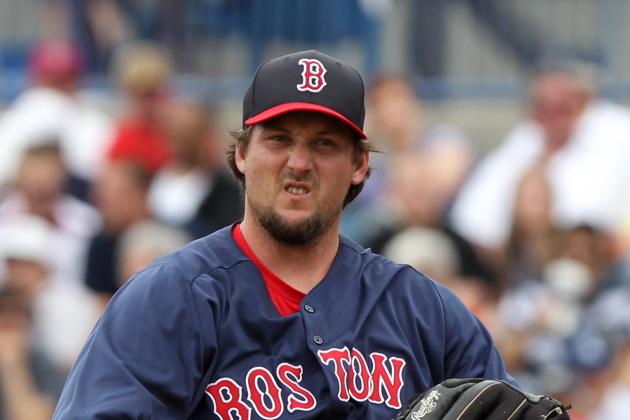 Kim Klement-USA TODAY Sports
Joel Hanrahan has struggled and is a major question mark.
One of the biggest disappointments during spring training has been Joel Hanrahan.
The Red Sox traded for Hanrahan in the offseason and expect him to be the team's closer, but he has been awful so far.
Throughout his career Hanrahan has struggled with his command, but in 2010 and 2011 he was able to harness his stuff and was one of the better late-inning relievers in baseball.
If he is going to have success in Boston, he needs to pitch like he did in 2010-11, not like the pitcher he was in 2012.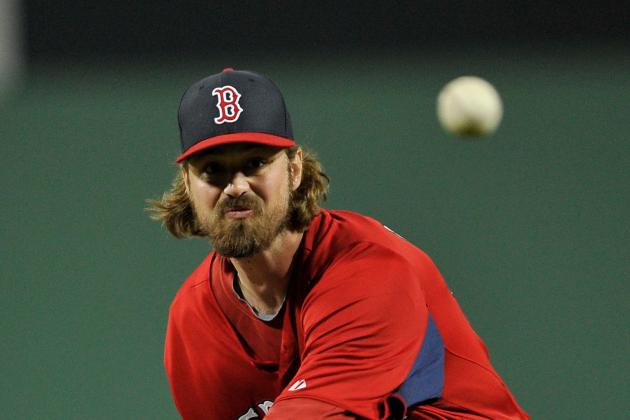 Jerome Miron-USA TODAY Sports
Andrew Miller's command continues to improve.
Andrew Miller continues to improve as a reliever. His command in spring training has been excellent.
Miller has always had the stuff necessary to be an elite reliever, but inconsistent mechanics have caused him to struggle in the past.
If Miller can continue to be fundamentally sound, he will be an excellent reliever capable of having success against both left- and right-handed hitters.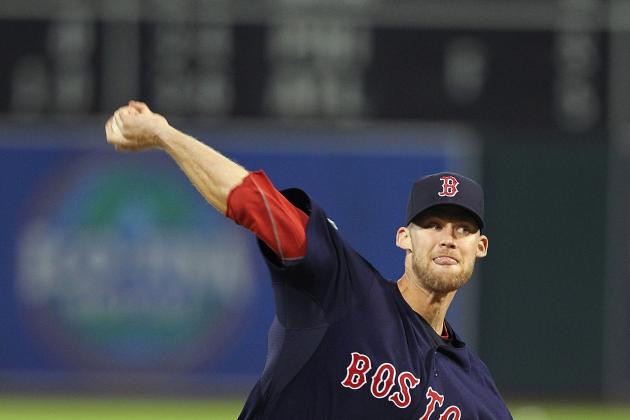 Tony Medina/Getty Images
Daniel Bard continues to struggle and has been demoted to Double-A.
Daniel Bard – D
Bard continues to struggle with command and was sent to Double-A to try to find what made him special from 2009-2011.
Allen Webster – A
Webster was once compared to Derek Lowe, but after his stellar performance in spring training that comparison doesn't do him justice. Webster looks capable of being a top-of-the-rotation starter in a year or so.
Rubby De La Rosa – B-
De La Rosa had an up and down spring, but he is healthy and showed flashes of greatness.
Stephen Drew – D
After struggling at the plate, an injury ended his chance of being the Opening Day shortstop. Drew needs to stay healthy if he wants to turn a one-year prove-it contract into a long-term deal in the offseason.
Ryan Lavarnway – D
After being a much-hyped prospect the last two years, Lavarnway continued to struggle and was optioned to the minors to start the season.