UFC 162: Featherweight Showcase Will Clear Up Divisional Title Picture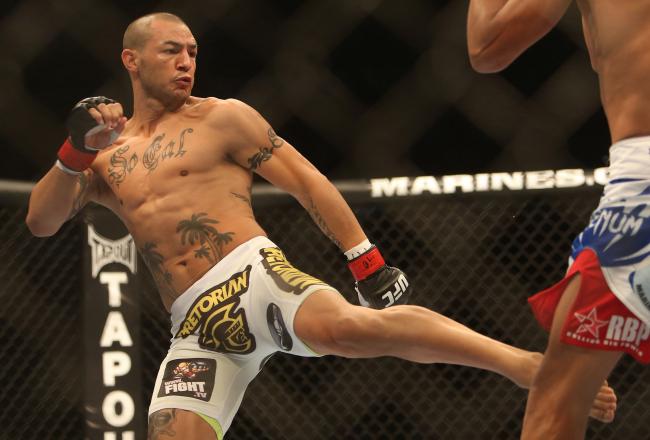 Tom Szczerbowski-USA TODAY Sports
2013 could very well be the breakout year for the UFC featherweight division.
The 145-pound division has been building solid momentum over the past 18 months. Over this stretch, a handful of fighters have risen through the rankings, and in some cases, dropped down a weight class to position themselves as potential contenders to featherweight king Jose Aldo's divisional crown.
Earlier this month the UFC announced a July showdown between two of the top fighters in the weight class, as Ricardo Lamas and Chan Sung Jung will square off at UFC 162. On Thursday, the organization added two more high-profile featherweight tilts to the event, as surging contender Cub Swanson will face Dennis Siver, and former lightweight champion Frankie Edgar will look to regain his footing against Charles Oliveira.
While the lion's share of the attention for UFC 162 will undoubtedly be locked on the main event where pound-for-pound great Anderson Silva will defend his title against Chris Weidman, the summer event will also serve to clear up the featherweight title picture and will likely produce the next contender for the 145-pound title.
With champion Jose Aldo set to mix it up with Anthony Pettis on Aug. 3 in Brazil, the next challenger for the divisional crown should be standing at the ready once the unofficial featherweight tournament at UFC 162 is in the books.
Ricardo Lamas vs. Chan Sung Jung
There is no 145-pound fighter with a bigger chip on their shoulder than Ricardo Lamas. "The Bully" has been a wrecking machine in the featherweight division as he's collected an impressive four-fight win streak over a handful of the best fighters in the weight class and watched two different title opportunities go elsewhere.
After defeating Cub Swanson and Hatsu Hioki, the 30-year-old Chicago native began to campaign for a title shot, but that opportunity would be given to Duke Roufus-trained fighter Erik Koch. Unfortunately for "The New Breed," injury would force him out of his championship bout with Aldo, and he was pushed to the sidelines for a lengthy recovery period.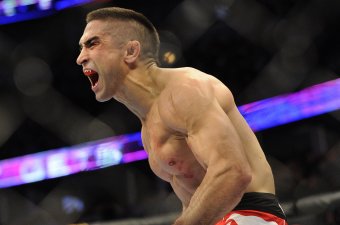 David Banks-USA TODAY Sports
When Koch returned to the Octagon in January, Lamas welcomed him back in brutal fashion by scoring a second-round TKO victory at UFC on Fox 6. In the aftermath of the victory, Lamas appeared to be the clear-cut choice for No. 1 contender status, but once again, those hopes were dashed when Anthony Pettis vacated his position as next in line for the lightweight title in order to drop down and face Jose Aldo.
Now with a bout against Chan Sung Jung official, Lamas will have the platform to prove once and for all he deserves to be the next contender for the featherweight title.
The same opportunity stands for Chan Sung Jung. When the 26-year-old steps back into the Octagon at UFC 162, it will bring a yearlong layoff to an end as "The Korean Zombie" has been out of action since defeating Dustin Poirier at UFC on Fuel TV 3 in May of 2012.
All things considered, the victory over "The Diamond" was Chan Sung Jung's third consecutive victory, and had him positioned in the upper tier of the featherweight division. Despite being out for 13 months, if "TKZ" can find success against Lamas in Las Vegas, not only will the win re-ignite his momentum but could very well earn him the position of "next" in the 145-pound weight class.
Then again, the bout between Chad Mendes and Darren Elkins at UFC on Fox 7 could add a different wrinkle to this situation, and is certainly a fight to keep an eye on.
Cub Swanson vs. Dennis Siver
Outside of Ricardo Lamas, there is no other featherweight on a faster rise than Cub Swanson. The 29-year-old Southern Californian has racked up four consecutive victories over solid opposition, with three of those wins coming by way of stoppage.
The Jackson-Winkeljohn-trained fighter was originally slated to face Dennis Siver at UFC on Fuel TV 7 in London, England. After an injury forced the German striker out of the bout, Louisiana native Dustin Poirier stepped in. After a hectic three rounds, Swanson emerged victorious from the tilt, earning the unanimous decision.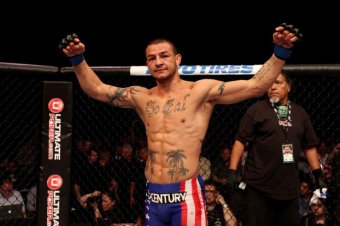 With Lamas and "The Korean Zombie" both locked up, rescheduling the bout with Siver makes perfect sense for Swanson. If he can defeat Siver in impressive fashion at UFC 162, it will put the Palm Springs, Fla., native in a unique position. Depending on the outcome of the bout between Lamas and Jung, Swanson could easily move up into title contention. Should Lamas lose and Swanson win at UFC 162, "Killer Cub" could very well make his case for a title shot.
On the other hand, if both Swanson and Lamas are victorious on the July card, the worst-case scenario would put the longest-tenured featherweight under the Zuffa banner one fight away from his long-awaited title opportunity.
There is plenty at stake on Siver's side of the table as well. While a victory over Swanson wouldn't earn the 34-year-old a title shot, it would be his third straight win since dropping down into featherweight waters and would certainly boost his position in the divisional picture.
At the same time, a loss against Swanson would serve to push Siver to the back half of the top 10 rankings in the 145-pound weight class.
Frankie Edgar vs. Charles Oliveira
While "The Answer" didn't necessarily get the high-profile bout he was looking for following his loss to Jose Aldo at UFC 156, the bout against Charles Oliveira still presents a solid opportunity. The former lightweight champion is currently on a three-fight backslide, and Edgar desperately needs to bring this trend to a halt if he hopes to remain relevant in the title picture at 145 pounds.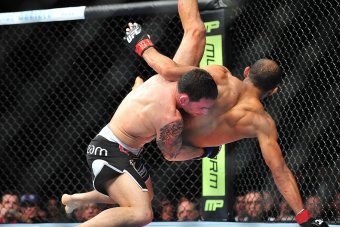 Gary A. Vasquez-USA TODAY Sports
The Toms River, N.J. native has come up short on his last three bouts, all of which were title opportunities, and Edgar needs to establish himself in his new weight class. Facing a submission specialist like Oliveira is no easy task, but if Edgar is able to get a victory at UFC 162, it will validate his placement in the upper tier of the featherweight division.
After dropping down to 145 pounds, Oliveira picked up solid momentum by winning back-to-back showings in his new weight class. That momentum would be starched in his next showing as the 23-year-old suffered a knockout at the hands of Swanson at UFC 152, but "Do Bronx" has the perfect opportunity to bounce back against Edgar.
The former lightweight champion carries a huge name in the sport, and should Oliveira find a way to best Edgar in their bout, the victory would serve to catapult the Brazilian into a higher slot in the divisional hierarchy.
This article is
What is the duplicate article?
Why is this article offensive?
Where is this article plagiarized from?
Why is this article poorly edited?