Nine NFL Head Coaches & GMs on the Hot Seat This Offseason
Ronald Martinez/Getty Images

While the season is still months away, there are already NFL head coaches and general managers who are feeling intense pressure to win in 2013—or else.
The following nine organizations have coaches, general managers, or both, who are squarely on the hot seat.
Let's examine which of these men must win next season to save their jobs.
Begin Slideshow

»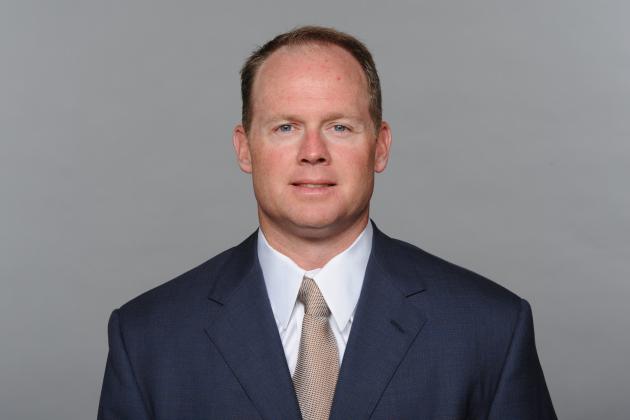 Handout/Getty Images

Dolphins general manager Jeff Ireland is an easy choice for this list, despite his epic spending spree to open free agency and the team's 7-9 record a year ago.
Since Ireland joined Miami's front office in 2008, the team has gone 38-42, and it's only that good largely due to their 11-5 mark in his first season. Since then, the Dolphins have yet to crack .500. Miami hasn't won a playoff game during Ireland's tenure, and it has endured three consecutive losing seasons for the first time since the pre-Shula 1960s.
In addition, Ireland has had a rocky relationship with the team's fanbase, highlighted by dozens of Dolphins fans protesting outside the team facility in March 2012, according to ESPN.com, calling for Ireland to be fired.
Many thought Ireland would meet his ouster after the team fired head coach Tony Sparano during the 2011 season, But, surprisingly, owner Stephen Ross kept Ireland and allowed him to pick the team's next head coach.
Ireland does deserve credit for his hiring of Joe Philbin. I like Philbin personally and think he did an excellent job in his first season.
Ireland also swung for the fences with his pick of quarterback Ryan Tannehill with the eighth overall section in last year's draft, and Tannehill acquitted himself well enough to save Ireland's job for another season.
It seemed as if Ireland was feeling the heat earlier this month when he engaged in a shopping spree that would make the Kardashians blush, doling out millions of dollars to some of the top free agents on the market (Mike Wallace, Dannell Ellerbe, Phillip Wheeler, Dustin Keller, Brandon Gibson, etc.) in an attempt to keep pace with the New England Patriots and, yes, save his job for another season.
Two things are now certain:
One: If the Dolphins struggle in 2013, it's likely that Ireland will lose his job. Miami needs to win at least nine games for Ireland to feel comfortable.
Two: If Ireland is fired, whomever is hired to replace him is not going to be happy with the money spent and contracts doled out this offseason.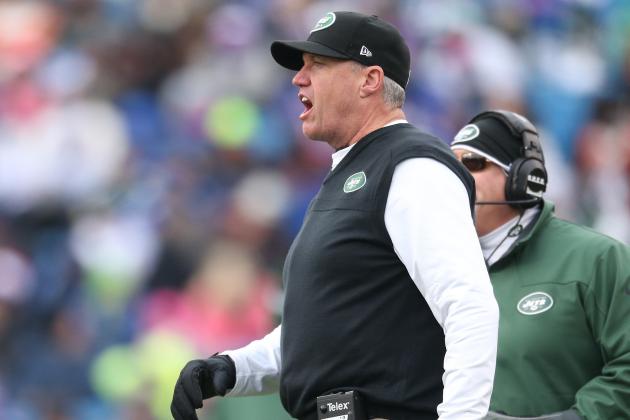 Tom Szczerbowski/Getty Images

The Jets were an unmitigated disaster in 2012. I'd call them a dumpster fire, but that'd be insulting to dumpster fires.
Head coach Rex Ryan was the pyromaniac behind last season's towering inferno of a season, as the team stumbled to a 6-10 record, often losing in hideous fashion.
After a grotesque end to the 2011 season, Ryan talked a big game heading into 2012. As usual, his braggadocio ended up biting him, as the Jets endured one of their most embarrassing seasons in history.
I thought that owner Woody Johnson made the right call when he fired former general manager Mike Tannenbaum, who didn't stock the 53-man roster with enough talent. But I thought it should have been a clean sweep, and Ryan should have been fired as well.
It was Ryan who hired the hapless Tony Sparano to run the offense. It was Ryan who kept going back to Mark Sanchez at quarterback, despite Sanchez playing hot potato with the football and single-handedly losing games for the team. It was Ryan who couldn't figure out which quarterbacks to make active at the end of the season.
At the press conference to announce he was returning as coach, Ryan sounded like a guy on his first day on the job, not someone who just completed his fourth season with the team. He acknowledged his failures with the offense and promised to get it right.
Now, this is the NFL. Most head coaches don't get four years to come to the conclusion that their offenses have been terrible. Because Johnson likes him, Ryan was retained. Simple as that.
The decision had a trickle-down effect on the organization, as no general manager worth his salt would want to come into a situation without hiring his own head coach. As a result, the Jets hired John Idzik, the third-in-command in Seattle. Not taking anything away from Idzik, but he wasn't one of the Jets' top choices, and that's because Ryan came as part of the deal.
The Jets need a solid season in 2013 for Ryan to keep his job. His seat couldn't be hotter.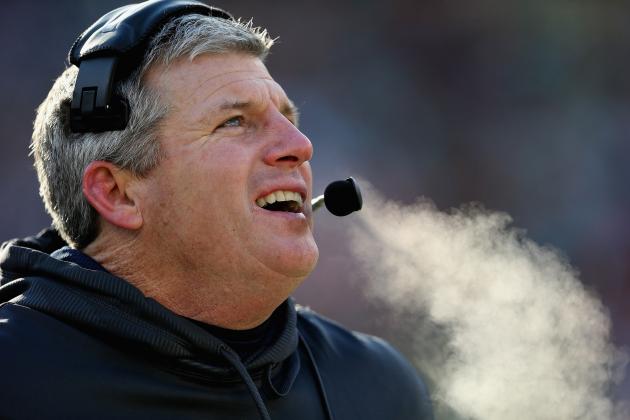 Jonathan Daniel/Getty Images

I think Titans head coach Mike Munchak did a superb job in 2011, guiding the team to a 9-7 record, the same mark as the eventual Super Bowl champion New York Giants.
But 2012 was a different story, as Tennessee stumbled to a 6-10 record that saw the team allow a league-high 471 points, infuriating owner Bud Adams in the process.
When Adams told the Tennessean after the season that changes could be coming, I assumed Munchak was a goner. But Adams decided to keep him for a third season, with the clear and unspoken directive that Munchak must win in 2013 to keep his job.
I don't like Munchak's decision to retain defensive coordinator Jerry Gray after last season's disaster. I know the team hired Gregg Williams as a senior defensive assistant. But if he's the answer, I'd love to know the question (insert snide "BountyGate" joke here).
I also would have liked to see Munchak try to hire Tom Moore as the team's offensive coordinator. But he decided to retain Dowell Loggains, who took over when Chris Palmer was fired during last season.
Much of his fate rests on the right arm of Jake Locker, the quarterback whom Munchak tethered himself to when Locker became the first draft pick of the Munchak era. While Locker has been disappointing in his two seasons, he certainly has the physical tools to succeed, and it'll be up to Munchak to coax a winning season out of him.
If he can't, Adams won't be as patient next year, and Munchak will lose his job.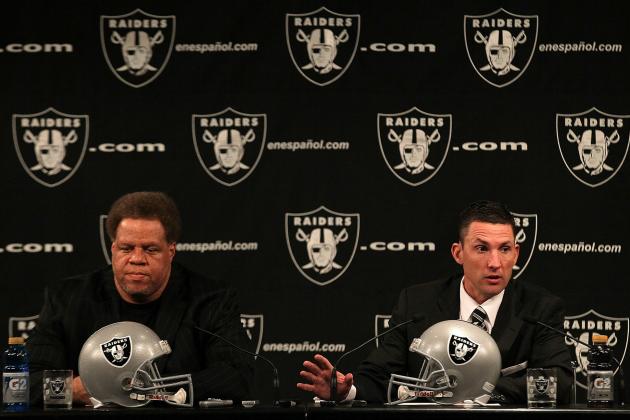 Justin Sullivan/Getty Images

The Oakland Raiders are in a world of trouble.
With holes all over the roster and no reinforcements seemingly on the way, it appears as if Oakland's playoff drought will continue another season. As currently constituted, the Raiders again look like one of the NFL's worst teams.
While I've preached patience for general manager Reggie McKenzie and head coach Dennis Allen in the past, it'd be naive to think that the two aren't fighting for their jobs this coming season. There's just no way that owner Mark Davis will endure another subpar season that seems to have 2-14 written all over it.
I know that McKenzie and Allen are only entering their second year on the job, and I know that they entered a seemingly impossible situation, needing to fix not only the abused salary cap, but a toxic environment that's festered in Oakland for many, many years.
The team is still reeling from the horrendous Carson Palmer trade, engineered by former head coach Hue Jackson, along with a cavalcade of hideous signings and grotesque contracts doled out by the late, great Al Davis.
But, make no mistake about it: if this is another awful year for the Raiders, changes will be made. Davis has watched as his Bay Area rivals, the 49ers, have turned into one of the NFL's juggernauts. He sees the Broncos only improving, and the Chiefs and Chargers both on the upswing. He won't stand for another disastrous campaign.
If the Raiders finish 6-10 or worse, I expect both McKenzie and Allen to lose their jobs. With the way the roster looks right now, I'd say that outcome is likely.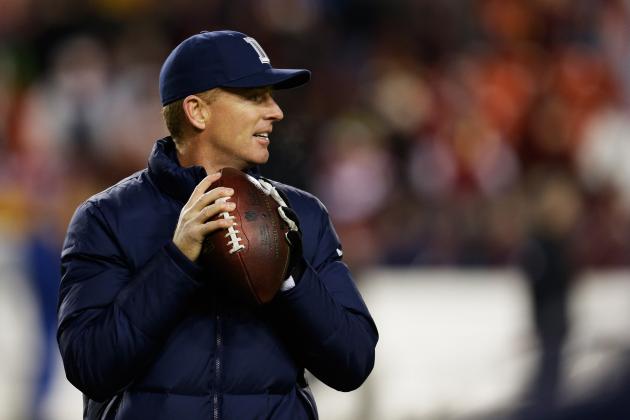 Rob Carr/Getty Images

I truly believe it will take no less than a playoff berth in 2013 to save the job of Cowboys head coach Jason Garrett. The writing is on the wall.
First, after the team's season-ending loss to the Redskins, owner Jerry Jones said he wanted this to be very "uncomfortable" offseason. The next domino to fall was that Garrett's brother, John, left the team to join the Tampa Bay Buccaneers.
Next, Jones said at the Senior Bowl that the team was looking for someone to call the plays, according to NFL.com, a role Garrett has held since he was hired as the Cowboys' offensive coordinator in 2007. While there has been ambiguity on the subject recently, it appears as if Jones wants Bill Callahan to call the plays in 2013, which would be a total emasculation of Garrett.
While the Cowboys will never truly become Super Bowl contenders again until Jones the owner fires Jones the general manager, I don't believe Garrett is helping the cause. He's an awful in-game coach.
Perhaps more than any coach on this list, Garrett is a dead man walking.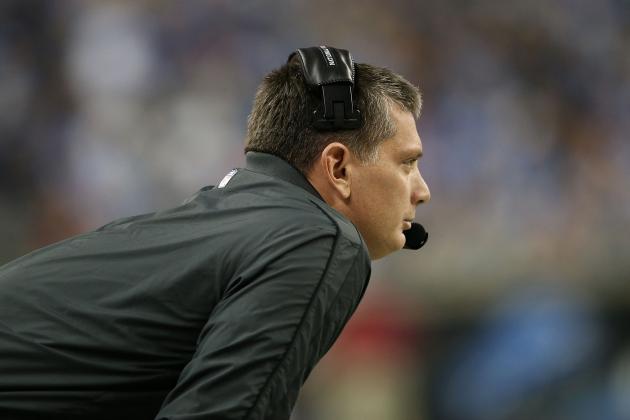 Leon Halip/Getty Images

The Detroit Lions stumbled to a 4-12 record in 2012 that put coach Jim Schwartz squarely on the hot seat, as the team seemed to lack discipline, both on and off the field. Schwartz was unable to harness the momentum the team gained in 2011's magical ride to the postseason.
While the team decided to bring Schwartz back for the 2013 season, it's clear that the team must win for him to return in 2014 and beyond.
The problem? The NFC North is stacked. Green Bay, Chicago and Minnesota are all viable playoff contenders, leaving Detroit at the bottom of the barrel.
I believe that if the Lions finish in last again, Schwartz will be out of job come next Black Monday.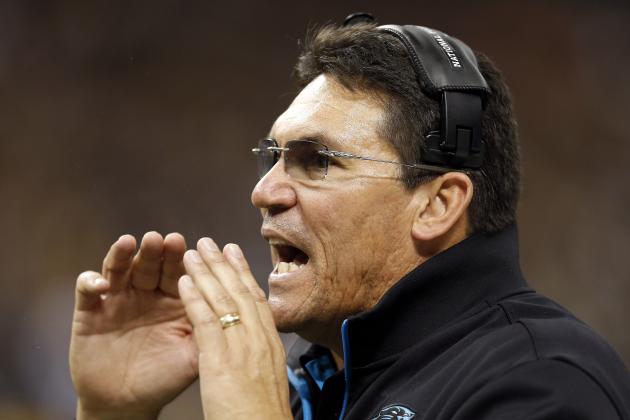 Wesley Hitt/Getty Images

The Carolina Panthers haven't had a winning season since 2008 and haven't won a playoff game since 2005. That means the patience of owner Jerry Richardson is wearing very, very thin.
While Richardson decided to retain head coach Ron Rivera for the 2013 season, it's far from a vote of confidence. Rivera was nearly fired, but the team's strong run to close the 2012 season likely saved him.
Still, it's crystal clear that the Panthers must finish above .500 for Rivera to keep his job. Much will depend on the growth and maturity of franchise quarterback Cam Newton, and Rivera's ability to get the defense performing at a higher level.
If Newton can't progress in Year 3 and the defense continues to struggle, Richardson and new general manager Dave Gettleman will be looking for a new head coach for 2014.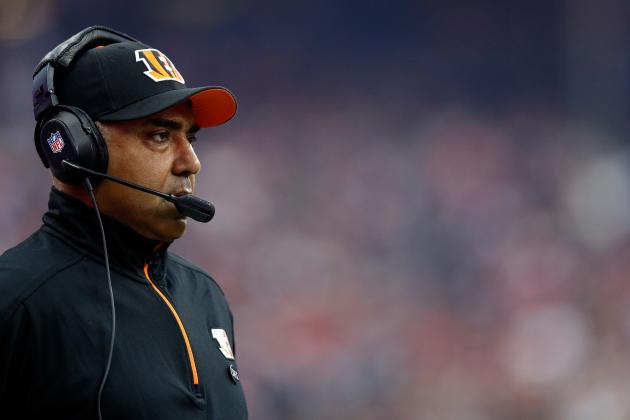 Scott Halleran/Getty Images

This one might come as a surprise, as the Bengals are coming off back-to-back wild-card berths in the AFC playoffs. Let me explain.
Yes, Cincinnati has impressed in the past two years since they drafted quarterback Andy Dalton and wide receiver A.J. Green. But the team hasn't been competitive in either wild-card playoff game, and Lewis hasn't won a playoff game in his 10 seasons as head coach. Something has to to give.
If the Bengals are able to qualify for the postseason and lose yet again, I think team owner Mike Brown could look toward one of the in-house options as the team's next head coach, whether it be offensive coordinator Jay Gruden or defensive coordinator Mike Zimmer.
And, if the Bengals don't make the playoffs, I think Brown's decision becomes even easier. In a tough AFC North that includes the Super Bowl champion Ravens, perennial contenders Pittsburgh and rising Cleveland, it's a definite possibility.
So, while he's in good standing right now, I believe the Bengals must not only make the tournament, but win a game for Lewis to return in 2014.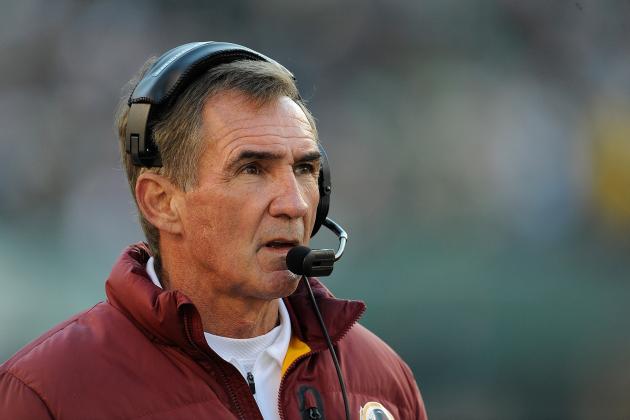 Patrick McDermott/Getty Images

I know, I know: How could Mike Shanahan possibly be on the hot seat, after leading the Redskins to their first NFC East title since 1999 and doing it in incredible fashion?
It's because of the injury situation of franchise quarterback Robert Griffin III.
In the Redskins' wild-card loss to the Seahawks, Shanahan kept Griffin in the game too long, well after it was clear that he wasn't healthy and wasn't able to help the team win. Griffin would go on to tear his ACL during the contest, leaving his availability for the start of the 2013 season in doubt.
Owner Dan Snyder paid a king's ransom to bring Griffin to DC, trading away three first-round picks. Griffin is the franchise player, already beloved by fans and media alike. If he isn't the same player in 2013 or suffers another injury, Snyder could turn his fury toward the man perceived as responsible for the injury, and that's Shanahan.
So while I believe it's unlikely that Shanahan will lose his job after the 2013 season, it's not outside the realm of possibility. If Griffin is hurt for longer than expected and the team struggles in the tough NFC East, Snyder will be angry. He'll want answers.
Shanahan could pay with his job.