Los Angeles Dodgers: Predicting All Team Awards for 2013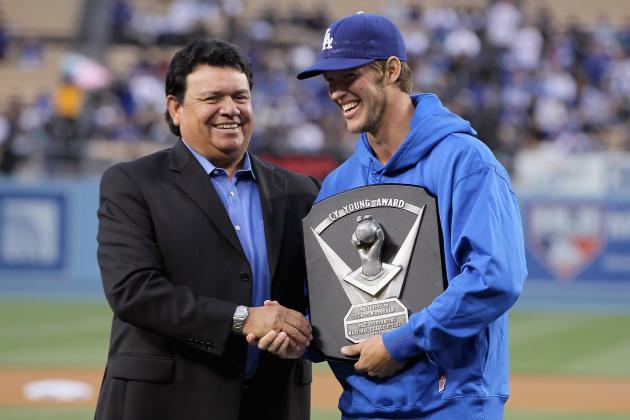 Jeff Gross/Getty Images

Remember back in the day, when you somehow still fit in those awkward Speedos, which you had to wear to your local neighborhood swim team practice? Remember how your only reward for waking up way too early on your summer vacation and exercising in freezing, heavily chlorined water all morning was the chance to win some cheap "participation" ribbons?
Then there was always that one damn kid who was a six-year-old Michael Phelps in the pool, parting the water like Moses himself and leaving a trail of urine-filled bubbles in your face on his way to the podium. He got the huge, shiny trophies. The real awards.
Well, we're bringing that mindset to the big stage. Here, everyone gets a participation ribbon just for wearing Dodger Blue. Even Juan Uribe gets the obligatory, "Hey, you're on the team! That's great!" pat on the back.
But whereas some teams (Houston, you have a problem) may not know who to give the rest of the major awards to, the Dodgers have a problem of an entirely opposite nature.
They went out and spent millions and billions of dollars to bring in heaps of All-Star talent. Therefore, the team awards banquet is bound to be filled with tough decisions and broken hearts. (Note: This could really ruin that awful team chemistry issue everyone thinks the Dodgers have.)
Without further adieu, here are the winners of all the major team awards for the Dodgers' 2013 season.
Begin Slideshow

»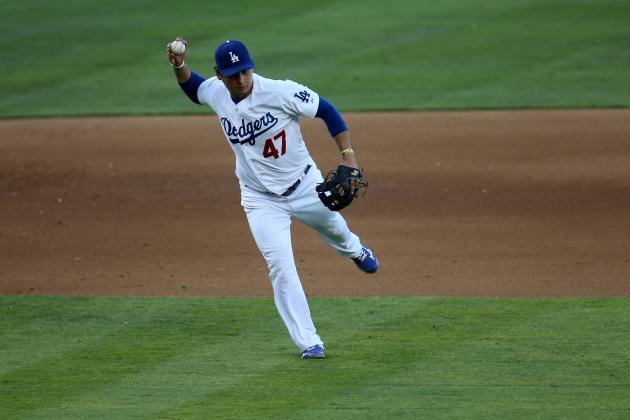 Stephen Dunn/Getty Images

And I don't mean in terms of anger issues or fighting ability, both of which we found out Cruz has plenty of in the World Baseball Classic. This is in the context of silencing doubters who believe Cruz's fairy tale 2012 was a fluke.
The lovable, underdog third baseman has already looked great in the spring, and he has been completely overlooked in preseason projections for this team. In fact, analysts have been too busy speculating on who the Dodgers could sign to replace Cruz to notice that he is the answer.
Nobody expects massive numbers out of him, but a steady batting average and good RBI production is very much within reach. In a lineup filled with guys who outrace the pack at every meet, Cruz will be forgotten until he dominates the last leg of the relay.
Even Canadian players will bow to the greatness of Cochito Cruz when they realize how surprising his numbers are at the end of the year.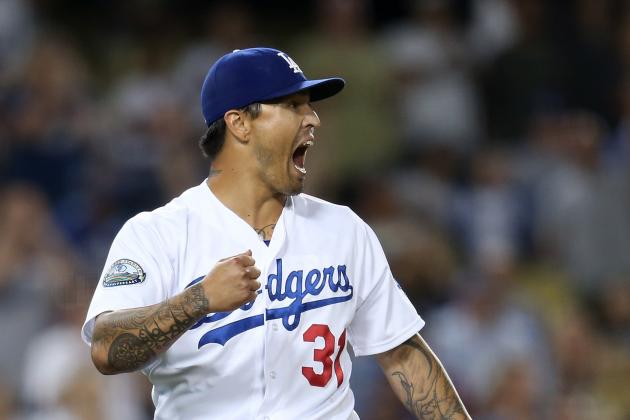 Stephen Dunn/Getty Images

Okay, so an award like this would never actually be given out in this setting unless the front office was hell-bent on public embarrassment. But, League's ability to plate his participation ribbon in gold and hang it from a diamond chandelier in the foyer of his French cottage is reason enough to call him a disappointment.
Just in case that nonsensical metaphor got twisted up in your mind, I'm simply saying that League signed for way too much money to be an undependable closer. And I don't think he will be the closer by the time the Dodgers—er, the NL All-Star team—heads to Citi Field for the Midsummer Classic.
Though I do love the movement League gets on his pitches and the fire he brings to the mound, he is simply not the best reliever on the Dodgers roster, and he will prove it early on. We've seen before that it's hard to become an elite, title-winning team without a good closer, and the Dodgers are in that position right now.
Hopefully Ned Colletti won't actually order a golden jock or something equally defacing to present to League. Though the pitcher does looks strangely excited about his award in this picture.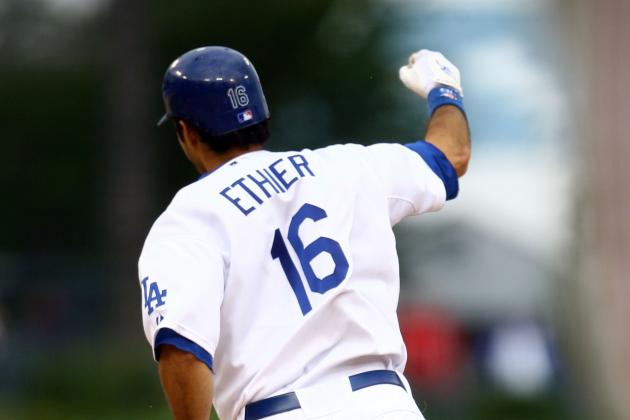 Jeff Gross/Getty Images

Yes, Captain Clutch himself (This may be a nickname I invented and then pretended caught on...either way I'm sticking to my guns here) is the sure bet for this award, as he has delivered more walk-offs in his Dodgers career than Juan Uribe has hits.
Okay, you caught me. That was a slight exaggeration. But the point is, that when the Dodgers have needed a hero the most, it's almost exclusively been Ethier coming through in the clutch.
For some reason, though, Ethier forgets that he can't hit lefties, never swings at a bad pitch and seems to hit it in the right place when faced with a walk-off opportunity.
For that, we thank Captain Clutch and wish for more of the same in 2013. There's a reason the Dodgers dropped $85 million on the guy. A close second and honorable mention can go to Kemp, who also has a knack for coming up big in the ninth inning.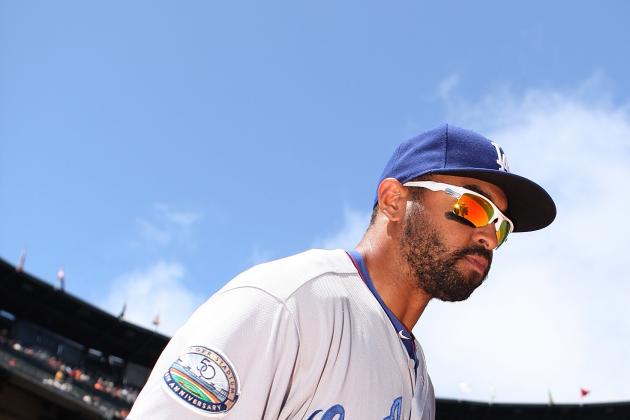 Tony Medina/Getty Images

I bought into the 50/50 talk surrounding Matt Kemp last year after he was snubbed for the 2011 MVP harder than Les Mis for Best Picture (Yeah, I said it.). Sure, 50/50 was always very unlikely, but Kemp had just narrowly missed 40/40 the year prior, and I was feeling hopeful and vengeful as a fan.
Do I ever expect anyone to hit 50 home runs and steal 50 bases in a season? Nope. But is Kemp a threat, now fully healthy, to hit that 40/40 mark in 2013? Absolutely.
It's hard to hit home runs with a bum shoulder and harder still to swipe bags with a pulled hamstring. As those maladies disappear, Kemp's production could skyrocket in his favorite month of April (.350 average, 25 homers since 2010). Only this time around, he will avoid the DL and keep the batting average above .300.
If there is any true five-tool player on the Dodgers roster, it is Kemp—he is going to show off all of them in 2013, stacking up a very even, strong set of statistics as the year progresses.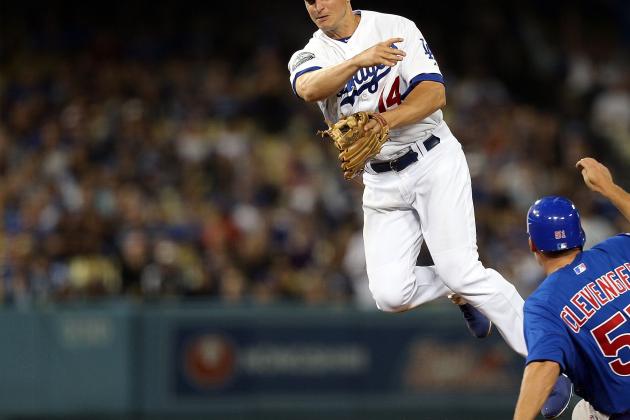 Josh Hedges/Getty Images

I have a bone to pick with the world. Mark Ellis, owner of a career .991 fielding percentage, good for fourth-highest all time, has never won a Gold Glove. (Please hold, while sabermetricians everywhere lose their minds over his UZR and DRS numbers.)
Done yet? Good. Because there isn't a more dependable, sure-handed second baseman in baseball than Ellis. The old man doesn't have great range and isn't as stylish as Brandon Phillips, but he gobbles up everything hit within his reach and will rarely cost the team a run, let alone a game.
Though you can point to both corner infielders, a couple of the outfielders, Kershaw, and A.J. Ellis as other, at least serviceable defenders, it's nice to know that somebody will be patrolling the middle infield without stone hands (sorry, Hanley Ramirez).
Ellis probably will never win that Gold Glove, but on this squad, he gets the nod in 2013, his last before another bout with free agency.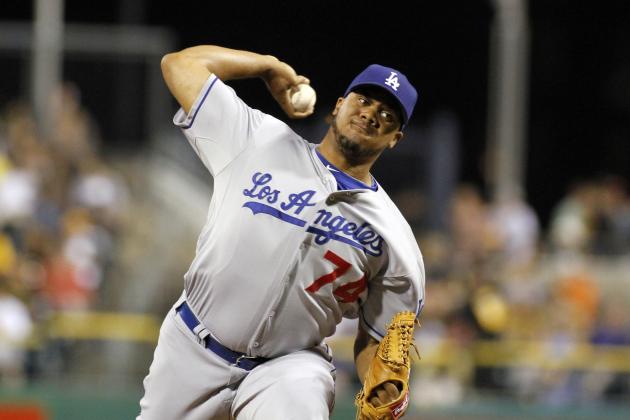 Justin K. Aller/Getty Images

Ah, and the dust finally settles on my mysterious "biggest disappointment" slide on Brandon League from earlier. This isn't stubbornness on my part—it's recognition of the pitcher with a superior repertoire for closing out games and the much higher ceiling overall.
Not only does Jansen have the nastiest cutter this side of Rivera, but he still has a scary amount of room to grow. Heart problems have limited the hurling former catcher before, but he had that issue corrected in the offseason and is ready to get back to his strikeout-heavy ways.
At times, Jansen can be among the most dominant relievers in baseball. When the youngster's head is right, the Dodgers have a ninth-inning stopper who locks it down at Chavez Ravine better than anyone has since Eric Gagne.
So when Jansen and his career 14.6 strikeouts-per-nine get the call as the team's closer sometime in June, remember you heard it here first. Unless you've heard this elsewhere. In which case, I promise I'm not plagiarizing.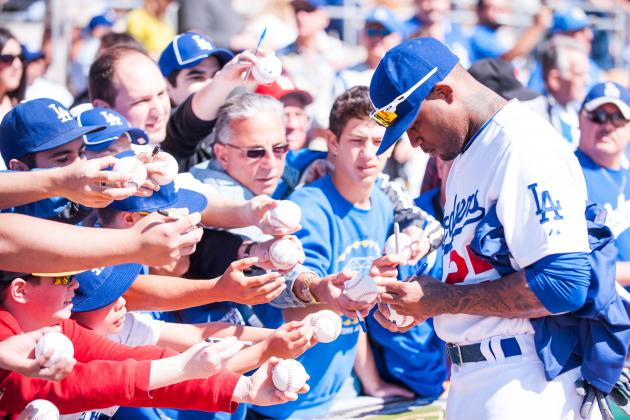 Rob Tringali/Getty Images

Is it weird to give the team comeback player of the year award to someone who hasn't played a meaningful inning in the team's uniform yet? Sure. But there is also nobody on the roster more beaten down than Crawford, after fizzling out on a huge contract in Boston.
Just to clarify, I don't expect the Crawford from Tampa Bay who every general manager grew to love, to return in Los Angeles. However, if Crawford hits north of .270 and chips in 10 homers with 25 steals, I'm satisfied.
Anything above average, really, may make Crawford a strong candidate for the actual NL Comeback Player of the Year award, as his fall from grace has been widely documented. Hidden in a lineup full of big names, the finally-healthy Crawford might rediscover his game and make a big impact for the Dodgers.
If so, the Dodgers should not only reward him with a fancy trophy, but a swift kick in the butt to any contender who will have him. Sorry, Carl. No hard feelings, but the guy in our next slide is just waiting to steal your job.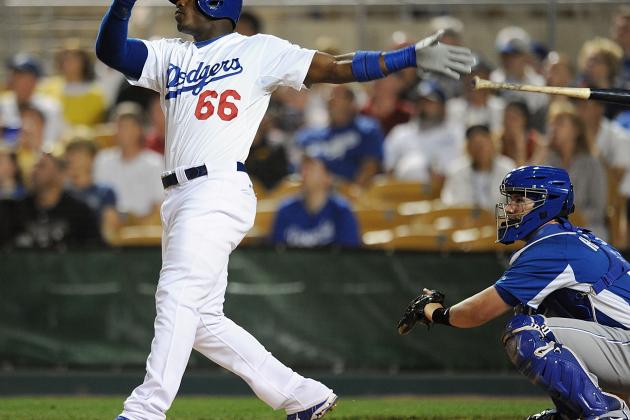 Norm Hall/Getty Images

I considered calling this award the "Yoenis Cespedes" Award, or the "Sure To Chase Carl Crawford Out of L.A." Award, before settling on a much more brief, cliched title. Either way, the sentiment rings true. Puig may just become the Dodgers everyday left fielder rather soon, and surpass Cespedes on his way there.
I'll be the first to admit that I don't believe in most spring training stats, especially when I've been failed so many times before by hot streaks in March. But just watching Puig play with such athleticism gives the impression that he's here to stay, and he won't be toiling against Double-A pitching for very long.
Alex Castellanos must hate his life right now, as he was the presumed first man called up to fill an outfield spot if the Dodgers needed it. But after a spring that saw Puig, who is somehow even bigger than Cespedes, hit .526 with three homers, 11 RBI and four steals, Castellanos is just a memory.
Dodgers fans are ecstatic on the prospect of having Puig in their lineup for the next half decade, and they should be. Though the kid needs to completely adapt to major league pitching and harness his zone awareness a bit, I firmly believe he will play an important role down the stretch in 2013.
At the very least, every young hitter will be trying to emulate the beauty of a perfectly-executed bat flip after watching Puig play.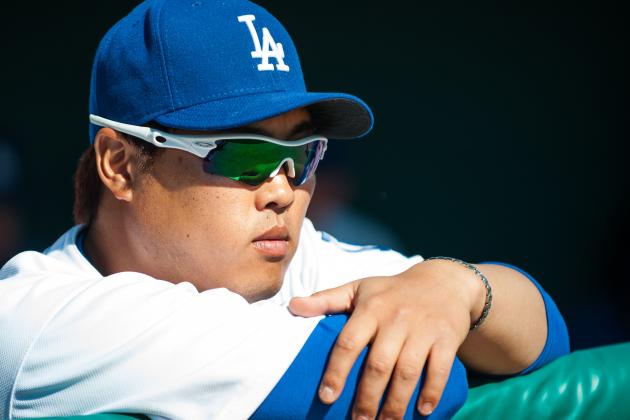 Rob Tringali/Getty Images

My first instinct was to go with backup catcher Tim Federowicz, who basically earned that spot on the roster before spring training even began. Then I remembered that A.J. Ellis does not take time off. Ever. So while I expect "Fed-Ex" to do some good things for the Dodgers this year, he won't have nearly the impact that new starting pitcher Hyun-Jin Ryu will.
The Korean lefty was signed to a highly criticized six-year deal this winter, and he has already started paying dividends for the Dodgers. In his first spring training, he made six starts and came out of it relatively unscathed, sporting a fancy strikeout-to-walk ratio and a 3.29 ERA.
Though Ryu likely won't be more than the team's third or fourth-best starter this year, he could dazzle with a bevy of good pitches and an unknown background (it's always a little harder to face a guy you know nothing about).
If his 23 retired batters over his last two starts are any indication, then Ryu's bold ambitions for his own rookie season may well be in reach. He has a chance to not only win this coveted team award in 2013, but the hearts of millions on April 2, when he makes his regular season MLB debut against the hated, pumpkin-colored San Francisco Giants.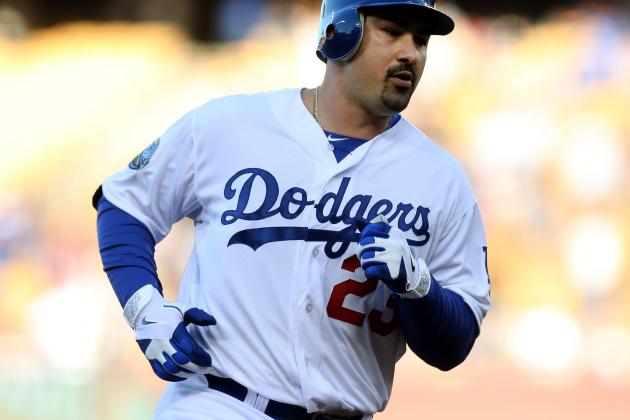 Stephen Dunn/Getty Images

Wait. What?! How dare I not choose the biggest man on campus, Kemp, for the team's most valuable player? Simple: Gonzalez will be the guy driving Kemp in all season long.
Given the likelihood of the offense being a run-scoring juggernaut only capable of collapsing at the hands of a Sidd Finch fastball, the presumed cleanup hitter is going to reap the benefits. The back of Gonzalez's baseball card should be littered with large numbers after this year, as he hits in what should be the most productive spot in the lineup.
While Kemp may be the most athletic player on the team, and Clayton Kershaw may be the most important, I expect Gonzalez to put together the most statistically impressive season.
There can only be one MVP on a team full of worthy candidates. And this year, it's going to the man with the smooth left-handed stroke and soft hands at first base. Gonzalez, in his first full year as a Dodger, will be the team's most valuable weapon.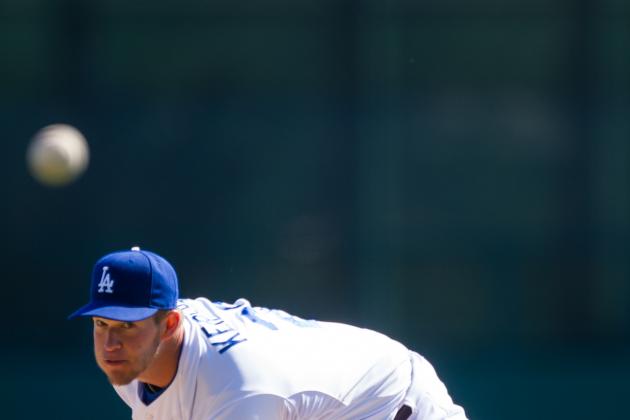 Rob Tringali/Getty Images

Kershaw could re-injure his hip and foot, blow out a few ligaments, pop a disc in his back and still win this award for the Dodgers. That is not a negative commentary on a very studly Dodgers rotation—it is simply an acknowledgement of how far ahead of the rest of this group (and most of the National League, really) Kershaw is.
The best part about this award is that there's a great chance for him to win the real thing again. He finished second in 2012 to R.A. Dickey, who promptly bolted for the border after the ceremony to avoid thievery charges. And as we all know and remember so fondly, Kershaw won the award in 2011.
Luckily for Dodgers fans, it sounds like the team ace is fully revved and ready to go for 2013, which means trouble for two groups of people: opposing hitters, and the rest of the starters on the staff who were gunning for this award.
I can only imagine Aaron Harang, Chris Capuano and Ted Lilly will proudly scout the best locker room location to display their participation ribbons as Kershaw racks up 20 wins and 230 strikeouts in 2013.