MMA Stock Report for March: Who Rose, Who Fell, Who Stayed the Same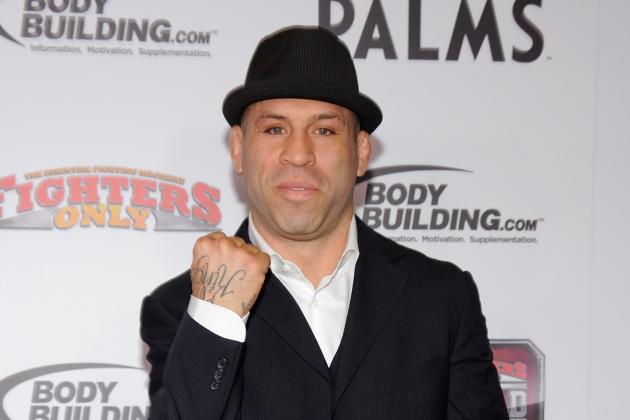 Ethan Miller/Getty Images

As with many other things, in MMA, there is the good, there is the bad and there is the business as usual.
It ran the gamut in March. A lot of fighters found themselves riding higher than ever. Others hit a big-time valley. Some held just as steady as she goes.
These are the fighters who went up, down or nowhere in the month of March. This covers fighters and in-cage actions only.
There are probably others. In fact, there definitely are. Want to add one in the comments? I don't see anyone stopping you.
Begin Slideshow

»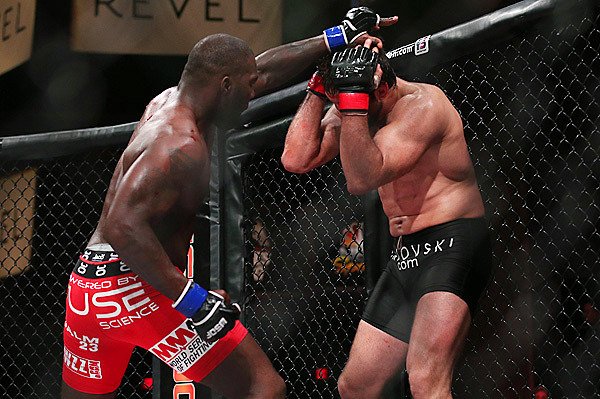 Photo credit: Dave Mandel/Sherdog
I'll say it again, because it can't be said enough times: Anthony Johnson used to be a welterweight.
Not at World Series of Fighting 2, though, where in his heavyweight debut, Johnson punished well-regarded veteran Andrei Arlovski for three rounds to take a convincing decision.
Maybe he'll stay at heavyweight or maybe he'll drop down to 205. But there's no question Johnson's vaunted power stays intact—very intact—in the sport's largest divisions.
Stock: Up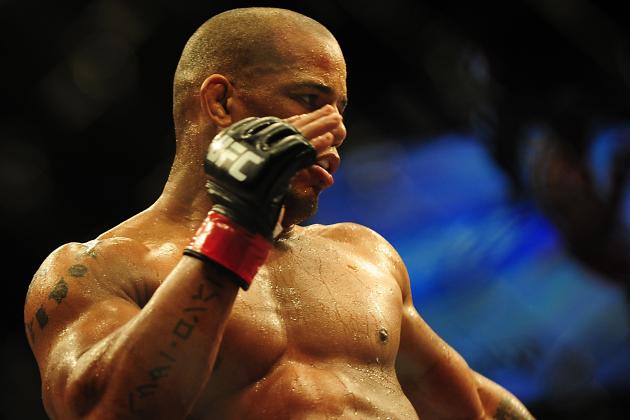 Anne-Marie Sorvin-USA TODAY Sports

It's evident now that Hector Lombard was not who we thought he was. Or he was exactly who we thought he was. I guess it depends on your perception of his career arc pre-UFC.
In any case, Lombard (a judo black belt) was outwrestled for two rounds by Yushin Okami at UFC on Fuel 8. He came on strong in the end, but couldn't get the knockout he knew he needed.
Regardless of what you thought about Lombard before he entered the UFC, you shouldn't have been surprised after he fell to 1-2 in the Octagon. It's knockout or bust for the marble-cut Cuban.
Stock: Holding Steady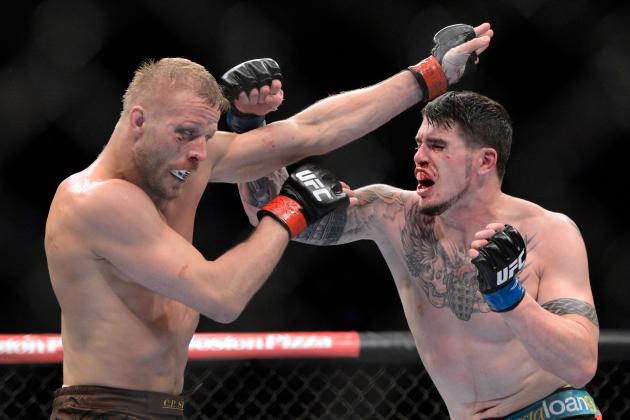 Eric Bolte-USA TODAY Sports

You really have to work hard to get booed by a Canadian crowd if you yourself are a Canadian person. But Nick Ring pulled it off at UFC 158.
Against brawler Chris Camozzi, Ring used his speed to stay out of danger, but failed to employ what I understand to be a key component of fighting: fighting.
In the end, Ring played hare to Camozzi's tortoise and fell behind as Camozzi hit his stride. He dropped a decision to become a loser in two of his last three. Suddenly, a likable, talented and promising middleweight is, at 3-2, looking very much like a career UFC journeyman.
Stock: Down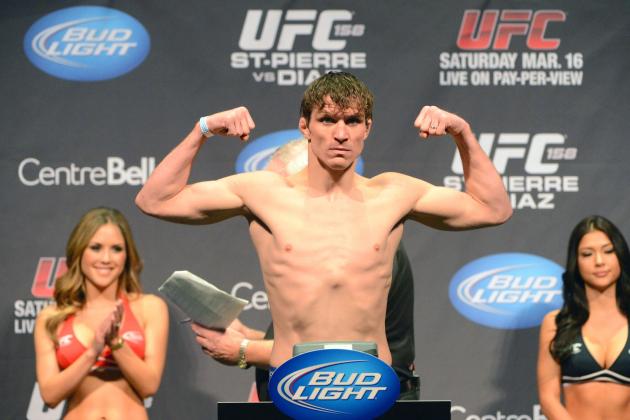 Eric Bolte-USA TODAY Sports

Perk up, Arianny. Standing before you is one of the most underrated fighters in the UFC right now.
Darren Elkins knocked out Antonio Carvalho at UFC 158 to take his fifth straight win inside the Octagon—a streak, by the way, that makes him 5-0 as a featherweight. And there aren't many cans on that shelf, either. We're talking about guys like Diego Brandao and Steven Siler.
Maybe that's why, when Clay Guida went down with injury, Elkins got the call to face Chad Mendes April 20 at UFC on Fox 7.
Stock: Up With a Bullet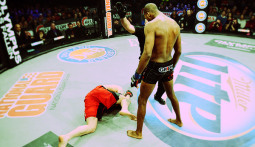 Photo credit: Spike TV
At Bellator 93, "regional veteran" Ryan Sanders came, saw and was conquered when phenom Michael Page knocked him out with a grazing punch. It must have been one heck of a graze; Sanders went down and turtled up like a four-year-old confronted with Pennywise. Feel free to resume your regional veteranship, Mr. Sanders.
Stock: Holding steady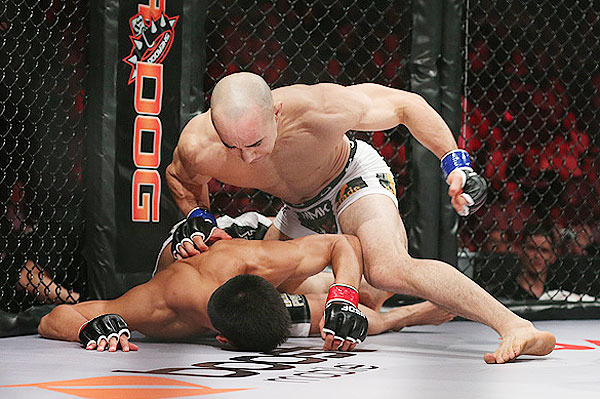 That's Tyson Nam on the bottom here. (Photo credit: Dave Mandel/Sherdog)
MMA's hardcore fan set waited anxiously for Tyson Nam to get his contract issues behind him and return to the cage. They wanted to see what he had up his sleeve for an encore after he disappeared Bellator champ Eduardo Dantas last summer.
Well, at WSOF 2, those fans got their answer. And that answer was: not much. It was a KO, first round, for your winner, Marlon Moraes.
Stock Doooooowwwwwwnnnnn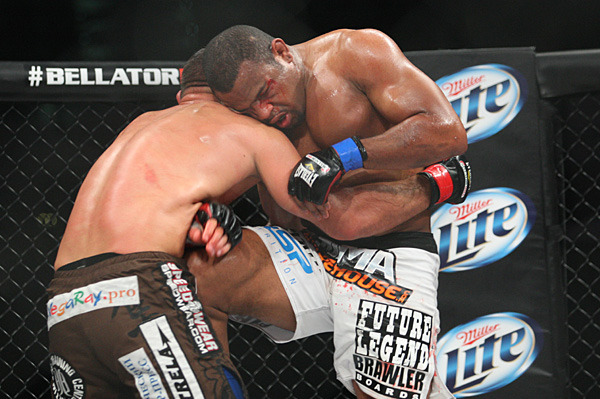 Photo credit: Keith Mills/Sherdog
His spinning-backfist KO of Muhammed Lawal is an early favorite for upset of the year. But Emanuel Newton emphatically avoided one-hit-wonder status by decisioning Mikhail Zayats at Bellator 94 to claim the promotion's Season 8 light heavyweight tournament title.
If that's not good enough for you, he also recently beat up a gang of white power scumbags.
Stock: Up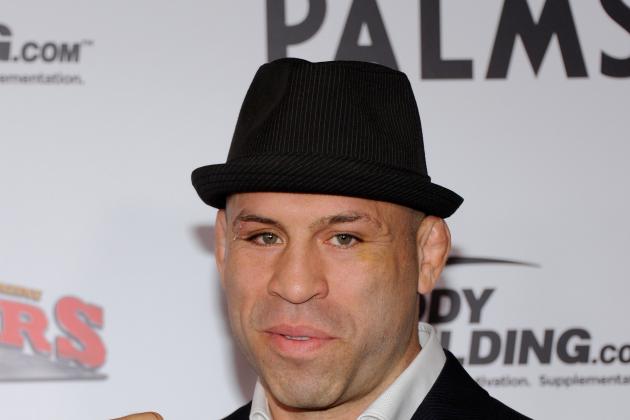 Ethan Miller/Getty Images

As an opponent, Brian Stann—hard punching, respectful, willing to brawl, not exceptionally well rounded—might be an outlier. But Wanderlei Silva was still able to take advantage, and in the very arena (Japan's Saitama Super Arena) that has seen so many of his illustrious career's highlights.
The win also silenced talk of a Wandy retirement. For better or worse, with this win Silva's in firmer control of his own professional end game.
Stock: Up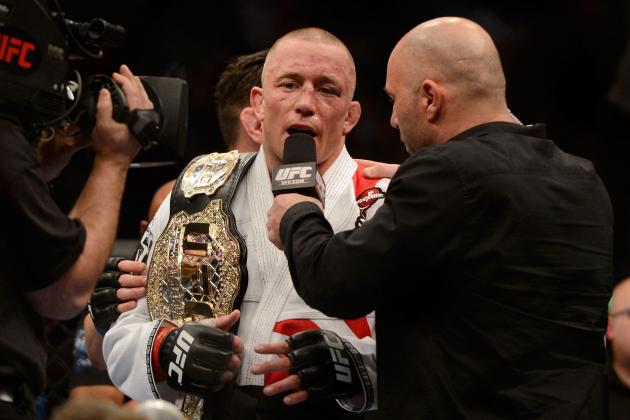 Eric Bolte-USA TODAY Sports

Another month, another business accomplishment for Georges St-Pierre, Inc. Another minimally damaging but thoroughly dominant wrestling-based victory, this one over some guy named Nick Diaz. It was another gaggle of stiff interviews and straight-faced glad-handing. On to the next one for the greatest welterweight in MMA history.
Stock: Holding Steady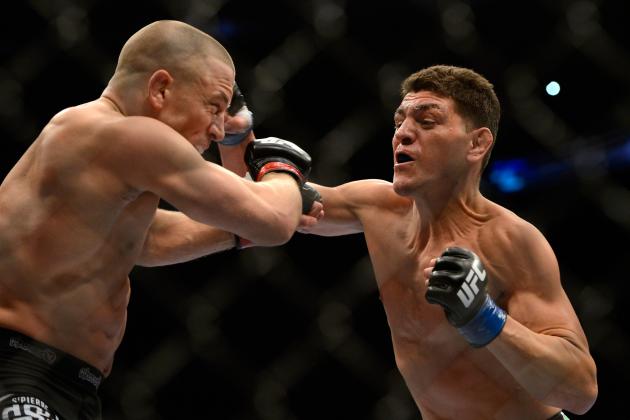 Eric Bolte-USA TODAY Sports

Nick Diaz began the month as an entertaining underdog, a savantish MMA boxer and maybe the most famous antihero in mixed martial arts history.
At the end, Diaz was a UFC title also-ran, a rampant maker of excuses and a possible income tax evader. Yeah.
Stock Waaaaaaayyyyyyy Doooooooooooowwwwwwwwwwwwnnnnnnnnn