Where Do Tennessee Titans Stand in AFC South Now?
Use your ← → (arrow) keys to browse more stories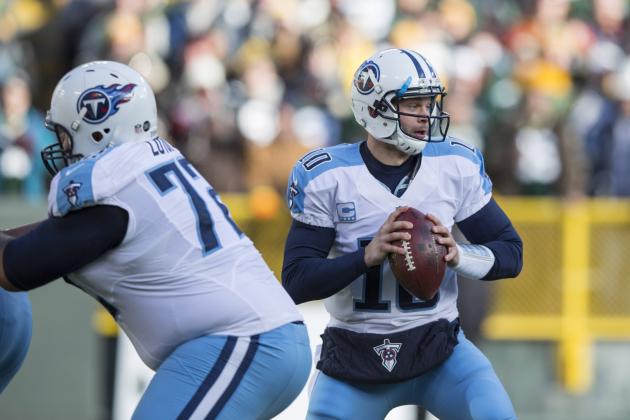 Tom Lynn/Getty Images

The AFC South was a one-sided division in 2012. The Colts won 11 games and made it to the playoffs, but no one was a threat to the Houston Texans, who rolled through all three division opponents, only losing to the Colts in the meaningless last game of the season.
After that, things were a bit more even. The Colts look much better than the Jaguars or the Titans on paper, but the divide between the three wasn't actually that great.
Still, with only six wins, the Titans ended up with a better record than the Jacksonville Jaguars, and their only division win came in one of those meetings. However, 2013 is a new year, and the Titans may be in better shape already.
The Titans have lost Jared Cook, Sen'Derrick Marks and Matt Hasselbeck in free agency and Steve Hutchinson to retirement, but have replaced them with Delanie Walker, Sammie Lee Hill and Ryan Fitzpatrick. On paper, all but Walker are upgrades.
They also picked up Shonn Greene, Bernard Pollard, George Wilson and most impressively, former Bills guard Andy Levitre. That means they've addressed both of their biggest problems from last season—interior offensive line and safety—with quality signings.
Which AFC South team has had the best offseason?
The Jaguars are on the other end of the spectrum. They upgraded Terrance Knighton with run-stuffer Roy Miller, but lost starting defensive backs Dawan Landry and Derek Cox, along with linebacker Daryl Smith and receiver Laurent Robinson.
The Jaguars have the highest draft pick in the division, but with some big losses, a quarterback labeled a bust by most and a 2012 season that saw them win two games, they seem to be looking at another year in the basement.
The Texans had a big acquisition with former Raven Ed Reed, but have lost Connor Barwin, Glover Quin and Shaun Cody and will have the last pick in the draft among the four.
The Colts lost perennial Pro Bowl pass-rusher Dwight Freeney, starting nose tackle Antonio Johnson and right tackle Winston Justice but have picked up Greg Toler, Donald Thomas, LaRon Landry and Gosder Cherilus.
Cherilus is a slight upgrade at right tackle, and Landry will be a playmaker at safety, but Toler will likely only provide depth. Thomas has never been a full-time starter.
So, as it stands in free agency right now, the Jags have possibly gotten worse, the Colts and Texans are sitting somewhere around the status quo, and the Titans have improved.
Now, at quarterback, Houston may be a little weaker than Tennessee or Indianapolis. Matt Schaub will be 32 years old before the season starts, while both Andrew Luck and Jake Locker will be entering their second years as starters.
Luck was much better than Locker in 2012, but Locker has a ton of room for growth and hopefully won't be fighting a shoulder injury next season.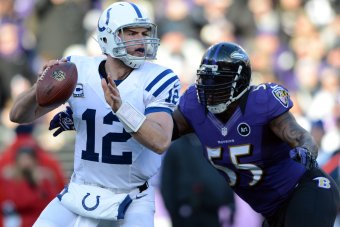 Patrick Smith/Getty Images
Still, the edge goes to Luck for now, and even though the race has tightened, the Colts are looking like they'll be competing with the Texans for the division title in 2013.
Lastly, there's the draft. One draft can do an awful lot for a football team. Just ask the 2011 Colts. They improved by nine wins after picking up Luck, T.Y. Hilton, Dwayne Allen and Vick Ballard. However, this year, the Colts only have two picks in the first three rounds, so they won't see that kind of improvement again.
The Jaguars and the Titans both have high picks, and the Titans secured an extra third-round selection as a compensatory pick, so they're the teams to watch when the draft rolls around in April.
The Texans also have an extra third-round pick, but they won't make their first pick until 27th overall.
This early on, it's impossible to predict how the draft will go, but it stands to reason that the Jaguars, having the second overall pick, will pick up the biggest impact player, and that the Colts, with their second-rounder off the table, will see the least.
Even so, right now, if I were a betting man, I'd still pick the Titans to finish third in the division. It's be a close third, but third nonetheless. Even with a good draft, they'll be fighting an uphill battle.
In the end, it all comes down to Jake Locker. If he can make a big improvement in his second year as a starter, then the Titans could compete for a playoff spot. If he struggles, then Mike Munchak may be looking for a new job.