Indiana vs. Syracuse: Hoosiers' Championship Dream Ends in Sweet 16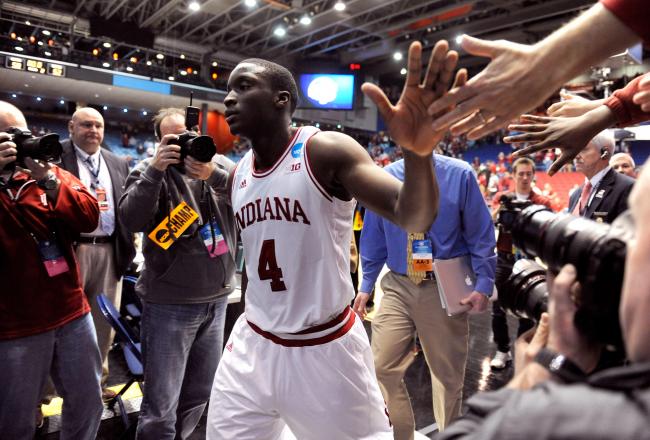 Jason Miller/Getty Images
Syracuse 61, Indiana 50 (FINAL)
There will be no banner number six in Bloomington.
The Indiana Hoosiers crashed out of the NCAA tournament in the East regional semifinals, the top seed falling to the fourth-seeded Syracuse Orange.
IU's offense, one of the most efficient in America, couldn't get out of its own way for most of the night. From 11 turnovers in the first 10 minutes to 34 percent shooting on the night, Indiana was stuck in the mud for most of the night.
Syracuse committed 15 turnovers of its own, but more than made up for them with 11 steals and 11 blocks. The Orange's length and athleticism frustrated Indiana all night.
Michael Carter-Williams led all scorers with a career-high 24, while backcourt mate Brandon Triche added 14. The two also held IU's starting guards, Jordan Hulls and Yogi Ferrell, completely scoreless on 0-of-7 shooting.
The Hoosiers were led by Victor Oladipo, who scored 16 in what may be his final college game. Cody Zeller added 10 points and nine rebounds, but shot only 3-of-10 from the floor.
Syracuse advances to play Big East rival Marquette one last time with a trip to the Final Four on the line.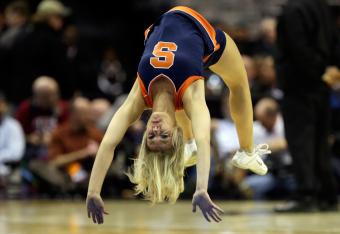 Syracuse 60, Indiana 48 (:30 2nd Half)
So, IU fans, lay it down for me: is this a failure?
Is this season just a gigantic waste of time, full of sound and fury signifying nothing, since there will be no banner number six?
Or will you remember Watford, Hulls, Oladipo (who is so going pro) and Zeller (who shouldn't, but probably will anyway) fondly in appreciation of the depths from which the program came?
Discuss.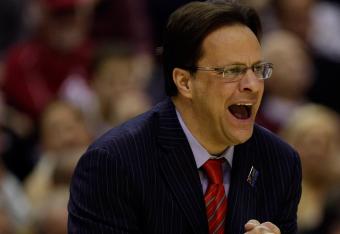 Syracuse 57, Indiana 46 (2:50 2nd Half)
Lots of dribbling from Jordan Hulls leads to nothing. Watford gets stripped and smacks it out of bounds himself. It's that kind of night.
A moment of silence, please, for the poor wretches who have to get comments from Tom Crean to file stories after this game. He may not let anyone out of the locker room until 4 AM.
Syracuse 56, Indiana 46 (3:20 2nd Half)
Finally, Watford makes a play, draining that trailing three that he loves so much.
As for the silver lining: if Cody Zeller was ever likely to come back for a junior year, it's tonight. This one will leave a sour taste. Eight points, nine rebounds, 2-of-9 shooting and a brightly exposed distaste for contact.
IU has ZERO fast break points tonight.
USA Today's Dan Wolken with a low blow for the Hoosier faithful:
At least Mike Davis won a Sweet 16 game

— Dan Wolken (@DanWolken) March 29, 2013
He does have a point, though.
Syracuse 54, Indiana 39 (6:05 2nd Half)
The Orange are calling out the swat team tonight. 11 blocks so far, just short of their season high of 14.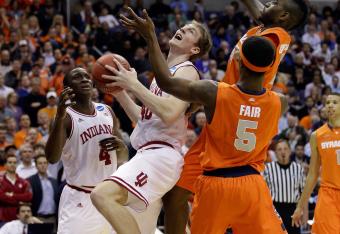 Syracuse 52, Indiana 37 (7:03 2nd Half)
Absolute domination by the Syracuse big men. While much of my comment threads will be littered with "Ermagerd, Cody got mugged all night," it looks more like he's simply bouncing off Christmas and Keita and fading away from contact, much like he did against Mbakwe at Minnesota.
About the only way IU rallies here is if Syracuse completely forgets every rule to the game of basketball.
Syracuse 48, Indiana 37 (9:20 2nd Half)
Sheehey bails out Watford, who looks like he's playing a game of hot potato, he's trying to get rid of the ball so fast.
Plays need to be made from the high post against the zone, and Watford's as qualified as anyone to make them. If he's going to be scared and passive, IU may be done. What, like Hulls or Ferrell will be able to get shots off at the elbow?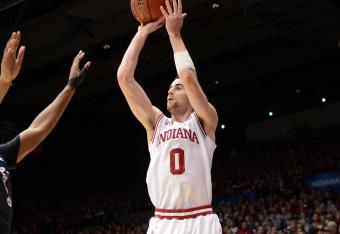 Syracuse 44, Indiana 35 (11:45 2nd Half)
The sight of Victor Oladipo frenziedly stretching behind Rachel Nichols has to be a chilling one for every IU fan watching this game.
For his part, Will Sheehey seems to be trying to singlehandedly drag Indiana back into the game with an and-one.
Syracuse 42, Indiana 32 (11:58 2nd Half)
The Orange are struggling to even dribble right now. At least twice, they've lost the ball driving to the rim in the face of minimal pressure.
Jim Boeheim might be having a Pogo moment right now, as in "I have seen the enemy and it is us." At the moment, the only team on the court that can beat Syracuse is Syracuse.
Syracuse 36, Indiana 29 (14:49 2nd Half)
The Indianapolis Star's Zak Keefer tweets what NBA scouts are likely thinking:
It's amazing to me how often Cody Zeller gets blocked.

— Zak Keefer (@zkeefer) March 29, 2013
Many IU fans are now set to stone the blasphemer's house. Every Zeller miss is usually because someone hacked his leg off with a machete, amirite?
Syracuse 36, Indiana 27 (16:09 2nd Half)
Ladies and gentlemen, welcome to Turnover-palooza '13. The last 90 seconds of basketball will not end up in the Smithsonian.
Unless, of course, an exhibit opens entitled "How the 2013 NCAA Tournament Killed Basketball." Then, it'll be played on an endless loop until a high court shuts it down citing obscenity laws.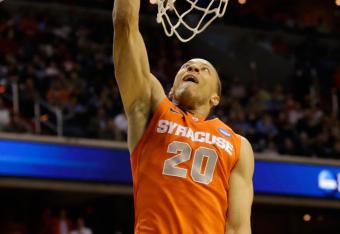 Syracuse 36, Indiana 27 (17:00 2nd Half)
IU dodging a bullet, as the Orange botch a chance to score off a turnover. Hulls passing over MCW isn't usually going to end well.
Brandon Triche bringing the ball up on offense, and it works as he gets to the rack at will.
And could anyone else really go for a summer shandy right now, or just me?
Syracuse 34, Indiana 27 (18:32 2nd Half)
Quick start to the second half for the Hoosiers, and an MCW turnover helps throw some fuel on the fire.
Still struggling at the line, as Will Sheehey splits a pair, but he'll be essential the rest of the way.
Syracuse 34, Indiana 24 (19:00 2nd Half)
Odd that Yogi Ferrell starts the second half on the bench in favor of Will Sheehey. First time all season Ferrell hasn't started a half.
Finally, the first half turnover percentage for IU is a whopping 35.3. The worst in any game this season was 27.3...in the second win over Penn State. (First game was 25.4 percent. Weird.)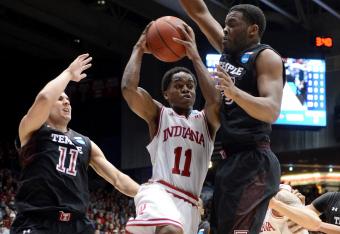 Those first six minutes against James Madison seem like a lifetime ago for Yogi Ferrell right now. His first half tonight: 0 points, 0 assists, 4 turnovers.
Up to 94 minutes since then, and Yogi's produced all of two points.
Stat of the half: Syracuse w/ 12 points off 12 IU turnovers.
At one point, IU was down 18. The largest deficit the Hoosiers have overcome this year was 11 in the finale at Michigan.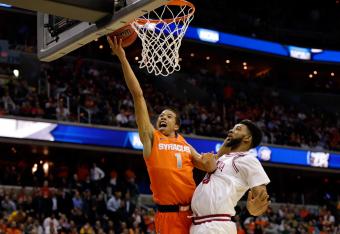 For the second half, Oladipo will need to spend a lot of his time bodying up on Michael Carter-Williams. It's way too easy for him to look over the top of Yogi Ferrell and Jordan Hulls.
For their parts, Ferrell and Hulls may have to gamble more and try to jump passing lanes. If Oladipo can put as much heat on MCW as he did on that final Syracuse possession, the Orange point guard will throw up some ducks that can be easily intercepted.
If it comes to it, Hulls may need to be a spectator for the second half. He's scoreless, and if his shot isn't falling, he's a liability in a matchup like this.
It's okay, kids. Don't cry. Uncle Terry has a reassuring note for you:
Need a silver lining Indiana fans? Syracuse led Louisville at halftime of the Big East Final 35-22. Louisville won by 17.

— Terry Hutchens (@indystar_hutch) March 29, 2013
Syracuse 34, Indiana 22 (Halftime)
Oladipo stays firmly on MCW's hip, forcing some ugly passes and an embarrassing dribble out of bounds by Brandon Triche.
The Hoosiers actually have the rebounding advantage, 16-14, and the turnovers smoothed out after those first 10 minutes. IU actually didn't seem to have one in the final eight minutes or so.
Syracuse's seven steals are disturbing, as is Michael Carter-Williams hitting two of three from deep. IU fans can hope that he feels himself a bit too much in the second half and starts chucking indiscriminately.
Only seven field goals for the Hoosiers, but they've made 7-of-12 from the line.
Syracuse 31, Indiana 17 (2:09 1st Half)
Cody Zeller with an "I'm mad as hell and I'm not going to take it anymore" moment, undercutting Baye Keita, who lands with a vicious faceplant. But, not before the foul is called on James Southerland and Zeller heads back to the line.
Him making two is the best news IU has gotten this half.
Syracuse 29, Indiana 15 (2:42 1st Half)
Jeff Rabjohns lets us know that IU's All-Americans are at least getting something done:
Victor Oladipo hits the deck hard, will head to FT line. VO and Cody Zeller 4-7 FGs combined, rest of Indiana 1-10. IU down 29-13.

— Jeff Rabjohns (@JeffRabjohns) March 29, 2013
The other two members of the Indiana backcourt, not so much:
Syracuse guards Triche, Carter-Williams a combined 18 points. IU guards Hulls, Ferrell have yet to score.

— Jeff Rabjohns (@JeffRabjohns) March 29, 2013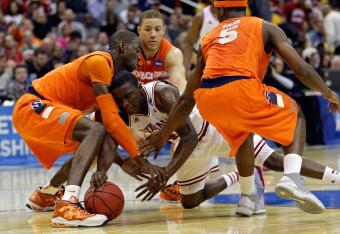 Syracuse 29, Indiana 13 (3:00 1st Half)
Brandon Triche gives up a basket to Oladipo by gambling too hard for a steal.
Jerami Grant makes sure he's not giving up a thing to Oladipo and brings him down hard. Foul called, IU fans are undoubtedly yelling for ejection, and Watford gets a lesson in how you stop a guy from making a layup.
Syracuse 27, Indiana 11 (4:00 1st Half)
This is the Syracuse that started the season 18-1. They're making a good offensive team look totally lost.
In addition, this is one of the few teams that likes the transition game even better than IU does.
Meanwhile, no argument on the call that sends Zeller to the line. That was a clothesline. Now, if only Cody was obliging and hitting his free throws, eh?
Syracuse 22, Indiana 9 (6:25 1st Half)
As I mentioned earlier, Triche and MCW are the keys for the Orange. The Post-Standard has the numbers:
Syracuse's starting backcourt is 7-for-12 right now.15 of SU's 20 points.

— Syracuse Basketball (@PSBasketball) March 29, 2013
This article is
What is the duplicate article?
Why is this article offensive?
Where is this article plagiarized from?
Why is this article poorly edited?

Indiana Hoosiers Basketball: Like this team?