Arizona vs. Ohio State: Score, Twitter Reaction, Postgame Recap, and Analysis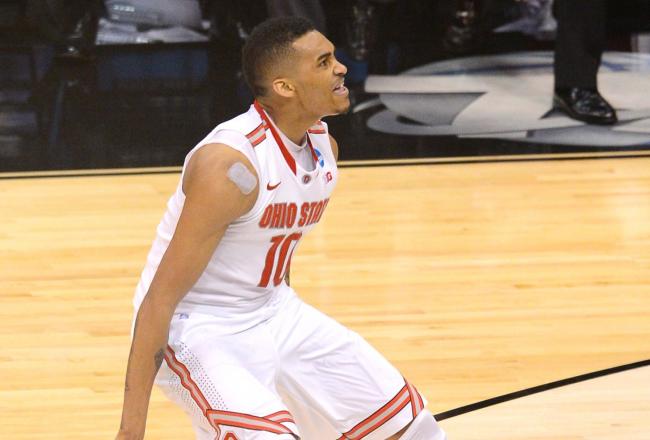 No. 2 seed Ohio State dealt with a tough No. 6 seed Arizona in their Sweet 16 matchup Thursday night, and the Buckeyes pulled out a thrilling 73-70 victory that will push them through to the Elite Eight.
Arizona senior guard Mark Lyons was able to tie the game after getting fouled on a layup and converting a free throw with under a minute to play. However, Ohio State's LaQuinton Ross nailed a deep three-pointer with 2.1 seconds on the clock to give the Buckeyes a victory.
Deshaun Thomas predictably paced Ohio State's scoring effort and finished with 20 points. But in this game, he had help on offense, with Aaron Craft, Sam Thompson and Ross all having double-digit scoring nights.
Lyons led the 'Cats with 23 points and Solomon Hill contributed 16 points on 7-of-11 shooting.
The Wildcats were the better team in the first half, and Nick Johnson's athleticism wreaked havoc on the Buckeyes. The sophomore guard had four rebounds, two steals and a block in the first 20 minutes.
Sean Miller's team likely would have pulled away if not for a fantastic scoring effort from Thomas. The junior forward had 16 of the Buckeyes' 34 first-half points and his effort helped cut an 11-point deficit down to four at the break.
When the second half started, the Buckeyes continued their roll. Craft was back on the floor after spending much of the opening 20 minutes on the bench due to foul trouble, and he brought balance and stability to the team's offense.
The Buckeyes looked as if they would pull away midway through the half, but Arizona senior forward Solomon Hill refused to go down without a fight. Hill scored nine consecutive points to pull his team back within striking distance.
Lyons' layup completed the comeback, but it was all in vain as Ross finished off an incredible second half with his game-winning shot.
Twitter Reaction
With both schools having multiple alumni playing in the NBA, there were certainly a few professionals taking interest in this matchup. Minnesota Timberwolves forward and former Wildcat star Derrick Williams liked what he saw early in the contest:
My boys looking good so far in this sweet 16 game !

— Derrick Williams (@RealDwill7) March 28, 2013
Having experienced guards is always key to success in March, and Sports Illustrated's Stewart Mandel noted the immediate impact of Ohio State junior Aaron Craft leaving the game due to foul trouble:
As soon as Craft goes out, OSU turns it over on consecutive possessions, second leading to a Nick Johnson dunk.

— Stewart Mandel (@slmandel) March 29, 2013
Bleacher Report's Jonathan Wasserman was also impressed with Arizona. But he paid specific attention to Nick Johnson, noting the guard's future is very bright:
Nick Johnson looks like a big-time breakout candidate next year. Great athlete, skilled scorer. No more Lyons, Parrom, Hill to steal touches

— Jonathan Wasserman (@NBADraftWass) March 29, 2013
CBS Sports' Jeff Borzello decided to give credit to Deshaun Thomas' quality first half, but noted that the lack of help from his Ohio State teammates was concerning:
It's way way too early for Ohio State to play Hero Ball with Deshaun Thomas. Who will step up? (Question copy and pasted from several games)

— Jeff Borzello (@jeffborzello) March 29, 2013
Fox Sports Arizona's Jack McGruder took note of how OSU responded to a double-digit deficit:
#arizonaState Ohio State on 28-9 run from UA's 33-22 lead after Parrom's two free throws with 6 1/2 left in first half

— Jack Magruder (@JackMagruder) March 29, 2013
Pac-12 Digital's Bryan Fischer made good use of the exclamation point when Mark Lyons tied the game:
Lyons! And-one!

— Bryan Fischer (@BryanDFischer) March 29, 2013
With Ohio State hitting a game-winning three-pointer in the final seconds for the second game in a row, Yahoo! Sports' Pat Forde felt real words didn't do the victory justice and decided to make one up instead:
LaQuinton Ross: huge talent whose progression has been key to Buckeyes' run. Kudos to Craft for giving it up, kudos to Ross for clutchitude

— Pat Forde (@YahooForde) March 29, 2013
Link to Printable PDF
Link to Live Bracket
LaQuinton Ross: huge talent whose progression has been key to Buckeyes' run. Kudos to Craft for giving it up, kudos to Ross for clutchitude

— Pat Forde (@YahooForde) March 29, 2013
Follow all the exciting NCAA Tournament action with March Madness Live
This article is
What is the duplicate article?
Why is this article offensive?
Where is this article plagiarized from?
Why is this article poorly edited?