The third-seeded Marquette Golden Eagles will advance to the Elite Eight after a thorough trouncing of the second-seeded Miami Hurricanes at the Verizon Center in Washington,th D.C., Thursday night.
With a 71-61 victory, Marquette will take on the winner of the Indiana-Syracuse game for the right to represent the East region in the Final Four.
" frameborder="0" width="620" height="430">
Marquette wasted no time jumping out in front. With a hot start from the offensive end and a frigid start for Miami, the Golden Eagles had built an eight-point lead before eight minutes of this game had passed.
From that point on, Miami would not get any closer than seven points.
With a combination of good defense by Marquette and terrible shooting from Miami, it took over 10 minutes of game play before the Hurricanes had totaled more than five points.
The Hurricanes couldn't hit the broad side of a barn if they fell out of a boat (or however that saying goes). My point is, Miami needed the hoop to be court-sized if it wanted its wild shots to drop with any regularity.
The first half ended with Marquette leading 29-16, which signaled the lowest scoring first half of the year for Miami. The Hurricanes went just 6-of-28 from the floor before intermission, which included going 1-of-12 from beyond the arc. At least you can't fault Miami for their bricks forcing them into getting gun-shy.
Meanwhile, while Miami was struggling to shoot, it was getting owned in the paint. The Hurricanes held their own in the rebounding department, but were outscored by 10 points in the paint in the first half.
While some of this was undoubtedly due to Miami playing without massive, but injured, center Reggie Johnson, let's not get carried away here: His presence would not have made that big of an impact.
Marquette's Vander Blue helped set the tone for Marquette as he had a dynamic first half with a couple of high-flying dunks and eight points.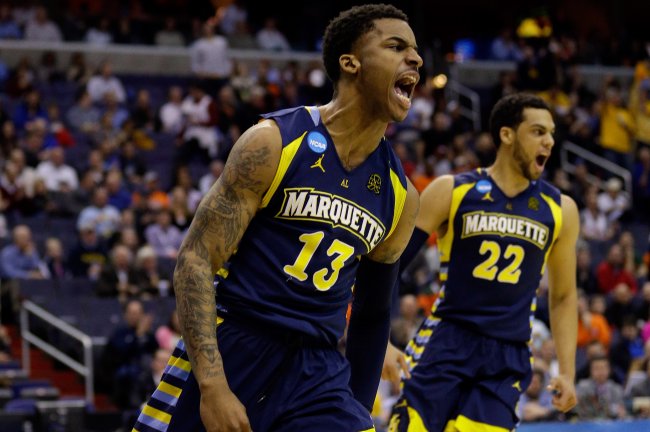 Rob Carr/Getty Images
He ended the game with 14 points on 7-of-12 shooting from the field.
If Miami was going to make this a game, it needed to come out and hit some shots early in the second half. However, the second began much like the first, with Shane Larkin opening up the second half by launching a three and bricking it.
Marquette continued to plug away, and with five minutes gone in the second frame, the Golden Eagles had opened up an 18-point lead.
Miami eventually made a bit of a run midway through the frame and closed the gap to 14, but it was not meant to be. Its shooting woes continued. The Hurricanes finished just 22-of-62 (35.5 percent) from the field.
The Hurricanes will be going home and Marquette will be moving on.
Twitter Reaction
ESPN's Dick Vitale summed up the first half well with this tweet:
Miami had a horrible 1st half on offense - Marquette with a terrific defensiveplan. - Wow 16 points with 3 ball & shot clock

— Dick Vitale (@DickieV) March 29, 2013
This fan tweeted about the Miami band syncing up their music selection with Miami's offensive strategy:
Miami band playing "Livin' on a Prayer". It's an apt description of their shooting strategy right now. #straightchuckin

— Alyse Kraus (@alysekraus) March 28, 2013
Peegs.com's Jeff Rabjohns added some stats to point out the Hurricanes' early shooting woes:
Marquette playing a terrific defensive first half, up 29-16, holding Miami to .593 points per possession, 24.1 effective FG%.

— Jeff Rabjohns (@JeffRabjohns) March 29, 2013
CBS Sports' Jeff Goodman tweeted during Miami's little second-half spurt:
Marquette has simply been the tougher, more aggressive team. Miami cuts it to 14. We'll see if Canes can make this a game.

— Jeff Goodman (@GoodmanCBS) March 29, 2013
However, Miami could do little with that momentum, as Marquette continued to be the more aggressive, tougher team on the night.
Link to Printable PDF
Link to Live Bracket