2013 NFL Mock Draft: What Every Team Should Do in the 1st Round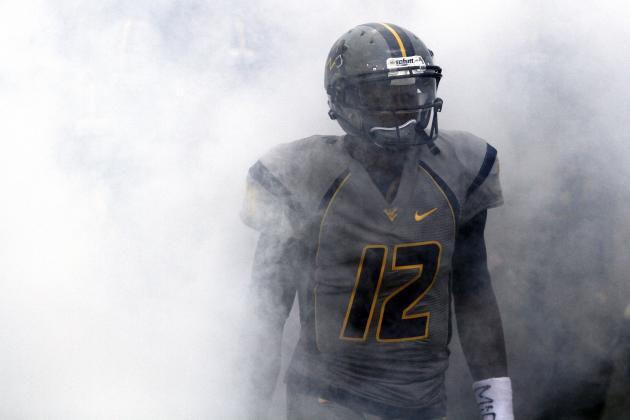 Justin K. Aller/Getty Images

This isn't a typical mock draft. Most mock drafts focus on who will go where—what teams will do. Here, I look at what I would do.
How this goes depends entirely on the writer's own personal rankings and evaluations. This is entirely subjective.
In other words, every pick here is based on how I view the player, the team's needs and scheme fits. No doubt, the actual 2013 NFL draft will go much differently.
But if I were the general manager of each team, this is what would happen.
Begin Slideshow

»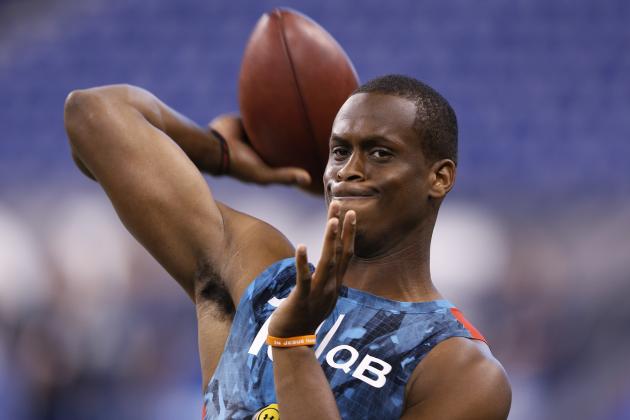 Joe Robbins/Getty Images

This isn't exactly a ringing endorsement for Alex Smith.
The former 49er isn't a long-term option at quarterback. He is a fill-in, a stop-gap. He isn't going to lead the Chiefs to the Super Bowl.
I wouldn't have made the trade for him in the first place, but that's in the past. It's a sunk cost.
Kansas City needs a viable franchise quarterback. Geno Smith can be that guy. The West Virginia star is a talented passer with intelligence and an outstanding work ethic.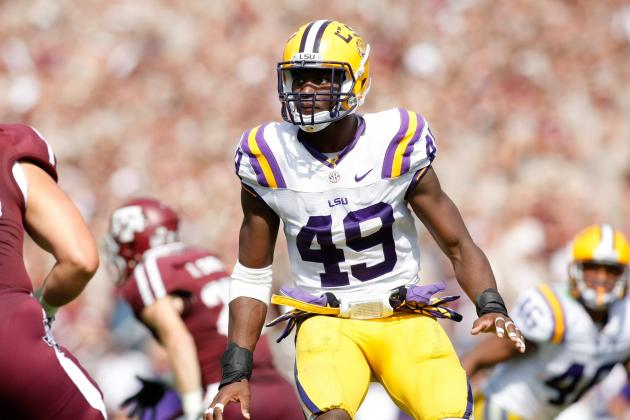 Brett Davis-USA TODAY Sports

If Jacksonville doesn't draft Geno Smith, the team will probably look to address its pass rush. That's where Barkevious Mingo comes in.
The 6'4", 241-pound Mingo is a perfect fit as Gus Bradley's leo. Mingo is the most explosive edge-rusher in the draft, and his repertoire of moves and constant motor make him even more dangerous.
In the NFL, Mingo could—as ridiculous as it sounds—be a 20-sack player. That's something any team would want.
Oakland could afford to add either a defensive tackle or defensive end here. However, after losing Desmond Bryant to the Browns, the Raiders need an athletic interior lineman who can split out and move around the line.
Sharrif Floyd is the epitome of a defensive lineman who can move around. He can split out wide as a defensive end or stay along the interior. Either way, he will make an impact.
Floyd's explosiveness, quickness and hand movement make him an immediate impact player with serious upside. He could be a day-one starter for the Raiders.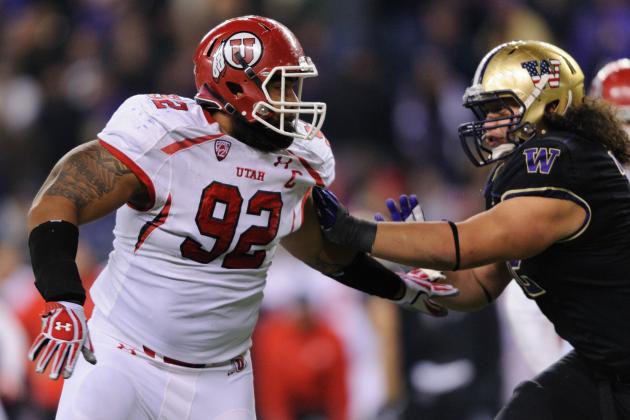 Steven Bisig-USA TODAY Sports

Philadelphia can go one of two ways here: defensive line or cornerback.
The team could easily justify going either position, but Star Lotulelei is the better value compared to Dee Milliner at cornerback.
The 6'3", 320-pound Lotulelei could play nose tackle or defensive end for the Eagles, but he would probably work from the 5-tech position. With Fletcher Cox on the other end, Philadelphia could have an incredible combination.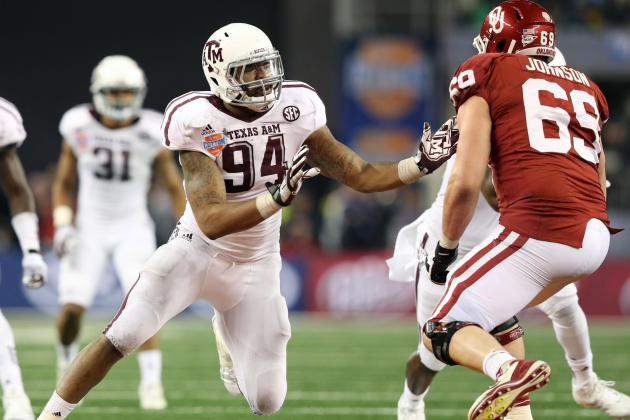 USA TODAY Sports

With Jeff Backus retiring and Gosder Cherilus departing for Indianapolis, Detroit has a desperate need at offensive tackle. Most would have Luke Joeckel as the top offensive tackle, but that's not what this is about.
Lane Johnson is an unbelievable athlete with superb length. The 6'6", 302-pounder ran a 4.72 in the 40-yard dash and has more than enough pop.
Johnson's athleticism makes him a potentially-elite pass-blocker, but it's also a huge asset in the run game, as it allows Johnson to get to the second level and pick up blockers.
Detroit also needs a defensive end, and Ezekiel Ansah is a tempting option here, but offensive tackle is too big of a hole to ignore.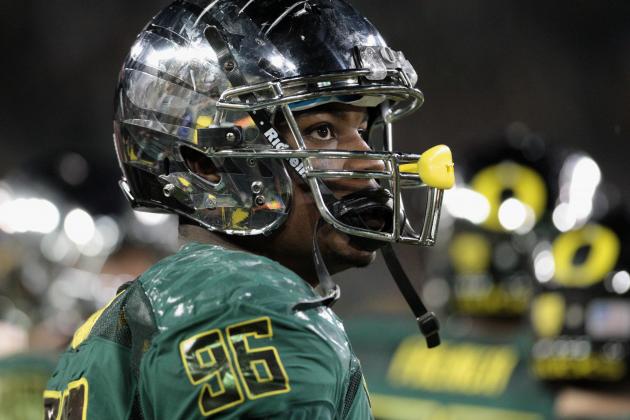 Scott Olmos-USA TODAY Sports

Right now, Cleveland's biggest hole is at cornerback. Often, though, simply drafting for the biggest need isn't the best way for a team to go.
Dion Jordan also addresses a need. In Ray Horton's scheme, it is important to have players who can move around and do different things. Right now, Cleveland doesn't really have anyone who fits that bill.
Dion Jordan, however, is the epitome of a player who can move around. At 6'6", 248 pounds, Jordan is an incredible athlete who is so gifted in coverage that he lined up at cornerback for Oregon.
Jordan is also a dynamic pass-rusher who would give Cleveland flexibility in using him, Paul Kruger and Jabaal Sheard.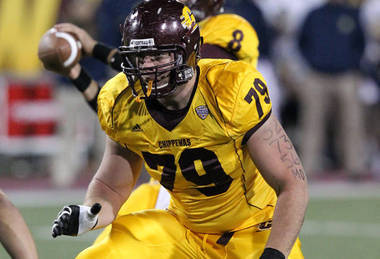 This is a pick long overdue. Arizona's offensive line has been dreadful for years, yet the team hasn't invested a top draft pick in the unit since drafting Levi Brown in 2007.
Eric Fisher is a big, athletic lineman with huge upside. He played against lesser competition than other top tackles did, but his talent is undeniable.
If Geno Smith is available here, he is the guy. If the Cardinals don't go quarterback, though, they have to go with an offensive lineman. Fisher is the best available.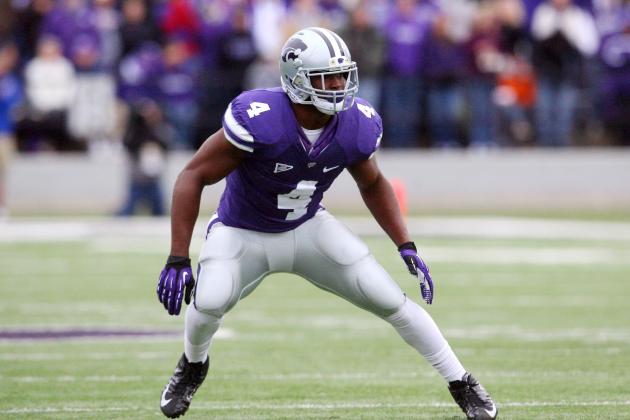 Scott Sewell-USA TODAY Sports

The Bills could afford to add talent at a number of positions, but there aren't really any spots in desperate need of immediate help. So, they might as well go best player available.
That is Arthur Brown.
At 236 pounds, Brown has just-decent size, but his athleticism stands out. The Kansas State product explodes through the line of scrimmage, while also exercising great discipline. Brown's ability in coverage is also excellent.
It's difficult to find a weakness in Brown's game, and whether the Bills run a 4-3 or 3-4, he could make a huge impact.
The Jets are often linked to a pass-rusher here, and for good reason: they need one. Ezekiel Ansah is exactly the type of talent that could allure Rex Ryan into spending a top-10 pick on him.
At 6'5", 271 pounds, Ansah is big, strong and physical. However, he also adds great burst and athleticism, making him incredibly versatile. At BYU, Ansah played everywhere from nose tackle to linebacker.
Ansah would immediately be a strong run-defender, and his sheer physical ability makes him an intriguing developmental pass-rusher. With time, Ansah could put up double-digit sacks.
New York could also look to add a playmaker on offense here, as the cupboard is pretty well bare. Either Tavon Austin or Cordarrelle Patterson would be a good fit.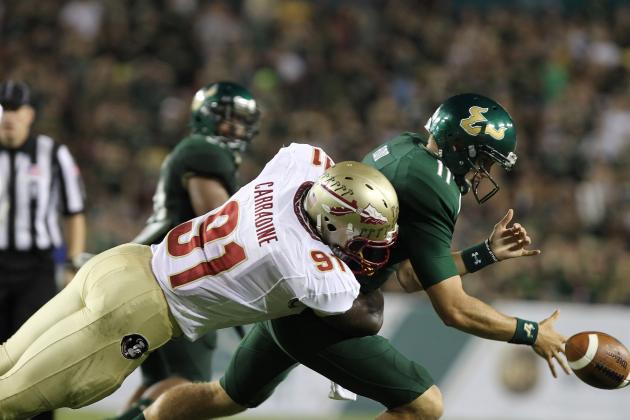 Kim Klement-USA TODAY Sports

Despite adding Kamerion Wimbley a year ago, the Titans still need a defensive end. Fortunately, the best defensive end in the draft is still on the board.
The only reason Cornellius Carradine is an option here is the torn ACL he suffered in November. If not for that injury, he's a possible top-five pick.
Carradine is a big defensive end with power, savvy and closing speed. He is the complete package at defensive end, and if he's healthy, would start immediately for the Titans.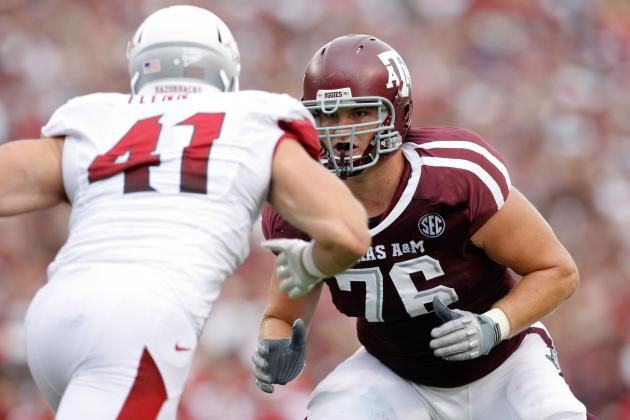 Brett Davis-USA TODAY Sports

This is probably the dream scenario for the Chargers. They desperately need an offensive tackle, and the player who is probably No. 1 on their board falls to them.
Luke Joeckel may not have the upside of Lane Johnson or Eric Fisher, but he is more refined and ready to play at a high level. The 6'6", 306-pounder is a good athlete, but his footwork and technique make him the likely No. 1 overall pick.
San Diego recently released Jared Gaither, and the team is pretty much without any legitimate options at tackle. This is simply a case of value matching up with need.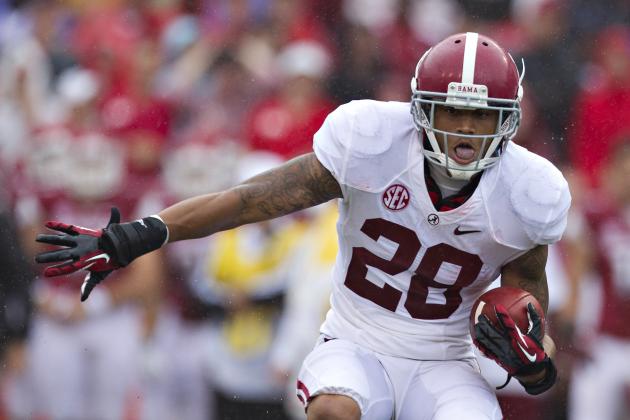 Wesley Hitt/Getty Images

With Sean Smith now a member of the Kansas City Chiefs, Miami has a desperate need for a cornerback. The team seems to be heading to more of a zone-coverage look under defensive coordinator Kevin Coyle, and Dee Milliner is a perfect fit.
Milliner possesses smooth hips, great acceleration and incredible closing speed. He's a natural in zone, as he is excellent at reading the quarterback and adjusting.
It's unlikely that Milliner falls this far, but if he does, the Dolphins would be foolish to pass on him.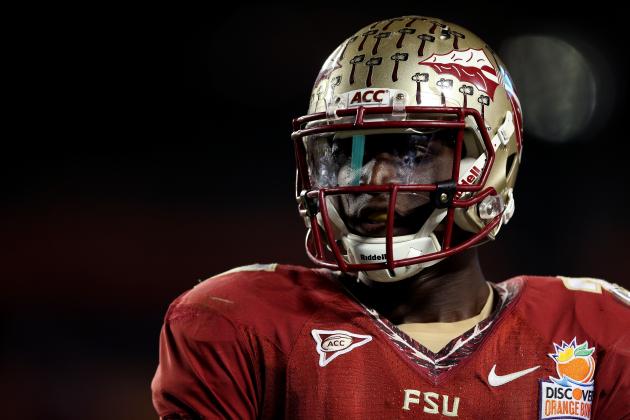 Streeter Lecka/Getty Images

Tampa Bay had the NFL's No. 32 pass defense in 2012, and thus far, the team hasn't done anything to address its dreadful cornerback situation.
Xavier Rhodes is an incredible talent. At 6'2", 210 pounds, Rhodes is big and athletic. He needs some work, but few cornerbacks offer the pure physical ability Rhodes does.
The Buccaneers could look for an offensive weapon like Tavon Austin, as well. A defensive tackle could also make sense, but Sheldon Richardson isn't a great fit next to Gerald McCoy.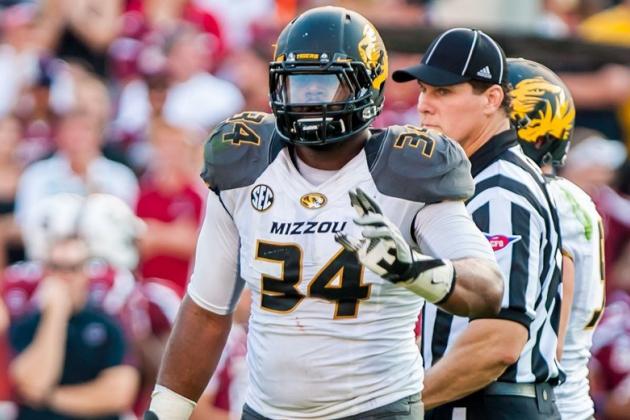 This pick makes too much sense not to happen. Carolina's defensive tackles are awful, and Sheldon Richardson is a great talent.
Richardson is such an explosive athlete that he could even split out wide for the Panthers. His biggest strength, though, is his ability to penetrate the offense from the inside and make plays in the backfield.
Though he isn't a perfect player, Richardson offers a ton of upside.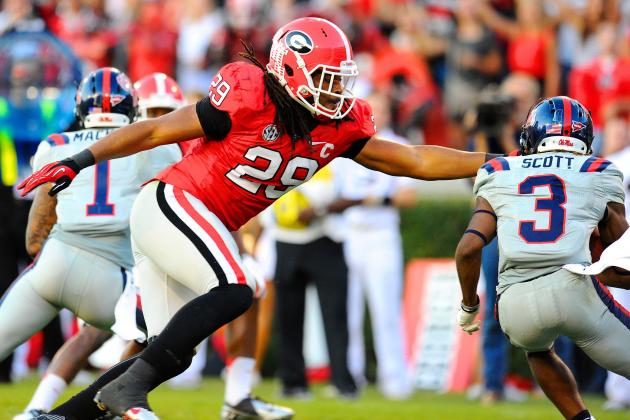 Dale Zanine-USA TODAY Sports

The Saints are transitioning to a 3-4 defense under Rob Ryan, and they desperately need some pass-rushers who can play on the outside. Jarvis Jones is a perfect fit.
Jones isn't strong against the run, but he rushes the passer with power and does a great job of utilizing leverage. He is explosive enough to catch offensive tackles off guard, and his pass-rush repertoire is excellent.
The Saints could also look at a defensive lineman if there's value on the board, and a good cornerback would also be appealing.
St. Louis made a huge step towards its offensive line by adding Jake Long in free agency. Now, the Rams can turn their attention another direction and, ideally, add more weapons for Sam Bradford.
Tavon Austin is certainly a weapon.
The 5'9", 174-pounder is fast, explosive and quick. He can play out wide, he can play from the slot and he can play running back. He can make plays from all over the field.
Austin is exactly the type of player who can change an offense, and he offers Bradford a player he can count on to make plays.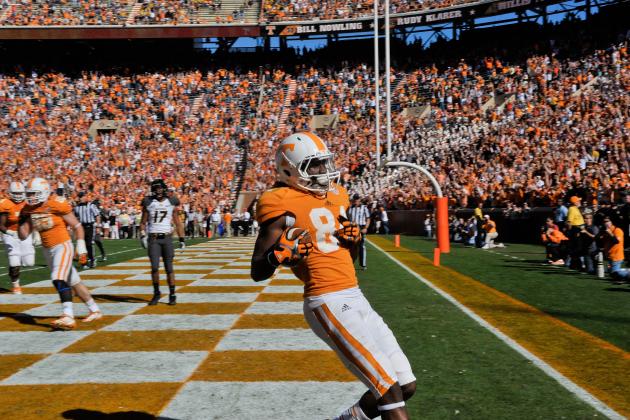 Jim Brown-USA TODAY Sports

The Steelers lost Mike Wallace and are now in need of a No. 1 wide receiver. Despite his flaws, Cordarrelle Patterson has that ability.
Patterson measures in at 6'3", 205 pounds and possesses rare ability with the ball in his hands. He can extend the field vertically, or he can pick up yards short by out-maneuvering defenders. He has the ability to do it all.
Pittsburgh could stand to add a pass-rusher to replace James Harrison, but Patterson also addresses a need and is a terrific value.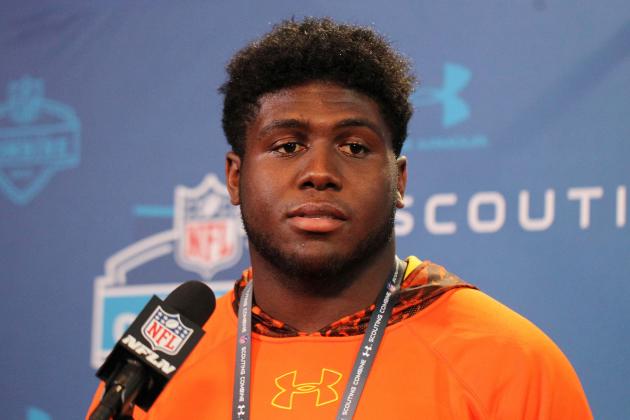 Brian Spurlock-USA TODAY Sports

This is a terrific addition for the Cowboys. Dallas' offensive line is a bit of a mess, and Chance Warmack offers an immediate upgrade.
Warmack is the rare guard who can make a legitimate impact from day one. The 6'2", 317-pounder plays with incredible power and surprising athleticism. He can overpower any defensive tackle.
The Cowboys need another star offensive lineman, and Warmack could be the NFL's best guard in just a couple of years. Cowboys fans would love him.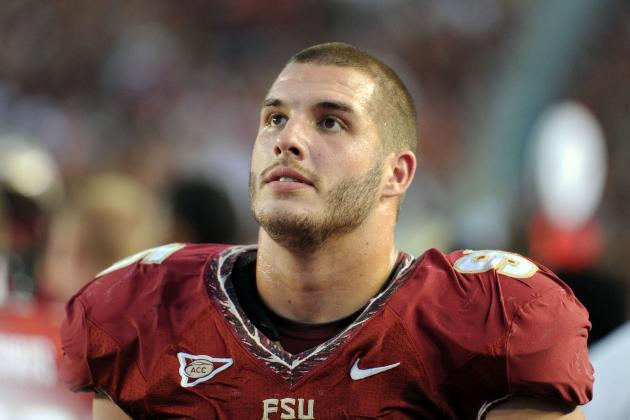 Melina Vastola-USA TODAY Sports

New York's once-dynamic defensive end unit is fading fast. Osi Umenyiora is gone, and Justin Tuck isn't nearly the player he once was.
Obviously, the Giants have Jason Pierre-Paul holding down one spot, but the team requires someone to fill the gap opposite him. Bjoern Werner is just the guy to replace Umenyiora.
Werner's first step is incredible, and he is a smooth player working the edge. However, his motor often runs cold and he needs to improve against the run.
As a pass-rusher, Werner has great upside. He just needs to develop, and the Giants happen to be great at developing their defensive ends.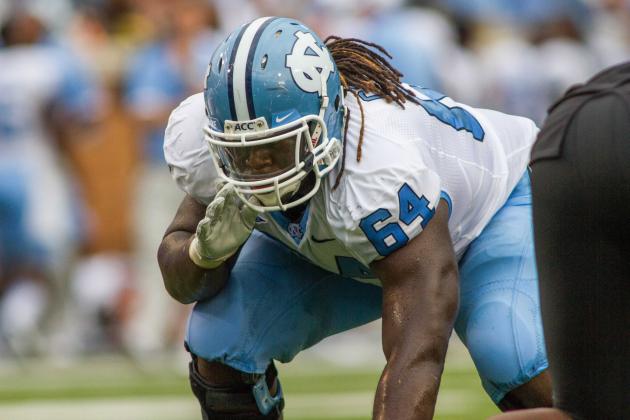 Jeremy Brevard-USA TODAY Sports

Chicago upgraded its offensive tackle situation by signing Jermon Bushrod, but the offensive line is not yet set. The Bears have had a dreadful offensive line for years, and it's time to fix that.
Jonathan Cooper isn't a power guard like Chance Warmack is, but he's much more athletic. Few guards at any level can play in the open field like Cooper can. He is simply incredible at picking up linebackers at the second level.
The Bears could also look to add a linebacker to replace Brian Urlacher. Here, though, Cooper is too good of a value to ignore.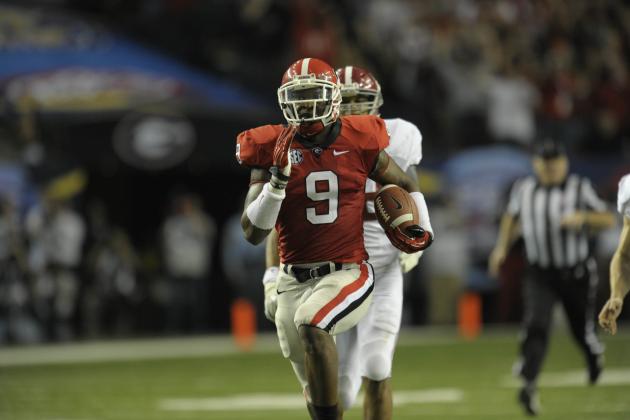 USA TODAY Sports

The Bengals are in a bit of a unique position. They aren't quite an upper-level team yet, but they can still afford to draft the best player available while ignoring need.
Drafting Alec Ogletree isn't necessarily ignoring need, but he is primarily a draft pick based on talent. Ogletree's pure physical ability is incredible, and he can both play in coverage and support the run.
Playing under Mike Zimmer, Ogletree can be a star. He's an incredible talent, and Zimmer could make the most of his abilities.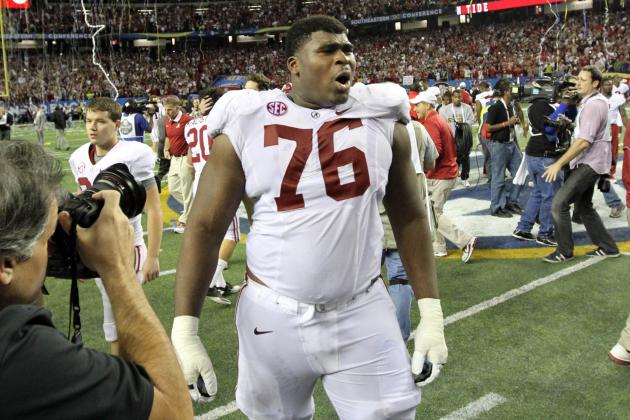 USA TODAY Sports

St. Louis has a ton of flexibility here. The team already drafted a wide receiver, and it can afford to draft the best player available—a surprising reality for the Rams.
St. Louis' offensive line still isn't great, and D.J. Fluker can play either right tackle or guard. At tackle, Fluker is probably an above-average player. At guard, though, Fluker could be one of the NFL's best.
Fluker's sheer power, length and relative athleticism could lead to him being both a presence in the run and pass game.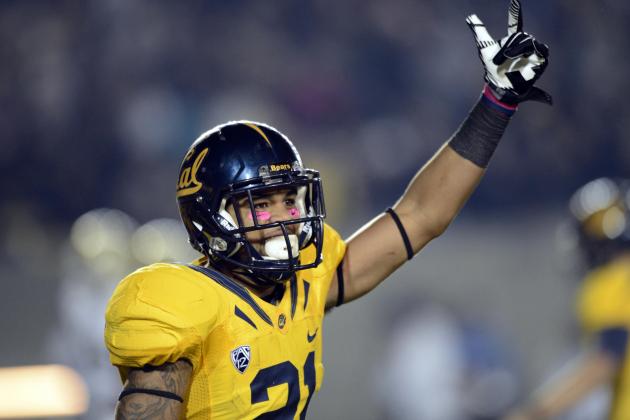 Bob Stanton-USA TODAY Sports

Even after signing Greg Jennings, Minnesota has a hole at wide receiver. Keenan Allen may not be a No. 1 wideout, but he can certainly be an excellent No. 2.
Allen isn't a great deep threat, but he can make plays on short plays and intermediate passes. Few wide receivers are better at attacking the ball and coming up with it.
Opposite Jennings, Allen can be a legitimate threat. He is a reliable receiver who has the ability to make plays. That's what Christian Ponder needs.
As Indianapolis continues its transition to the 3-4 defense, it needs to add more players in its front seven. Whether that's a defensive lineman or a linebacker isn't particularly relevant; it just needs to be someone.
Jesse Williams can play either defensive end or nose tackle for the Colts, as he offers a great combination of power and athleticism. In fact, there isn't a defensive lineman in this draft who better utilizes strength and leverage.
Williams can be Chuck Pagano's Haloti Ngata—a player who shows great power at either nose tackle or defensive end. He would definitely improve the Colts' run defense.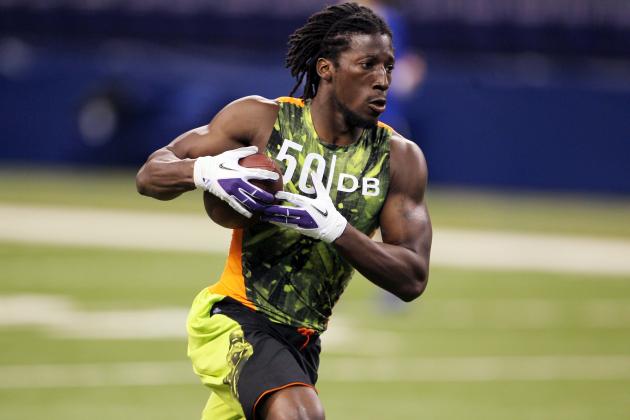 Brian Spurlock-USA TODAY Sports

Because they already addressed wide receiver, the Vikings can go with a number of positions here. One of the spots they should look at is cornerback.
After releasing Antoine Winfield, Minnesota has a need at cornerback. The team doesn't have any particularly strong starters there, and depth is a huge need.
Desmond Trufant isn't a great value here, but he's solid enough. Trufant is a great athlete with quickness and smooth hips. He needs some time to develop, though, and he's far from a sure thing.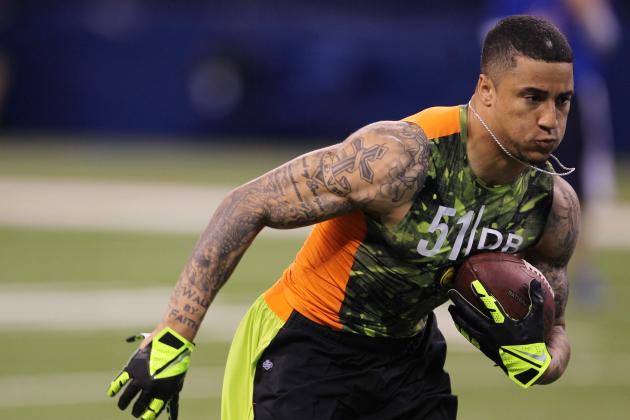 Brian Spurlock-USA TODAY Sports

The Packers defense needs some help, It could come in the front seven or the secondary. Either way, the addition would be well-welcomed.
Kenny Vaccaro won't last this long, largely because of his ability to play right away. The Texas product can cover in the slot or defend against the run, so his versatility is a valuable asset.
For Green Bay, Vaccaro would make an immediate impact. The team needs a safety who can cover, and Vaccaro can do exactly that.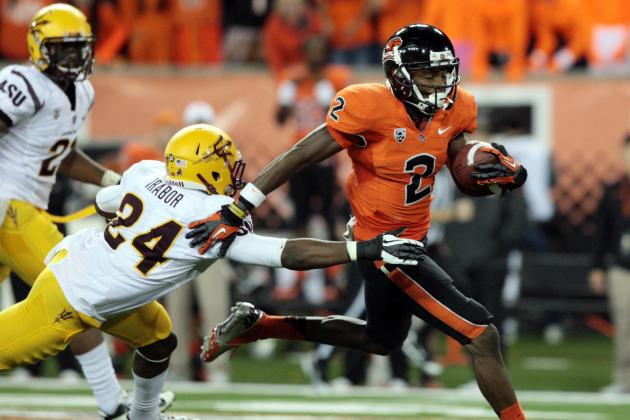 Scott Olmos-USA TODAY Sports

For several years now, the Texans have needed a second option to play opposite Andre Johnson. Thus far, they haven't found it, but they have the chance now.
Markus Wheaton might be the best deep threat in this draft. He isn't a great overall wideout, but he can outrun just about anyone, and he will catch the football.
Houston could opt for less of a playmaker and more of a complete wide receiver, and if it does, DeAndre Hopkins would be a great pick. Wheaton would add another dimension to the team's offense, though, and he could make an impact from day one.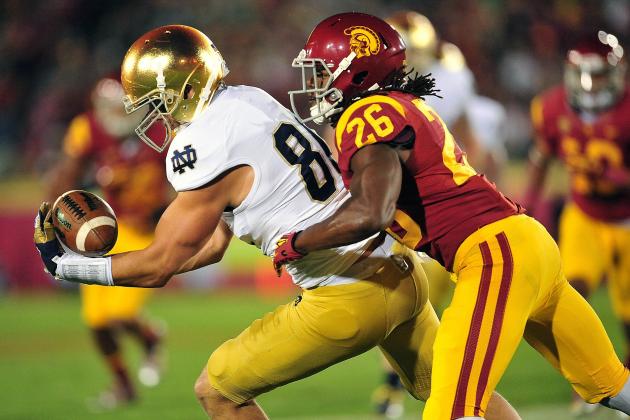 Gary A. Vasquez-USA TODAY Sports

Last offseason, Denver signed Joel Dreessen and Jacob Tamme, but neither really proved to be a great weapon. The Broncos have some offensive talent, but is another weapon ever a bad thing?
Tyler Eifert has great athletic ability to go with excellent catching ability and size. He has legitimate vertical ability and can make plays all over the field.
Though he isn't a great blocker, Eifert is a valuable offensive contributor. With him helping out Demaryius Thomas, Eric Decker and Wes Welker, the Denver offense could be even more dynamic.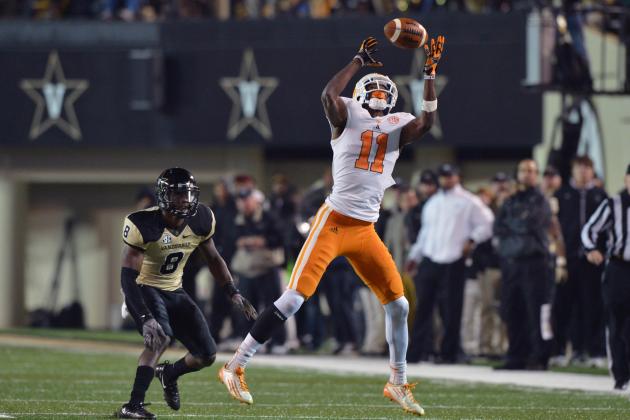 Don McPeak-USA TODAY Sports

The Patriots don't have much at wide receiver. Danny Amendola is the team's best receiver—excluding its tight ends—and he isn't really a No. 1 weapon.
Justin Hunter is raw. He needs to improve as a route-runner, and he needs to catch the ball more consistently. However, Hunter possesses a superb combination of size and speed. He has incredible upside.
New England, like always, can afford to go a number of ways here. The combination of talent and need here is alluring, though.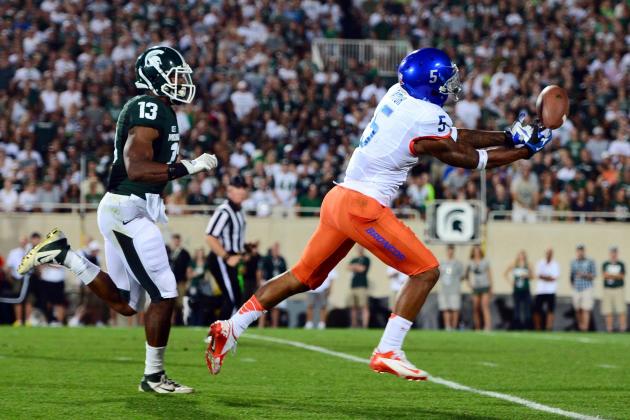 Andrew Weber-USA TODAY Sports

Brent Grimes is likely soon to be a former Falcon, and the team doesn't have much behind him. Atlanta has a few needs it could look to address, but cornerback reigns supreme.
Jamar Taylor is a talented cornerback who can play in any scheme. He could start immediately for the Falcons, though he wouldn't quite play at Grimes' level.
Atlanta would also like to add a tight end for when Tony Gonzalez retires, and a defensive end would also make sense. With who's available, though, cornerback makes the most sense.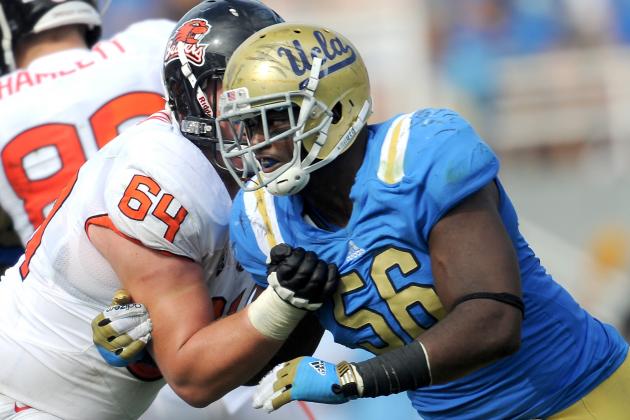 Jayne Kamin-Oncea-USA TODAY Sports

The 49ers lost two defensive linemen—Ricky Jean-Francois and Isaac Sopoaga—and need to replace them somehow. Datone Jones has the ability to be better than either of them were.
Jones is an undersized, but talented, defensive end in San Francisco's 3-4 defense. The 6'4", 280-pounder can rush the passer, and if he gains weight, can be solid against the run too.
In time, the UCLA product could be a difference-maker in every aspect of the game. He is, in many ways, the anti-Justin Smith, and the two could work really well together.
Baltimore lost its two starting inside linebackers and desperately needs to add a replacement. Ozzie Newsome doesn't typically draft for need, but he might have to here.
Kevin Minter isn't as athletic as Dannell Ellerbe is, but he is a strong run-defender who can step in and start from day one. And Minter isn't a bad value at the end of the first round either.
The Ravens could also look at a wide receiver here. Anquan Boldin is gone, and the team needs another option opposite Torrey Smith. The need at inside linebacker is too prevalent, though, and the team doesn't have much choice.