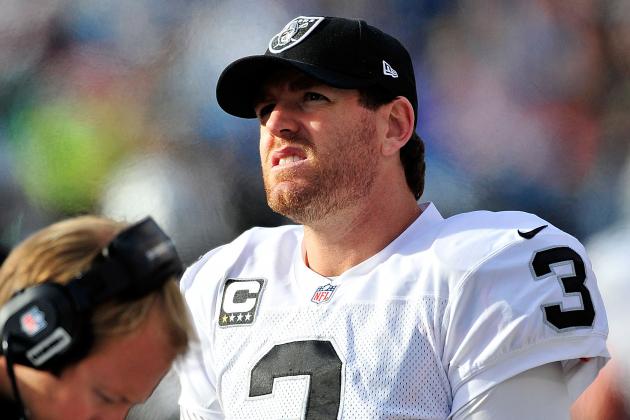 Grant Halverson/Getty Images

According to Merriam-Webster, one of the definitions of a diva is "a vain or undisciplined person who finds it difficult to work under direction or as part of a team."
Right now some NFL head coaches are nodding furiously.
There are plenty of players in the National Football League that meet this definition, whether it's through a constant thirst for attention, angering teammates, undisciplined or boneheaded play or some combination of the three.
Some players, like wide receiver Titus Young, manage to diva their way right out of the NFL altogether, but generally speaking the bigger the name and better the numbers, the more you can get away with.
For this group of knuckleheads, that means that so long as they keep producing, their antics will be tolerated.
Well, mostly, anyway, but we'll get to that later.
Begin Slideshow

»
Don't get me wrong, New England Patriots tight end Rob Gronkowski is a phenomenal football player, and arguably the best player in the NFL at his position.
However, any player who manages to be photographed that many times with no shirt on has a little bit of diva in him.
Whether it's with porn star Bibi Jones, on the cover of ESPN The Magazine, or wrestling with a buddy in Las Vegas (with a cast on his arm, no less), it seems that the only thing Gronkowski likes more than a good time, is a shirtless good time.
Dude, we get it. You work out. Now put some clothes on.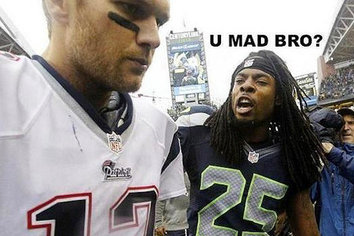 Photo Courtesy of Yahoo!
Many people consider Deion Sanders the best cornerback in NFL history.
Sanders was also an Aretha Franklin-sized diva, and it appears that Richard Sherman of the Seattle Seahawks is ready to pick up where Sanders left off.
Only Richard Sherman has Twitter.
Granted, much like Gronkowski many will argue that Sherman's feuds with New England Patriots quarterback Tom Brady and New York Jets cornerback Darrelle Revis aren't really hurting anyone, especially since Sherman backs up his mouth on the field.
But man, does he love to run that mouth.
Detroit Lions defensive tackle Ndamukong Suh is probably the biggest diva on this list.
Well, literally anyway.
Suh may be very adept at disrupting opposing offenses, but he's just as adept at racking up fines, especially on Thanksgiving.
Apparently, the big man gets testy if his turkey dinner is disrupted.
Add an appearance on a reality TV show to a reputation as one of the NFL's dirtiest players, and what do you get?
Some diva stuffing to go with that turkey dinner.
When things are going well, Philip Rivers of the San Diego Chargers can be one of the better quarterbacks in the NFL.
However, when things aren't going well, Rivers can also be one the bigger divas in the NFL.
Whether it's his teammates, the officials, coaches, fans, or his feud with fellow signal-caller Jay Cutler, Rivers has a long and storied reputation of acting like a seven-year-old when he doesn't get his way, and sometimes even when he does.
With that said, the last one obviously isn't his fault, because when in doubt, one should always...
Granted, that Twitter phenomenon was borne of an incredibly stupid question that had nothing to really do with Cutler, but there's a reason why Cutler was caught in the crossfire.
He's fired plenty of diva shots all his own.
Cutler pouted his way out of Denver (where his battles with Rivers were like a flashback to a grade-school playground), threw his offensive line under the bus last year after a loss to the Packers, and has such a wonderful relationship with the media that Denver radio host Scott Hastings once said on a national show that Cutler was "an arrogant little punk."
We won't even get into the 2011 NFC Championship Game.
Well, besides the video, that is.
We've hit the quarterback trifecta, and this is a call that will no doubt raise some eyebrows.
By no means is my contention that Denver Broncos quarterback Peyton Manning is something of a diva, meant to besmirch his character.
By all accounts he's a good teammate who has never run afoul of the law, or the NFL.
With that said, however, Peyton Manning has also appeared in approximately 16 bajillion commercials over his NFL career.
The man's on TV more during commercial breaks than during actual games.
There's more than a little diva to that.
How does one know that one has achieved diva status?
Well, when a team implements a special set of rules just for you, that's usually a hint.
Such was the case last year for Dez Bryant of the Dallas Cowboys, who spent his first two NFL seasons getting into more trouble off the field than doing damage on it.
Granted, the "Dez Bryant Rules" seemed to work last year, as Bryant had by far his best season to date.
However, when team security needs to escort you to practice, and make sure you aren't at a strip club every night, then guess what?
You're a diva, Dez.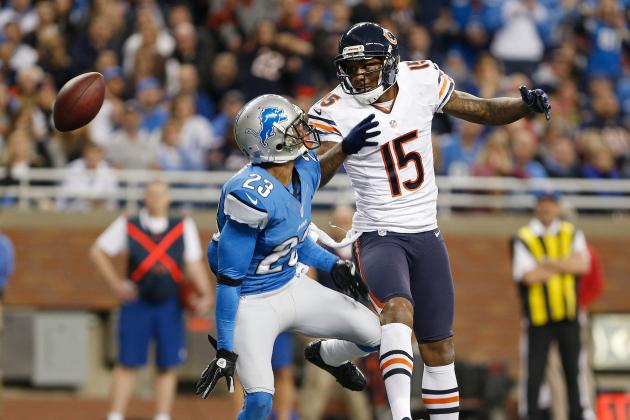 Gregory Shamus/Getty Images

Dez Bryant may well be a diva, but he has a ways to go before he can even hope to catch Brandon Marshall in that department.
Marshall, much like Bryant, stayed out of trouble for the most part in 2012, and the result was a career-high 118 receptions.
Productivity has never been the problem for Marshall, though. That's not why he's on his third team.
It might have something to do with the squabbling with teammates. And coaches. Or the multiple arrests, including ones for domestic violence and DUI.
What truly entrenched Marshall among the NFL's great divas, however, was the 2008 incident in which Marshall needed stitches after a nasty altercation.
With a McDonald's bag and a television set.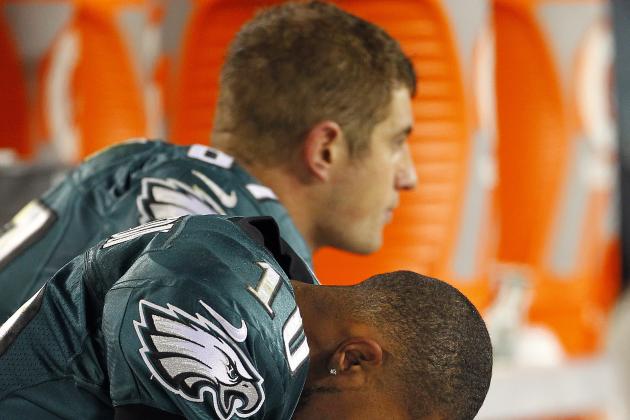 Rich Schultz/Getty Images

In the defense of Dez Bryant and Brandon Marshall, at least they are productive pains in the butt.
Over the past two years, DeSean Jackson of the Philadelphia Eagles has just been a pain in the butt.
In 2011, Jackson spent most of the year griping to anyone who would listen (and dozens of people who didn't care) about how he was underpaid and under-appreciated by the Eagles.
In March 2012, the Eagles handed Jackson a $51 million contract, and Jackson proceeded to put up fewer than 1,000 receiving yards for the second straight year.
As I said on the title slide, NFL teams will take a lot of guff from players that produce, but 2013 is a big year for Jackson.
Another iffy season, and he could wind up like...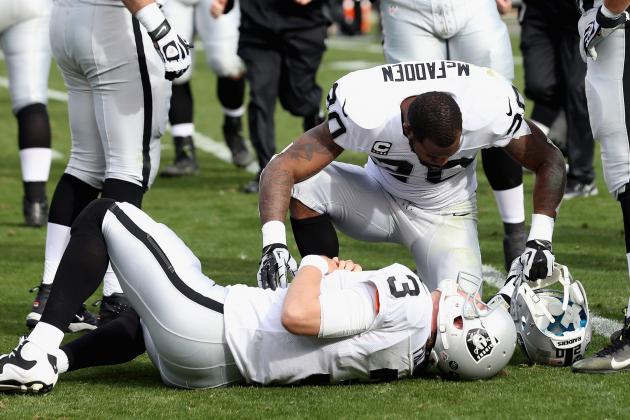 Streeter Lecka/Getty Images

This guy.
Sometimes, an aging diva expects to still be treated like a superstar even though those days have passed them by,
After the Super Bowl XLVI halftime show, this shall henceforth be known as "Madonna Syndrome."
Apparently, Carson Palmer of the Oakland Raiders has become infected, because for the second time Palmer appears headed for a messy divorce from an NFL team.
This time, according to Michael Silver of Yahoo! Sports, it's because Palmer refused to take a pay cut all the way down to $10 million for the 2013 season, because "the fans hate him" and he's been set up to fail in Oakland.
Two points:
1.) For $10 million, I will gladly fail in a manner so spectacular in its awfulness that it boggles the mind. And no, I don't mean like in this article.
HA! I beat you to the joke!
2.) Carson, it's Oakland. At this point given the state of the franchise, Raiders fans hate everything. They hate puppies. They hate sunshine. They even hate beer.
OK, so maybe they still like beer. It is the Black Hole, after all.