6 Reach Picks the Minnesota Vikings Must Avoid in the 2013 NFL Draft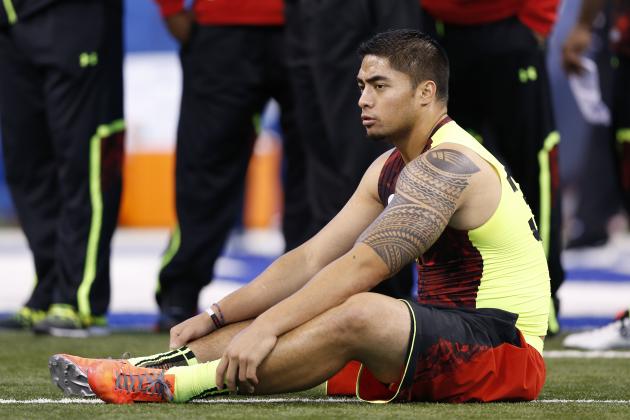 Joe Robbins/Getty Images

"With the 12th pick in the 2011 draft, the Minnesota Vikings select Christian Ponder, quarterback, Florida State."
While the script is only through two acts, there are many Viking fans who are ready to call that selection a huge reach and one that might have crippled the franchise.
It was a daring move two years ago by the Vikings, but, if nothing else, you had to credit the Vikings for going out on a limb and taking a chance.
It's now under a month until the 2013 NFL draft, and if you're reading this story, you've more than likely already perused more than your fair share of mock drafts, clicking on links ranging from Mel Kiper's guesses to those of a fat kid named Ned whom you sat next to in fifth grade.
Pro days, interview sessions and endless hours of viewing tape are happening all around the country in the lead-up to what has become a three-day spectacle of football guesswork.
And don't ever kid yourself, it's guesswork.
That's not to say that NFL teams don't do everything in their power to poke, prod and analyze prospective draft picks. It's just that the NFL game is so much more complex than college ball that even the best football minds can get it wrong when evaluating players for the next level.
Doug Martin didn't play against elite competition. Janoris Jenkins was a head case. Russell Wilson was too short. You can find holes in just about anyone's game if you look hard enough. All three of those players would have been drafted a lot higher last year if the scouts hadn't overanalyzed their traits.
In one of the strangest draft sagas in NFL history, the football world watched Vontaze Burfict go from a preseason top-10 pick to completely undrafted. Everyone was wrong too, as the rookie free agent signed on with the Cincinnati Bengals and led them with 127 tackles.
On the other hand, although it's still too early to completely write off anyone, there were several first-round picks last year (there are every year) who will fail to pan out and be written off as busts.
But damn, the guessing can be fun.
Here we take a look at six players who might be on the Minnesota Vikings radar but who we feel won't be worth the draft pick they might take them at.
Begin Slideshow

»
If you took time to sort through all the mock drafts available on the Internet, you'd find that the consensus first pick for the Vikings is wide receiver Keenan Allen out of California.
Allen is described as a "safe" pick and the one wideout in the 2013 draft who is the most "pro ready."
What you won't find is anyone calling him a special or elite talent. In what is a very good draft crop of wide receivers, the two who have separated themselves from the pack as elite talents are Cordarrelle Patterson of Tennessee and Tavon Austin from West Virginia.
After that there seems to be a group of three to seven or so wideouts who all grade out very similarly. The point being, why take Allen with the 23rd or 25th pick when you can get equal value in the second round?
If the Vikings are going to take a receiver in the first round, aren't they better off taking Justin Hunter, who, though clearly not as polished at the collegiate level, seems to have a higher ceiling than Allen? You can pull all your hair out trying to answer that question, and nobody will honestly know the answer until some time around 2015.
On the surface the only thing Allen lacks is elite speed. He has size, athletic ability, great hands and runs good routes (meaning he knows how to get open).
Just a month ago it seemed ludicrous that the Vikings would pass on picking a receiver with their first pick in this year's draft. It doesn't anymore.
Look at the receivers who've been in the news this offseason: Greg Jennings was a second-round pick. Mike Wallace lasted until the third round. Victor Cruz and Wes Welker went undrafted.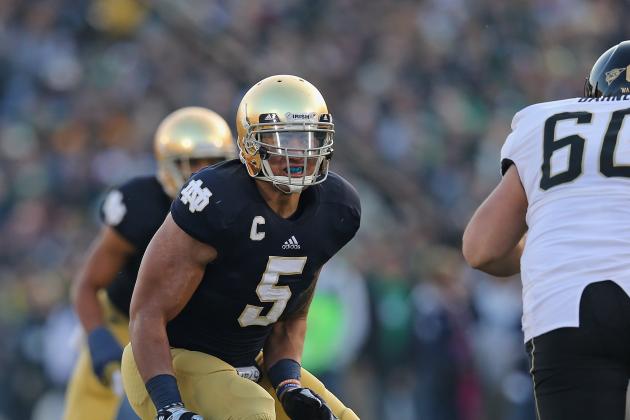 Jonathan Daniel/Getty Images

Notre Dame linebacker Manti Te'o has had one of the more interesting run-ups to the draft in recent history.
After a standout career at Notre Dame, Te'o was in the news for all the right reasons for all but one month of his college career. But that month was one that even Lindsey Lohan would describe as "out there."
An Internet girlfriend who died of cancer but never even existed? But Vontaze Burfict had problems?
Ultimately, NFL teams don't care if their middle linebacker wants to date a martian as long as he can make plays on the field. Perhaps more damning for T'eo was the national championship game against Alabama, in which he looked completely overwhelmed by everything going on around him.
Te'o followed that up with a terrible combine and has watched his draft status go from a top-five pick to perhaps being a second-rounder.
So what to make of Te'o? At 6'2", 250 pounds and the No. 1 recruit in the country coming out of high school, Te'o fit the bill every step of the way during a sterling career at Notre Dame. He plays from sideline to sideline and, until the avalanche that was the Alabama game, always seemed to come up with big plays when the Irish needed them.
The Vikings have had very good luck with Notre Dame players the last three seasons, and there is no doubt that they are getting a lot of feedback from Harrison Smith and Robert Blanton about what to make of this year's draft enigma.
Every team will have to take more than a little pause before selecting Te'o. Does he have the mental makeup to succeed in the cutthroat world that is NFL football?
Proceed with caution.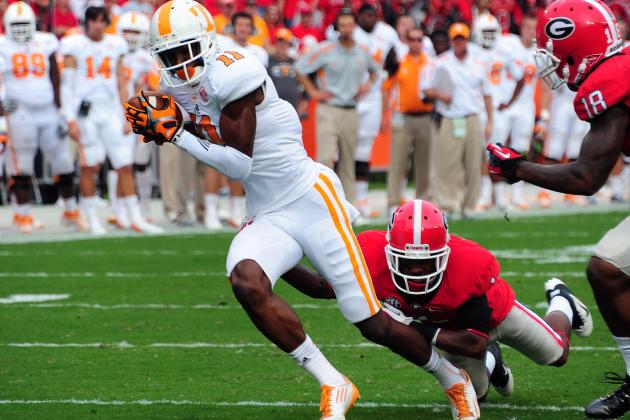 Scott Cunningham/Getty Images

The Vikings would absolutely love for Justin Hunter to be the next great receiver out of the SEC, following in the footsteps of Julio Jones and A.J. Green.
Hunter certainly looks the part, at 6'4", 205 pounds, with good speed and hands. The comparisons have to stop there, though, as Hunter wasn't nearly the college player that either Jones or Green was.
Though very productive at Tennessee (more so than his more highly regarded teammate Cordarrelle Patterson), Hunter didn't dominate in college the way Jones and Green did. One red flag on Hunter is that while he dominated against lesser competition, he tended to go quiet against the tougher competition in the SEC.
Hunter definitely has to get stronger to succeed in the NFL, and he'll have to learn how to use his length and athletic ability to go and get the ball at the pro level.
The problem for the Vikings is that while it seems Hunter might not be worth a first-round pick, it's a huge long shot for him to still be on the board when they pick in the second round. He might be the ultimate boom-or-bust player on the board.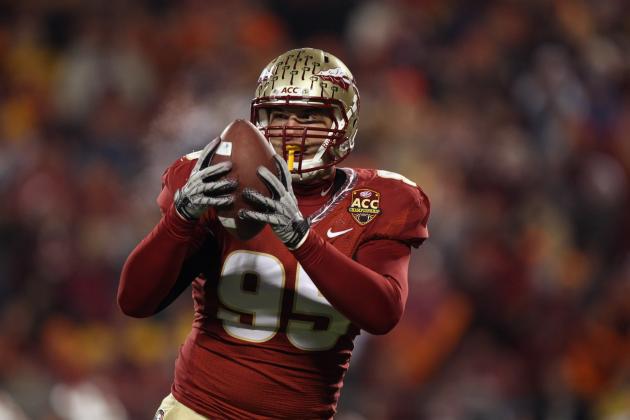 Streeter Lecka/Getty Images

ESPN draft guru Todd McShay (subscription required) has the Vikings selecting Werner with the 23rd pick in his latest mock draft. McShay mentions that Jared Allen is getting older and that the Vikings lack depth after Allen and Brian Robison.
McShay must not have watched much of Everson Griffen.
Werner was a standout at Florida State and has been rated as high as No. 1 on some draft boards during the course of last season. His stock seems to be falling as the draft approaches, but he's still clearly a first-round talent. Ezekiel Ansah, while a far less polished player, has passed Werner on almost all draft boards.
The Vikings shouldn't get anywhere near him.
A team with as many glaring holes on it as the Vikings have can't afford to get cute when drafting, and using one of their first-round choices on a position that the Vikings are solid at just doesn't make any sense.
You could make an argument if Werner was a slam-dunk player, but he just isn't.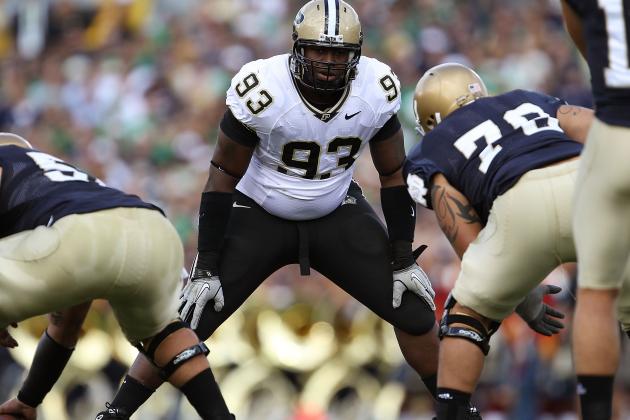 Jonathan Daniel/Getty Images

The Minnesota Vikings will be taking a defensive tackle pretty early in the 2013 draft.
It's only a matter of which one.
With Kevin Williams on his last legs and less-than-stellar production from the other tackle spot for the past two seasons, the Vikings are in desperate need for a big, strong space-eater in the middle of their defensive line.
The 2013 draft class is loaded with talented defensive tackles, so it will be a matter of who's around and at what pick when the Vikings decide which one of them to add to their roster.
At 6'3", 299 pounds, Short is perhaps a little light to be a dominant interior player in the NFL, but more worrisome is his tendency to take plays off. While most scouting reports on Short are very positive, they all tend to add a disclaimer along the lines of, "lacks a mean streak, could have a better motor."
John Randle was one of the smallest defensive tackles the Vikings ever had, but he made it to the Hall of Fame because he had a mean streak and an unparalleled motor.
Short is a hit-or-miss pick, and there are too many solid defensive tackles in this draft to gamble on him in the first round.
Rich Schultz/Getty Images

Khaseem Greene was an outstanding linebacker at Rutgers, a defender who made a ton of big plays with his speed and ferocity.
He might just be too small to make it in the NFL.
At 6'1", 230 pounds, Greene is built more like a safety than a linebacker, and he lacks the upper-body strength to take on NFL blockers. For a player who piled up impressive stats as a tackler, he has poor tackling fundamentals, something that will hurt him at the highest level. Greene is way too prone toward diving at the ankles of ball-carriers or to try to strip the ball from them before securing the tackle.
Greene has good speed, but he marginalizes that talent with slow reactions. He's not a great feel player, and that combined with his underwhelming size makes him a risk at the next level.