New Jersey's Top Ten Sports Heroes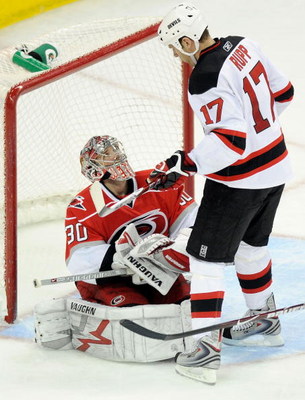 Hello you wonderful readers! I do appreciate that you've taken the time to glance at this article, even though it has the word "New Jersey" in the title.
Because it is self-explanatory, I don't need to spend much time introducing this list. I will, however, point out that this list is more skewed toward northern NJ. Although southern NJ fans root for the Philly teams, both NJ teams play in the northern part where I'm from. So no, Donovan McNabb and Jimmy Rollins aren't making this list.
I'd like to link to two other articles that inspired me to make this list. Mike Kent and Travis Rand compiled lists of New York's top ten athletes, so I decided to move the list across the river. Thanks guys. Links below:
Mike: http://bleacherreport.com/articles/157004-top-10-new-york-fan-favorites
Travis: http://bleacherreport.com/articles/158332-big-apple-heroes-new-yorks-most-loved-athletes
10- Shaquille O'Neal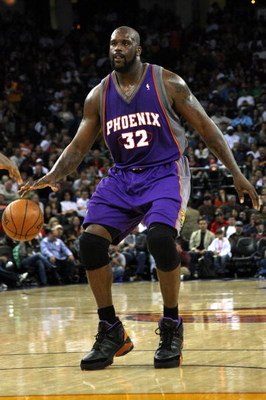 What a way to start off this list-- with a player who never played for a New Jersey team. Shaq was born in Newark, and when his Lakers played the Nets in the 2002 finals, Shaq got a huge ovation from the crowd. Although he never played for his hometown team, Shaq is very relevant to any New Jersey native.
9- Mike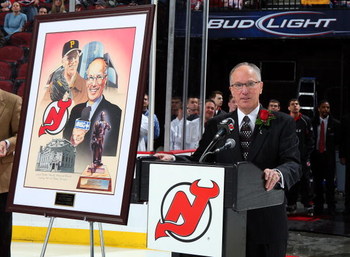 Not exactly an athlete, but a hero to New Jersey sports fans nonetheless. Doc is the television play-by-play announcer for the Devils, and has been since they arrived in New Jersey in 1982. He is an Emmy-award winning broadcaster and a recent Hall of Fame inductee.
Devils fans are proud to have the NHL's best announcer calling all their games-- except, of course, when he's calling the national games on Versus.
8- Eli Manning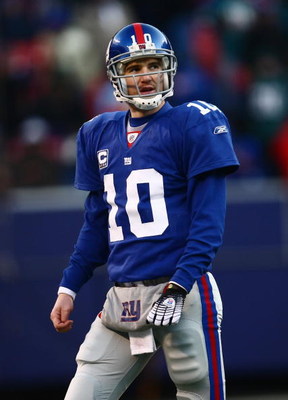 Although his helmet bears the letters NY, Eli Manning plays in New Jersey. The Giants and Jets reside in East Rutherford, and among fans, no one on either team is as popular as Manning. Hey, the guy won a Super Bowl. That's pretty deserving of fan adoration, don't you think?
7- Vince Carter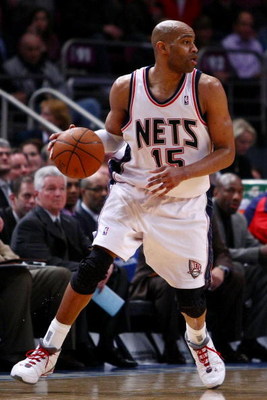 The Nets acquired Carter in one of the most lopsided trade in recent memory. Shipped out of Toronto for being lazy and uncaring, Carter revived his game upon arriving to Jersey and helped bring a dead team back into the playoffs. Although the Nets have struggled the past two years, Carter's game hasn't let up, and he remains both a fan favorite and a recognized star.
Note: Vince would be higher on this list, except he may not be around much longer. Like Richard Jefferson, he and his contract may be moved this offseason in anticipation of next year's big free agent market. Although we'd love to see him stay, many fans would be happy to see him go so that the team can acquire a superstar in 2010.
6- Derek Jeter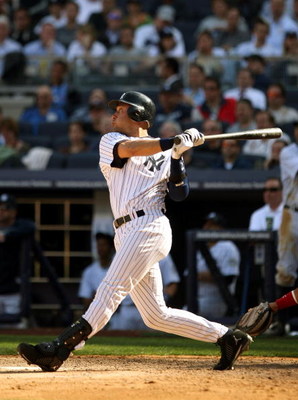 Okay, Jeter doesn't play in Jersey. Still, there is no baseball team in the state, and Jeter is far and away the class of New York. Any sports fan in Jersey would consider Jeter among his favorite players, despite his actual location. While other New York athletes might not make this list, Jeter's influence carries over state borders.
5- Patrik Elias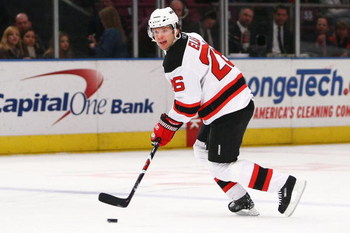 Patrik Elias may not be the team's captain anymore, but he's still one of its most recognized players. Although many around the league don't recognize his talent, the hometown fans certainly do. We all know how often Patty finds himself among the league leaders in scoring, including his 2003-04 campaign, when his 38 goals tied for fourth in the league.
And of course, we all know that he set the all-time team record for scoring this season. A two-time Stanley Cup winner, Elias is one of New Jersey's most revered athletes.
4- Brook Lopez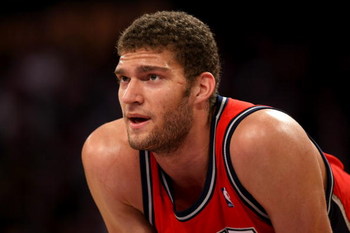 Although he's only a rookie, Lopez is one of New Jersey's-- and the NBA's-- most well-known faces. Arguably the steal of the 2008 draft, Lopez is already a star, and is anticipated to be one of the centerpieces of the franchise for years to come. He had a spectacular rookie season, and will only get better with experience. He is part of a great young core in New Jersey, that will soon be complimented by a big-name free agent in 2010.
3- Zach Parise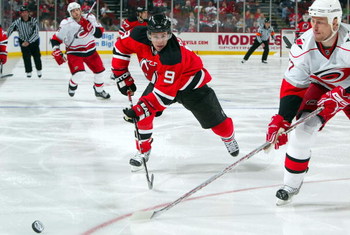 A former first-round draft pick, Parise is constantly overshadowed by other young NHL stars, including Alex Ovechkin, Sidney Crosby, and Evegeni Malkin. But Parise has grown consistently every single year, and had one of the most prolific scoring seasons in Devils history this year.
He's young, he's talented, and he's got MVP potential all over him. He gave the team a lift in scoring this season-- something unfamiliar to the Devils-- and helped keep them afloat when Martin Brodeur got hurt. No doubt a sports hero in New Jersey.
2- Devin Harris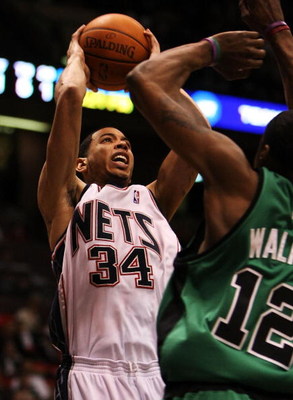 How quickly we forgot Jason Kidd. The Nets traded their franchise player for this kid, and he's made a fast impact.
The Nets' only all-star representative this year, Harris is expected to lead a young core that includes the aforementioned Brook Lopez. He's already doing the task well, and his famous buzzer-beater was just one of his numerous highlights this season. He gives the Nets hope for the future, and will soon develop into one of the NBA's most talked-about players.
1- Martin Brodeur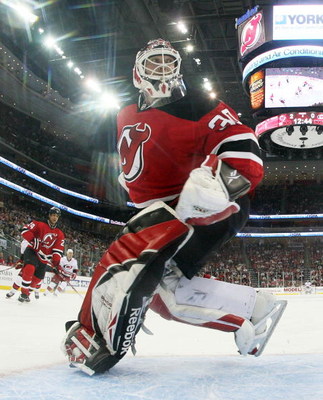 Could there be any other? The greatest goalie in hockey history, winner of multiple Vezina trophies, and the man that delivered three Stanley Cups to New Jersey, Brodeur is easily its most popular athlete. Even at age 36, Brodeur continues to be the best in the league, and will always be prominent in the minds of New Jersey sports fans for generations. It has been an honor to grow up watching him play hockey.
Honorable Mentions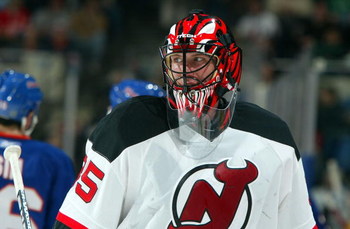 There are some players I wish I could have put on this list. They are:
Scott Clemmensen (above). He saved the Devils when Brodeur got hurt this season, and instantly became a fan favorite. He didn't make it because he's been awful until this year, and was quickly shipped to Lowell when Brodeur returned. A lifesaver, but not exactly a fan favorite.
David Wright. Like Jeter, a popular New York player in a sport with no New Jersey team. Although he's very, very good and very, very popular, he doesn't have quite the same influence as Jeter. I wanted to keep this list New Jersey-oriented, and as popular as Wright is, he's not of the same level. Jeter OWNS New York; that influences New Jersey. Wright is popular in New York, but that doesn't make him one of Jersey's top players.
Mike Rupp (see introduction). He may be just a fourth-liner, but Rupp is best known for his goal in the 2003 Stanley Cup finals-- the one in game 7 that put the Devils in front for good. A piece of Devils history, Rupp is a fan favorite in Jersey despite not being a very good hockey player.
Justin Tuck. A revelation on defense this year, stepping in for the retired Michael Strahan and injured Osi Umenyiora, Tuck is popular, but not quite as much as the ten on this list. He doesn't have the same influence as his teammate Eli Manning, and despite playing in New Jersey, he is considered a New York athlete. It was a close call with him, but I decided to leave him off the list.
Keep Reading

Brooklyn Nets: Like this team?