Predicting Where Every Major NBA Superstar Will Finish His Career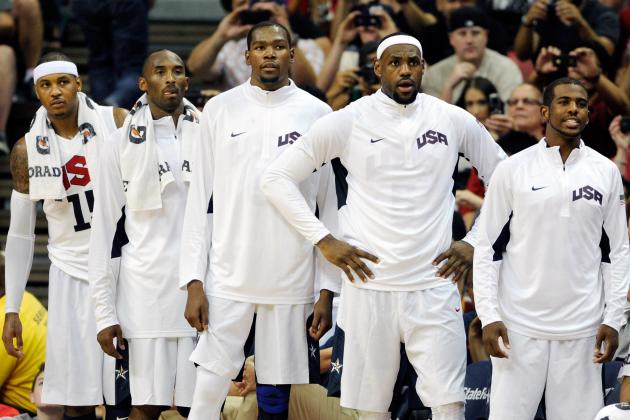 David Becker/Getty Images
Will Carmelo, Kobe, Durant, LeBron and CP3 play for another NBA team?
Individual basketball players are highly recognizable and have a greater impact on the game than in any other sport because there are only five players per team on the court. Those factors lead to endless scrutiny of and speculation about NBA superstars and their potential career moves.
For the purposes of this slideshow, a "major NBA superstar" is any player who already is or is capable of being the best player on a championship team.
When predicting what team a player will finish his career with, it is important to consider the individual's history, personality and individual goals. Individuals who have not won a championship are more inclined to change teams in pursuit of one. Those who have played for more than one team are less likely to feel a sense of loyalty to their current franchise.
NBA superstars' egos come into play as well. Some athletes insist on being "the man." Others are primarily concerned with money. Certain players seek the attention and additional activities that come with a big market, while others are content to just play ball.
It is also necessary to take into account the management, direction and location of the player's current team. Does the owner have a history of retaining his stars? Is the team competitive, and does it have the attributes such as high drafts picks, salary cap space or an attractive market to become competitive in the future?
Begin Slideshow

»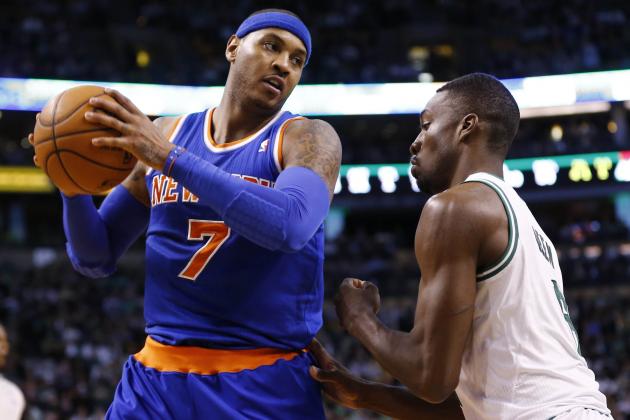 USA TODAY Sports
New York is unlikely to be Carmelo Anthony's last stop in the NBA.
Carmelo Anthony will likely finish his career as a mercenary for a contending team other than the New York Knicks. Like Patrick Ewing before him, Anthony will wear out his welcome in New York if he does not win a championship. But that will be several years down the road.
Anthony's contract expires in 2015, the same time that Tyson Chandler, Amar'e Stoudemire and several other Knicks' deals end. New York has just $11.4 million in salary committed for the 2015-16 season (via Hoopsworld.com), and that number will drop if Raymond Felton opts out of the final year of his deal.
Carmelo will be 31 and is likely to re-sign with the Knicks, who can offer him more than any other team. New York will use its remaining cap space to try and surround him with other star players.
Rajon Rondo, Marc Gasol and LaMarcus Aldridge headline the free-agent class of 2016. Kevin Love can also opt out of his deal that summer. The Knicks can also save their cap space for the following summer when Chris Bosh, Kevin Durant and Kyrie Irving are expected to be on the market.
It would take some luck and the perfect mix of players to build a championship team around Anthony. If Melo is unable to win a ring with a second nucleus in New York, he will try his luck as a complementary player in another city.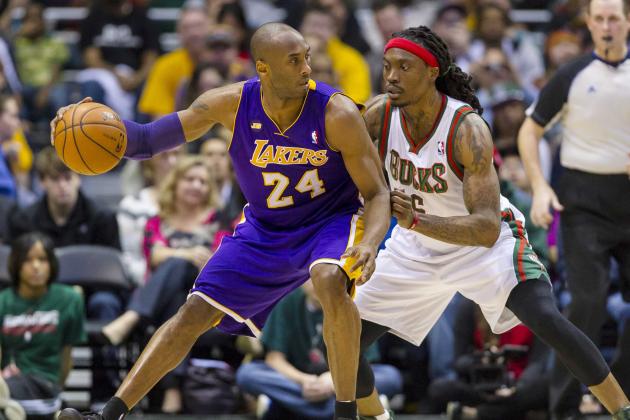 Jeff Hanisch-USA TODAY Sports
Kobe Bryant will retire in purple and gold.
It's difficult to imagine Kobe Bryant walking away from the game while he is still performing at such a high level, but the "Black Mamba" has recently indicated on several occasions that he will retire sooner rather later.
According to Ken Berger of CBSSports.com, Bryant hinted prior to the season that he will probably retire at the conclusion of his contract, following the 2013-14 season. He will be 36 that summer.
Kobe did leave the door open, saying, "One can never be too sure." Regardless of when he hangs up his jersey for the last time, it appears certain that jersey will be purple and gold.
On the March 7 episode of Jimmy Kimmel Live, Kimmel asked Bryant if he would ever pursue a ring with another team. Kobe answered:
I'm not going anywhere. I couldn't possibly. I've been very fortunate to be with one organization, and I just feel like you should try to do the best that you can to win with the organization you're with. And if it happens, great. And it if doesn't, it doesn't.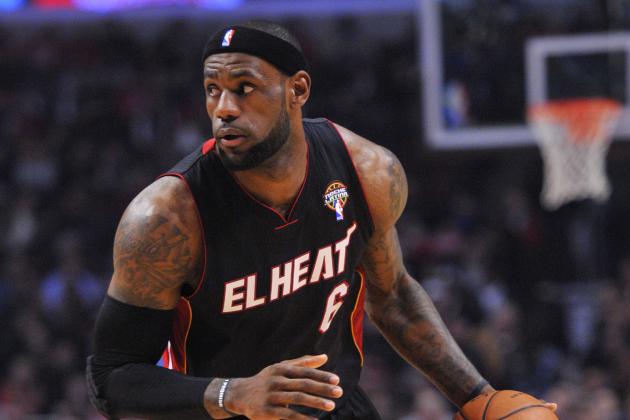 Rob Grabowski-USA TODAY Sports
Would LeBron really return to Cleveland?
LeBron James will exercise the early termination option in his contract with the Miami Heat and become a free agent in the summer of 2014. At 29 years old, he will sign a new maximum contract. The question is: with which team?
There has been speculation that James will make a triumphant return to the Cleveland Cavaliers. Unlike his first go-around with the Cavs, he would have another superstar to help carry the load in Kyrie Irving.
King James could also take his talents to Hollywood. With Kobe Bryant's contract coming off the books, the Los Angeles Lakers will have money to sign James, and it would be tempting to join forces with Dwight Howard.
However, the most likely scenario is that LeBron will stay in Miami. The Heat could be coming off their third consecutive championship next season, and James seems very happy playing with his close friend Dwyane Wade.
Wade's potential decline is the one factor that could change the equation. Wade has been hampered by injuries over the past few seasons, and LeBron may search for a new wing man if he believes his sidekick is not up to the task for the long haul.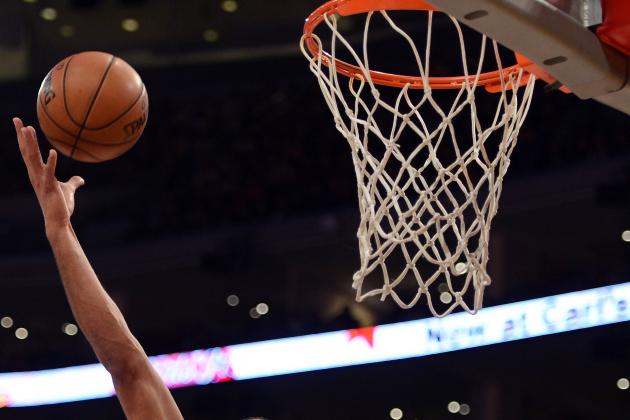 Harry How/Getty Images
Tim Duncan will always be a San Antonio Spur.
Tim Duncan will conclude his career with the only franchise he has ever played for, the San Antonio Spurs. The "Big Fundamental" signed a three-year deal with the Spurs prior to the season, and he could call it a career at the conclusion of the contract.
Yet, do not surprised if he carries on for a couple more years after that. Duncan, who turns 37 on April 25, is still playing at an elite level.
Coach Popovich has reduced Duncan's minutes over the past several seasons, though No. 21 is still averaging 21 points, 12 rebounds and a career-high 3.2 blocked shots per 36 minutes.
Old reliable is capable of putting the team on his back on occasion. Duncan dropped 34 points and 11 rebounds on the Los Angeles Clippers on March 29, including the game-winning three-point play with 2.2 seconds remaining.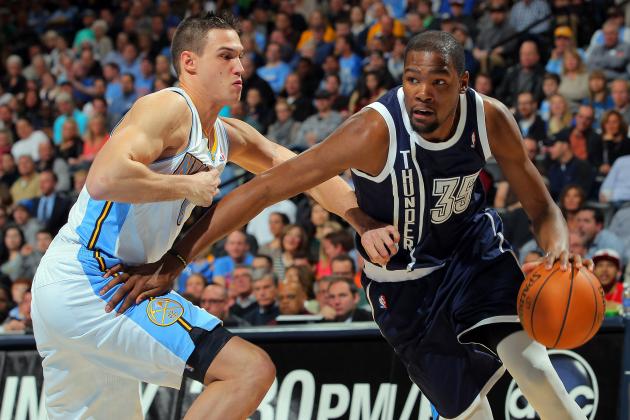 Doug Pensinger/Getty Images
Kevin Durant is happy playing in a small market.
Kevin Durant distinguished himself as the humble superstar when he quietly re-signed with the Oklahoma City Thunder in the summer of 2010. While LeBron James was reveling in the recruiting process and announcing his decision on ESPN, Durant revealed his new deal through the following simple tweet:
Exstension for 5 more years wit the #thunder....God Is Great, me and my family came a long way...I love yall man forreal, this a blessing!

— Kevin Durant (@KDTrey5) July 7, 2010
K.D. signed his new deal while he still had one year remaining on his contract and made a long-term commitment to the franchise by re-upping for a guaranteed five-years instead of including an out-clause in his contract after the fourth season as James and other superstars did.
Durant does not seek the spotlight and seems content playing in a small market. OKC is a well-run franchise with a talented young core. It is easy envisioning Durant spending his entire career there.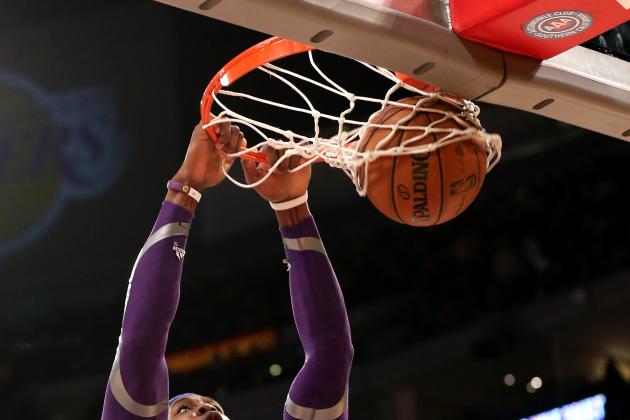 Stephen Dunn/Getty Images
Los Angeles may not be the right fit for the thin-skinned Howard.
Dwight Howard's career has mirrored Shaquille O'Neal's, and like Shaq, this incarnation of Superman will don several uniforms. Howard does not place a premium on loyalty, and it is doubtful that any franchise will do the same for him.
It is difficult to predict where the big man will provide his services in the immediate future because he is so uncertain as to what he wants.
Unlike Shaq, Howard's personality is not suited for the bright lights of Hollywood. Howard is a joker, but is not particularly comfortable in front of a camera and is too sensitive to handle the intense media scrutiny that comes with playing in a big city.
That being said, he will probably re-sign with the Lakers this summer. L.A. can offer him the most money and he has few desirable alternatives. The Brooklyn Nets were his preferred destination, but they do not have the cap space to sign him, and sign-and-trades are difficult to pull off under the new CBA.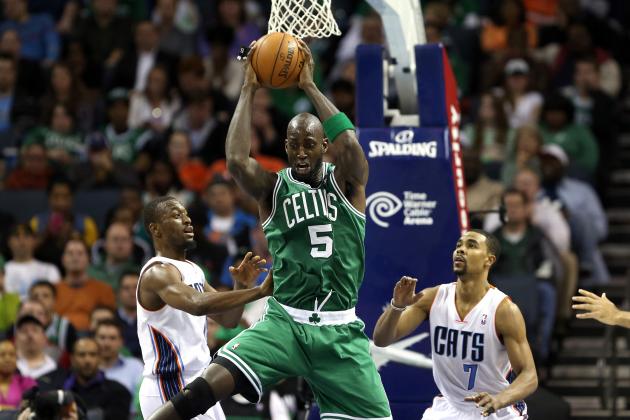 Streeter Lecka/Getty Images
Kevin Garnett has a no-trade clause in his contract.
Kevin Garnett signed a three-year contract the Boston Celtics last summer, and it sounds as if it will be his last. KG will be 39 when the deal expires, and he recently told Chris Forsberg of ESPNBoston.com, "I hope I'm not playing at 40."
Loyalty has always been important to Garnett. He did not ask the Minnesota Timberwolves to trade him until he found out that the team had been shopping him. The Celtics center has a no-trade clause in his contract and has no intention of waiving it.
The Los Angeles Clippers were reportedly interested in the Celtics center prior to the trade deadline (via Marc Spears of Yahoo.com), but the proud veteran was unwilling to leave Boston. "If it's up to me," Garnett said, "I will live and die green all day."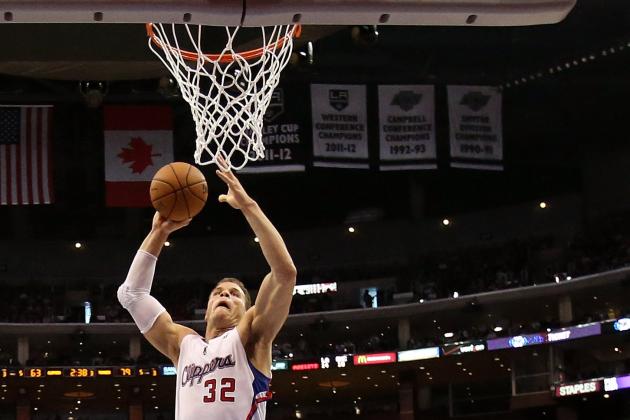 Stephen Dunn/Getty Images
The Clippers opened the vault for Blake Griffin.
Los Angeles Clippers owner Donald Sterling is notorious for allowing his best players to leave via free agency, but he never had a player as talented as Blake Griffin. Sterling signed his young star to a new five-year, $85 million contract last summer.
Griffin's career trajectory will depend on how well his knees hold up. The three-time All-Star sat out the entire 2009-10 season after breaking his left kneecap. A torn meniscus in the same knee kept him out of the 2012 Olympics.
His injury history resembles that of another high-flying forward, Amar'e Stoudemire. Further knee problems could scare away the Clippers and other potential suitors when his contract expires in 2018. Like Amar'e, there is a good chance he will sign with a team desperate for a star player.
Even if Griffin remains healthy, it is more than likely that the Clippers' stingy owner will opt for a cheaper alternative at some point down the road.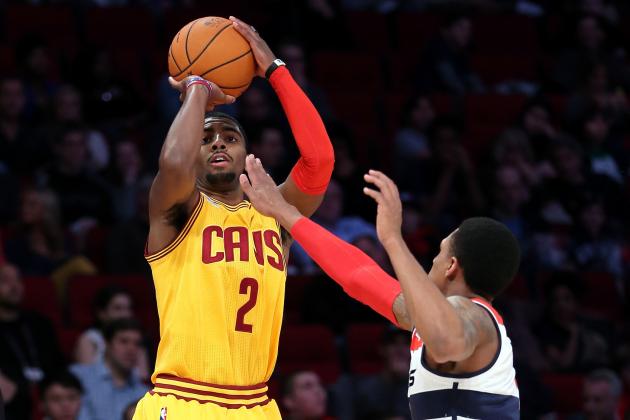 Ronald Martinez/Getty Images
The Cavaliers need to add more talent around Kyrie Irving.
Kyrie Irving is another star whose value will be affected by his health. The second-year point guard is averaging 23 points per game and quickly emerged as an elite playmaker for the Cleveland Cavaliers.
However, Irving has missed 37 games due to an assortment of injuries over his first two seasons after being sidelined for all but 11 games during his lone season at Duke University. Cleveland may not be willing to shell out maximum dollars for a player who does not suit up every night.
Like LeBron James, Irving may opt to take his talents elsewhere if the Cavs do not surround him with enough talent to compete for a championship. Cleveland is not an attractive destination for free agents, so any help will have to come through the draft. The Cavs had several lottery picks over the past few seasons, but have yet to land a co-star.
If Irving bolts via free agency, the New York Knicks are a possible destination. The point guard was raised in nearby West Orange, New Jersey, and the Knicks could have plenty of cap space available in 2016.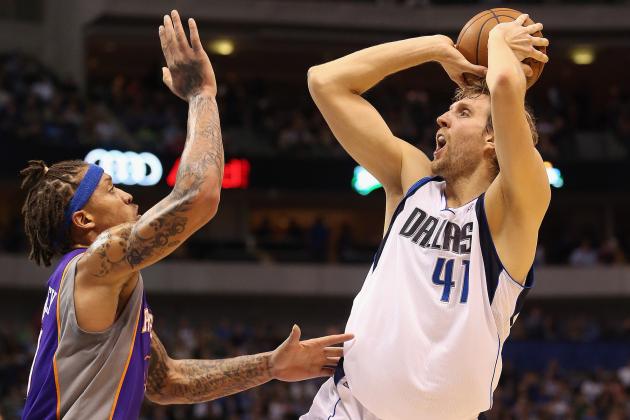 Ronald Martinez/Getty Images
Dirk has been frustrated by the direction of the Mavericks.
Dirk Nowitzki expressed his frustration with the direction of the Dallas Mavericks earlier this season. According to Tim MacMahon of ESPNDallas.com, the German lamented the team's inability to acquire Deron Williams, Chris Paul or Dwight Howard and recognized that the Mavs may need to rebuild.
Dirk sent mixed signals as to whether he wants to remain in Dallas:
"The only reason I would leave -- or would have left -- is if we wouldn't have won the championship, and I would have been like a Karl Malone and [Gary] Payton going to join Kobe and Shaq in L.A. like they did at the end," Nowitzki said. "But now I've got a ring and obviously want to finish my career here. But I also want to be competitive."
The Mavs will try to make a splash in free agency again this summer, though Dallas is not as appealing for star players as it once was. Dirk is 34 and has been hobbled by a bad knee.
Nowitzki's contract expires after the 2013-14 season. If the Mavs do not land another stud this summer, it would make sense for both sides to part ways. Dallas could receive some value in return by sending Dirk to a contender before the 2014 deadline.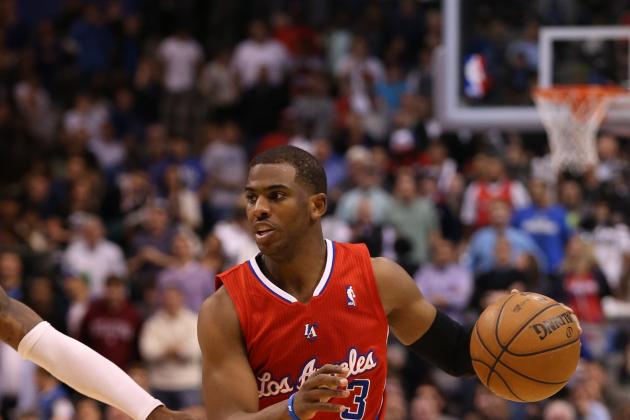 USA TODAY Sports
Chris Paul has changed the culture in the Clippers' locker room.
Despite declining to sign an extension last summer, Chris Paul is almost certain to remain with the Los Angeles Clippers beyond this season. L.A. can pay him the most money, and he will be hard-pressed to find a team with comparable talent as well as the ability to pay him.
It is equally reasonable to expect that the point guard will not conclude his career with the Clippers. Owner Donald Sterling has historically undervalued his players and will likely do so with Paul sooner or later.
CP3 also is not as emotionally invested in the franchise or the city as he would be if he spent his entire career with one team. His value will remain high even after his skills decline because of his intelligence and leadership ability, much like New York Knicks guard Jason Kidd.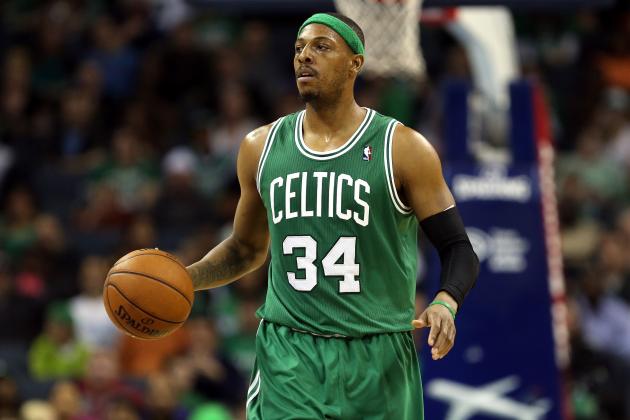 Streeter Lecka/Getty Images
Do not be shocked if the Celtics trade Paul Pierce.
Paul Pierce does not feel compelled to chase a ring because he won a championship with the Boston Celtics in 2008. Trading Pierce, who could end up the franchise's all-time leading scorer, would also not be a popular decision in Boston.
However, circumstances can change quickly in the NBA. If Boston becomes a lottery team in the next few seasons, it would make sense for them to trade Pierce, and the forward may not want to stick around for a rebuilding effort.
General manager Danny Ainge is not afraid to make an unpopular move, and according to Royce Young of CBSSports.com, considered trading Pierce prior to the 2013 trade deadline.
Pierce's future in Boston may be tied to Kevin Garnett's. KG has a no-trade clause in his contract, which he is intent on enforcing. The Celtics are unlikely to begin rebuilding if he plays out the final two years of his deal. If Garnett retires this summer or next, Boston could let Pierce go when his contract expires after in 2014.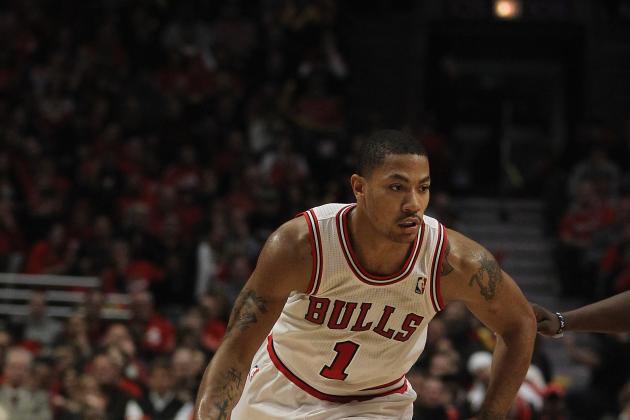 Jonathan Daniel/Getty Images
Chicago fans have embraced their native son, Derrick Rose.
Derrick Rose was born and raised in Chicago and has been embraced by the blue-collar town like no player since Michael Jordan. Rose, who is painfully shy, would probably prefer to play his entire career in the familiar confines of the United Center.
Of course, if Michael Jordan finished his career with another team, Rose can too.
In addition to being guarded, the young point guard is stubborn, proud and highly emotional. A perceived slight by management could prompt him to force his way out of town.
Rose could rub the team the wrong way by not returning to the court this season after he was reportedly cleared to play (via Melissa Isaacson of ESPNChicago.com) following ACL surgery. At some point over the next 10-12 years, he and the Bulls will grow tired of one another and he will conclude his career in another city.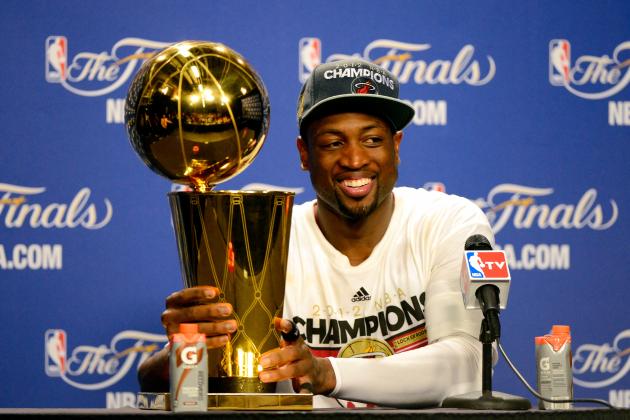 Ronald Martinez/Getty Images
Dwyane Wade brought LeBron James and Chris Bosh to Miami.
Dwyane Wade toyed with the idea of joining his hometown Chicago Bulls during the free-agent bonanza of 2010. He wanted to be closer to his two boys. Now that he has custody of his children, there is no reason for the nine-time All-Star to leave Miami.
Wade has won two championships with the Heat and is well-positioned to add to that total. He plays with his close friend, LeBron James, and is revered in Miami for luring James and Chris Bosh to South Beach.
D-Wade's contract runs through the 2015-16 season, though he has the right to opt out in 2014 and 2015. The Heat will have a difficult decision to make if he plays out the length of the deal.
Durability has been an issue for the shooting guard. He may not have much left in the tank three years from now. Miami could go in another direction, especially if James is no longer with the team, though owner Micky Arison is unlikely to part ways with the fans' favorite player.
Ezra Shaw/Getty Images
How long can Westrbook and Durant coexist?
Russell Westbrook plays basketball with a controlled rage similar to that of Kobe Bryant. After the Oklahoma City Thunder guard torched the Los Angeles Lakers for 37 points and 10 rebounds on March 5, Kobe tweeted, "He's got mamba blood runnin thru his veins."
Like a young Kobe, Westbrook is an alpha male, but the second option on his team. Kevin Durant is to Westbrook what Shaquille O'Neal was to Kobe.
So far, Durant and Westbrook have remained friends, though their relationship will likely end in one of two ways: The Thunder win one or more championships and Westbrook wants to step out from beneath Durant's shadow, or OKC never gets over the hump, in which case major changes will be needed.
Either way, Westbrook will be the one to go. Durant is the superior player and a more manageable personality. The Los Angeles Lakers would be an obvious destination since Westbrook grew up in the area and played his college ball at UCLA.