Atlanta Braves: Game-by-Game Predictions for the Month of April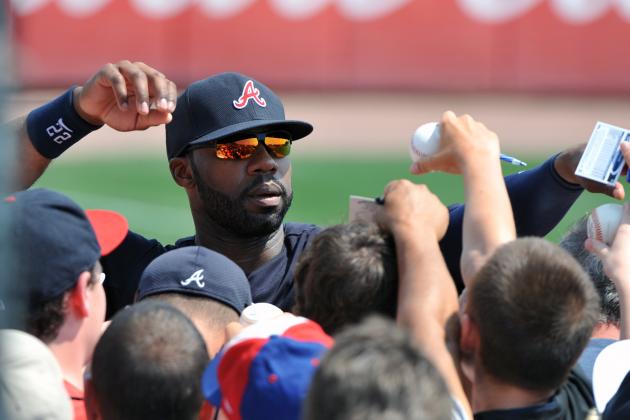 Al Messerschmidt/Getty Images

With Opening Day just a weekend away, it's now time to dive headfirst into Atlanta's schedule for the month of April.
It's difficult to prognosticate regular season baseball a month in advance, especially with the probable pitchers largely unknown. An educated guess is all this writer can do.
Atlanta's opening month has its fill of good opponents (Washington Nationals for five, Detroit Tigers for three) and bad opponents (Chicago Cubs for three, Miami Marlins for three, Colorado Rockies for three), but what will make or break Atlanta's month is how it fares against the unknown (Philadelphia Phillies for three, Kansas City Royals for two, Pittsburgh Pirates for four).
If the Braves want to take the National League East crown away from the Nationals, they will have to assert themselves early and let the team from D.C. know that Atlanta isn't backing down from a fight.
Begin Slideshow

»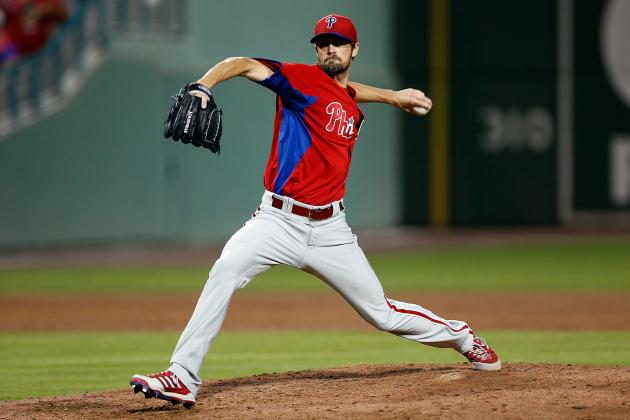 J. Meric/Getty Images

The elder statesman of the Atlanta staff, Tim Hudson was tabbed as the Opening Day starter for the first time since 2008. Atlanta's ace will certainly have to rise to the occasion, as his opponent, Cole Hamels, is in the upper echelon of major league starting pitchers.
Baseball fans should be in for a treat, as these two staff aces should deliver quite the pitcher's duel to start the year. Hamels is the superior pitcher, but Philadelphia's lineup simply doesn't possess the firepower it used to, and it could have trouble putting runs on the board against Atlanta's pitching staff.
Game 2 will see Paul Maholm and Roy Halladay go head to head, followed by the Game 3 matchup of Kris Medlen and Cliff Lee.
History would suggest that Halladay and the Phillies take Game 2 rather easily, but Halladay's 2012 season was subpar, and his 2013 spring training performance was disappointing. His velocity has taken a hit, and his control is shaky. What Philadelphia will get from Halladay this season is a major question mark.
The rubber match could very well be the most interesting game of this series, with Lee and Medlen both coming into 2013 with something to prove. Lee is trying to prove that his 2012 season (while good, his worst campaign since 2007) was a fluke, while Medlen is attempting to show the world that his amazing stretch run from last year is anything but a fluke.
Prediction: In the end, Atlanta's pitching and lethal offensive weaponry are enough to take two of three from these question-ridden Phillies.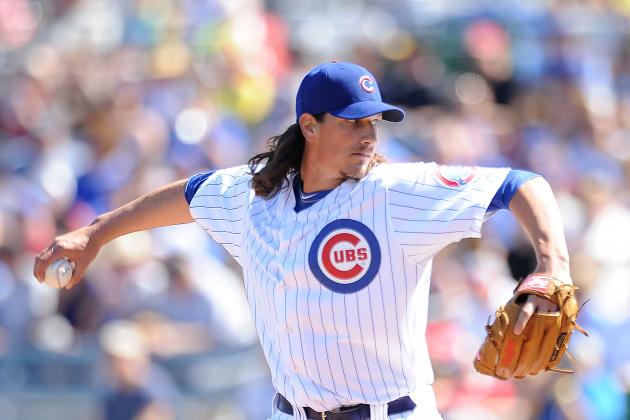 Norm Hall/Getty Images

Theo Epstein is doing good things in the Windy City's North Side, but the on-field product will take a while to improve.
Starlin Castro and Anthony Rizzo are great pieces to build the offense around, and Jeff Samardzija, Edwin Jackson, and Matt Garza are solid starters, but five players does not a team make.
Atlanta will most likely pit Mike Minor against Scott Feldman, Julio Teheran against Carlos Villanueva, and Tim Hudson against Jeff Samardzija.
Chicago's lineup is more complete than Philadelphia's, but the only pitching matchup that is even intriguing in the slightest is when Samardzija takes the mound.
Prediction: A sweep is certainly possible, but with Teheran a question mark and Samardzija capable of spinning a gem, Atlanta should go ahead and put two more wins on the board.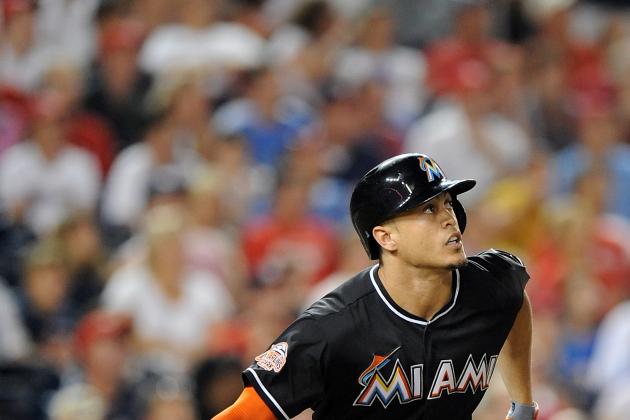 Greg Fiume/Getty Images

The difficulty of Atlanta's first three opponents has been sorted in descending order; the Marlins really don't have much to offer outside of Giancarlo Stanton.
On top of that, Atlanta will be sending Maholm, Medlen, and Minor to the mound against the hapless Marlins offense, while Miami counters with Nathan Eovaldi, Wade LeBlanc, and Henderson Alvarez.
I'm just going to cut any further analysis and skip to the prediction.
Prediction: Sweep.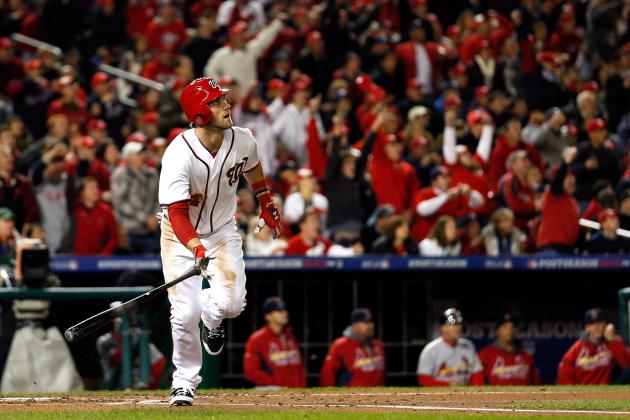 Rob Carr/Getty Images

Now, things get interesting.
If the predictions in this slideshow pan out, Atlanta should be heading into D.C. with a 7-2 record and plenty of confidence to boot.
The Braves will most likely pit Julio Teheran, Tim Hudson, and Paul Maholm against Ross Detwiler, Stephen Strasburg, and Gio Gonzalez.
Obviously Atlanta has a lot riding against it in this series. Not only are the Braves playing in Washington, but they don't have the advantage in any pitching matchup. This is one set of games where their explosive offense will have to carry them if they want to take the series.
There is hope though, as Jason Heyward sports a lifetime .700 average against Strasburg (courtesy of Yahoo!). If he can get to the Nats ace, Atlanta has a shot.
Prediction: Washington's pitching and homefield advantage is too much; Atlanta takes one of three.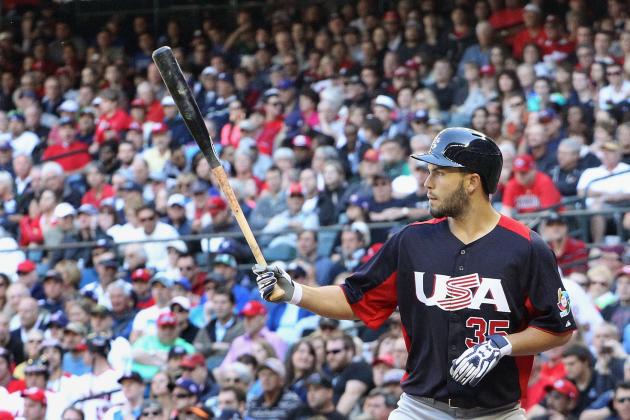 Christian Petersen/Getty Images

After dropping two of three to the Nationals, the Braves will come back to Turner Field pretty ticked off that their rivals got the best of them in their first meeting.
And the Royals will pay dearly.
Unless Kansas City's rotation is shuffled, the Royals will send to the mound Jeremy Guthrie and Wade Davis to face Kris Medlen and Mike Minor.
The Braves offense should be able to get to Guthrie, whether it's Heyward and Freddie Freeman from the left side or the Upton brothers from the right. Davis is more of a wild card, but if Atlanta is still steaming from the Nationals series, it should win Game 2 as well.
Since this is the first year of constant interleague play, there isn't much recent on-field history between the Braves and Royals. But because this game is in Atlanta, the Royals won't be able to play Billy Butler, putting their offense at a disadvantage.
Prediction: Atlanta takes both games.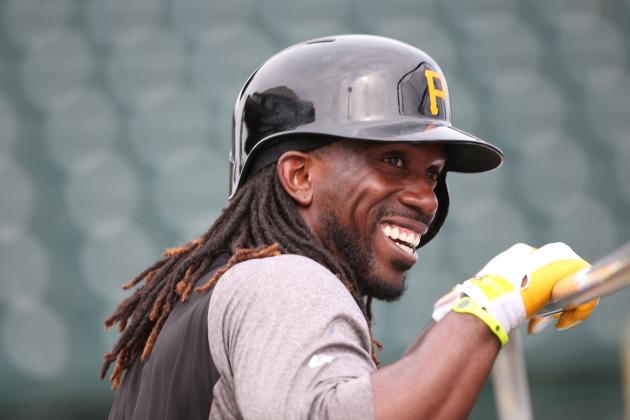 Leon Halip/Getty Images

The Pirates could go in two directions this year.
They could either break out and become a team that wins 85 games—and possibly even more—or their pitching could falter and they log yet another sub-.500 season.
The further into the month it gets, the less likely that these probable pitchers are indeed probable. However, for sake of conversation, Pittsburgh will be sending A.J. Burnett, Wandy Rodriguez, James McDonald, and Jonathan Sanchez to the mound against Julio Teheran, Tim Hudson, Paul Maholm, and Kris Medlen.
In a small sample size, Atlanta hitters have had pretty good luck against Burnett. However, they've not had much experience against the rest of the Pirates starters. The same goes for the Pirates offense against Atlanta's starters.
Pittsburgh's starters (save Rodriguez) are very high-risk, high-reward. That should pay off at home, even against the high-powered Atlanta offense.
Prediction: Atlanta splits the series on the road against the Pirates.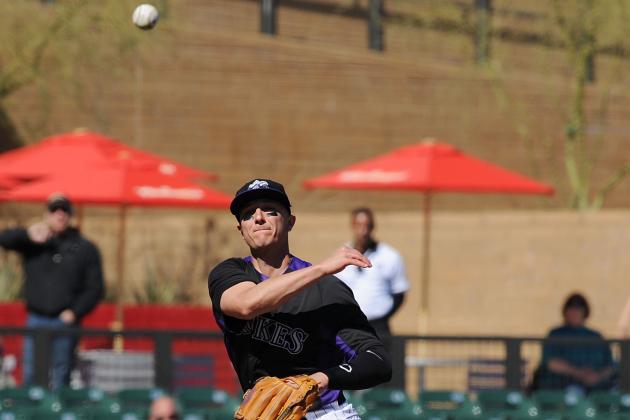 Norm Hall/Getty Images

Colorado's starting pitchers on the other hand, are not nearly as intriguing.
It's unlikely that they'll actually be sending Jon Garland, Jhoulys Chacin, and Jorge De La Rosa to the mound against Atlanta's Mike Minor, Julio Teheran, and Tim Hudson, but that would be the Rockies' best case scenario.
Colorado's best shot in this series is to bomb away at home in Coors Field.
While that will probably happen in at least one, if not two games (seeing as both Minor and Teheran have known to be homer prone at times), Atlanta will also be bombing away. Except the Braves offense is a lot more equipped for slugfests than Colorado's, with potentially five to 30 home run hitters in the lineup.
Prediction: Atlanta should sweep, but will take two of three just to be fair.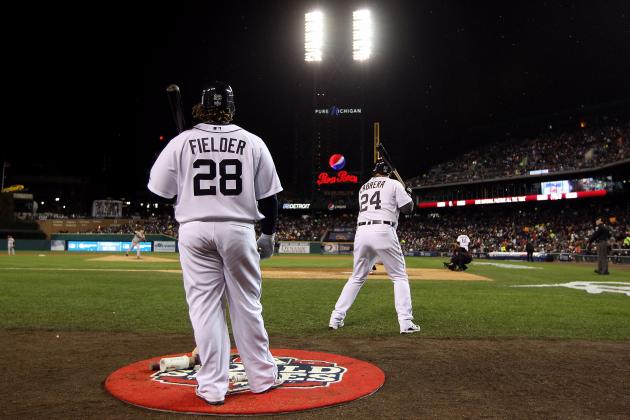 Ezra Shaw/Getty Images

This is Atlanta's next real test.
Not only are the Braves playing the best team in the American League, but they're also playing with American League rules.
Detroit will be DHing Victor Martinez. Atlanta will most likely be DHing Evan Gattis, Reed Johnson, or Chris Johnson.
Detroit's rotation is rock solid too. If everything shakes out, the Tigers will be pitching Doug Fister, Anibal Sanchez, and Max Scherzer.
Atlanta might escape Justin Verlander, which is huge for their chances of winning this series. They'll also be throwing out Paul Maholm, Kris Medlen, and Mike Minor, though, so the only true advantage they will have is in the Medlen-Sanchez game.
At home and with the DH, though, Detroit is simply too strong.
Prediction: Atlanta loses its second series of the year, taking only one of three.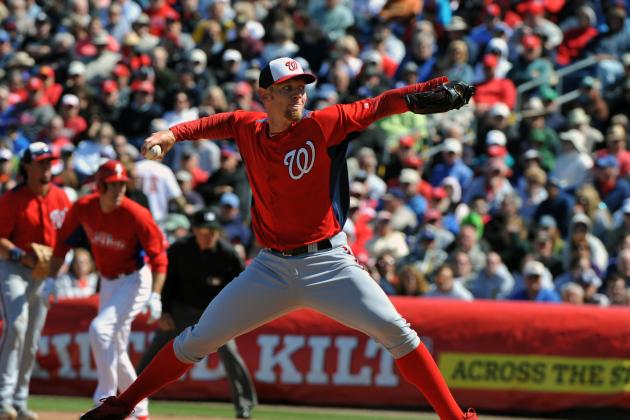 Al Messerschmidt/Getty Images

Finally, Atlanta makes its way home again.
Just in time to face the best team in the National League.
Atlanta will have come off a long road trip capped by a couple of losses in Detroit, and the Nationals could be throwing Stephen Strasburg and Gio Gonzalez against Julio Teheran and Tim Hudson.
The Braves can get to Strasburg, though, and if they don't beat him in their first meeting, they will in their second. Teheran will be itching to prove himself against a big opponent in his home stadium too; he steps up and beats the Nats here.
But the Nationals are the Nationals for a reason, and Gonzalez comes out on the last day of April and beats the Braves with a strikeout-filled gem and escalating the anticipation of the final two games of the series.
Prediction: Two-game split. Atlanta finishes April at 16-10.