The No. 1 Indiana Hoosiers and No. 4 Syracuse Orange square off Thursday night in an East Region matchup featuring some of the hottest scorers in the nation.
Junior swingman Victor Oladipo and sophomore forward Cody Zeller have paced the Hoosiers throughout the tournament, accounting for 38 percent of the team's scoring in the last two rounds. Oladipo dropped the deciding trey in the final minutes against Temple, and the 6'5" sharpshooter will have to be on top of his game against the Orange on Thursday.
Syracuse has gotten consistent scoring from several players in the tournament. C.J. Fair, Brandon Triche, Michael Carter-Williams and James Southerland have all contributed to the stat sheet in the team's first two wins, but Fair has been the catalyst, averaging 15.5 points and 4.5 rebounds per game.
A late-season slide limited Syracuse's momentum entering the tournament, but the Orange seem to have picked up the pace. With a 47-point blowout of Montana in the second round and a hard-fought 66-60 victory over California in the round of 32, Syracuse will look to build on its tournament success with an upset in the Sweet 16.
*All stats and rankings acquired from ESPN.com and TeamRankings.com.
Watch Out for Yogi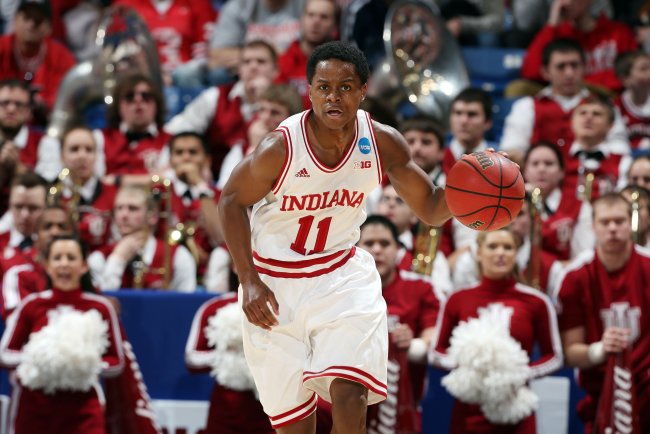 Brian Spurlock-USA TODAY Sports
As well as Oladipo and Zeller have played this year, it was freshman point guard Kevin "Yogi" Ferrell who stole the show in Round 2 against James Madison.
The diminutive guard accounted for Indiana's first nine points in that contest, finishing with a team-high 16 points on 7-of-12 shooting. He disappeared in the third round against Temple (zero points, 0-of-2 shooting), but the rookie has proven he can make his mark at the offensive end.
Inconsistency is expected of freshmen on college basketball's biggest stage, but Ferrell has two big games under his belt and plenty of experience against top-tier opponents. A brutal Big Ten schedule seasoned Indiana, and the result is a Sweet 16 appearance.
Ferrell won't lead the Hoosiers in scoring against Syracuse, but expect him to be a key contributor in the early going.
Production prediction: 13 points, 5-of-8 from the floor, four assists
Take the Under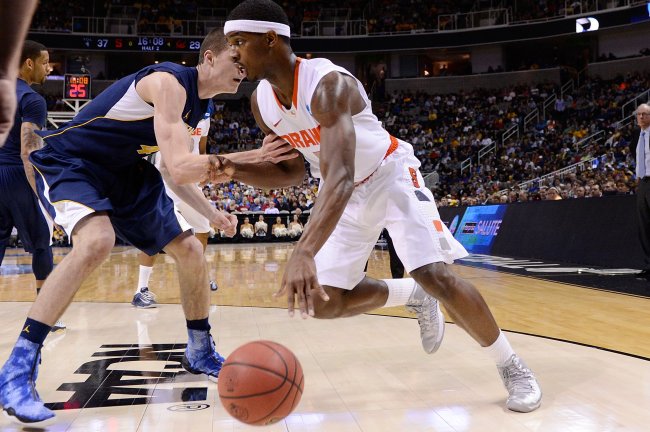 Thearon W. Henderson/Getty Images
Both Syracuse and Indiana have the firepower to score a lot of points in this matchup, but don't expect either team to break the 80-point barrier.
Bovada.lv has the over/under in this contest at 136 points. Considering the low-scoring affairs both teams escaped in the third round, there's a good chance the final point total doesn't eclipse 130.
Indiana enters the Sweet 16 ranked No. 55 in the nation in scoring defense (62.1), while Syracuse (No. 27) has allowed just 59.4 points per game this season. Oladipo, Fair and Triche will get their points, but none will eclipse the 20-point mark in this matchup.
Prediction: Indiana 64, Syracuse 59
A Zeller Disappearing Act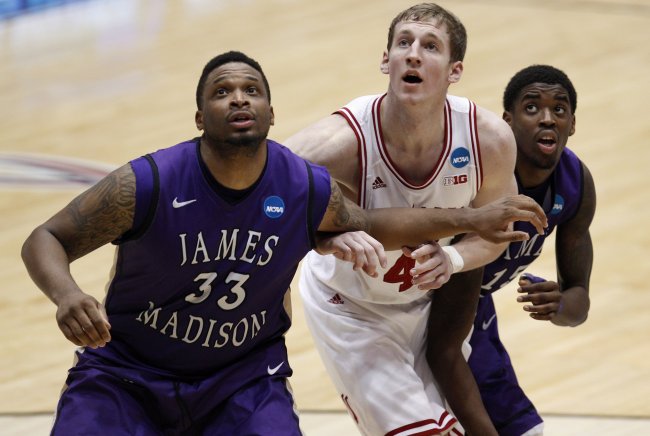 Frank Victores-USA TODAY Sports
The key to beating a zone is good ball movement. Indiana is going to see a lot of zone from the Orange on Thursday.
Jim Boeheim's 2-3 zone defense isn't easy to prepare for, and the Hoosiers have to execute well around the perimeter. Oladipo will get some looks from behind the arc, but don't expect Zeller to fill up the stat sheet in this game.
Zeller will have to assume a more facilitative role in the paint on Thursday, sucking in the defense to create open looks for Indiana's shooters. The seven-footer averaged just 1.3 assists per game this season, but don't be surprised if he dishes out four or five dimes in this contest.
The sophomore forward is Indiana's best all-around player, and he won't be a non-factor against Syracuse. Just don't count on a 15-plus-point scoring effort.
Production prediction: 13 points, eight rebounds, four assists
Link to Printable PDF