Where Does Frank Lampard Rank Amongst Chelsea's All-Time Legends?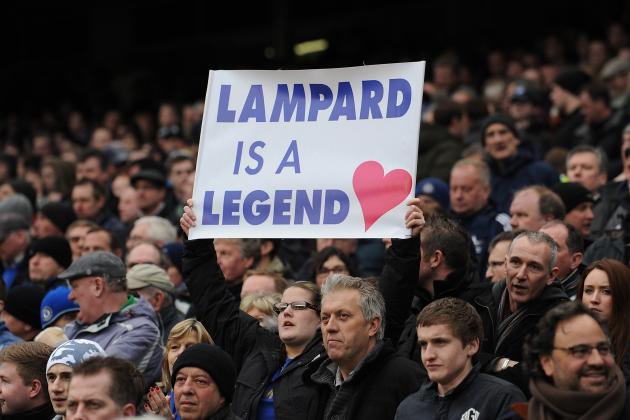 Steve Bardens/Getty Images

Chelsea's official website currently lists 43 former players as its "legends." They range from the cult heroes of Dan Petrescu and Ian Hutchinson to Ron "Chopper" Harris and Peter Osgood, whose name echoes around Stamford Bridge to this day.
The selection is limited to players who are no longer at the club and as an extension to Frank Lampard's current contract has failed to materialise, it looks as though he could soon be joining that list.
When that time comes, how will "Super Frank" match up to the players whose legendary status has already been awarded by the fans?
Begin Slideshow

»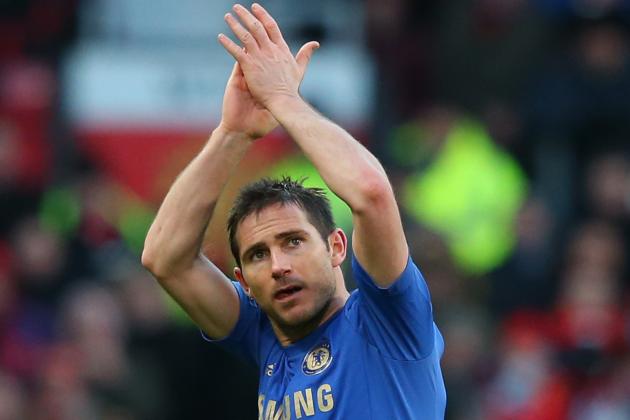 Alex Livesey/Getty Images

This comparison is the best one to begin with as Lampard is just two goals behind Bobby Tambling's all-time goal scoring record of 202 goals for the club.
Tambling played as a striker and made 320 appearances for the club in his 11-year spell at Stamford Bridge. Lampard has been at Chelsea for 12 years and has scored his 200 goals from 595 appearances, despite playing in midfield behind strikers such as Jimmy Floyd Hasselbaink and Didier Drogba.
Tambling's only silverware for Chelsea came in the form of the 1964-65 League Cup win as the club struggled to replicate the success of 1954-55.
By contrast, Lampard has won the FA Cup four times, the Premier League three times, the League Cup and the Community Shield twice apiece, and he was captain when Chelsea won their first Champions League title.
Granted, Chelsea FC is an entirely different beast now compared to the perennial strugglers of the 1960s and 70s, and silverware is not the only measure of a legend. However, when the man who has been the club's top-scorer for 43 years describes you as "the greatest player Chelsea has had," that is the stuff that makes a legend.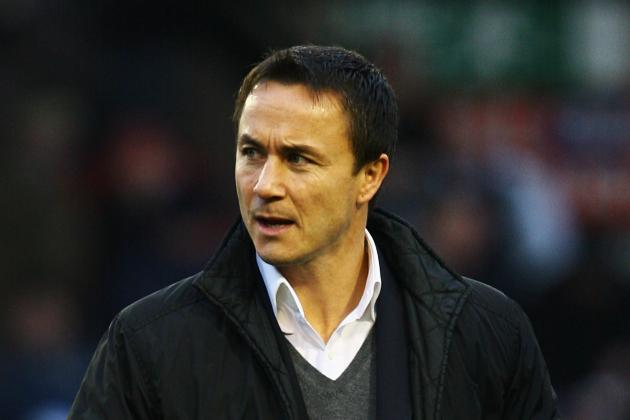 Julian Finney/Getty Images

Oh Dennis Wise/Scored a f***ing great goal/In the San Siro/10 minutes to go.
That song is still sung by the Stamford Bridge faithful today as they remain loyal to a player who captained the club during the resurgence of the 1990s.
Little Dennis Wise was a midfield powerhouse known more for his tackling than his goal scoring prowess. He missed 15 games of the 1998-99 Premier League season through suspension as his temperament repeatedly let him down, but it is that passion that has kept him amongst the fans' favourites.
With 76 goals from 445 appearances he certainly ranks among the greats, but his goals-to-games ratio serves to further highlight how remarkable Lampard's achievements have been.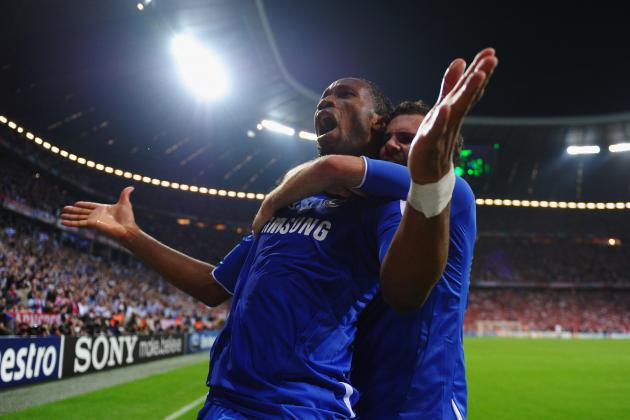 Laurence Griffiths/Getty Images

When Drogba came to West London in 2004, he made an immediate impact on the club, leading the line as the Blues won the Premier League for the first time. He scored a total of 157 goals in 341 appearances and it was his penalty that clinched the Champions League title in his final season.
However, there were significant downsides to the Ivorian's Chelsea career.
When Chelsea went to Moscow for their first-ever Champions League final in 2008, Drogba was shown a straight red card in the dying minutes of extra time for the ridiculous act of slapping Nemanja Vidic in the face, right in front of the referee.
As the game went to penalties, Chelsea were a man short in their five first-choice kickers and John Terry volunteered to take Drogba's place with disastrous, heart-breaking consequences.
By contrast, Lampard played in that same final having tragically lost his mother to pneumonia just a few short weeks before. After a first half in which Chelsea were completely dominated by Manchester United, it was a trademark strike from Lampard on the stroke of halftime that got the Blues back into the tie.
Despite whatever has been going on off the pitch, Lampard has never been anything but a model professional on it, something that cannot be said for Drogba.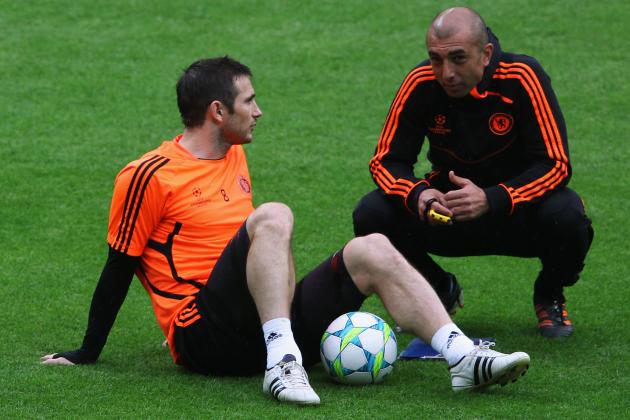 Alex Livesey/Getty Images

Roberto Di Matteo played in the central midfield role that Lampard has made his own at Chelsea. "Robbie," like Lampard, loved scoring spectacular long-range drives and both players have stepped up on the big occasions.
A 40-yard strike after 43 seconds of the 1997 FA Cup Final was the most memorable of Di Matteo's goals for Chelsea, and his tally of 26 goals in 175 appearances was cut short when he suffered a triple leg-fracture in 2000, the year before Lampard signed for the club, and despite his best efforts he was forced to retire in 2002 at 31.
Whilst Di Matteo's playing days led to him becoming a cult hero from the resurgent side of the late 1990s, it was his triumphant, yet all too brief spell as manager that ensured his legendary status at Stamford Bridge.
It is down to the misfortune of an horrific injury and a short-sighted owner that Di Matteo was unable to achieve the same level of success that Lampard has enjoyed, but the passion he has shown for Chelsea over the years certainly puts him high up the list in the eyes of fans old enough to remember the 1990s.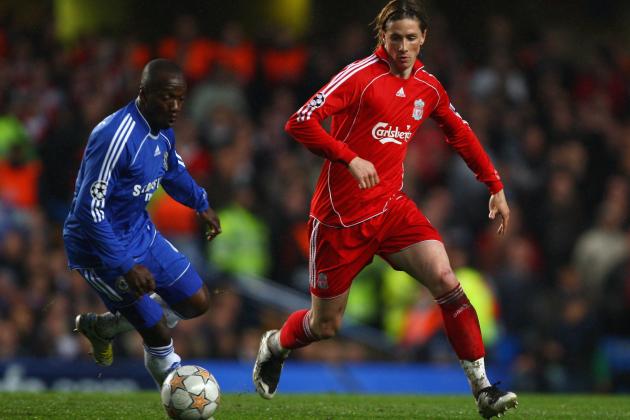 Mike Hewitt/Getty Images

Makelele joined Chelsea in 2003 from Real Madrid, who believed that the Frenchman was not an essential member of the team and that they would be better off without him.
When Lampard joined Chelsea two years prior to the Roman Abramovich takeover, West Ham apparently thought the same about him. Both clubs were proven to be emphatically wrong.
Whilst Makelele's tally of two goals for the club is not even comparable to Lampard's 200, without him it is unlikely that Frank would have had the freedom to get forward and score at least 10 Premier League goals every season.
He made the holding midfield role his own and the position has since become known simply as "the Makelele."
It is easy to overlook a defensive player's contribution to a club as goals ultimately equal glory, and while Lampard's name will be sung from the Shed for decades, it would be sad to see "the engine" that allowed him to reach his double-century forgotten.
While the unofficial fan site theshedend.com is in general agreement that he is in the top five midfielders that Chelsea have seen under Abramovich, Lampard is ranked above him in every list, and there is a danger of Makelele's legendary status being surpassed by the "Three Amigos" fairly quickly.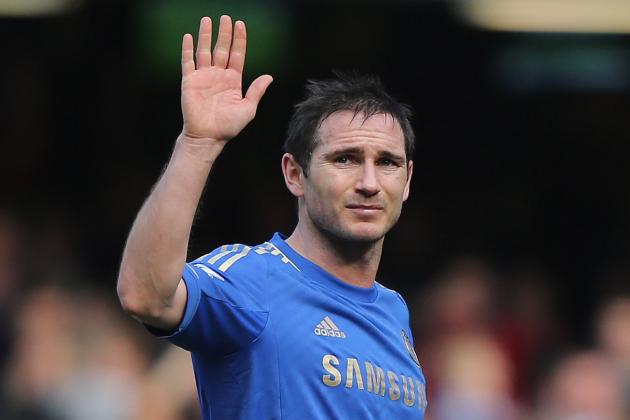 Ian Walton/Getty Images

When Lampard leaves Chelsea, he will certainly be added to the list of legends officially sanctioned by the club. If they were to be ranked in order of importance, Ron "Chopper" Harris and Peter Osgood would be first and second, while Lampard would enter in joint third place with Gianfranco Zola.
All that's left is to hope that he is kept out of contention by his continuing involvement with the club for a few more years.