Blue Jays Biggest Winners and Losers of Spring Training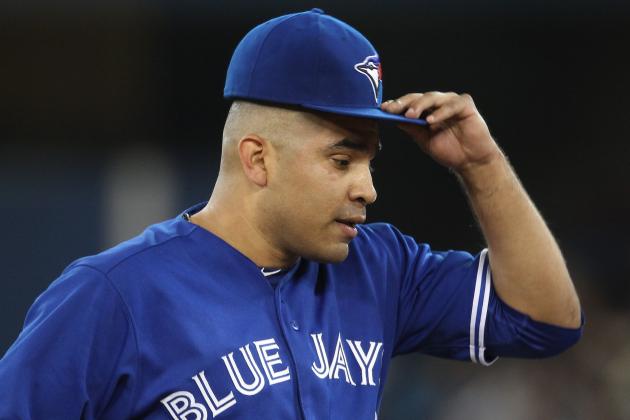 Tom Szczerbowski/Getty Images

Spring training breeds battles. Sometimes it is as simple as battling the wind on a gusty Florida day, and sometimes they are good old-fashioned position battles. But no matter what, there will always be winners and losers. This Toronto Blue Jays' spring training is no different.
As spring training winds down, a clear picture of who will be playing baseball in Toronto—and who will be playing in Buffalo—is emerging. With every player guaranteed a spot, one has to be told otherwise. As such there are clear winners, and clear losers.
The winners and losers listed here are not players already in a position to succeed, or guaranteed their spot. These are those who have been given fortunate, or unfortunate, news as the spring has gone on. Yes, I agree that Jose Reyes being the starting shortstop on a contending team and recently winning the World Baseball Classic makes him a winner, but you won't find his name on this list.
Let's start with those less fortunate than others…
Begin Slideshow

»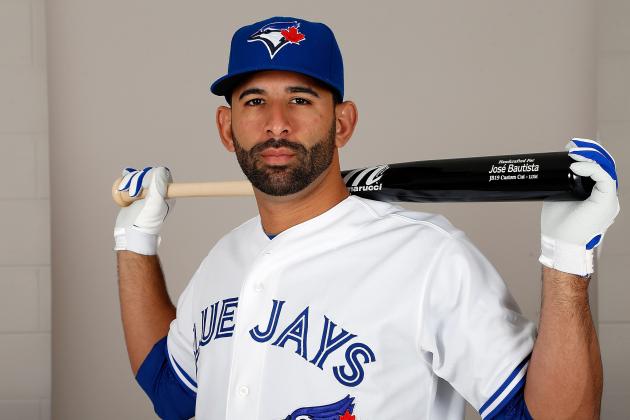 J. Meric/Getty Images

Ricky Romero
This one is an obvious choice. On Tuesday, Ricky Romero was optioned to Single-A Dunedin and will not start the season with the Blue Jays. Although the move may come as surprise to some, it was the right decision.
Romero struggled mightily last year, posting a 9-14 record with an abysmal 5.77 ERA. He had offseason surgery and started spring training optimistic that he would be able to rebound in 2013, but after a few Grapefruit League starts, it was clear Romero still had some tinkering left to do with his delivery.
The team has decided that he is not yet ready to test his new mechanics against MLB hitters yet, and as such, he will begin his year in the farm system. He will spend time moving up through the ranks of the minor leagues on his way back to the Blue Jays, working on his delivery as he goes.
Romero will most likely see some big-league action this year, but considering he was the Blue Jays' Opening Day starter just 12 months ago, this has to be considered an extreme disappointment for everyone.
Jose Bautista
How can a two-time home run champion who has just recently recovered from a wrist injury be considered a loser? Not to mention he has a slugging percentage of .627 this spring and is finally playing on a team ready to compete for a World Series title after nine years in the MLB.
Sure, things may be looking up for Bautista when it comes to his future in the MLB, but his World Baseball Classic luck was not as fortuitous.
Bautista was very upset that the Blue Jays forbid him to play for the Dominican Republic in the WBC and expressed his genuine interest in helping the team win a number of time. The Dominican Republic went on the win the WBC title, with a helping hand from a number of Blue Jays players, as Bautista cheered them on like a proud father.
Missing the chance to represent your country on baseball's biggest international stage, and forfeiting the chance to win a championship, will surely leave a negative impression when Bautista looks back on the spring of 2013.
Brett Lawrie
And here is exactly why the Blue Jays did not allow Jose Bautista to play in the World Baseball Classic. Before Lawrie could even represent Canada in a game, he reportedly hurt his oblique muscle. It has since been classified as a rib injury and has landed him on the 15-day disabled list to start the season.
One of the many knocks against the WBC is that it takes place during spring training, when players are not yet in game shape. This leads to an above-average number of injuries that are sustained while playing for a team that does not contribute to their salary.
Teams are hesitant to put their star players on loan for this very reason, and it was a near worst-case scenario for Lawrie and the Blue Jays. Although he has been practicing, he had admitted that he will not be ready for Opening Day and does not want to do any further damage.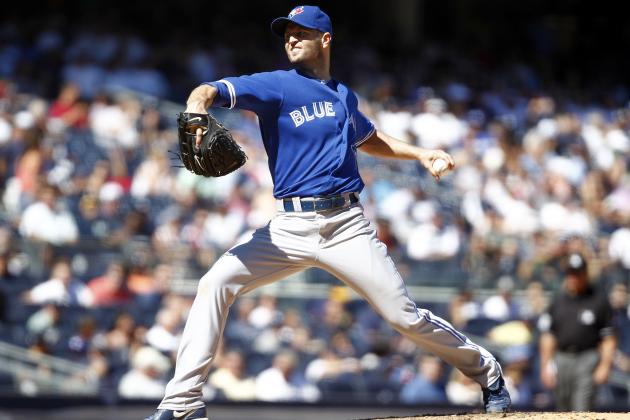 Jeff Zelevansky/Getty Images

J.A. Happ
One man's misfortune is another's opportunity. With the news that Romero will start the year in the minors, J.A. Happ will take over the last starter's role in the rotation.
At first it was unclear whether Happ would start the year in Buffalo and wait for an injury to get his chance to pitch, but John Gibbons has said that he has "pitched too good not to be on the team."
The confusion continued as it was unclear whether or not that meant he would be spending his time in long relief, biding his time until he was needed in the rotation, but the news of Romero's demotion has opened the door for Happ.
On Wednesday, Gregor Chisholm for MLB.com reported that Happ resigned with the Blue Jays for two more years. His deal is worth $3.7 million in 2013 and $5.2 million in 2014 for a total of $8.9 million.
Happ appeared in 10 games last year for the Blue Jays, recording a 3-2 record and a 4.69 ERA. He will undoubtedly be looking to improve on that in 2013. His first scheduled start is April 6 against the Boston Red Sox.
Happ has earned himself a starter's role, and a new contract. It's been a good week for Happ.
Brett Cecil and Jeremy Jeffress
The domino effect of Romero's demotion continued throughout the pitching staff, as it was recently confirmed that Brett Cecil and Jeremy Jeffress will start the year with the Blue Jays.
Although Cecil and Jeffress struggled this spring, with ERAs of 7.04 and 9.00, respectively, they will find themselves in the big leagues come April.
No one's position was in as much jeopardy, especially given their spring training stats, as Cecil and Jeffress. Although they will be on a short leash to start the season, they are both out of minor league options.
That means that if they struggle, they would need to clear waivers before finding themselves in the Blue Jays minor league system. The Blue Jays are unlikely to risk losing them and therefore will be extremely hesitant to demote them. These are two definite winners.
Adam Lind
Is this the year we believe the hype?
He has a new hitting coach that has appeared to turn his swing completely around. He has been smacking baseballs this spring like the 2009 version of himself who won a Silver Slugger Award. He has hit for power and average, and if his name were not Adam Lind there would be some serious hype surrounding the numbers he has put up.
But alas, he is indeed Adam Lind; the much talked-about, quintessential quadruple-A baseball player who can dominate triple-A pitching but struggles to find his groove in the majors.
As of right now, Lind will be the Toronto Blue Jays' designated hitter. He has earned himself an Opening Day roster spot, and if he continues to hit well he could be the difference between a good team and a great team.