Liverpool face a return to Premier League action on Sunday after a two-week break because of the international matches, and they face an away match against an Aston Villa side looking for points to avoid relegation.
It won't be an easy task for the Reds to take the three points, but following a disappointing defeat to Southampton last time out, manager Brendan Rodgers will be expecting a big reaction from his team who still have an outside shot at a European place for next season.
Should any Liverpool players come back in an overly confident frame of mind, a quick look at the video of this fixture played at Anfield earlier in the season should focus their efforts pretty sharpish.
Despite that 3-1 reversal, Liverpool can and should be looking at winning this match, if they play to their strengths and take advantage of where Villa have struggled.
The gaping hole in midfield
First and foremost, the Reds must take care of a situation which has plagued them all season long, including both the Anfield match versus Villa, and their most recent Premier League outing.
Namely, the lack of protection for the defence by the central midfield players. Lucas Leiva, despite performing well in isolated games, is clearly not back to his most influential level and there have been far too many times when opposition midfielders or attackers simply waltz, unchallenged, through the Reds' central zone.
Easily preventable goals have cost Liverpool in this way on many occasions this season, and it need to be halted as best as can be managed now and fixed on a more permanent basis during the summer.
Whether in the immediate term that relates to a switching of positions for one or more players, the re-introduction of the energetic Jordan Henderson to the centre of the pitch or simply a kick up the backside to the current XI to remind them of their defensive duties, Brendan Rodgers has to find the answer quickly.
Playing Luis Suarez as the No.10 has worked in part, but Liverpool were severely overwhelmed last time out against Southampton as the Saints swamped the Reds in the centre of the park.
Attacking Villa's left side
Ask any Villa fan where their main weakness has been this season and the chances are they'll indicate the left side of defence.
Eric Lichaj has been most inadequate, resulting in Joe Bennett, Nathan Baker and Enda Stevens all getting game time at left-back. Baker has been the most recent pick in that role, scoring a horrible own goal but having an otherwise-accomplished game against Reading, but he was taken off injured against QPR two weeks ago.
On that side for Liverpool, assuming Rodgers continues with recent selection form, will be former Villa player Stewart Downing.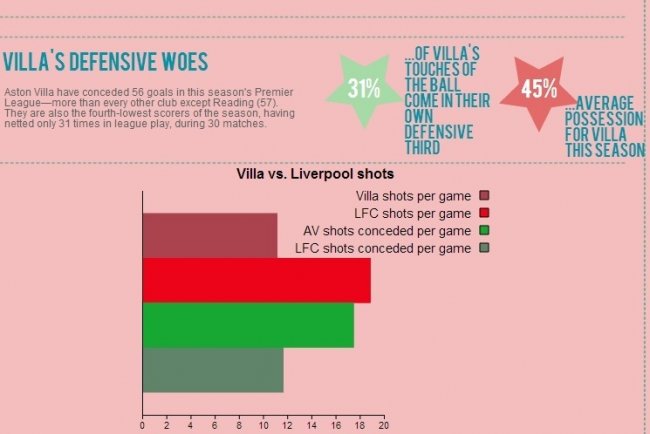 Downing has gone from being a starting winger on the opening day, to a backup left-back, to being told he can leave the club midway through the season, to now once again being a virtual first-pick on the right side of the Reds' attack. His improving form means he will be asked to attack Villa's defence down that side and deliver some good ammunition for the central players.
Liverpool haven't tended to utilise crosses too much this season, preferring to build centrally or play quick, low combination passes into the penalty area from out wide, but this might be a game where they get to ask their England winger to swing one or two higher balls into the box; Villa have been noticeably poor at defending crosses and set pieces this term.
Deciding on where Suarez plays
Suarez can have enough of an impact to win any game he plays in, from any position. Brendan Rodgers, though, needs to figure out where he should start from to allow not only Suarez to flourish, but also the rest of the team, technically and tactically.
If the Reds go with an extra body in midfield, Suarez could play in any of the other attacking roles, but presuming Downing starts on the right, it will be either Philippe Coutinho or Daniel Sturridge who is sacrificed to the substitutes' bench.
Suarez will get involved in the build-up play, turnovers and patient, probing attacks no matter where he starts from; the key will be to get him linking up with others around the penalty area who can be a threat on goal. Coutinho and Sturridge have both brought goals (and assists) since arriving in January; can Rodgers afford to leave them out now?
Perhaps there might be one ideal solution to this system, but it relies on the manager having the confidence in the work-rate, physical resilience and mental capacity of Coutinho to play the No.10 role. Attack-wise, he will be a star. With play heading in the other direction, Kopites have yet to see the impact that Coutinho can have on the game, despite his admirable approach to challenging opposition players from a wide left role.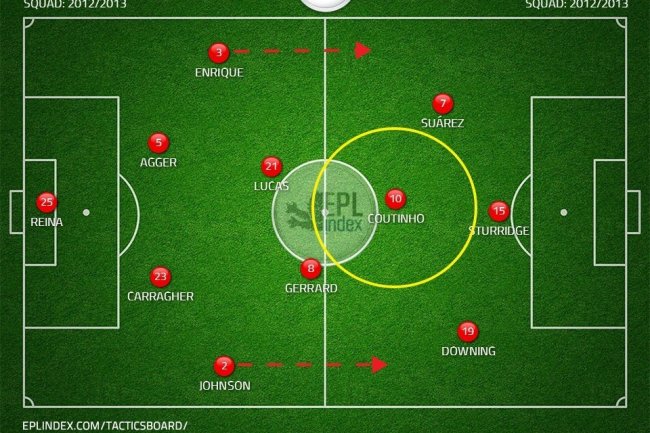 Carragher and Agger
Liverpool need to get these two back together in the centre. Martin Skrtel, for years a player who has been in either great form or dreadful form, is this season really struggling to find his best level.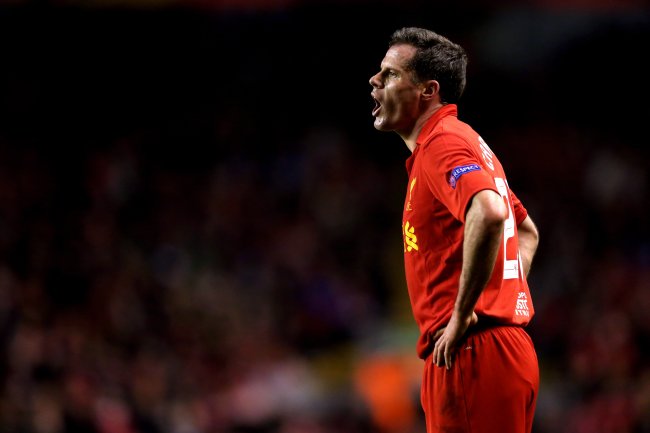 Alex Livesey/Getty Images
Jamie Carragher has come back into the centre of defence since the turn of the year and the Reds have looked less shaky at the back as a result, though the lack of protection offered by the midfield at times remains an issue.
Predict the outcome of Sunday's game?
It's perhaps no surprise that Carragher was missing against Southampton (and Pepe Reina, another organiser and talker at the back), and Liverpool ended up conceding such soft goals. Daniel Agger hasn't been at his best this term either, but when playing beside a reliable partner he has the ability to take Liverpool's game, with and without the ball, to a much higher level.
If Carragher and Agger can stay in place as Liverpool's back two for the remainder of the season, there is still a chance they could sneak into next season's continental competitions with a top-five finish, but it has to be an almost-perfect ending to this campaign for that to happen.
Starting with three points at Villa Park on Sunday.