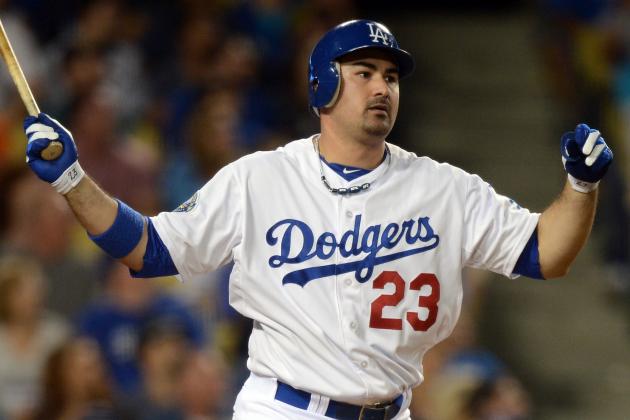 Harry How/Getty Images
Gonzalez hit .324 with 13 homers and 75 runs batted in over his last 97 games in 2012.
The World Series Champion San Francisco Giants probably go into the 2013 season as division favorites, considering the team looks very similar to what it did at the end of last year. It won't be a cakewalk, though.
The Los Angeles Dodgers' limited depth is already being put to the test after an injury to Hanley Ramirez, but they have a talented team that could dominate if they can avoid any more major injuries. An Arizona Diamondbacks team, coming off of an extremely busy offseason with lots of players coming and going, should also be competitive in 2013.
And don't count out the San Diego Padres, who had a fairly uneventful offseason but were one of the hottest teams in baseball over the second half of the 2012 season. The Colorado Rockies were a mess in 2012 and don't appear to have improved much over the offseason. A healthy Troy Tulowitzki helps, but his return alone won't carry them out of the cellar.
Here's a closer look at each of the five teams with an end-of-season standings prediction on the final slide.
Begin Slideshow

»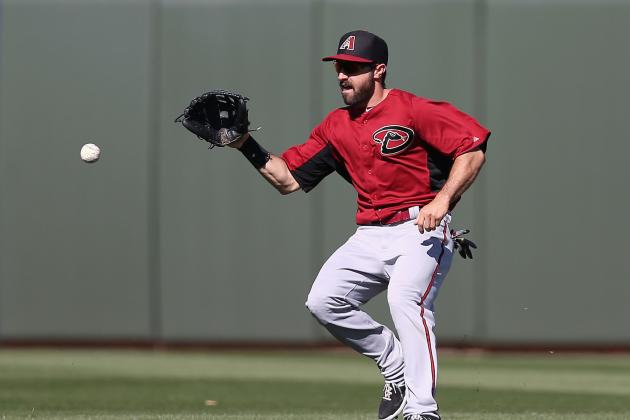 Christian Petersen/Getty Images

Notable Offseason Arrivals
Nick Ahmed, SS (Trade), Heath Bell, RP (Trade), Randall Delgado, SP (Trade), Didi Gregorius, SS (Trade), Brandon McCarthy, SP (FA), Cliff Pennington, SS (Trade), Martin Prado, 3B (Trade), Matt Reynolds, RP (Trade), Cody Ross, OF (FA), Tony Sipp, RP (Trade), Zeke Spruill, SP (Trade)
Notable Offseason Departures
Trevor Bauer, SP (Trade), Chris Johnson, 3B (Trade), Matt Lindstrom RP (FA), Bryan Shaw, RP (Trade), Justin Upton, OF (Trade), Ryan Wheeler, 3B (Trade), Chris Young, OF (Trade)
Catchers
Miguel Montero, Wil Nieves
Montero is one of the top hitting catchers in the game (.825 OPS, 33 HR,174 RBI over the past two seasons), which is why the Diamondbacks can't afford to sit him very much. They also need to keep him healthy or else they'll have a huge hole in the middle of their lineup. Expect the 29-year-old to continue to start behind the plate five to six games per week.
Infielders
Paul Goldschmidt, Aaron Hill, Cliff Pennington, Martin Prado
General Manager Kevin Towers made it clear early in the offseason that shortstop was his top priority. He acquired Pennington, which wasn't a very exciting move for D'backs fans. But he wasn't finished, acquiring defensive whiz Didi Gregorius to hopefully take over at some point in 2013, and prospect Nick Ahmed, who will likely start the season in Double-A.
The addition of Prado gives the team a versatile defender who can also hit anywhere in the lineup, especially near the top where the Diamondbacks needed some help.
Goldschmidt isn't at the elite level, but he crushes left-handed pitching. Hill, coming off of a career year (.882 OPS), signed a three-year contract extension (2014-16) this offseason.
Outfielders
Jason Kubel, Gerardo Parra, A.J. Pollock, Adam Eaton (DL), Cody Ross (DL)
Towers traded long-time center fielder Chris Young early in the offseason, seemingly opening up a spot for rookie Adam Eaton (pictured). Then he signed Ross, which put Eaton's roster spot back in question. But it finally became official once Justin Upton was sent to Atlanta in a blockbuster deal. Eaton would be the team's leadoff man and center fielder on Opening Day.
Ironically, Eaton (strained elbow) and Ross (strained calf) will both start the season on the disabled list, while Gerardo Parra and A.J. Pollock will likely get the Opening Day nod.
Starting Pitchers
Ian Kennedy, Trevor Cahill, Brandon McCarthy, Wade Miley, Pat Corbin/Randall Delgado
The biggest surprise after all the hype from early 2012 is that Trevor Bauer and Tyler Skaggs aren't in the 2013 rotation. Bauer was traded away to the Indians and Skaggs was sent to the minors after a rough spring.
The club brought in McCarthy (3.29 ERA in 43 starts with Oakland the past two seasons), who, if healthy, should help offset the loss of what Bauer had been expected to contribute.
Bullpen
J.J. Putz, David Hernandez, Heath Bell, Tony Sipp, Brad Ziegler, Matt Reynolds, Josh Collmenter
A strong bullpen only got better this offseason with the additions of left-handers Reynolds and Sipp. And even Bell as a seventh-inning setup man should be a boost. The 35-year-old pitched well after losing his closing job with the Marlins midway through last season, posting a 3.10 ERA with nine walks and 27 strikeouts in 29 innings.
Top MLB-Ready Prospects
Eaton should step right into the leadoff spot once he returns, probably sometime in May. The 24-year-old has a career .456 on-base percentage in the minors and could also steal 20-plus bases per season.
Skaggs may not be ready for the majors right now, but he's still a big-time prospect and is only 21-years-old. He'll start the season in Triple-A and should be an upgrade over Corbin or Delgado once he gets in a groove later in the year.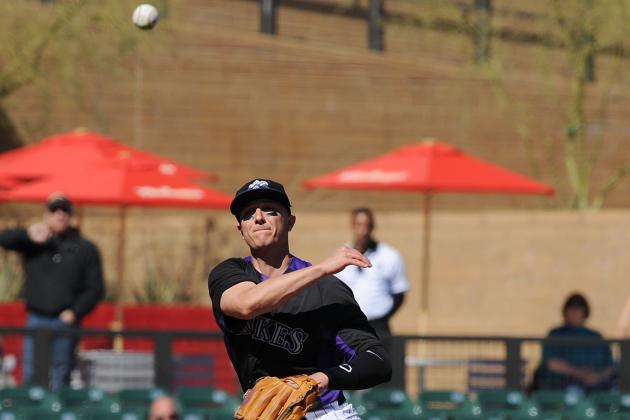 Norm Hall/Getty Images

Notable Offseason Arrivals
Reid Brignac, IF/OF (Trade), Jon Garland, SP (FA), Wilton Lopez, RP (Trade), Ryan Wheeler, 3B (Trade)
Notable Offseason Departures
Jason Giambi, 1B (FA), Matt Reynolds, RP (Trade), Josh Roenicke, RP (Waivers), Alex White, SP (Trade)
Catchers
Wilin Rosario, Yorvit Torrealba, Ramon Hernandez
The word is that the Rockies will either trade or release Hernandez, opening up the backup spot to the veteran Torrealba.
With Rosario, one of the most powerful hitting catchers in the game, the Rockies have a raw defender who needs a ton of work and mentoring behind the plate. Torrealba should be a perfect fit in that role.
Infielders
Todd Helton/Michael Cuddyer, Josh Rutledge, Troy Tulowitzki, Chris Nelson
In what will likely be the 39-year-old Helton's final season, expect to see the Rockies use Cuddyer more at first base with a group of young players, including Tyler Colvin, getting more time in right field.
Rutledge showed off some of his offensive potential filling in at shortstop last season (.775 OPS, 7 SB in 73 games). Now he shifts over to second base with the return of Tulowitzki (pictured), who was limited to just 47 games in 2012 because of a groin injury.
At third base, Nelson will get a shot after he hit .301 with nine homers in 111 games last season. Prospect Nolan Arenado is on the fast track, however, and is the "Third Baseman of the Future" or maybe even as soon as Nelson's first extended slump.
Outfielders
Carlos Gonzalez, Dexter Fowler, Michael Cuddyer/Tyler Colvin
Gonzalez and Fowler are elite hitters inside Coors Field, but very average on the road. Both could be put on the trade block if the Rockies fall out of contention. It might be a tough sell, though, if the splits remain unbalanced.
Along with Colvin seeing extended time in the outfield, the Rockies will have Charlie Blackmon, Corey Dickerson, Rafael Ortega and Tim Wheeler waiting for a shot while playing in the upper minors.
Starting Pitchers
Jhoulys Chacin, Jorge De La Rosa, Juan Nicasio, Jeff Francis, Jon Garland
It will be tough to be any worse than in 2012, when the rotation had an ERA of nearly 6.00. Four-fifths of the rotation missed most, or all of the season with injuries, so things could be different.
The recent addition of Jon Garland will allow some of the young Rockies pitchers, like Drew Pomeranz and Christian Friedrich, to continue developing on the farm.
Bullpen
Rafael Betancourt, Matt Belisle, Wilton Lopez, Rex Brothers, Edgmer Escalona, Adam Ottavino, Chris Volstad
Unlike the rotation, the Rockies have a reliable group of pitchers to close out games when they do have the lead. If the starters aren't pitching into the sixth inning on a consistent basis, however, the bullpen depth isn't strong enough to hold up over an entire season.
Top MLB-Ready Prospects
The 21-year-old Arenado is still in big league camp, which tells you what the Rockies think of him. It's likely he can put up big numbers in the Triple-A Pacific Coast League and earn a call-up no later than the second half of the season.
No pitching prospects are particularly close to helping out the big league club, although Chad Bettis could move quickly if he's back to full strength after missing all of 2012 with a shoulder injury. The 23-year-old had a 3.34 ERA with 45 walks and 184 strikeouts in 169.2 innings while pitching in the Hi-A California League two seasons ago.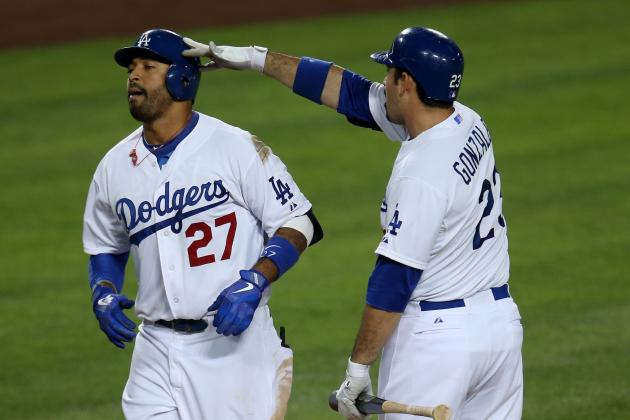 Stephen Dunn/Getty Images

Notable Offseason Arrivals
Zack Greinke, SP (FA), J.P. Howell, RP (FA), Hyun-Jin Ryu, SP (Purchased), Skip Schumaker, 2B/OF (Trade)
Notable Offseason Departures
Joe Blanton, SP (FA), Rubby De La Rosa, SP (Trade), Juan Rivera, 1B/OF (FA), Jerry Sands, 1B/OF (Trade), Shane Victorino, OF (FA), Jamey Wright, RP (FA)
Catchers
A.J. Ellis, Tim Federowicz
Ellis finally stuck in the majors at 31 years old and was much better than advertised with the bat. His .373 on-base percentage was quite impressive, but not much of a surprise based on his minor league numbers. It's his 13 homers in 133 games that was shocking after he had all of 19 in 543 career minor league games.
Infielders
Adrian Gonzalez, Mark Ellis, Luis Cruz, Nick Punto/Juan Uribe, Hanley Ramirez (DL)
Losing Ramirez for at least the first six weeks of the season hurts, as the Dodgers will be forced to go with some rotation of Nick Punto, Juan Uribe and Jerry Hairston, Jr. at the hot corner with Luis Cruz sliding over to shortstop.
Gonzalez proved he was capable of carrying a team during his career with the Padres, but not as much in the two years since being traded. The 30-year-old did show signs of returning to form, hitting .324 with 13 homers, 25 doubles and 75 runs batted in over his final 97 games of 2012.
Outfielders
Carl Crawford, Matt Kemp, Andre Ethier
A bounce-back season from Crawford, who went from elite top-of-the-lineup hitter to mediocre after signing with the Red Sox before the 2011 season, would be a huge boost to the Dodgers lineup.
Kemp (pictured) is one of the best players in the game, although he was limited for most of 2012 because of injuries. If he's healthy, the Dodgers are a different team, not only talent-wise, but the confidence and energy levels are sky-high.
Starting Pitchers
Clayton Kershaw, Zack Greinke, Hyun-Jin Ryu, Josh Beckett, Chad Billingsley
Kershaw and Greinke give the Dodgers one of the top one-two punches in the game. If Ryu makes the transition from ace in the Korean League to solid back-of-the-rotation starter, the money spent to acquire him will be well worth it.
With three extra veteran starters currently under contract, General Manager Ned Colletti should be busy working the phones over the next few days to try to swing at least one deal.
Bullpen
Brandon League, Kenley Jansen, Ronald Belisario, J.P. Howell, Matt Guerrier
Re-signing League to a three-year deal and anointing him the closer was a bit mind-boggling with Jansen already proving that he's capable of being a dominant ninth-inning reliever.
As it stands, it's not a bad move because now opponents have to worry about Jansen an inning earlier and League was actually quite good (2.30 ERA, 27.1 IP, 17 H, 14 BB, 27 K, 6 Sv) after the Dodgers acquired him at the trade deadline.
Top MLB-Ready Prospects
Yasiel Puig, signed to a seven-year, $42 million major league deal in 2012, had a huge spring camp (30-for-57, 3 HR, 5 2B, 2 3B, 4 SB). Although he'll likely start the season in Hi-A, the 22-year-old could see the majors by the second half of 2013.
In fact, if Andre Ethier continues to struggle against lefties, Puig could be his platoon partner down the stretch.
If any of the team's top pitching prospects in the upper minors, namely Zach Lee, Matt Magill and Chris Reed, reach the majors before September, things have probably gone terribly wrong in Los Angeles.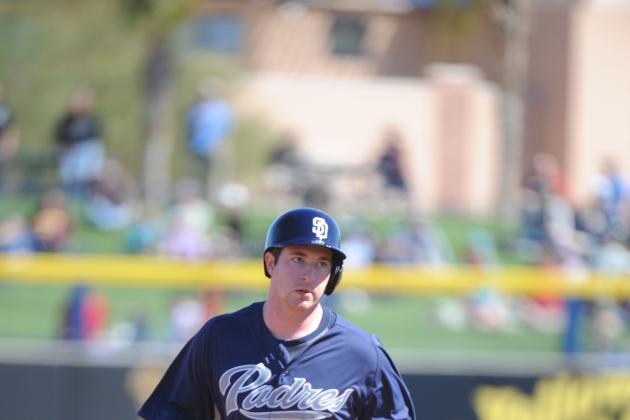 Rich Pilling/Getty Images

Notable Offseason Arrivals
Tyson Ross, SP (Trade)
Notable Offseason Departures
None
Catchers
Nick Hundley, John Baker, Yasmani Grandal (suspended 50 games)
The Padres were counting on big things from Grandal after a terrific rookie season. Now that he's been suspended for 50 games after testing positive for performance-enhancing drugs, they will be counting on Hundley to bounce back from a disastrous 2012 season (.464 OPS in 58 games).
Spring training stats can be meaningless, but I'm sure the Padres are a bit relieved that Hundley has been very good (18-for-44, 3 HR, 7 2B) instead of really bad.
Infielders
Yonder Alonso, Alexi Amarista, Everth Cabrera, Jedd Gyorko, Chase Headley (DL), Logan Forsythe (DL)
It was the pitching staff in 2012 that was devastated by injuries. It only takes one injury to have a big effect on this lineup, however, when it's the guy who may have been the best hitter in the National League in the second half of last season.
Headley, who will miss the first few weeks of the season after fracturing his thumb, hit .308 with 23 homers and 73 runs batted in during the second half. It's no coincidence that the Padres played so well during that stretch, winning 42 of 75 games.
Outfielders
Carlos Quentin, Cameron Maybin, Will Venable/Chris Denorfia
Quentin came into the 2012 season with the injury-prone label and he certainly lived up to it, playing in just 86 games because of knee trouble. He's also questionable for the start of the 2013 season with—you guessed it—knee trouble.
The 30-year-old was productive when he was on the field (.877 OPS), however, so the team could be in good shape if he and Headley could be in the lineup together sometime in May.
Venable (.779 OPS vs RHP) and Denorfia (.890 OPS vs LHP) are underrated as a platoon, while Maybin was a much better hitter in the second half (.735 OPS).
Starting Pitchers
Edinson Volquez, Clayton Richard, Eric Stults, Jason Marquis, Tyson Ross
It's easy to be down on this rotation, which isn't very impressive on paper, but this is pretty much the group that was out there when the Padres were one of the better teams in baseball late last season.
And if any should struggle, there are several candidates waiting in the wings, including Anthony Bass and Andrew Cashner, who will both likely start the season in the bullpen. Tim Stauffer, coming back from flexor tendon surgery, will be in Triple-A and could be ready to join the team a few weeks into the season.
Bullpen
Huston Street, Luke Gregerson, Brad Brach, Andrew Cashner, Joe Thatcher, Dale Thayer, Anthony Bass
Like the rotation, the bullpen did well to succeed despite injuries. Street had a nearly perfect season with 23 saves in 24 opportunities, although he missed more than two months during separate disabled list stints.
In his place, Luke Gregerson and journeyman Dale Thayer were solid. If Cashner sticks in the bullpen instead of moving to the rotation, the Padres have an intimidating setup man who can reach triple digits on the radar gun.
Top MLB-Ready Prospects
Gyorko (pictured) will make his major league debut on Opening Day, likely playing third base and staying there until Headley or Logan Forsythe return from the disabled list. At that point, he'll slide back over to second base.
While he might not have enough power for the hot corner, the 24-year-old should hit plenty for a second baseman. The right-handed batter is projected to hit 12-15 homers and plenty of doubles.
Top pitching prospect Casey Kelly will undergo season-ending Tommy John surgery, but there are still a couple rookies who could make an impact in 2013. If they can avoid the injury curse that's hit Padres pitchers hard since last year, Robbie Erlin and Donnie Roach could be in the rotation by midseason.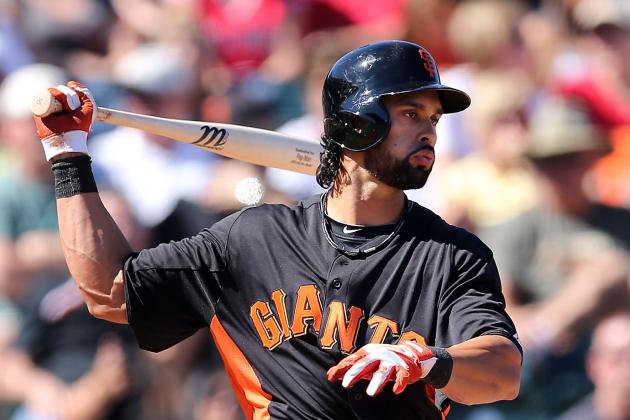 Christian Petersen/Getty Images

Notable Offseason Arrivals
Andres Torres, OF (FA)
Notable Offseason Departures
Melky Cabrera, OF (FA), Conor Gillaspie, 3B (Trade)
Catchers
Buster Posey, Hector Sanchez
The Giants were careful with Posey in 2012, starting him at first base 29 times. The NL MVP played in 148 games overall and had a huge season at the plate. Expect a similar plan in 2013 with Hector Sanchez taking on the load when Posey isn't catching.
Infielders
Brandon Belt, Marco Scutaro, Brandon Crawford, Pablo Sandoval
If you believe in spring numbers, then you probably have high hopes for Belt in 2013. In 20 spring games, he's matched his home run total (seven) from 145 regular-season games in 2012.
The team could use some power behind Posey, especially if Sandoval can't stay healthy and Hunter Pence doesn't improve much on the .671 OPS he produced after being acquired in July.
Outfielders
Gregor Blanco/Andres Torres, Angel Pagan, Hunter Pence
Re-signing Pagan (pictured), who hit .288 with 61 extra-base hits and 29 stolen bases in his first season in San Francisco, was a key. Not finding an upgrade in left field and sticking with Gregor Blanco seems risky, though.
The 29-year-old, who will likely platoon with Torres, had plenty of nice moments defensively and at the plate during the team's World Series run. But his lack of consistent production at the plate will be magnified if the rest of the lineup isn't picking up the slack.
Starting Pitchers
Matt Cain, Madison Bumgarner, Tim Lincecum, Barry Zito, Ryan Vogelsong
This quintet survived a season where Lincecum struggled for most of the way. Still, it's hard to see them overcoming it again, and it's even more difficult to imagine this group avoiding the injury bug once again.
The starting pitching depth is still suspect, so one injury, combined with Lincecum not being able to return to form, and the Giants could be in trouble.
Bullpen
Sergio Romo, Santiago Casilla, Javier Lopez, Jeremy Affeldt, George Kontos, Jose Mijares, Chad Gaudin
This group overcame the loss of closer Brian Wilson as five different relievers combined for 52 saves. Casilla led the way with 25, but it was Romo who starred in the postseason (10.2 IP, ER, 4 H, BB, 9 K, 4 Sv) and is likely to get the save opportunities more often than not in 2013.
Top MLB-Ready Prospects
The upper minors are still pretty bare with prospects, leaving the Giants vulnerable to injury. Former first-round pick Gary Brown was expected to be in the majors by now, but a so-so season in Double-A has pushed back his estimated time of arrival.
The 24-year-old, who is a plus-defender in center field, could be the fall-back option if the Blanco/Torres platoon falters. Brown would have to be playing well, however, and he didn't really show much this spring (7-for-32, 2 BB, 11 K).
Right-hander Chris Heston might be the first in line if the team needs a starting pitcher at some point. He's not a highly rated prospect, but the 24-year-old had a 2.24 ERA with a 2.4 BB/9 and 8.2 K/9 in 25 Double-A starts in 2012.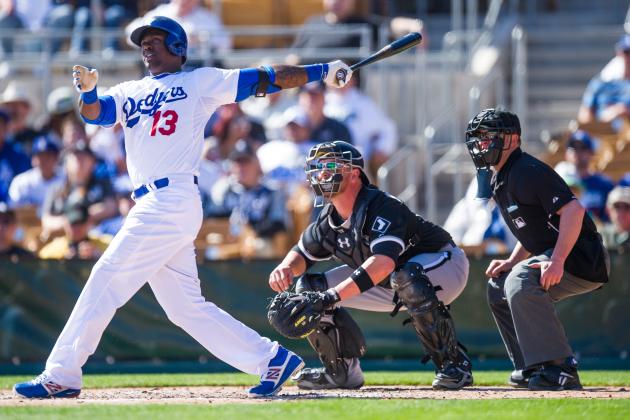 Rob Tringali/Getty Images
A healthy Hanley Ramirez could be a key if the Dodgers make a run in the second half.
I'm expecting a tight race with the Dodgers finally pulling away late in the season behind a talented roster that could all come together at just the right time. The Dbacks, with all their new faces, will make a run late in the season but will fall just short, and the Giants won't be able to overcome a lack of depth that will be exposed once they lose one or two key players to injury.
The Padres will continue to make progress, but a lack of overall talent will have them falling just short of the .500 mark. The Rockies will be bad, just like everyone expects them to be.
Los Angeles Dodgers 88-74
Arizona Diamondbacks 86-76
San Francisco Giants 82-80
San Diego Padres 80-82
Colorado Rockies 70-92