St. Louis Cardinals: Biggest Winners and Losers of Spring Training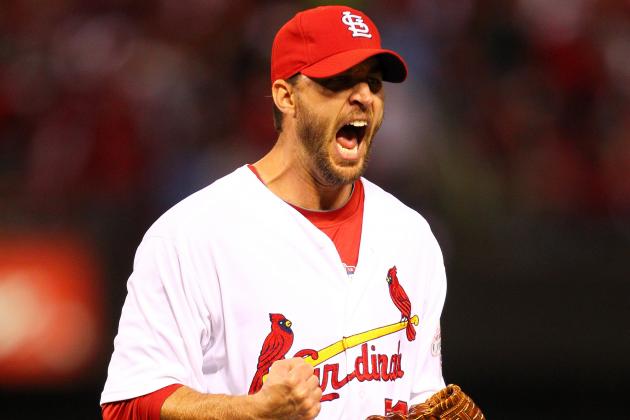 Dilip Vishwanat/Getty Images

We'd have to look into a crystal ball to find out which MLB team will emerge from the 2013 season with the ultimate victory. And we don't yet know who among the St. Louis Cardinals will prove themselves and who will fall short of expectations. These are questions that we've waited a long offseason to answer.
But with Opening Day just four days away, we can finally analyze spring training to its fullest.
The Cardinals' time at Roger Dean Stadium will, of course, be reflected in their regular season. Roster moves were made, contracts were signed, and players were both released and sent down to the minors.
So let's take a look at the team's biggest winners and losers this preseason.
Begin Slideshow

»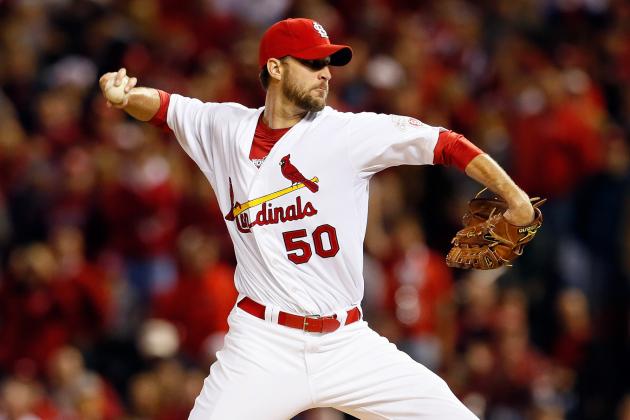 Kevin C. Cox/Getty Images

Wainwright spent last season trying to come back from the Tommy John surgery that kept him out of the game in 2011.
But the Cardinals ace enters 2013 with his ulnar collateral ligament healed in full. And that's not all—soon his wallet will be full as well.
Not wanting to risk losing him to free agency, the Cardinals are inking Wainwright to a five-year, $97.5 million dollar extension.
Some may say that Wainwright, who will be 32 when the contract kicks in, took a slight pay cut, as he would likely have been the top starting pitcher on the market after this season. But in comparison to the 29-year-old Zack Greinke's six-year, $147 million deal with the richest team in baseball, I'd say Wainwright did alright for himself. The Cardinals are by no means poor, but they can't afford to overpay like the Dodgers.
I think this is a great deal for both the Cardinals and Wainwright, making them the first winners on my list.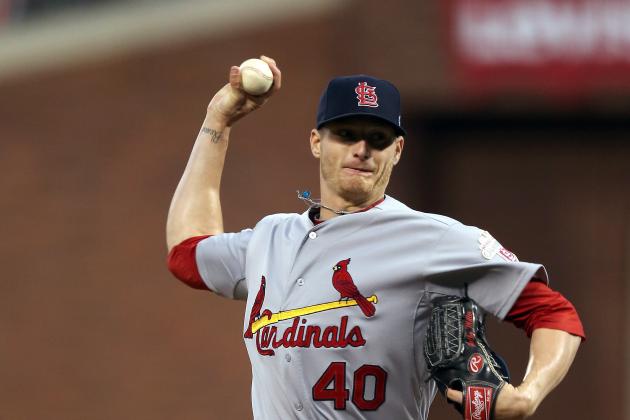 Ezra Shaw/Getty Images

The Cardinals' starting rotation didn't end up looking as planned. Prior to spring training, the departure of Kyle Lohse had already opened up some opportunities for young arms. But then, recurring injuries forced Chris Carpenter to step down for the entire season, leaving not one, but two holes to fill.
Lance Lynn was awarded the fourth spot in the rotation, and soon Miller and Joe Kelly found themselves locked in unexpected battle. And it was Miller who came out on top.
Earlier this week, it was announced that the highly touted prospect had earned the coveted fifth spot after pitching 16 innings of spring training baseball and posting a 3.94 ERA.
But it was Miller's "off the charts" maturity that most impressed manager Mike Matheny.
In a twist of irony, chants of "Miller Time" will soon ring out in Busch Stadium.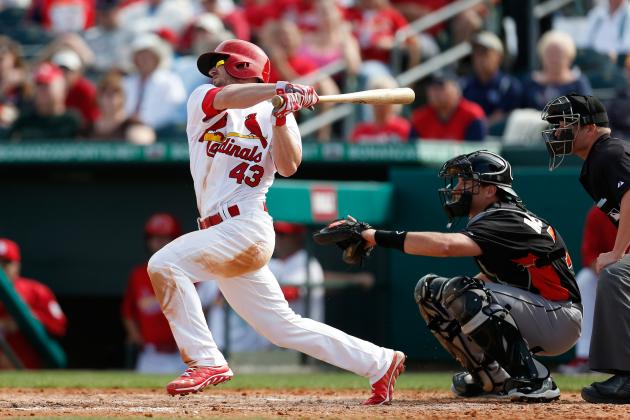 Chris Trotman/Getty Images

While everyone talked about the Cardinals pitching staff and wondered who would start at second base, Robinson quietly put up some huge numbers and cemented a place as the fourth outfielder.
In 61 at-bats this spring, Robinson is hitting .443 with 14 RBI. He has even shown a good amount of power with his three home runs (tied for first in the club with Matt Adams and Pete Kozma).
After spending last season low on the Cardinals bench depth chart with only 181 plate appearances, he has definitely turned some heads and is sure to have earned himself some more playing time in 2013.
Look for Robinson to be impacting this club come April and May.
Scott Cunningham/Getty Images

When Rafael Furcal was injured and Ronny Cedeno was released, the Cardinals could have gone out and spent money on a shiny new shortstop. But then there was Kozma...
The infielder is hitting .355 with 15 RBI this spring. And as mentioned before, his three home runs tie for first on the team with Robinson and Adams.
He's proven that he can perform well under pressure and the Cardinals have faith in him. That says a lot.
At least for now, he will resume the position he took late last season and replace Furcal. 2013 may be a season of "Kozmania" after all.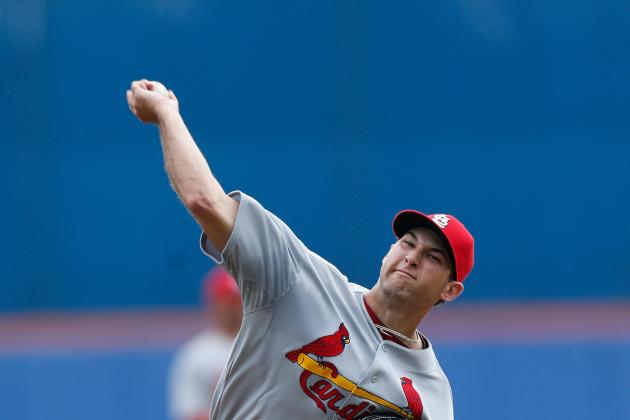 Chris Trotman/Getty Images

In contrast to everyone else on the winners list, Wacha will not be starting the season on the Cardinals roster. After becoming the most talked about aspect of the Redbirds' spring training, he was sent back to the minors. So you may wonder why he's earned my last spot.
Well, the Cardinals' first draft pick of 2012 certainly proved that the majors aren't too far away for him. In 11.2 innings pitched, Wacha maintained a 0.00 ERA with a total of 15 strikeouts.
And when Yadier Molina tells the media, "I think that guy, right now, can pitch in the big leagues," you know "that guy" is doing something right.
The highest compliment from a catcher with Molina's impeccable reputation is not taken lightly. I think Wacha will be holding his head high with a confident view of the future as he heads off to begin his season.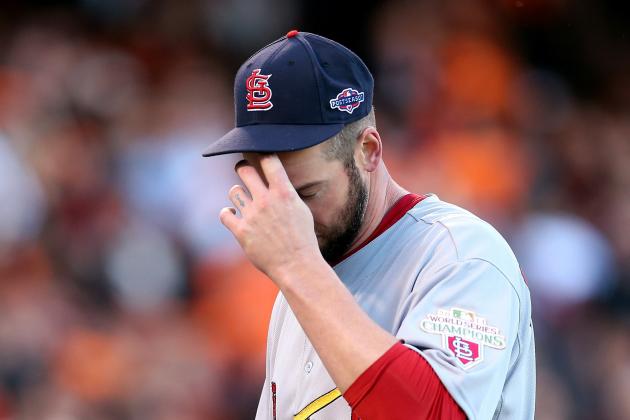 Christian Petersen/Getty Images

Perhaps the most devastating moment in this year's Cardinals spring training came relatively early.
Instead of looking toward a 2013 with two aces in Wainwright and Carpenter, the club was informed that the latter may never pitch again. This is an obvious blow to the Cards, but let's not forget its effects on Carpenter himself.
The starter was sidelined for most of 2012 with thoracic outlet syndrome before having surgery in which one of his ribs was removed. He made a dramatic and unexpected comeback late in the season, and it seemed like the Cards might have their ace in 2013. But that's not the case as his shoulder pain hasn't subsided.
According to general manager, John Mozeliak, Carpenter "felt to some degree he was letting (the team) down," and is "concerned about life after baseball."
We don't know what will happen to Carpenter in the distant future, but it's clear he won't be making an appearance this season. Unfortunately, that makes him my biggest loser.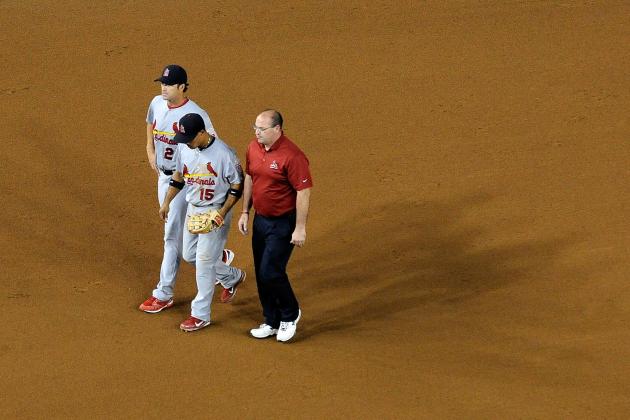 Patrick McDermott/Getty Images

Like Carpenter, an injury that plagued Furcal in 2012 has come back to bite him and possibly end his career.
The 35-year-old shortstop went down last August with an elbow injury. And even though in the early offseason Mozeliak had confidence Furcal would make a comeback Opening Day, the inflammation returned and he's out indefinitely.
Furcal recently had ligament replacement surgery, and Dr. James Andrews is confident he'll be ready to go next year. But his age raises some questions about whether that statement will hold true.
He has had a long, 12-year career in the majors regardless. But that doesn't mean he isn't itching for more.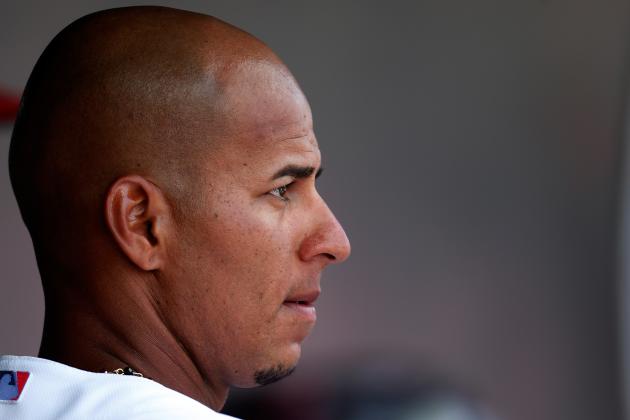 Chris Trotman/Getty Images

The Cardinals originally agreed to a one-year deal with the aging veteran, Cedeno, but he didn't deliver.
He was reportedly released after hitting .290 with nine strikeouts in 31 plate appearances. Many won't find this shocking, as his signing with the Cards was met with criticism.
Cedeno's time with the club seems to be over before it ever really started, but he has since taken up residence with the Houston Astros, who (in a twist of fate) released ex-Cardinal Tyler Greene in order to make room.
Cedeno may have found a somewhat happy ending, but I'm sure it was the birds on the bat and not the logo of a team struggling to rebuild that he was hoping to wear at the start of the season.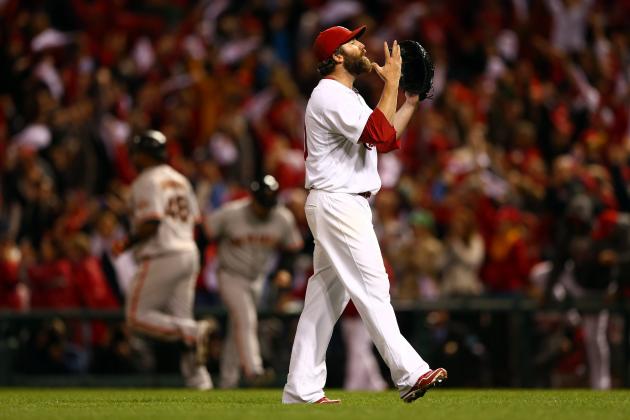 Elsa/Getty Images

One more victim of the dreaded injury fairy, Motte has recently been sidelined with a strain on his elbow.
Everything seemed to be going well for the closer this spring, as he had signed a two-year contract extension. But MRI results have got the Cardinals wondering whether or not he should start the season on the DL.
Note: The same is true of David Freese, who signed a one-year extension and followed it up with injuring his back while diving into the stands. However, Freese is only projected to miss six games, whereas the complications of Motte's strain seem much more up in the air.
I hope, for Motte's sake, that he is only out for a week or two. But right now, it's safe to say that this scare renders him relatively unhappy with his 2013 spring training.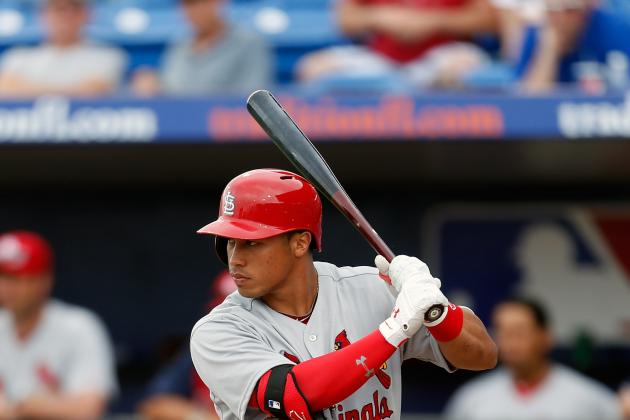 Chris Trotman/Getty Images

How would it feel to be an up-and-coming second baseman, notice that there is a potential opening for your position at the major league level and watch as the club chooses to teach a fist/third baseman the position instead? Pretty heartbreaking, huh?
This is the current reality of Wong, a minor leaguer who saw Matt Carpenter (who usually plays on the corners) and Daniel Descalso compete to be the everyday second baseman.
Now, you could say that he's got it better than Adams, who has been raking, and yet is held back by the fact that the young Allen Craig is going to be the Cardinals' first baseman for a long time. But it's been proven that the Cardinals will find a spot for those who are hitting well.
Wong hit .250 with three RBI in 28 spring training at-bats and failed to make a statement.
He is certainly primed to be the future of second base on the Cardinals lineup, but not this year.