8 MLB Players Hitting Their Stride Heading into the Regular Season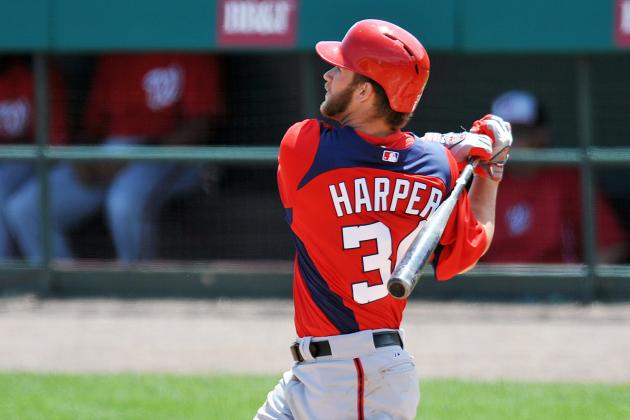 Steve Mitchell-USA TODAY Sports
Has any batter been more on fire than Bryce Harper this spring?
While some baseball players have slumped their ways through spring camp, a select few have been red-hot and will be more than ready to start the regular season on a positive note.
One would assume that beginning a season with a lot of confidence would be a good thing. It means that a player is comfortable with his mechanics and that he is seeing positive results from it. Sure, players can have a good swing or arm slot, but the results just aren't there.
There are plenty of stars around the majors looking to improve on their 2012 campaigns, but only so many will be able to do so. Those who have played well during spring training are already off on the right foot and now just have to continue doing what they've been doing.
So who are these players that have found their strides as spring training comes to a close? Let's take an in-depth look.
*All statistics were obtained via MLB.com unless otherwise noted. All roster and injury information was obtained via Baseball Prospectus. All contract information was obtained via Cot's Contracts.
Begin Slideshow

»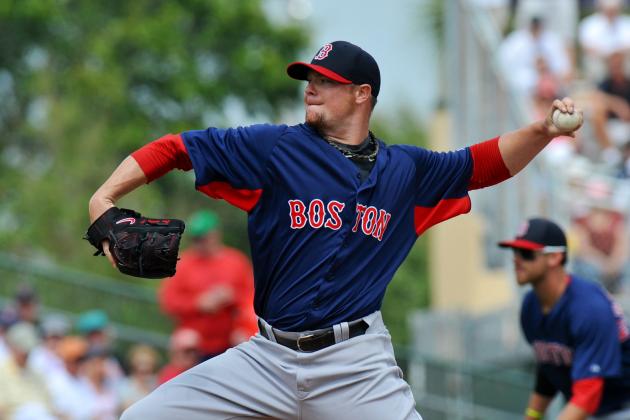 Steve Mitchell-USA TODAY Sports

There hasn't been a better starting pitcher this spring than Boston Red Sox left-hander Jon Lester. Lester had a disastrous 2012 campaign, going 9-14 with a 4.82 ERA in 33 starts, but he looks to have put the past behind him.
This spring, Lester has pitched in six games for Boston. He has tossed 24 innings and has only allowed two earned runs, striking out 20 while walking just four. Opponents are hitting .101 off of him.
Of course, Lester hasn't been facing top-notch opponents in camp, but his numbers are still impressive. Lester seems pleased with the way things have worked out thus far, according to Rob Bradford of WEEI:
"I think, in spring, you could look at it both ways," said Lester. "You can look at is as, OK, I'm hitting my stride at the right time. I'm finally clicking and things are going good. Like I've said after each one, it's good to have good results. It reinforces all the work you put into it and the adjustments and you see the wings at certain pitches and it's like, 'Man, this is me.' "
Lester will be Boston's Opening Day starter, and if he can keep his streak of good pitching together, the Red Sox could surprise a lot of people in 2013.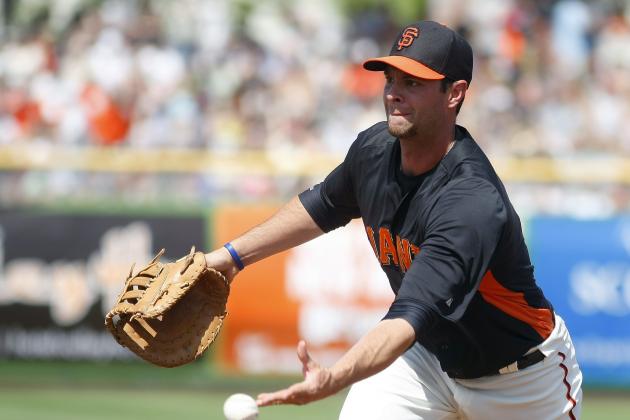 Rick Scuteri-USA TODAY Sports

The world champion San Francisco Giants got good production from first baseman Brandon Belt last season in his second year in the big leagues.
Once regarded as a top prospect, though, Belt has yet to morph into the star experts thought he would be.
Until now, possibly.
Belt has been on absolute tear this spring, hitting .448/.471/.925 with eight home runs and 19 RBI. Those are pretty solid numbers, no matter what type of professional pitching the opposition has on the mound. On March 22 against the Colorado Rockies, he collected 11 total bases, slugging two home runs in a 4-for-4 afternoon.
This has to be a turning point for Belt in his progression toward becoming a star. It seems that his mentality at the plate has shifted so that he's able to put more balls in play, according to Alex Pavlovic of the San Jose Mercury News:
"My timing is on point right now, and I feel like I'm mechanically sound," said Belt. "I'm hitting balls hard that I should be hitting hard. There are going to be some tough times in there. But I'm not the same player from a mental aspect. I know what to expect now. I'm going in with a lot more confidence this year."
The question remains, though—what are the Giants capable of if Belt is even better in 2013? They already have one of the top clubs in baseball and, coming off a World Series title, one would assume that they'd be even more unstoppable with better production at first base.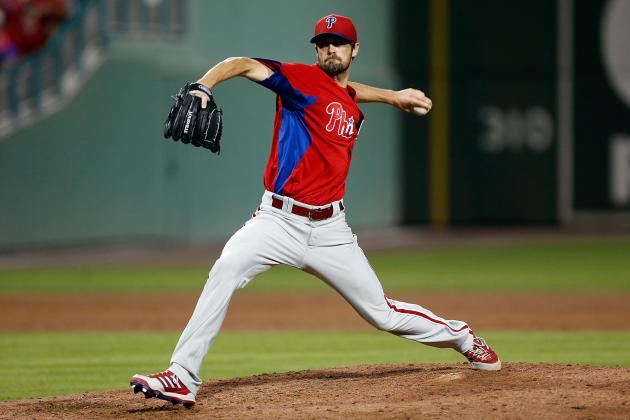 J. Meric/Getty Images

After a couple of seasons of being the No. 2 or No. 3 starting pitcher for the Philadelphia Phillies, Cole Hamels is now officially an ace.
Philadelphia's Opening Day starter has proven time and time again that he's capable of being one of the top pitchers in baseball.
This spring has only reaffirmed what Hamels is capable of doing each time he takes the mound. In five starts and 19 innings of work, Hamels has allowed just two earned runs for a spring ERA of 0.95. He has struck out 15 batters, walked four and given up 11 hits.
Hamels recently handed the American League champion Detroit Tigers with ease, tossing three shutout innings while allowing just one hit. The tall lefty told Jeff Shain of the Philadelphia Inquirer that he's ready for the regular season to start:
"I feel strong and healthy and I think that's first and foremost," Hamels told reporters. "I'm comfortable knowing I can get out there every five days and know that I can do deep into the ballgame."
The Phillies will need Hamels' best this season as they try to compete with the Washington Nationals and Atlanta Braves in the highly competitive National League East. Last season, Hamels went 17-6 with a 3.05 ERA in 215.1 innings, but couldn't push Philadelphia into the postseason.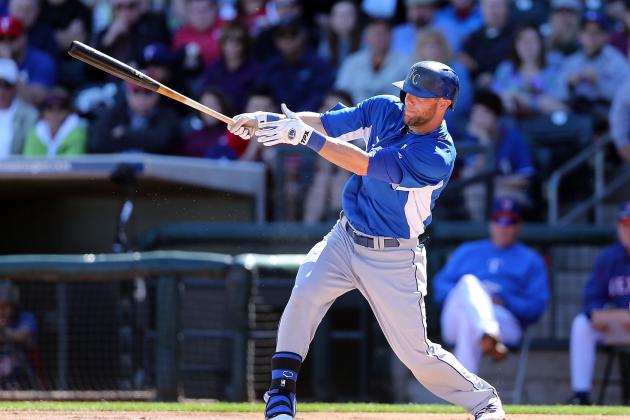 Christian Petersen/Getty Images

Not only is Alex Gordon one of the rising stars for the Kansas City Royals, but in all of baseball as well.
Gordon, an AL Gold Glove Award winner the past two seasons, has finally developed into the outfielder that scouts thought he would turn into when he was in the minor leagues.
Gordon has hit .298/.372/.478 with 37 home runs, 159 RBI and 194 runs over the last two seasons. Either Gordon seems poised for another breakout year or he's just having an unbelievable spring and he'll fail to hit starting on Opening Day. I'd go with the former.
This spring, Gordon is hitting .420/.481/.739 with six home runs, 15 RBI and 20 runs in 23 games and 69 at-bats. In his last four games, Gordon has gone 7-for-17 with three homers, five RBI and six runs.
The Royals have to be wishing that the season would start even sooner so that in case Gordon's hot bat cools off to start the season, they would at least get a handful of wins in the meantime.
Kansas City has a bunch of potential, but the Royals are going to have to have a lot of things go right for them to compete in the American League Central, and it all starts with Gordon.
If he can put together another solid campaign and help get the most out of his teammates, being a leader on and off the field, the Royals could be the Oakland Athletics of last season.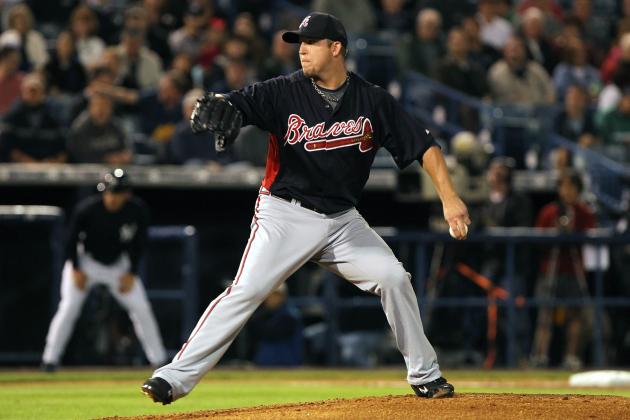 Kim Klement-USA TODAY Sports

If I asked you which Atlanta Braves player you thought was having the best spring, what are the odds that you'd go with Paul Maholm?
Unless you have really been paying attention this spring, I'd guess those odds are relatively slim.
Maholm has been as good as can be although earlier this spring, things didn't look so good. In his start against the Philadelphia Phillies toward the end of February, Maholm got roughed up, allowing five earned runs in fewer than three innings of work:
"Not the results you obviously want to have," Maholm told Mark Bowman of MLB.com after that game. "But I think it was a step forward, because I know what I need to work on between this one and the next start. I'll just continue to build and get ready for April."
Ever since, he's been great. In six spring starts, Maholm has tossed 25.1 innings with those five earned runs still the only earned runs he's allowed. His 1.78 ERA is one of the best in baseball this spring as Atlanta has benefited from him taking the mound.
Pitching in the middle of the Braves' starting rotation, Atlanta would love to have Maholm continue his success once the regular season begins. If they can get a good season from him, they'd be in great shape down the stretch and once the postseason starts in October.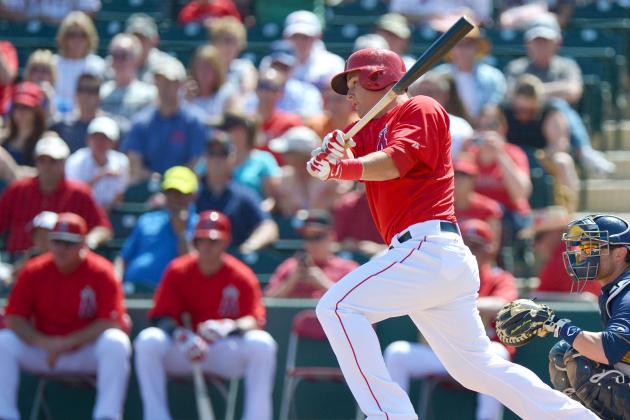 Jake Roth-USA TODAY Sports

Mike Trout established himself as one of the league's most feared hitters last season, despite it being his first full season in the big leagues, as he finished second to Miguel Cabrera in the voting for the AL MVP.
Trout hit .326/.399/.564 with 30 home runs, 83 RBI, 129 runs and 49 stolen bases in just 139 games last season. Imagine if the Los Angeles Angels would have started the year with him on the 25-man roster and what his numbers have looked like then. Probably even more ridiculous, in my opinion.
But now, it's time to see if Trout can keep it up. He had one great season, but many want to see him do it again. It doesn't look like he lost any of his talent over the offseason, or maybe he's just taking extreme advantage of low-level pitching.
In 20 games and 51 at-bats, Trout is hitting .373/.492/.627 with one home run, 10 RBI, 19 runs and five stolen bases. In his last four games, he's 5-for-13 with four runs. While he has experienced some ups and downs throughout camp, he's still going to make an impact this season.
Expect Trout to be in the MVP race once again, and Scott Miller of CBS Sports also thinks that he's going to have a terrific season. All we have to do now is sit back and watch one of baseball's top talents go to work.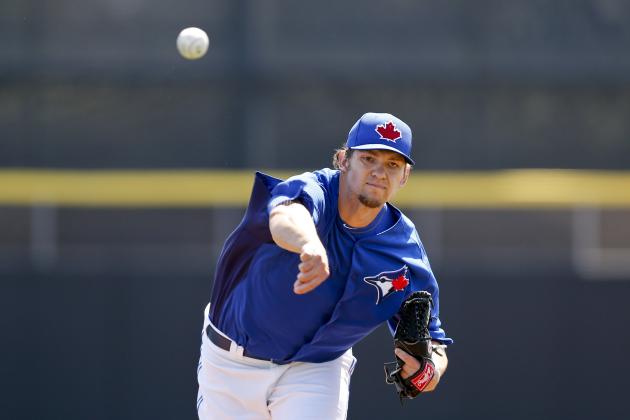 Derick Hingle-USA TODAY Sports

This season, Josh Johnson has a new home and seems to be enjoying it.
Acquired over the offseason by the Toronto Blue Jays from the Miami Marlins, Johnson finally gets a fresh start and the chance to win a World Series with a much-improved club up north.
Johnson had his fair share of ups and downs while with the Marlins. Last season, he went 8-14 with a 3.81 ERA in 191.1 innings. In 2011, his season was plagued by injuries after he had finished fifth in the National League Cy Young Award voting in 2010. Clearly, his career in Miami was all over the map.
Now with Toronto, Johnson has plenty of support from his talented teammates and can re-establish himself as one of the top starters in baseball. Buster Olney of ESPN recently analyzed what to expect from Johnson this year, highlighting what has and hasn't worked.
This spring, a lot has worked for Johnson. In five outings and 16 innings of work, Johnson is 4-0 with a 1.13 ERA, striking out 21 batters while walking just one. Who else thinks he's going to have a big year with the Blue Jays? I certainly do.
Toronto, on paper, has a team that could easily win the American League East and probably the league pennant as well, but a lot relies on the starting pitching and whether guys like Johnson can stay healthy and pitch well. He's off to a good start and just has to keep it going.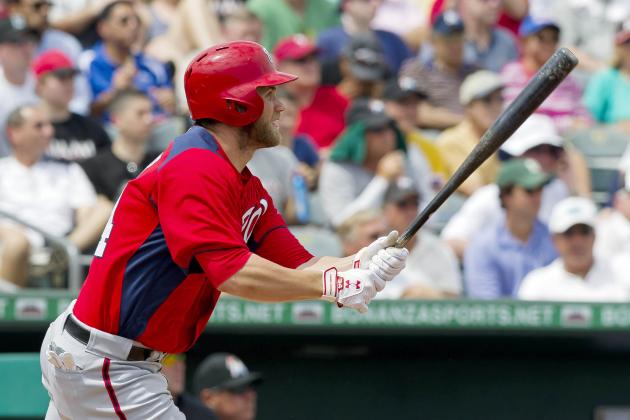 Steve Mitchell-USA TODAY Sports

After a very impressive 2012 campaign where he took home the National League Rookie of the Year Award, Washington Nationals outfielder Bryce Harper looks to be on a mission to earn some more hardware in the upcoming year.
In 139 games last season, Harper hit .270/.340/.477 with 22 home runs, 59 RBI and 98 runs, leading the Nationals to their first postseason appearance since moving to the nation's capital. He was spectacular in nearly every aspect of the game, but unfortunately couldn't get Washington to the World Series.
If Harper hits during the regular season the way he's hit this spring, a World Series appearance could be in the works. In 23 games, he's hitting .476/.507/.730 with three home runs, 14 RBI and 11 runs. Harper has gone the last four games without recording an out, going 9-for-9.
The only problem this spring is that Harper has been dealing with a thumb injury, preventing him from playing when the world knows he wants to be out on the field. Not to worry, though, as he expects to play Friday, according to Adam Kilgore of The Washington Post.
Harper is one of the leading candidates to suffer a sophomore slump, but in reality, that doesn't seem like a possibility. The young outfielder seems confident and has been playing out of his mind this spring. There shouldn't be much reason to doubt him in 2013.