Miami Heat's 27-Game Winning Streak Snapped by Chicago Bulls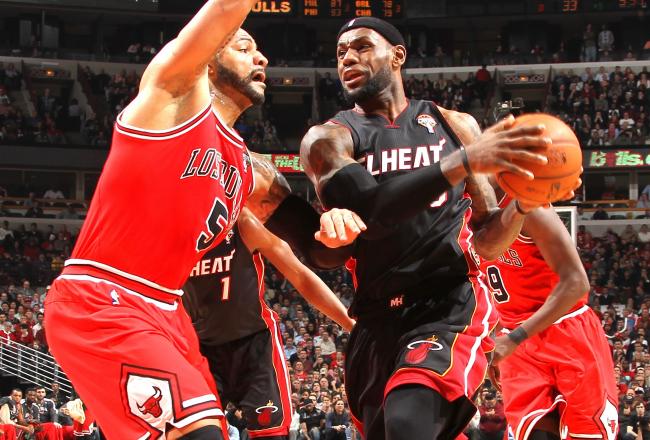 It seems all it took was one trip to the Windy City to huff, puff and blow the Miami Heat's historic winning streak to the ground. Despite playing without star center Joakim Noah and key role players Marco Belinelli and Richard Hamilton, the Chicago Bulls defeated the Heat, 101-97, Wednesday night at the United Center, ending Miami's 27-game winning streak.
Fiercely competitive and even drawing a flagrant foul toward the end of the game, LeBron James showed a level of playoff intensity in the loss. He scored 32 points, grabbed seven rebounds and blocked four shots, but could not overcome the ascendant nights from the Bulls' remaining stars.
Luol Deng led the way with 28 points, seven rebounds, five assists and some expertly played perimeter defense to boot.
Carlos Boozer also put together one of the best performances of his season, scoring 21 points and 17 rebounds, the latter statistic playing an integral role in the Bulls victory.
With Miami down 94-89 with a little over a minute to go, Nate Robinson jacked up a long three-pointer at the end of the shot clock. Out of position and seemingly about to allow Miami a chance to bring the game within one possession, Boozer outmaneuvered Chris Bosh and finished with a difficult layup over James.
He later watched as James dribbled the ball away within mere seconds of that basket, ostensibly locking up the victory for the Bulls.
That sequence encompassed everything Chicago did to come away with victory. The Bulls outrebounded the Heat 43-31, including doubling Miami on the offensive boards (12-6). They attempted an eight extra field goals as a result, giving them the ultimate advantage on a night where the two sides were neck-and-neck in nearly every other statistical measure.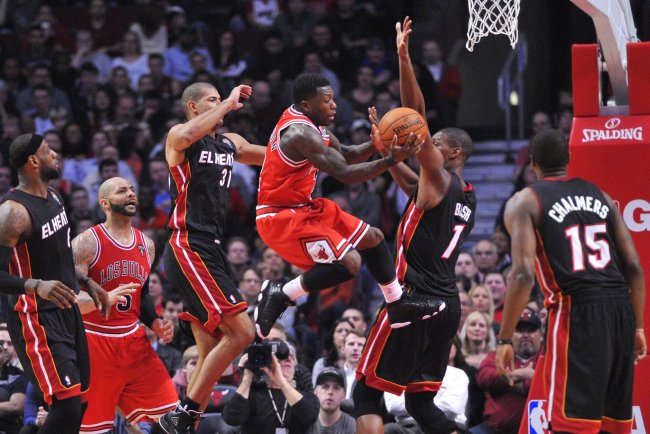 Rob Grabowski-USA TODAY Sports
And rebounding was exactly how the Bulls started the game, storming out to an early lead thanks to some easy buckets off offensive rebounds. They wound up going ahead by as many as 13 points early on in the first period, as Miami continued its habitual disorientation at the beginning of games.
The overall game plan was quintessential Tom Thibodeau-style basketball. Players hustled, collapsing in the paint and flustering Miami's offensive rhythm. In his return from knee ailments, Dwyane Wade had a somewhat mediocre night with 18 points in 38 minutes, while Bosh struggled on the glass, grabbing just four rebounds to go along with his 21 points.
It was a disappointing end to such a momentous streak. Miami's 27 straight will still go down among the all-time greatest NBA runs, with the team only six shy of tying the 1971-72 Los Angeles Lakers' streak of 33.
There are also many who will rationalize Miami's loss by saying the Bulls won their NBA championship on Wednesday and that the Heat will take theirs in June. Perhaps that's a fair statement.
But for one night, Chicago was able to do something no one had done since Feb. 1—they beat the streak.
This article is
What is the duplicate article?
Why is this article offensive?
Where is this article plagiarized from?
Why is this article poorly edited?