Predicting All New York Mets Team Awards for 2013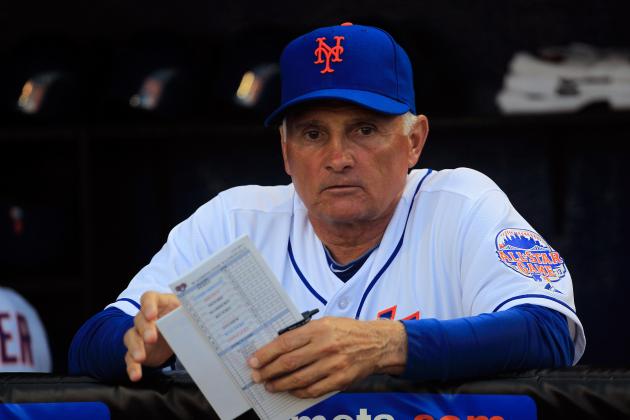 Chris Trotman/Getty Images

In a matter of days, the Mets' 2013 regular season will commence.
The Mets have suffered through four consecutive losing seasons, but with their rebuilding in progress, this season could finally be the year the Mets take a step forward and improve as an organization.
Third place and 85 wins are two reasonable goals that the Mets can shoot for in 2013. They may even hang around the race for the postseason for most of the season, even though the Nationals and Braves are both very good teams with a lot of depth.
Injuries and the lack of major league experience for certain players could keep New York from reaching its potential this season, but regardless of how the team performs, the Mets can expect great seasons from players like David Wright, Ike Davis, Matt Harvey and Jon Niese among others.
Here are some predictions for the Mets' 2013 team awards.
Begin Slideshow

»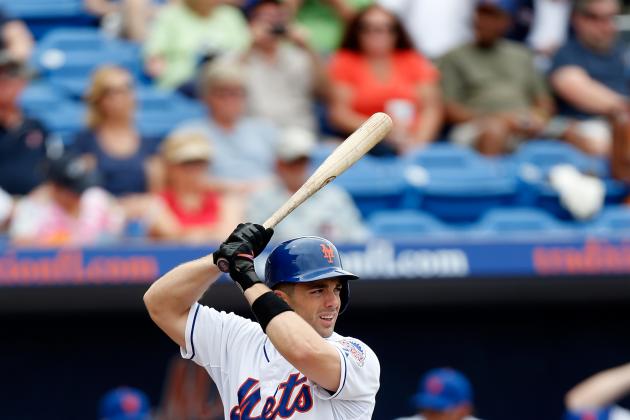 Chris Trotman/Getty Images

Despite a potential 35-40 home runs and 100-110 RBI from left-handed slugging first baseman Ike Davis, the Mets' MVP this year will once again be third baseman David Wright.
Fresh off an eight-year, $138 million extension, Wright will enter this season with the same mission he has had throughout his career—to lead the Mets to their first world championship since 1986. Wright has noticeably put the Mets on his back and with time, his efforts could possibly pay off in a big way.
Throughout his career, Wright has set the example for National League third basemen. He has been an All-Star from 2006-2010 and 2012. Since his career began in 2004, Wright has ranked third among all active third basemen in home runs, third in RBI, second in runs, first in hits, and fourth in OPS.
When Wright made his major league debut, Alex Rodriguez and Chipper Jones were widely considered the best third basemen in baseball at the time. Now that Rodriguez has declined and Jones has retired, it's clear that Wright is the model of excellence among all active third basemen.
In 2012, Wright got off to an amazing start, but cooled off in the second half, which led to a .306 average, 21 home runs and 93 RBI. The home runs and RBI were down compared to his career averages, but the Mets' offense did not give Wright a particularly large number of opportunities to drive in runs.
With what will hopefully be a better Mets' offense this year, Wright should be able to get back into the 100-110 RBI range, or maybe even close to 120 RBI. More home runs would certainly help the cause, and there is no reason why Wright should not be able to get past 30 home runs again if he stays more consistent throughout the season and does not try to do too much at the plate.
If Ruben Tejada and Daniel Murphy, among others, can get on base at a productive rate, expect Wright to have a huge season this year. Ike Davis will display the most power for the Mets, but Wright remains the heart and soul of the Mets' offense for a reason.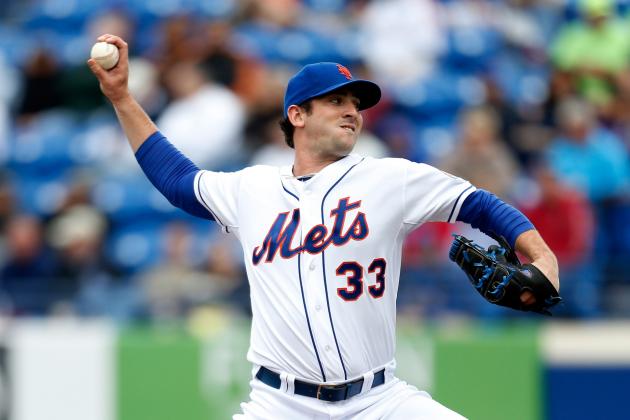 Chris Trotman/Getty Images

At just 24 years old, Matt Harvey will be counted on to be a dependable anchor and potential ace this season for the Mets.
Called up in late July of 2012, Harvey went 3-5 in 10 starts with a 2.73 ERA and 70 strikeouts in 59.1 innings pitched. The Mets' lack of offense had a noticeable effect in Harvey's record with little run support in quite a few of his starts. With better run support though this year, Harvey could have a breakout season.
A huge season from Harvey would give the Mets and their fans a lot of hope that the future could be bright with Harvey and future co-ace Zack Wheeler leading the way on the pitching side.
Reasonable expectations for Harvey this year are 15-18 wins, an ERA below 3.50, 180-200 strikeouts and around 200 innings pitched. They could also be numbers that the Mets and their fans could start getting used to seeing on a yearly basis.
Jon Niese is the Mets' most durable and proven pitcher right now, but Harvey's potential should put him over the top during the season. The eventual addition of Wheeler when the time is right will give the Mets a young and dangerous top three in their rotation that could possibly turn into one of the best groups in baseball in the near future.
It would be special for Harvey to have a great season and possibly become an All-Star in his first full season at Citi Field, not to mention in front of the Connecticut native's family and friends.
Once he is called up, Wheeler could turn out to be better than Harvey, but for now, Harvey will be the one Mets pitcher that fans will pay to watch in person.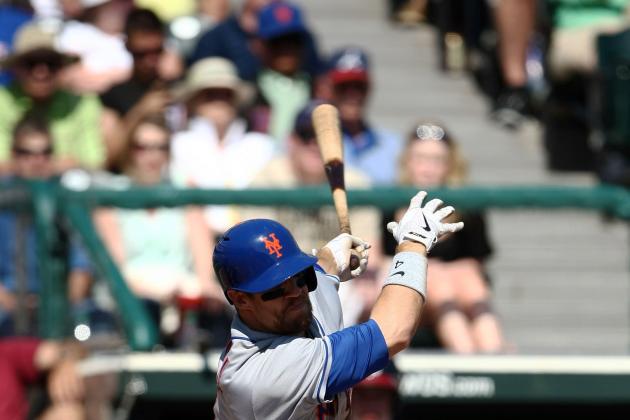 Douglas Jones-USA TODAY Sports

When the Mets acquired Collin Cowgill from the A's in the offseason, it wasn't a particularly big headline.
Cowgill though has now made headlines with the impressive spring training campaign he has had. In spring training this year, Cowgill has batted .333 with four home runs, eight RBI and four stolen bases in 22 games and 57 at-bats.
Cowgill has shown that he can get on base in the limited major league action he has had with the Diamondbacks in 2011 and A's in 2012. He has a .319 career OBP, despite a career .255 average. One thing that has helped Cowgill's game is his ability to draw walks. In 216 career plate appearances, Cowgill has drawn 19 walks for a very good walk-to-at-bat ratio.
Cowgill's spring training numbers could lead to him becoming the Mets' Opening Day center fielder over Kirk Nieuwenhuis. At the very least, Cowgill has certainly assured himself of a platoon role if he does not win the starting job outright. Despite most likely batting in the lower half of the order, Cowgill could surprise a lot of people this year by getting on base and creating runs.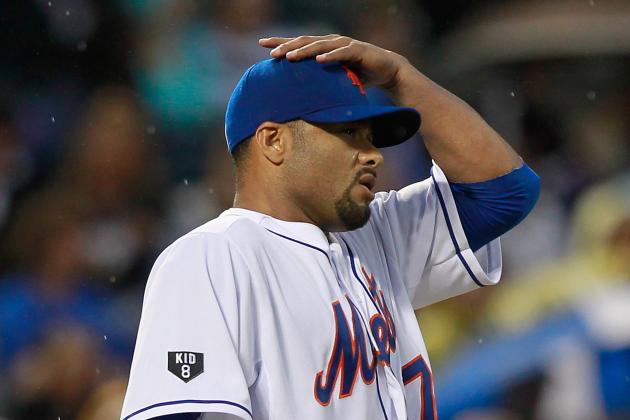 Ed Zurga/Getty Images

Despite Frank Francisco's terrible 2012 season, the answer here should not come as a surprise to any Mets fan.
Santana had a solid first half in 2012 that included his first career no-hitter, which also happened to be the first ever no-hitter in Mets history. However, his second season was a disaster and ended in August due to a lower-back injury.
Santana's health has not improved much in spring training. In fact, he has not appeared in a single game this spring due to his rehabilitation program. Santana is now slated to begin the season on the disabled list and it's unknown when he will next pitch for the Mets, if at all.
This will be the final season of Santana's six-year, $137.5 million contract that he signed before the 2008 season. Despite a great season that year, and two more solid campaigns in 2009 and 2010, Santana's time in New York has been marred by his inability to stay healthy.
At 34 and almost certainly not expected to have his club option for 2014 picked up by the Mets, Santana will try to play for his next contract. His own effectiveness on the mound will, of course, play a large role, but his health will be an even bigger key in the rest of his career.
If Santana is on the disabled list for an extended period of time, that will not help him get the money he wants or even a guaranteed major league contract for 2014.
At this point, the Mets will gladly take whatever they can get out of Santana, who will earn $25.5 million this year. If Santana gets healthy and pitches well, he could become useful trade bait for more young talent. On the other hand, Santana's injuries could potentially open the door for Zack Wheeler to make his major league debut sooner than expected.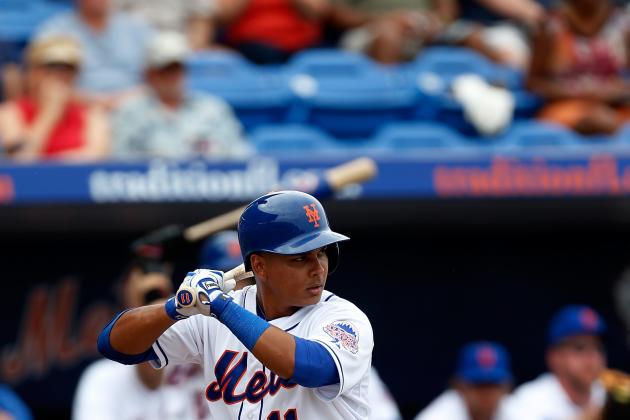 Chris Trotman/Getty Images

Despite a solid 2012 season in which he batted .289 with 26 doubles and a .333 OBP, Ruben Tejada could have an even better season in 2013, as long as he turns in a more consistent season.
Tejada has the starting shortstop job all to himself so he can play every day without worrying as much as in the past about job security. Tejada has the ability to hit over .300 consistently, even though he does not offer too much in terms of power run production and speed.
Ideally, Tejada could be a great No. 2 hitter in a lineup because he will get on base and move runners over. However, the Mets currently lack a true leadoff hitter, so it's possible that Tejada could be the Mets' Opening Day leadoff hitter.
If Tejada bats in the .300-.320 range, has an OBP above .360 and hits 30 doubles, he could become a more elite shortstop overall. With the current lack of talent among shortstops generally speaking, this could be the year that Tejada asserts himself as one of the most promising players at his position.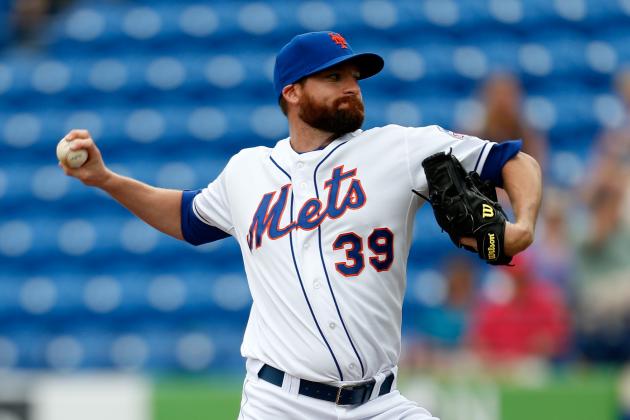 Chris Trotman/Getty Images

Since 2009, Bobby Parnell has been the Mets' setup man and has done a very good job in that role. It was only a matter of time until he would become the Mets' closer and it looks like 2013 will be the year for his transition.
Frank Francisco's elbow injury originally gave Parnell such an opportunity in the first place, but if Parnell pitches well as a closer, he should be able to hold onto the role for the entire season.
Parnell already has the velocity of a typical closer. If he can improve his secondary pitches and maintain good control, he could become one of the National League's better closers this year.
Then again, the Mets' offense and starting rotation needs to give Parnell quite a few opportunities in order to convert saves, and that is not necessarily a given by any means.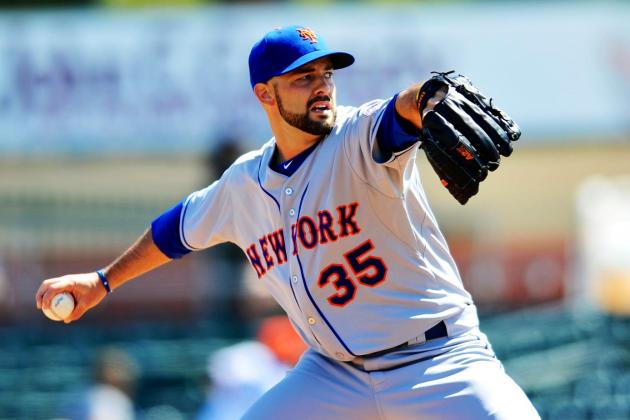 Steve Mitchell-USA TODAY Sports

Dillon Gee was having a solid season in 2012 until a blood clot was found in an artery near his right shoulder. Gee was hospitalized and eventually shut down for the rest of the season.
Gee has been healthy throughout spring training and will be in the back end of the Mets' starting rotation once again. In his partial 2012 season, Gee went 6-7 with a 4.10 ERA in 17 starts. With possibly more run support and better health, Gee could be expected to pitch like he did in his rookie season of 2011 when he led the Mets' pitching staff with 13 wins.
A healthy Gee would be a big boost for the Mets' rotation. While he is not a hard-throwing strikeout pitcher, he will get outs and has displayed great control. If he stays healthy, Gee would definitely be the Mets' comeback player of the year.