Florida Basketball: Blueprint to End Florida Gulf Coast's Cinderella Run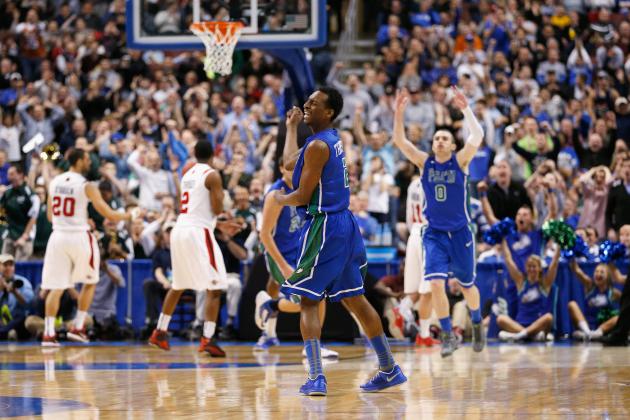 Rob Carr/Getty Images

The Florida basketball team is in an unenviable situation as it faces Florida Gulf Coast in the Sweet 16 on Friday in Arlington, Texas.
Outside of the Florida fanbase, everyone will be rooting for the ultimate Cinderella story, the Florida Gulf Coast Eagles. Florida Gulf Coast captivated the country with its up-tempo style, displaying confidence that no one would expect from a No. 15 seed.
On paper, the Gators should roll over Florida Gulf Coast, but the same could have been said about both Georgetown and San Diego State in Philadelphia last week.
Here is a blueprint for how Florida can end Florida Gulf Coast's Cinderella run.
Begin Slideshow

»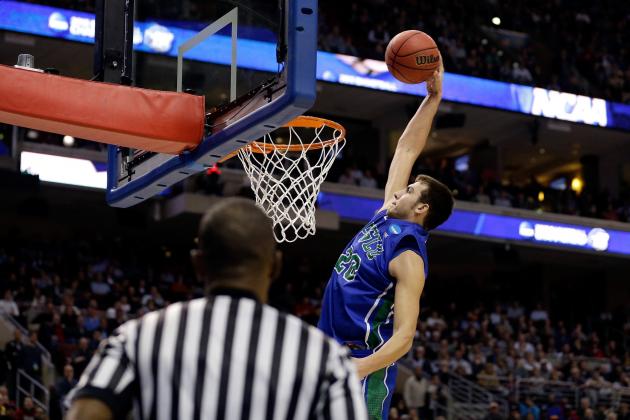 Rob Carr/Getty Images

Basically, Florida needs to play well on offense, which isn't groundbreaking for any team in any game. Still, it is especially important on Friday to keep Florida Gulf Coast from running.
Georgetown shot just 37.5 percent from the floor and made just 7-of-27 from three. When that happens, Florida Gulf Coast is able to get out in transition off a defensive rebound, and that is where the Eagles are most comfortable, in the open floor.
The same can be said about turnovers. Whenever a team turns the ball over, especially in a live-ball situation, that allows the opponent to get run outs which lead to easy baskets. San Diego State turned the ball over 17 times, contributing to 21 fast-break points for the Eagles.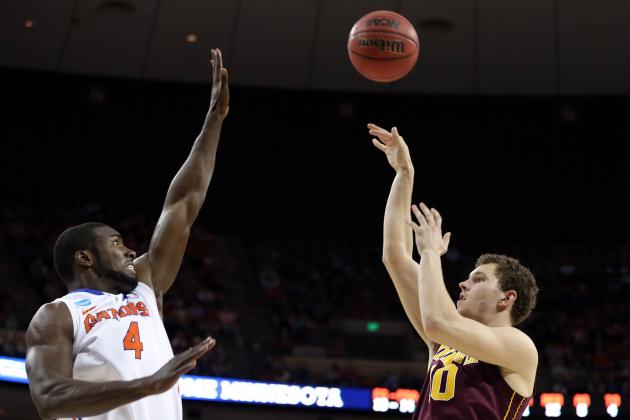 Jim Cowsert-USA TODAY Sports

Florida Gulf Coast is not a big team. There is no one on the Eagles' roster who has played double-digit minutes that weighs more than 210 pounds. As a result, Florida big man Patric Young should be able to own the paint and dominate down low.
That doesn't mean that Young has to have a double-double, but he will have to make a big impact defensively. Young needs to be an intimidating presence down low, forcing Florida Gulf Coast to think twice before trying to penetrate.
The Gators also need to win the rebounding battle. Florida Gulf Coast grabs 32.8 percent of its defensive rebounds, ranking No. 208 nationally, according to KenPom.com.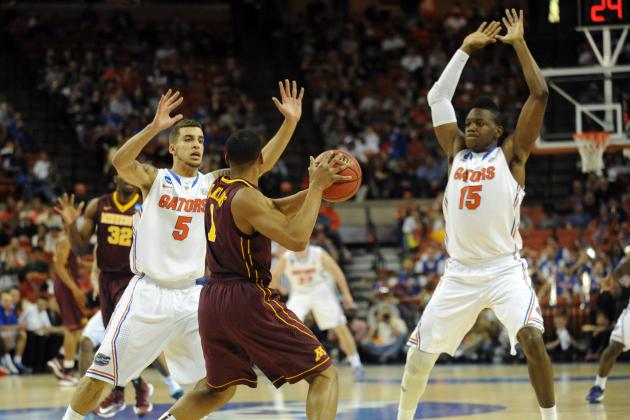 Brendan Maloney-USA TODAY Sports

Florida plays an aggressive man-to-man, and the Gators need to disrupt the Florida Gulf Coast offense out on the perimeter.
Florida point guard Scottie Wilbekin is one of the best on-ball defenders in the entire country. If he is able win his individual matchup with Eagles guard Brett Comer, that will go a long way in shutting down Florida Gulf Coast's offense.
Over the course of the season, Florida Gulf Coast has had some issues with turnovers. The Eagles are turning the ball over on 20.7 percent of their possessions, which ranks No. 221 nationally, according to KenPom.com.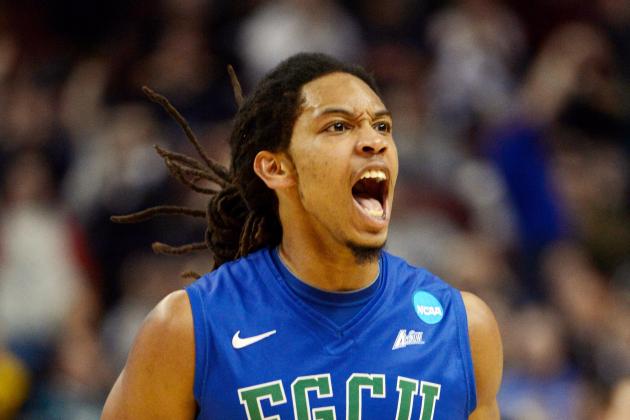 Eileen Blass-USA TODAY Sports

The most important thing Florida needs to do to make sure it beats Florida Gulf Coast is to get off to a good start. If Florida Gulf Coast is able to hang around early and remain within striking distance going into halftime, that will be bad news for the Gators.
Georgetown held the Eagles to just 24 first-half points last week, but the Hoyas did not take advantage of their defensive effort, trailing Florida Gulf Coast by two. The growing confidence of the Eagles as that game went along was evident, and they eventually ran away from the Hoyas.
The longer Florida Gulf Coast hangs around, the more the crowd at Cowboys Stadium will get behind the Eagles and the more they will believe they can pull yet another upset.