14 Takeaways from Wednesday Night's Historic NBA Action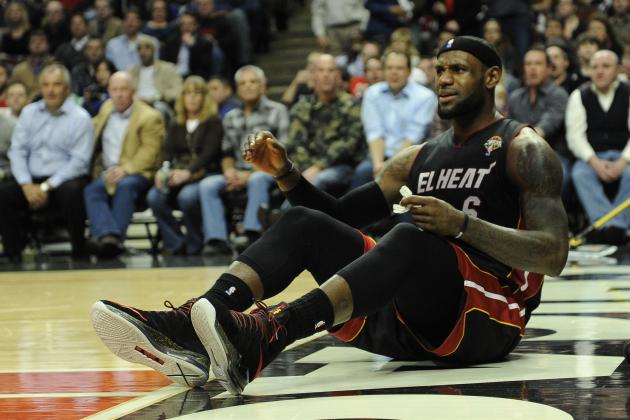 David Banks/Getty Images

It finally happened. On Wednesday night, one of the longest streaks in NBA history came to a screeching halt.
That's right; for the first time in decades, venerable Boston Celtics commentator Tommy Heinsohn went an entire game without referring to the Celtics as "we" or "us."
Actually, I have no idea if that's true. It probably isn't.
But the Chicago Bulls did end the Miami Heat's epic winning streak at 27 games. So that'll have to suffice as the lead story in a 14-game NBA slate that boasted everything from the first signs of tanking in Phoenix to a nail-biting buzzer-beater by Jeff Green in Boston.
Plus, Brandon Jennings took an early seat in Milwaukee, Roy Hibbert stood tall in a big win over the Houston Rockets and Kobe Bryant got away with one on Ricky Rubio.
Wednesday night's NBA schedule had something for everyone. Unless, of course you were hoping for a 28th-straight win for the Heat. If that's the case, it might be best to just move on.
Begin Slideshow

»
USA TODAY Sports

In one of the more entertaining affairs of a busy Wednesday night schedule, the Charlotte Bobcats logged a 114-108 home win over the Orlando Magic that was nip and tuck until the final minute.
And if you predicted a sequence involving Josh McRoberts forcing Tobias Harris into an awkward runner and then slamming home a one-handed alley-oop on the other end as the game's turning point, kudos to you.
The real takeaway here, though, is that both the Bobcats and Magic have some promising young talent.
Orlando got a combined 70 points from the frontcourt trio of Harris, Kyle O'Quinn and Moe Harkless. Each played at least 42 minutes, each shot at least 50 percent from the field and each is under 23 years old.
On the other side, the victorious Bobcats got 34 points apiece from Kemba Walker and Gerald Henderson. Walker's clearly a big part of Charlotte's future, but Henderson's recent run has made it increasingly likely that the Bobcats will be willing to match the potentially big offers he could garner as a restricted free agent this summer.
And it's impossible to overlook the fact that the Bobcats' young guns helped engineer a massive comeback win. Apparently, it's hard to know what to make of that, though.
Does' the @bobcats comeback from a 19-point deficit against the @orlando_magic count as stunning? Or as anything, for that matter?

— Josh Martin (@Josh_E_Martin) March 28, 2013
Both of these teams are a long way from playoff contention, but in Wednesday's contest, some of their young bright spots shone brilliantly.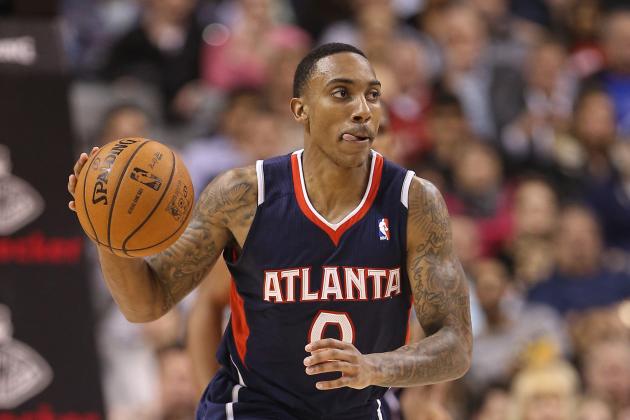 Tom Szczerbowski-USA TODAY Sport

After a lackluster first half against the Toronto Raptors, Jeff Teague and the Atlanta Hawks turned it on down the stretch. Thanks to a 63-34 second-half advantage, Atlanta clinched its sixth consecutive playoff berth.
Teague's 24 points and 13 assists were key in the effort, as were Al Horford's 10 fourth-quarter points.
The win was big for the Hawks for reasons other than its playoff-securing results, though. After a stellar February, Atlanta's offense has suffered a marked decline in March, losing nearly six points per 100 possessions from its offensive rating.
The 49 percent shooting and 107-point output Atlanta posted against Toronto were both good signs for the Hawks' prospects down the stretch.
Still, they'll have to muster a full 48 minutes of effort once postseason play starts. The Brooklyn Nets, Atlanta's likely first-round foe, won't pose quite as easy a challenge as the Raptors did on Wednesday.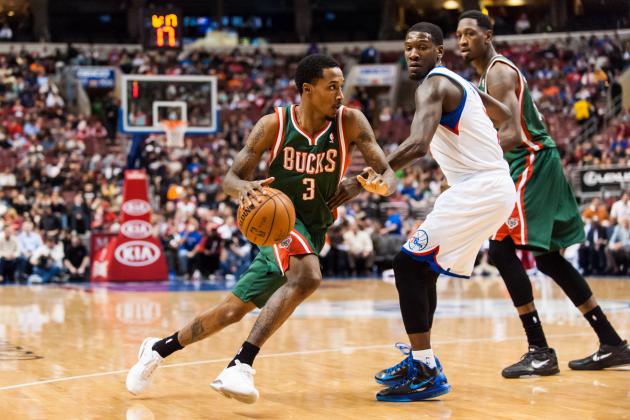 USA TODAY Sports

The writing was already on the wall, but thanks to a heated back-and-forth conversation with his coach that precipitated a third-quarter benching, Brandon Jennings took a permanent marker to the indicators that point to his offseason departure from the Milwaukee Bucks.
Brandon Jennings was not hurt. He got yanked EARLY in 3rd, pretty sure he cursed off Boylan on way out. Never came back in game.

— Adam Levitan (@adamlevitan) March 28, 2013
Jennings went scoreless in the Bucks 100-92 loss to the Philadelphia 76ers. It was the first goose egg of his NBA career.
The curiously poor effort by Jennings and the subsequent benching certainly won't be the ultimate reasons that the inconsistent point guard won't be back. But Wednesday's events serve as a a good summary of why it's probably best for both parties to head their separate ways.
Jennings wants to play in a bigger market, and it's no longer clear that the Bucks are a better team with him in the lineup. One thing that is clear: Milwaukee can do without his attitude and up-and-down play as it continues its rebuilding effort.
The Bucks and Jennings are stuck with one another for a while longer, as the Sixers' win hardly dented Milwaukee's six-and-a-half game hold on the final playoff spot in the East. It'll be interesting to see how things shake out over the final few weeks of the regular season, but it seems all but certain now that Jennings won't be around at this time next year.
When Rajon Rondo went down with a torn ACL, the Boston Celtics won seven straight. And even though they've been struggling recently without Kevin Garnett, Jeff Green's buzzer-beating layup in Boston's 93-92 win over the Cleveland Cavaliers proved that no matter how bad things look, the Celtics simply refuse to die.
Jeff Green's buzzer-beater was 1st Celtics buzzer beater (no time on clock) since Paul Pierce hit one to beat Heat in 2010 playoffs

— ESPN Stats & Info (@ESPNStatsInfo) March 28, 2013
Green had 21 points on the night, but his last two were the biggest. With just 2.1 seconds left in the game, Green drove down the right side of the lane and flipped in a contested layup to finish off a surprising fourth-quarter comeback.
Green scored nine of his 21 during the final period, and Paul Pierce filled up the stat sheet with 19 points, 10 rebounds, eight assists and seven turnovers in a wildly competitive game that featured a few huge swings on the scoreboard.
And because we believe in giving credit where it's due, nicely done, Jason Terry:
quiet hero of final play for C's: Jason Terry who set screen that let Green drive (still tough finish in traffic): twitter.com/ESPNForsberg/s…

— Chris Forsberg (@ESPNForsberg) March 28, 2013
The win helped Boston put a little breathing room between itself and the Bucks, who fell to the 76ers. But it bears mentioning that the Celtics had to claw their way to a win against the lottery-bound Cavs. That doesn't bode well for their playoff prospects, but Green and his teammates showed that no matter the circumstances, they're willing to fight to the end.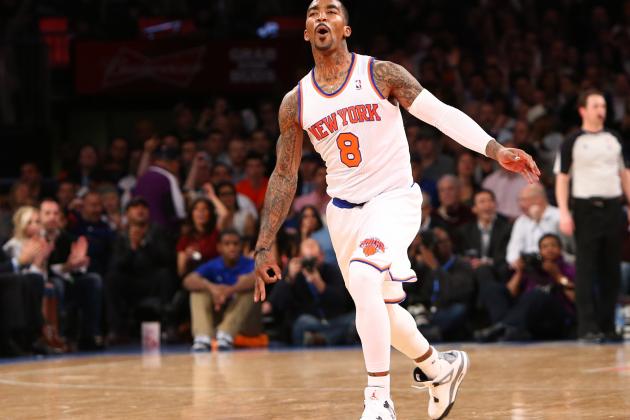 USA TODAY Sports

J.R. Smith and the New York Knicks turned in a hot-shooting performance the likes of which we haven't seen since the season's first few weeks.
When the year began, the Knicks looked like an unstoppable scoring machine, pouring in long-range bombs and whipping the ball around the perimeter at a furious rate. Of course, after that torrid beginning, the Knicks revealed themselves to essentially be a .500 team.
Well, somebody fooled New York into thinking the salad days of November were still here, as they piled up 108 points on 52 percent shooting in a seven-point win over the notoriously stingy Memphis Grizzlies.
Smith heat-checked his way to 35 points, Iman Shumpert had a perfect first half and the Knicks hit 42 percent of their triple tries on the night. The final result looked suspiciously like one of New York's early-season triumphs.
In the interest of full disclosure, it was really only the first half that should have gotten Knicks fans excited; New York scored 69 points before the break and very nearly gave the lead all the way back after halftime.
Nonetheless, the flashes of scoring prowess the Knicks displayed on Wednesday have to be at least a little bit encouraging for a team that is trying to find its way amidst a devastating series of frontcourt injuries.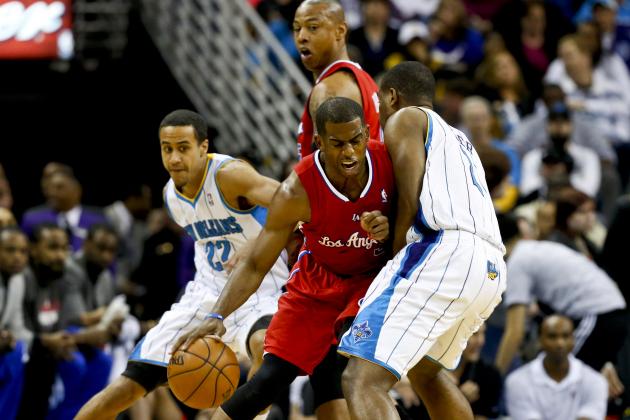 Derick Hingle-USA TODAY Sports

There was a whole lot of shakin' going on in the Western Conference on Wednesday, and appropriately, the team from southern California got things moving first.
When the LA Clippers knocked off the New Orleans Hornets in an utterly unremarkable (except for the whole "Chris Paul used to play for these guys" storyline) 105-91 contest, LA picked up a half-game in the standings.
But then the Denver Nuggets fell to the San Antonio Spurs and the Grizzlies lost in New York. The result of those outcomes shifted things around pretty significantly in the West's playoff ladder. I'll let Ralph Lawler explain:
Clippers back in 3rd in West as a result of Win in New Orleans coupled w/Denver Loss in San Antonio. Memphis drops 1.5 back in 5th place.

— Ralph Lawler (@Ohmeomy) March 28, 2013
Oh me, oh my!
All in all, the bump up in the standings isn't great news for the Clips, as they're now matched up against the sixth-seeded Golden State Warriors, who have taken three out of four from LA in the season series.
Stay tuned, though; the Clippers have a brutal upcoming schedule. Their next three contests include a back-to-back road set against the Spurs and Houston Rockets, plus a trip to Indiana to face the Pacers.
There are sure to be a few more shakeups before the postseason kicks off.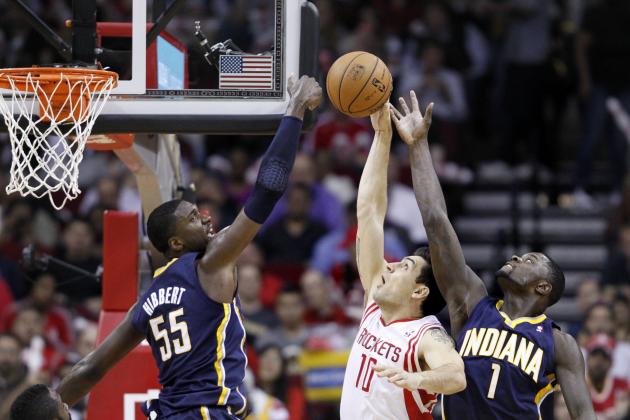 Thomas Campbell-USA TODAY Sports

The Indiana Pacers and Houston Rockets conducted a little science experiment on Wednesday, and now we all know what happens when an irresistible force runs into an immovable object: the immovable object wins by a final score of 100-91.
Well, we can at least say that's true when said object is the monolithic Roy Hibbert.
Indiana's center was instrumental in turning away the Rockets' frenzied attacks, holding down the paint while scoring 28 points and grabbing 13 boards. Hibbert swatted away three shots on the night, but two came during a key fourth-quarter stretch in which Houston was threatening to make things interesting.
The Rockets won't face a defense like the Pacers' in the postseason unless both teams manage to make the Finals, but Indiana's ability to slow down the normally relentless Houston attack should give James Harden and Co. some pause.
Houston shot just 38 percent from the field, and Harden was especially bad, hitting just six of his 24 field-goal attempts. In the slow-it-down world of the NBA playoffs, the Rockets are going to have to find a way to get things done when their frantic style runs up against a similarly resolute opponent.
The Pacers, on the other hand, showed everyone how imposing they can be against even the most dangerous offensive units in the league.
Science experiment concluded. Class dismissed.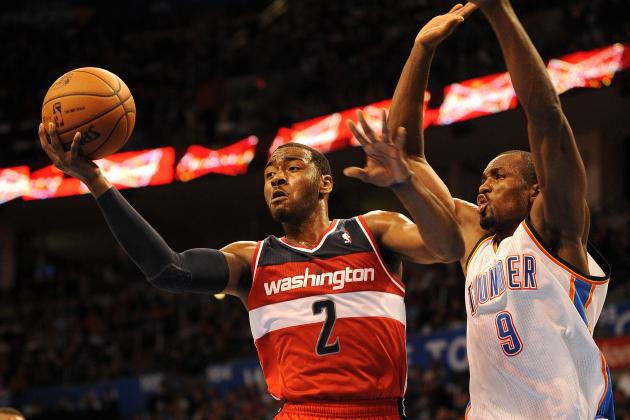 Mark D. Smith-USA TODAY Sports

After averaging 25.8 points and eight assists on 51 percent shooting in his previous five games, John Wall came back to earth in the Washington Wizards' 103-80 loss to the Oklahoma City Thunder.
Two days after pumping in 47 points against the Grizzlies, Wall shot just 3-of-18 from the field as he struggled to captain a short-handed Wizards club against the fully healthy Thunder.
To his credit, Wall worked his way to the line a whopping 15 times and still handed out 12 assists in 35 minutes. After the game, Washington's point guard remained upbeat, probably buoyed by the knowledge that his team has been darn good since the All-Star break:
Not a good nite playin but we fought hard as a team...Will be better nxt game...#WizNation !!

— John Wall (@John_Wall) March 28, 2013
With the Wizards posting a winning record since the calendar flipped to 2013 and Wall playing like a top-line star, there's plenty to be optimistic about.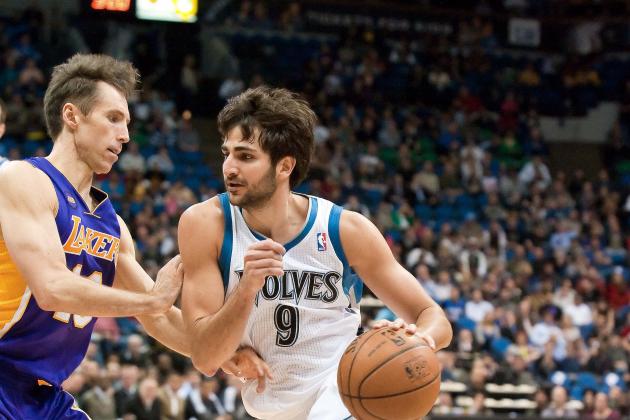 Greg Smith-USA TODAY Sports

There was a lot to like about the LA Lakers' first win since learning that Metta World Peace would be out for six weeks with a torn meniscus:
—Dwight Howard became the fourth player in 25 years to finish a game with at least 25 points, 15 boards, five blocks and five steals.
—Pau Gasol had one of his most efficient games of the season, scoring 17 points and grabbing nine rebounds on 8-of-12 shooting.
—Antawn Jamison stayed hot, scoring 18 points off the bench.
But the Lakers gave up 117 points to the lowly Minnesota Timberwolves and very nearly allowed them to steal the game down the stretch. In fact, if not for a stunning no-call when Kobe Bryant got an awful lot of Ricky Rubio's body on a potential game-tying three-point shot as time expired, the Lakers might have had to head into an overtime period with a decided momentum deficit.
Lost in all of the streak busting tonight will be Ricky Rubio getting fouled twice at the end of Wolves-Lakers game. #refsneedblublockers

— Sekou Smith (@SekouSmithNBA) March 28, 2013
World Peace's absence is going to matter for the Lakers, especially on the defensive end. That showed on Wednesday night.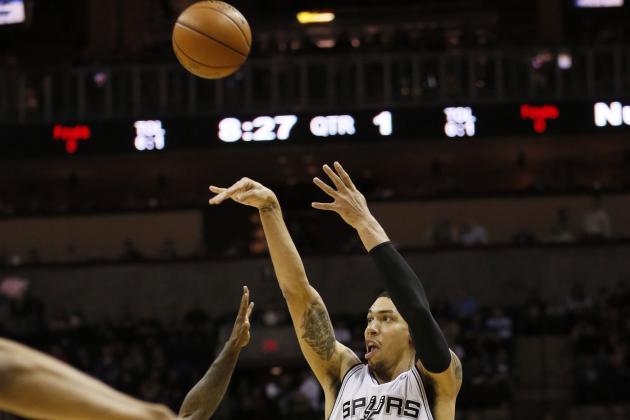 USA TODAY Sports

As a preliminary matter, the Denver Nuggets extended their losing streak to two games by losing a tight one to the San Antonio Spurs on Wednesday. There's no cause to believe the Nuggets will go on a losing skid to match their recent 15-game winning streak, but George Karl's club should be worried about their problems from long range.
The Spurs, always proponents of the corner three, knocked in 10-of-15 from beyond the arc. Denver, on the other hand, missed all 10 of its triple tries.
And while it's true that Andre Miller had a pretty good chance to win the game at the buzzer, it's also worth noting that even a single made three-pointer by the Nuggets would have had a huge effect on the contest's outcome.
The NBA is changing as the analytics movement continues to define how smart teams play on both ends of the court, and the three-point shot is a big part of what many of the league's best offenses do. Denver shoots just 34 percent from three-point land, a figure that ranks second-worst among playoff teams from either conference.
Until the Nuggets can find a way to balance out their paint-heavy attack, smart teams like the Spurs are going to be able to find ways to exploit Denver's one-dimensional offensive scheme.
Shifting gears abruptly, Tim Duncan's performance can't go unmentioned. The guy put up 23 points, grabbed 14 rebounds and blocked five shots. Apparently, he's 36, going on 25. Just unbelievable.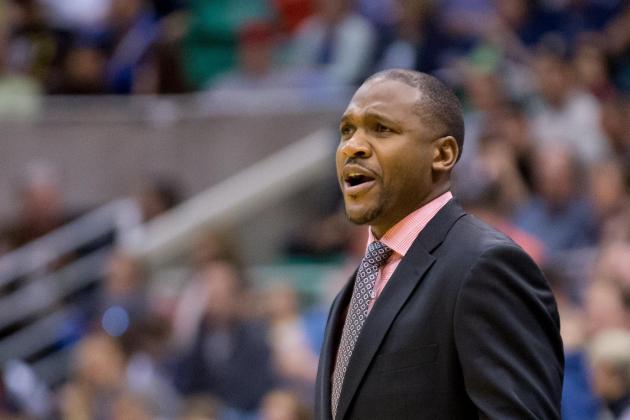 Russ Isabella-USA TODAY Sports

It wasn't just the 103-88 shellacking the Phoenix Suns suffered at the hands of the Utah Jazz that made it seem like a tank job was underway—although based on the laughable defensive effort and generally disjointed appearance of Lindsey Hunter's club, that might have been enough on its own.
No, what really signaled that Phoenix had its eyes on lottery positioning was the fact that its best player, Goran Dragic, didn't suit up. And he wasn't hurt.
Dragic was told that he's being held out of #SunsAtJazz tonight to rest & give Marshall & Garrett time. By the way, Utah's 1 back of Lakers.

— Paul Coro (@paulcoro) March 27, 2013
You've got to give Dragic plenty of time to get ready for Phoenix's stretch run toward 30 wins, right?
In Jazz news (since there's no way Utah is getting its own slide), Enes Kanter separated his left shoulder in the second quarter. That's a real bummer, as the Turkish big man had really shown some positive development in his second season.
Thanks for the get well wishes . I left my one arm on the court but great win . To get a win I would do it again. Go Jazz Nation #playoffs

— Enes Kanter (@Enes_Kanter) March 28, 2013
How awesomely tough does this dude sound? Can he be the next Bond villain?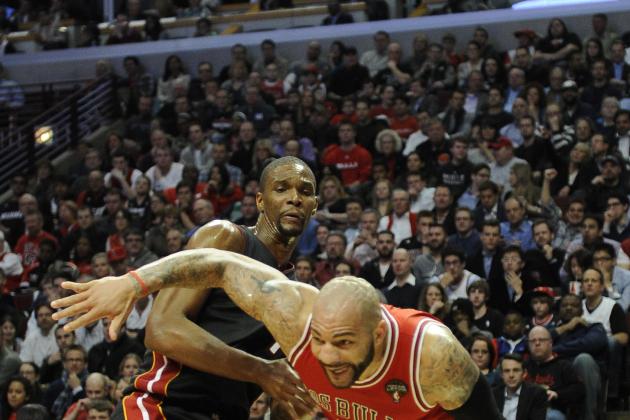 David Banks/Getty Images

Because they stopped streaking. Get it?
Sincerest apologies for that joke. I'll make up for it with gobs of trenchant analysis.
The Chicago Bulls did what 27 consecutive NBA opponents couldn't, ending the Miami Heat's winning streak with a 101-97 victory in one of the chippiest, most intense games this season.
Luol Deng played a fantastic game on both ends, Jimmy Butler continued to be the Bulls' least-discussed star and Carlos Boozer went to work inside against Miami's small lineup. His 17 boards were a huge reason why Chicago enjoyed a plus-12 advantage on the glass.
The game was immensely physical, and LeBron James throwing his weight around inside against Boozer in the late stages is sure to be one of the contest's enduring images. Unfortunately for Miami, physicality is an area in which the Bulls specialize.
Miami didn't fall behind to an inferior team because it was taking it easy, as it had so many times during the run; it lost a rugged game to an opponent that simply played better. Nonetheless, there's got to be at least some sense of relief that all the hype around the streak will finally go away. The Heat already endure a ridiculous amount of media coverage, and James, for one, won't be sad to see it dialed back.
LeBron joked that the silver lining in the streak ending is the national media will stop following Heat around.

— Michael Wallace (@WallaceNBA_ESPN) March 28, 2013
For the Bulls, who won this game without their two best players (Joakim Noah and Derrick Rose), the victory has to give fans some idea of how dominant Chicago could truly be at full strength. Speaking of full strength, Nate Robinson's mouth was running at optimum volume after the game, much to the delight of sound-bite seekers everywhere:
Nate Robinson on ending Heat streak: "Not 28, not 29, not 30..."

— Beyond The Buzzer(@BeyondTheBuzzer) March 28, 2013
With or without Robinson's digs at James' infamous championship promises, this game is sure to have sparked a rivalry. There was real anger from both sides in this one.
Circle April 14 on your calendars now, folks. Miami and Chicago play once more this season and it figures to be a bloodbath.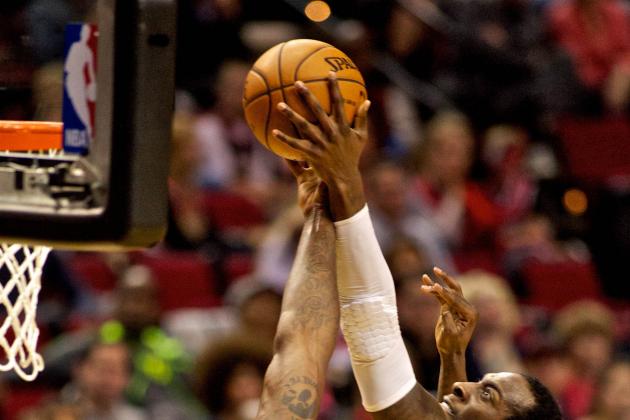 Craig Mitchelldyer-USA TODAY Spo

The Brooklyn Nets notched an easy road win on Wednesday, taking care of the Portland Trail Blazers by a final score of 111-93.
But, holy cow, did Reggie Evans go to work on the glass.
Brooklyn's rebounding specialist inhaled 26 boards (including 12 on the offensive end) in 35 minutes against Portland. So stunning was his dominance on the glass that it caused many Blazers supporters to endure hallucinogenic episodes, some of which involved gross mathematical miscalculations:
Reggie Evans with his 900th rebound

— Rip City Project (@ripcityproject) March 28, 2013
No, it wasn't quite 900 rebounds. It just seemed like that many.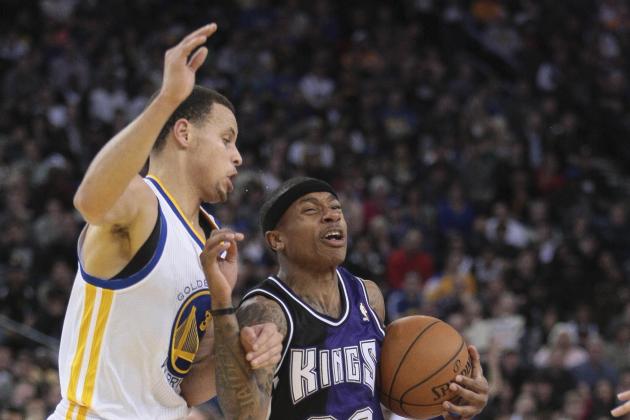 USA TODAY Sports

For the third time in four tries this season, the Sacramento Kings defeated the Golden State Warriors. This time, the Kings (who boasted an NBA-worst 6-30 road mark coming into the game) notched a 105-98 win in front of a sold-out crowd at Oracle arena in Oakland.
Ice-cold shooting from Klay Thompson (1-of-13) and Stephen Curry (5-of-18) was Golden State's undoing in this one, and the Kings were more than happy to take advantage.
It's a curious thing that Sacramento seems to have Golden State's number this season. Logically, a team that falls asleep on defense and generally refuses to help one another at all costs should be especially vulnerable against a club like the Warriors, who punish any opponent foolish enough to leave them with open perimeter looks.
Yet the Kings will finish off perhaps their last season series as Northern California rivals with the Warriors with a 3-1 mark.
There has never been a normal Kings/Warriors game.

— Eric Freeman (@freemaneric) March 28, 2013
Go figure.