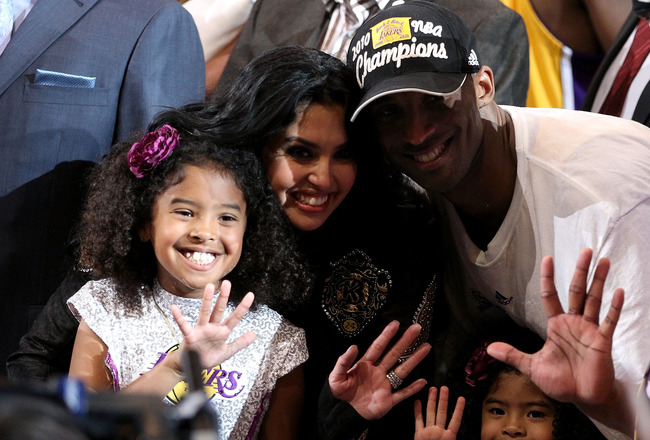 Christian Petersen/Getty Images
NBA players, as with most other professional athletes, tend to do plenty of showing off. Whether it be cars, clothing or jewelry, there always seems to be a new way to show the flash and style of what being a professional athlete brings. The new trend seems to be children.
With kids continually popping up on sidelines after games, playing a little basketball at halftime or jumping up onto the podium at a postgame interview, we get a cool peek into the personal lives of some of our favorite players.
Plus, it does wonders to dispel the notion that most professional athletes have multiple children from multiple women—otherwise known as the Shawn Kemp Stereotype.
Today's NBA player seems to be a more image-conscious type, realizing that any and everything they do will be dissected by the media, leading to more athletes becoming known as family men, which is definitely a cool thing.
It's great for the reputation of the league, plus a lot of their kids are downright hilarious.
Kobe Bryant's Daughters
Kobe Bryant's daughters, Natalia and Gianna, have become the princesses of the NBA. Every time we see them near the end of the season and in the playoffs, they're hanging out with their mother on the sidelines, decked out like only L.A. kids can be.
While they're a bit older now, they were once the little rapscallions sitting patiently as their dad subtly jabbed at Shaquille O'Neal after bringing home his fifth championship.
Now it seems you can always see Kobe hanging out with his family whenever he posts something on Twitter, giving us another look at the Mamba that we've never been able to see in the past.
It always seemed as if Kobe was a very private, extremely reclusive person as far as professional athletes go, but every time his daughters are around, he steps out of his shell just a little bit.
Chris Bosh's Baby Boy
Chris Bosh is a weird dude by normal folks' standards, and because of that, it seems as if he would actually be one of the most entertaining, hilarious fathers in the NBA.
He's goofy, lanky, strange-looking and, though his sense of humor isn't necessarily childlike, it seems as if it would be entertaining to children.
Bosh had his second child, Jackson, about a year ago, and the kid has already starred in his own commercial.
Of course, with all of the other kids running around in the commercial, things can get confusing. Bosh's kid is the one he's holding (not Rick Springfield, Ray Allen or Sizzle). Something tells me these kids had a good time being toted around by Bosh all day.
Dorell Wright's Kid
The hot-shooting forward who has recently broken out of his shell after leaving the Miami Heat also happens to have one of the coolest little kids in the NBA.
There's just something about a kid playing in a spinning chair, eyeing his dad the entire time, as if to say, "Dude, let's go. Wrap this up!"
Wright's son also happens to have one of the coolest names out there—Devin Quentin Dwyane Wade Wright.
The baby Wright boy was named after Quentin Richardson and (obviously) Dwyane Wade, both of whom share the title of being the boy's godfather.
Now that he's a bit older, he's just as hilarious.
Al Horford's Brother
It may not be his son, but Al Horford's brother gave us one of the funniest non-basketball-related moments of the year so far when he finally took his eyes off of a box of candy.
Horford's little brother was courtside at an Atlanta Hawks game, picking a piece of candy out of a box when he realized the person holding the box happened to be a scantily-clad Hawks cheerleader.
His reaction was more than priceless.
Al Horford's little brother recently turned eight, so it seems safe to say that he's not going to be a late bloomer.
Kendrick Perkins Jr.
Being around this child for every waking moment of every day would likely be the most annoying scenario possible. It would perhaps be decried by the Geneva Convention as a form of torture.
However, in a minute-long clip, the little dude his hilarious.
Kendrick Perkins Jr., decked out in garb that only Russell Westbrook would be caught wearing, completely steals the show from Craig Sager, something that only Gregg Popovich has a tendency to do these days.
Apart from his endless giggling, the only words Sager's able to wrestle out of Kendrick Jr. is an enthusiastic, "I like pie!"
To be fair, who doesn't like pie?
Chris Paul's Kid
There's no doubt about it, and there's never going to be any doubt until somebody else has a new kid, because no NBA child alive can compete with Chris Paul's son as far as total overall cuteness goes.
He's ticked off every mark possible on the cute kid checklist: shyness, chubby cheeks and an eventual silent punchline.
Paul's son always seems to appear on his lap when playoff time comes around, and every time he comes, we're in for a bevy of pictures the next day of Paul's boy looking ridiculously cute.
A lot of other kids in the NBA can be cute by proxy, but Paul's son is actively showing off his cuteness with the perfect "Blake Face" execution.
Keep Reading