Memphis Grizzlies vs. New York Knicks: Live Score, Results and Game Highlights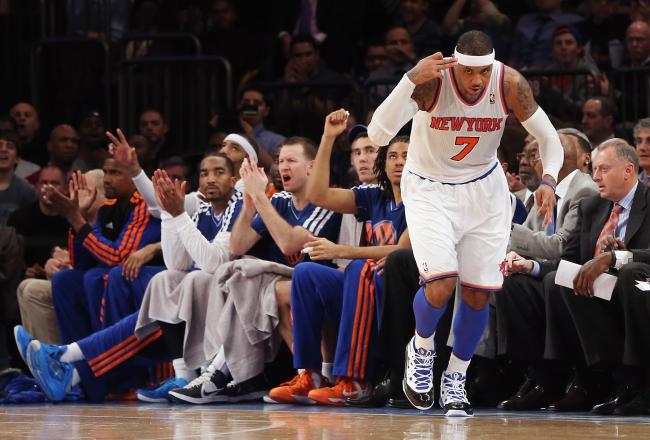 Bruce Bennett/Getty Images
The New York Knicks held off a second-half surge by the Memphis Grizzlies, winning 108-101 to extend their winning streak to six games. The Knicks led by as much as 30 in this one, getting 35 points from J.R. Smith and 22 from Carmelo Anthony.
For the Grizzlies, they dug themselves too big of a hole to climb out of. The normally stout defensive team allowed 69 points in the first half as New York shot 61 percent over the first two quarters, and Zach Randolph was held to three points off of 1-of-3 shooting.
Mike Conley led Memphis with 26 points and Jerry Bayless put in 24 off the bench.
The Knicks hit the Grizzlies with a barrage of three-pointers in the first half, with Iman Shumpert hitting three in the first quarter alone. They had some trouble over the final 24 minutes, but ultimately, the lead they built was just too much for Memphis to overcome.
Let's check out the keys to the victory for New York.
1. Great rotations defensively
Until late in the fourth quarter where the Grizzlies hit a couple of treys, the Knicks did an excellent job of rotating out on shooters after doubling down on Memphis' bigs in the post. Randolph was contained all night, and New York did a fine job of not allowing the Grizzlies to get off any clean looks off of passes out of the low box for most of the night.
2. Shutting down Randolph
With Marc Gasol clearly not himself playing through an abdominal tear, the Knicks made a concerted effort to take Randolph out of the game, and they did that. As stated earlier, Z-Bo only attempted three shots, and he never really got the ball with good position in the post. Credit Kenyon Martin for not allowing him to camp himself down low.
Randolph wasn't even on the floor late in the game. He also only pulled down four rebounds after terrorizing the Knicks a few months ago in Memphis.
3. Crisp ball movement
We all know by now that New York's offense is predicated on good ball movement around the perimeter, and that was there tonight. The result? 13 three-pointers by the Knicks, and an overall shooting percentage of 51 percent. Jason Kidd and Pablo Prigioni really did a great job of running New York's offense.
4. Limited mistakes
The Knicks only turned the ball over 12 times, right in line with their season average. When you hit that many trifectas and build up that big of a lead, not turning the ball over is an absolute killer for the opponent, especially when they are coughing up the rock 17 times themselves. New York simply put on a clinic for most of this contest.

Once again, the Knicks defeated the Grizzlies tonight. Postgame coverage to follow.
KNICKS 108, GRIZZLIES 101 - FINAL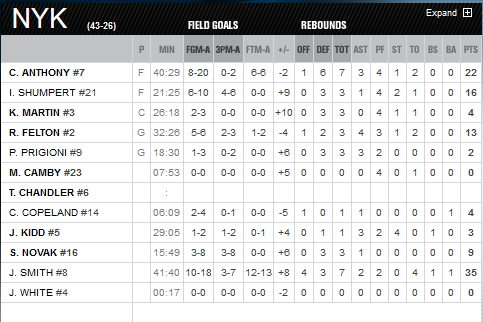 Knicks final box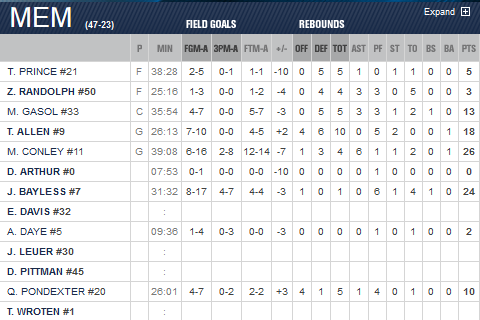 Grizzlies final box
And that'll do it. The Knicks top the Grizzlies.
KNICKS 108, GRIZZLIES 101 - FINAL
Bayless misses a layup, Melo rebounds, and Bayless gives his sixth foul. Anthony hits both FTs, and this one is done.
KNICKS 108, GRIZZLIES 99 - 17.2 SECONDS REMAINING IN 4TH QUARTER
J.R. Smith hits two FTs, and barring a miracle finish here from the Grizzlies, it looks like the Knicks have this one in the bag.
KNICKS 106, GRIZZLIES 99 - 26 SECONDS REMAINING IN 4TH QUARTER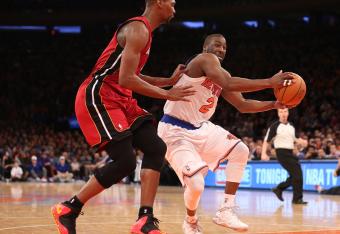 Grizzlies now have to foul. Pondexter fouls Felton to put him at the line. Felton hits one of two but gets his own rebound. Forces Memphis to use another foul.
Worth noting that Z-Bo has been on the bench for most of this quarter.
KNICKS 104, GRIZZLIES 99 - 30.2 SECONDS REMAINING IN 4TH QUARTER
Conley misfires on a three, but on the loose ball, Anthony picks up a foul. Puts Tony Allen at the FT line. Terrible decision by Melo. Ball was clearly going out of bounds. No need to chase it. Last thing Knicks needed there was a foul.
KNICKS 103, GRIZZLIES 99 - 33.3 SECONDS REMAINING IN 4TH QUARTER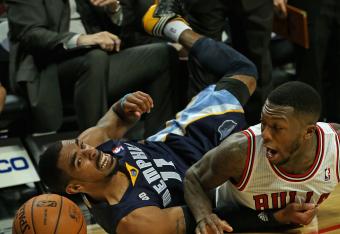 Grizzlies controlled the tip. Smith fouled Conley intentionally because NY had a foul to give, but the officials actually said Conley was in the act of shooting and awarded him FTs. Not sure how they came to that conclusion.
KNICKS 103, GRIZZLIES 97 - 1:06 REMAINING IN 4TH QUARTER
Reviewing an out-of-bounds play here off the FT. Bayless and Kidd battled for the loose ball. Both appeared to touch it as it went out. Was called a jump ball originally.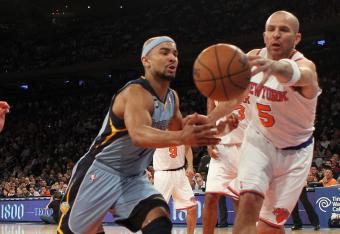 Jason Kidd may have just finally put the dagger through the heart. He buries a three and gets fouled by Bayless. Missed the FT though. Still, what a time for Kidd's first points of the game.
KNICKS 103, GRIZZLIES 95 - 1:15 REMAINING IN 4TH QUARTER
Prince making his impact felt here. After a missed 3 from Bayless, Prince tips the offensive board to an open Pondexter for the layin.
KNICKS 100, GRIZZLIES 95 - 1:29 REMAINING IN 4TH QUARTER
Smith overdribbles and loses the ball on one end, turns the ball over, and then blocks a Prince shot off the backboard for a goaltend that was probably missing anyway. Bad sequence.
KNICKS 100, GRIZZLIES 93 - 2:15 REMAINING IN 4TH QUARTER
Conley hits both FTs. Lead is down to single-digits for the first time since the first quarter.
KNICKS 100, GRIZZLIES 91 - 2:53 REMAINING IN 4TH QUARTER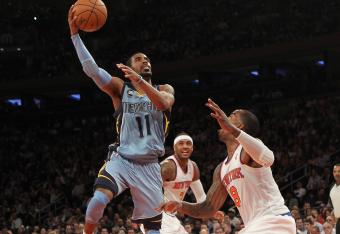 Conley just faked out the entire Knick defense with a ball fake and drove the lane and drew the foul. Timeout. Will shoot the FTs when the action starts back up. Every time Memphis looks like they're done, they rally. They are still in this.
KNICKS 100, GRIZZLIES 89 - 2:53 REMAINING IN 4HT QUARTER
Jerryd Bayless has been sensational tonight. After another Melo bucket, he rattles home a three from the corner.
KNICKS 100, GRIZZLIES 89 - 3:05 REMAINING IN 4TH QUARTER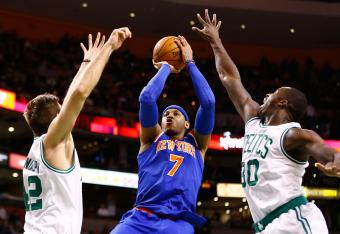 Melo now drains a jumper for his 18th points. That could be the dagger.
KNICKS 98, GRIZZLIES 84 - 4:09 REMAINING IN 4TH QUARTER
Knicks ran a nice set that time. Little high-low action led to an open dunk by Martin. Big play for NY.
KNICKS 96, GRIZZLIES 84 - 4:40 REMAINING IN 4TH QUARTER
True to their reputation, the Grizzlies refuse to let the Knicks just stroll to the finish. Lionel Hollins is a hell of a coach.

— Alan Hahn (@alanhahn) March 28, 2013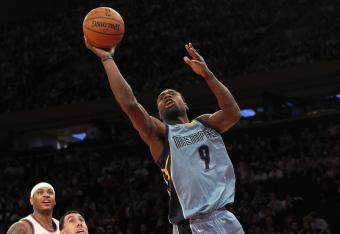 Wanna hear how valuable Tony Allen is? In a game where his team was down by as much as 30, he is a plus-3.
Shooting percentages now very even after that crazy start by NY. Knicks shooting 50 percent; Grizzlies at 48 percent.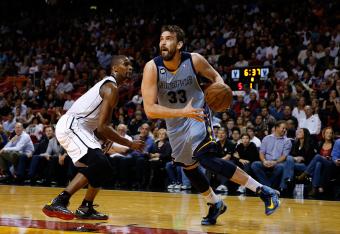 Gasol with a 15-footer and the lead is down to 10 again. Knicks starting to get stagnant offensively. Last couple of possessions have resulted in long, contested jumpers late in the shot clock. Feels like NY is almost complacent right now. Woodson not happy. Calls timeout.
KNICKS 94, GRIZZLIES 84 - 5:21 REMAINING IN 4TH QUARTER
Knicks may need to stop doubling down in the post. It's opening up the three point line for the Grizzlies.
KNICKS 94, GRIZZLIES 82 - 6:13 REMAINING IN 4TH QUARTER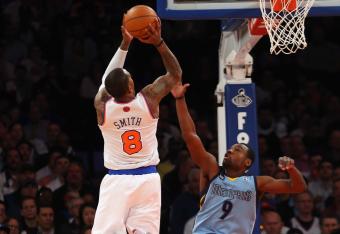 Smith looking to take matters into his own hands now. Scores in the paint and on the next trip gets fouled. He is the first Knick bench player with back-to-back 30-point games since Al Harrington did it in 2010.
KNICKS 93, GRIZZLIES 79 - 7:59 REMAINING IN 4TH QUARTER
This article is
What is the duplicate article?
Why is this article offensive?
Where is this article plagiarized from?
Why is this article poorly edited?

New York Knicks: Like this team?